Bosch Light Heat Pump NEW 2021
May 24, 2021
I had to exercise patience for several months before sharing information about the new Bosch Light Heat Pump – the game-changer! Well, the wait is over. Not only can I share why I was excited for the Bosch Light to arrive – we have them in stock!
Bosch Light Heat Pump – Advanced Technology at a Budget Price
What is the Bosch Light Heat Pump?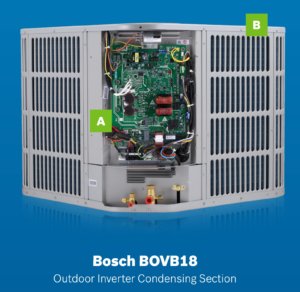 The Bosch Light is the lowest cost variable speed split heat pump (air conditioning & heating) system on the market!
I'm referring to the compressor speeds when I say variable speed, as the compressor modulates its speed & power consumption automatically. Also known as an inverter driven compressor, it's the best & most precise central air conditioning technology money can buy.
That's not what makes the Bosch Light Heat Pump so special however. What makes it special is, it's the first inverter driven air conditioner or heat pump similarly priced to entry-level units!
When I say entry-level units, I'm talking about units that use single-stage (antiquated) compressors with the lowest legal efficiency ratings. The Bosch Light Heat Pump brings the best technology to the masses, even those working on the tightest budget.
A: Intelligent control automatically adjusts the output capacity which allows the Bosch Light Heat Pump to keep the temperature at your desired level without fluctuation. Summer and winter, the system keeps your home comfortable and the living conditions to your desired preferences and settings. 

B: The high-efficiency variable capacity inverter compressor in the Bosch Light BOVB18 heat pump condenser can adjust to any speed between 26% and 110% (in 1% increments). This allows your comfort system to perfectly cool and heat your home using minimal energy while providing maximum comfort. 
How Much Does the Bosch Light Heat Pump Cost Compared to Trane, Carrier, Lennox & Others?
You're about to find out why I was so excited to get the Bosch Light Heat Pump in our warehouse!
If you've read any of our other blog posts, you probably already know that we carry most major brands. Besides Bosch, Magic Touch sells Trane, Mitsubishi, Lennox, Goodman, Franklin/Amana, AllStyle and a few for manufactured homes & special applications.
I mention that every time I write an article about brands for a reason. We can easily remain unbiased because we make the same money no matter which brand our clients choose to buy. I do not get paid by the manufacturers to endorse their brand and I'm getting nothing in return for this article. I like to make that abundantly clear upfront because of what I'm about to share next.
Bosch Light Costs MANY Thousands Less Than Their Competitors!
How much less than a Trane XV18? (Trane's Lowest Cost Inverter Unit)
The Bosch Light cost between $4,000 to $5000 less than the Trane XV18
What about the Lennox XP20 (Lennox's Lowest Cost Inverter Unit)
Bosch Light costs between $3,000 to $4000 less than the Lennox XP20
How about Amana / Franklin's AVZC20 vs the Bosch Light IDS Heat Pump?
Bosch Light costs between $3000 to $3500 less than the Amana / Franklin
What about Carrier, York, Rheem, American Standard and the rest?
If you guessed $3000 to $5000 less, you guessed right!
In fact, the Bosch Light is similarly priced or in many cases less expensive than all of these brands entry-level units!
The Bosch Light Has a 10-Year Warranty – Just Like Their Competitors
You'd probably think the Bosch Light heat pump system must have an inferior warranty since it costs thousands less, right? Wrong!
The Bosch Light AC & Heating System comes with a 10-Year manufacturer parts warranty, including the compressor – just like their competition.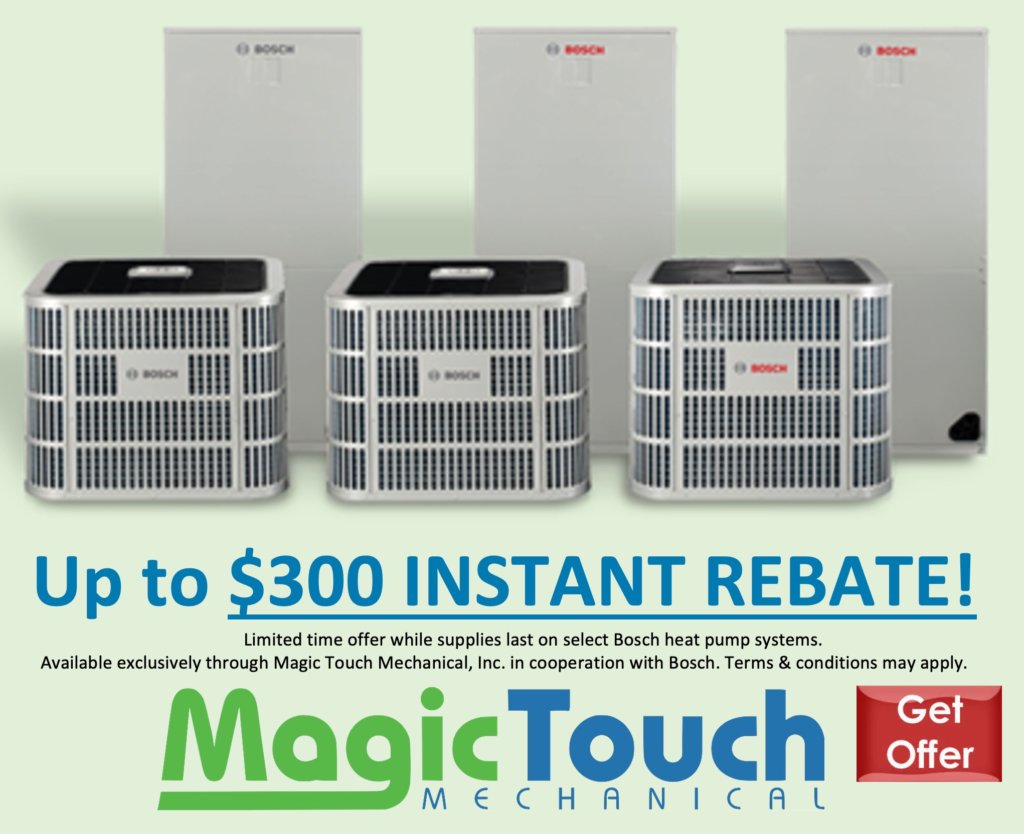 Variable Speed Inverters are Supposed to be Very Quiet – Is the Bosch Light Quiet?
The Bosch Light Heat Pump condenser (outdoor unit) has been tested and produced sound ratings as low as 54dB (decibels).
How does that compare to units like Lennox XP20, Trane XV18 & Amana AVZC20 which are all known for being very quiet? The Bosch is actually exponentially quieter than all of them!*
*Trane XV18 as low as 57dB / Lennox XP20 as low as 65dB / Amana AVZC20 as low as 59.4 dB
Is Bosch Light Heat Pump Well-Built?
One of the reasons we carry so many air conditioner brands is we know everyone wants options. It's the reason we all don't drive the same brand of car or wear the same jeans -we want choices! More importantly, just as we're all individuals, so are our homes. There really isn't a 1-size-fits-all air conditioner on the market just like there's not a 1-size-fits-all pair of bluejeans!
That said, we're only going to carry brands that we've personally vetted to meet our strict standards. After all, at the end of the day we're selling our advice, service, and installation expertise – not another company's "brand."
While we sell many brands, there are many others we won't. If we feel a brand or specific model are going to be a "problem" for our clients we won't sell it. There are more than a few brands we once sold that we've discontinued selling for this very reason.
Yes, I'm very comfortable saying the Bosch Light (and other Bosch HVAC products) are very-well built. In fact, the construction quality, thoughtful engineering, and serviceability, rivals and even surpasses several of the "premium" brands on the market.
We install hundreds of Bosch units every year, as we do with several other premium brands. Our installers, service technicians, and most importantly clients who own them all give them 2-thumbs up!
So, What's the Catch? Why is it So Much Less Money?
There's always a catch isn't there! Yes, there's a catch here too.
The Bosch Light Heat Pump uses a PSC (Permanent Split Capacitor) motor on the indoor unit (air handler). In layman terms, that means the indoor motor operates at a fixed speed rather than ramping up & down. It doesn't fluctuate like a variable speed blower motor. In a nutshell, Bosch took an old-technology indoor blower motor and paired it with a new technology compressor.
What that means to the consumer is SEER (Seasonal Energy Efficiency Rating) between 15-16 SEER. Compared to other Bosch & their competitors inverter units which  range between 18-20+ SEER, that's pretty low. However, compared to many 1 speed compressor units in the same price range that rating is comparable or higher. That's because in this price range, most competitive equipment is 14-15 SEER with a compressor that is two "classes" lower.
Personally, I own variable speed inverter air conditioners in my own home. I bought them for the added precise comfort they give me vs. a single-stage or two-stage compressor. Having personally felt and heard the difference, I'll never own anything not inverter-driven again… it's that much better!
Q: Would I personally choose an inverter compressor with a PSC blower over a 1 or 2 stage compressor with a variable speed indoor motor?
A: Without even a moment of hesitation! The compressor is the "heart" of an AC/Heat Pump system and the inverter is the best tech out there hands down.

Beside the Motor Difference, Why Does This Heating & Cooling System Cost So Much Less?
When you purchase a Bosch Light, you're actually getting a Bosch Plus condenser (17.50 – 18.50 SEER) with a different blower motor. A PSC motor costs a lot less than a variable speed motor or X13 motor, and the reason for the SEER reduction. Therefore, Bosch's strategy is simple: Increase market share by offering better comfort technology for the price of their competitions entry-level systems.
Bosch doesn't have the name recognition in the USA compared to companies like Lennox, Carrier or Trane (at least with regards to air conditioners)… yet. They're better known for appliances, tools and automotive parts (to name a few). However, they're not new to the HVAC industry by any means. In fact, they're fairly well-renowned in other parts of the world for their German engineering and premium brand status. What better way is there to increase market share in the USA than offering a premium product at a budget price?
Magic Touch Has Bosch Heat Pumps in Stock Now
In fact, we have the Bosch Light, Bosch Plus & Bosch Premium heat pump systems in stock now!
If you live within 35-miles of Mesa, AZ., we not only install Bosch in your area, we offer free consultation. Better yet, we'll show you side-by-side comparisons with all the other brands (with pricing) mentioned in this article. Then you decide what's best for your needs, budget, and family!
BONUS! Get an additional INSTANT REBATE up to $300 OFF select Bosch Heat Pumps – another Magic Touch exclusive offer!