Is Trane AC Worth the Extra Money?
June 14, 2021
If you're here, you probably just searched the phrase: Is Trane worth it? Is Trane AC worth the extra money? Or, you may have even spelled it "Train" AC – don't fret you're not the first and won't be the last! In this article, we review some of the differences between Trane  air conditioning units and some of the other air conditioner brands on the market.
Important Note: This article was updated in June 2021. Originally written 3-years earlier, a lot has changed so be sure to pay attention to original text and new updates which impacted our updated answer to the question – Is Trane worth more money?
What's a Trane AC worth? An Unbiased Review from a Contractor Who Sells Many Air Conditioner Brands, Not Just Trane.
Before I go any further, for those who've never read my blog articles before…

I've owned an air conditioning company in Mesa, AZ – Magic Touch Mechanical, for over twenty years. We sell a lot of Trane air conditioners, furnaces, and heat pump units. However, we also sell a lot of Lennox, Bosch, Goodman, Rheem, Gree, Airtemp, Mitsubishi, Amana, Franklin, Day & Night (a Carrier brand), First Company, the occasional Fujitsu, and then some as well. In other words, this is an HVAC contractor's opinion, not a Trane Dealer's opinion.
We "sell" Magic Touch Mechanical and the service we deliver, not Trane, Lennox, Goodman, etc. We choose to sell the brands, more specifically models, that we feel offer the best value, reliability, and performance.
The reason we choose to offer our customers multiple brands is we believe in providing multiple options, not ultimatums. Bluntly said, I feel that any company that only offers their client one or two brands to choose from is offering what they want to sell, not always what's best for the customer.
That said, there are brands, and even particular models from brands we do sell, that we flat out will not recommend…those that we have found to have a particularly high failure rate. Years ago, we stopped selling brands like Rheem and Maytag for this very reason. I realize there will be contractors that sell one or both of these brands that read this and disagree, however I base that on our experience with the brands.
Is Trane Better Than Carrier, Goodman, and Lennox? 
When someone asks me this question (which is often), I always answer with a question. Which models are we comparing?
Technically, I should start by asking how well it will be installed because that makes a much bigger difference than the brand or model. For the purposes of this article, let's assume Magic Touch Mechanical installed it – then I know it was installed per exact manufacturer specifications, ACCA guidelines, and to higher standards than code requires.
Our motto is "We do it better than it has to be", and our Installation Manager, Quality Control Supervisor, and myself make sure we live up to that promise.
Back to the "which model" question:
If you read my article, How Much Does a New AC Unit Cost, (updated post-pandemic June, 2021) you know that the price range is huge. In that article I stated (variables aside), you can expect to pay as little as $6,800 for a new ac unit, all the way up to $15,000+. Note these are post pandemic prices caused by shortages and manufacturer price hikes. This same equipment cost significantly less only 18-months ago!
Since that article was written, there have been a few newcomer models that get into the $16,000+ range – yes, you read that right!
Lennox released the world's newest "most efficient" system which touches on $16k installed!
Post-pandemic, shortages of everything from steel and circuit boards combined with shipping issues, labor shortages and long delays at our ports have resulted in quickly rising costs. Here in the Phoenix, AZ area and around the nation, contractors and homeowners are feeling the pinch with component shortages affecting even A/C repairs.
Trane Entry-Level Air Conditioners & Heating Systems (Good)
Most air conditioning contractors offer a good, better, best scenario when proposing a new ac and heating system.
On the lower end of the price range (good), we are talking about entry-level efficiency and features. The truth is, in this range, there really isn't a whole lot of difference between the brands.
When it comes to the base models, the manufacturers are more "assemblers" than they are "engineers". The design is pretty much the same it has been for years, most of the components are similar if not exactly the same and are built by third-party manufacturers not the AC manufacturer themselves.
At this level, the big separator is really the quality of the design and the materials used to build the cabinet and coils. There are a few exceptions in a few models, and one worth pointing out is Trane.
Trane is one of the few brands that still manufactures its own compressor, the Climatuff.
UPDATE 2021: Unfortunately, many previous models that included the Trane Climatuff compressor no longer do. In recent years, Trane has replaced the Climatuff with a 3rd party compressor. This changes our original opinion in this article as the Climatuff compressor weighed heavily into all factors considered.
"It's Hard to Stop a Trane" – Their Slogan Rests on the Back of the Trane Compressor
While modern air conditioners consist of dozens of components, the compressor is still the "heart" of the unit. I don't think you would find many HVAC service technicians that would argue that the Climatuff is a tank. If you know Trane's slogan, "It's hard to stop a Trane", you may know they built that slogan on the Climatuff compressor back – it can take a lot of abuse.
That said, most of the other manufacturers nowadays are using Copeland brand compressors, a great component in its own right, but the Climatuff takes the prize as best in class in my opinion and I'd guess probably most other HVAC experts' opinions as well. (Update 2021 – Trane now uses the same Copeland compressor as their competitors in many models that used the Climatuff when this article was originally written.)
Aside from the compressor, of the three "premium" brands (Trane, Lennox, and Carrier), you will not find a whole lot of differences in the components themselves.
I recommend politely shying away from most of the non-name brands because although the differences in materials and design may be subtle at first glance, combined they usually add up to a unit that doesn't last as long and/or is prone to frequent failures.
To the end user, even a minor failure means "no cooling" or "no heat" regardless of how minor the failure may seem to an experienced HVAC service technician.
I'd be remiss if I failed to mention the behemoth, Goodman – now owned by Daikin. I have mixed emotions regarding this brand (and yes, we sell it). Several Goodman models offer good bang for the buck, which can be good for clients with a tighter budget, or perhaps someone selling their home soon.
However, after years of recording failure rates (from minor to major), Goodman comes in last place of all the brands we install. Not quite high enough to stop selling them as we have with other brands, but it should be said because there's a reason Trane costs more than Goodman. Note: the failure rate is approximately 2% higher than the rest, so by no means out of line nor reason to not consider the brand.
In fairness to Daikin, I should mention the commercial Daikin Packaged Rooftop Unit has proven as reliable, if not more reliable as a few of the premium brands commercial products in recent years.
Does the AC Brand Name Matter?
Keep in mind I'm still only talking about entry-level equipment when I say yes, the brand name matters, but not for reasons you may have already considered. The differences in mid-tier and premium-tier models become more apparent later in the article, but what about some of the less tangible issues? Are you just paying for the name?
If you've searched homes for sale lately, you'll notice one of the things realtors use in home listings now are phrases like "new Trane AC" or "new Lennox air conditioner".
Rarely do you see; "new Goodman AC" or "new York air conditioner". Instead they just say "new air conditioner".
So, there's a consumer perception that names like Carrier, Bosch, Lennox, and Trane are more premium or desirable than Goodman, York, or Ruud, whether it is based on real data or not.
Since the title of this article is, Is Trane Worth the Extra Money? – even in the entry-level tier, it just might be when you consider this fact.
Other things to consider:
How much is selling your home in 5-days vs. 45 days' worth to you?
How much is a failure rate of under 5% compared to a failure rate of 10% worth to you?
How much is a unit that lasts 15-years vs. a unit that lasts 10-years' worth to you?
Mid and High-Efficiency – Where Trane AC Units Start to Rise Above the Rest
Trane Mid-Level Air Conditioners & Heating Systems (Better)
When I think about the "better" tier of comfort systems or any other consumer product, I think about products that offer a lot of bang for the buck. I'm talking about equipment that's not the most efficient, but fairly high efficiency, not the most feature rich, but with plenty of worthwhile features, not the quietest unit on the market, but pretty darn quiet, etc.
This is where we start to see the cream rise to the top, and by cream, I mean Trane for one.
You'd be hard pressed to find a major air conditioning brand that doesn't make a 16 to 18 SEER air conditioner or have at least one model with a 2-stage compressor, variable speed blower motor, etc. – but put most of them physically side by side with a Trane unit and you start to see the differences pretty quickly.
Aside from the Climatuff compressor, you start to recognize the devil is in the details (or lack thereof in some brands). Even physically shaking the machine itself, you can feel the Trane unit is going to remain a much sturdier machine than most over the course of time.
In my opinion, Trane only has a few competitors when we start talking about "better" HVAC systems. In recent years, my opinion is Bosch and Lennox are Trane's fiercest competition.
Lots of small details like Teflon coated screws that help prevent rust (so they won't loosen up and cause rattling noises), to fully accessible condenser coils so a service technician can really get to all the nooks and crannies for cleaning (meaning less loss of efficiency over time), and so on, are details that add to the quality and value of Trane many of their competitors are lacking.
Trane builds a stout machine that is clearly well engineered and as I've witnessed with my own eyes after multiple visits to the factories they build them in…well tested.
The HVAC Brands I Personally Own
For what it's worth, I own several properties (both commercial and residential), of seven total air conditioning and heating units, I personally own three brands. I own 1 Trane system , 4 Lennox systems, and 2 Mitsubishi systems. On the Magic Touch office building in Mesa, AZ., 1 Trane & 2 Lennox units will need replacing soon as they're getting old. The remainder of the building is conditioned by a multi-zone Mitsubishi mini-split heat pump. The 3 units needing replacement soon are all heat pumps and frankly, there are several brands that offer a better value than Trane in this category in my opinion. I'm not just a contractor, I'm a business owner and a consumer too, so I like everyone reading this want the best value for the least money. That said, I'll most likely replace all three with Bosch or Lennox as the Trane price premium isn't justified in this category anymore.
Granted, I do this for a living so I purchase my equipment at wholesale contractor cost, but – most brands would gladly give me equipment for personal use just to get their foot in the door with Magic Touch Mechanical. Breakdowns, noise, and short-lived units are things I don't want for myself either so I buy the peace of mind these brands offer me.
Speaking of practicing what I preach, it's probably also worth noting that all of my residential equipment is the "best" tier models. Don't get me wrong, there are circumstances where I will recommend a base model, but if someone is going to be living in the home for a while, and budget allows, the case can usually be made why the homeowner and residents will be happier with a "better" or "best" model air conditioner and heating unit.
It's also worth mentioning, I'm talking specifically about conventional central air conditioners and heaters in this article. If we were discussing ductless air conditioners or VRF (variable refrigerant flow) units, we would be discussing Mitsubishi (who ironically recently announced a joint venture partnership with Trane).
Trane Premium-Level Air Conditioners & Heating Systems (Best)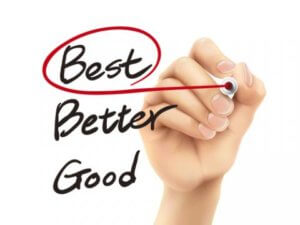 When we are discussing the "ultimate" air conditioners, furnaces, and heat pumps; 18+ SEER units with variable speed inverter compressors, fully-communicating systems, Wi-Fi controls, ultra-quiet, etc. – Trane takes one of the top spots with models like the XV20i.
To be fair, the XP25 (heat pump) and XC25 (split gas/electric) from Lennox are an equal match for the XV20i with some features, even besting Trane in a few areas. However, there are a few features and capabilities in the Trane unit nobody can touch…and I mean nobody. Lennox, Carrier, York, Goodman, Rheem, Maytag – all take a back seat to this model in some categories.
Update: The Lennox SL28XCV released in 2021 is now far and away the class leader in efficiency (as high as 28 SEER). Additionally, all Bosch models are quieter than Trane's premium models in the same class (variable speed inverter class). A lot has changed since 2018 when this article was originally written and Trane has fallen behind the competition in several categories.
Quiet– At this level, quiet is an understatement. Trane's premium models are extremely quiet. (Update 2021 – while the premium Trane models are still very quiet, that attribute is shared by several competitors now that are as quiet, or quieter)
Comfort– Trane's variable speed inverter driven compressor can maintain room by room temperatures in your home to within one-half of one degree of your temperature setting…seriously. This is true of most inverter driven variable speed systems today.
Efficiency– Only Lennox can claim higher efficiency ratings with the XP25 and XC25, but the Trane is no slouch in this area, and far and away more efficient than the majority of their competition. (Update 2021 – The Lennox SL28XCV has taken the top spot for the world's most efficient A/C with SEER ratings up to 28.00)
So…Is Trane Worth It & Is It Worth… Extra Money?
As I stated earlier, I personally own several brands of air conditioners and Trane is one of them. In years past I've owned several… and there was a point in time when I only bought Trane. When I originally wrote this article, my answer was yes, Trane is worth the extra money. Unfortunately for Trane, in 2021 I have to change that answer (in some situations). As you can see with all the 2021 updates, a lot has changed in the 3-years since I wrote this article. Mainly, several brands have either caught up to or surpassed Trane in the categories we discussed. Lennox is making significantly more efficient systems, Bosch is making quieter systems (that cost as much as $5,000 less than Trane), and Mitsubishi (now under the same company umbrella) now makes a superior replacement. So, a few years later, the tides have shifted and Trane is falling behind in my opinion – frankly there are better "values" on the market in 2021.
That said, you'd be far better off with Trane than many of their competitors in my opinion. It really depends on the system type, application, model and who you're comparing them to. Scenarios and applications do exist where Trane may be your best bet. However, in the vast majority of applications there are a number of competitive models that offer similar features and stats for less money… some far less money.
Verdict: In 2018 I said – yes, Trane is worth the extra money. In 2021, I say maybe not.
If efficiency is the most important to you than no – there's more efficient competitive models in the same price range.
If quiet is the most important to you than perhaps? Several Trane models are VERY quiet – but there's quieter competitive models.
If overall bang-for-the-buck is most important to you (combining cost, efficiency, sound rating, warranty, support, etc.) then hard no. Trane can cost as much as $5,000 more than equally viable options in some classes (specifically mid to top-tier classes). Again, Magic Touch has been recommending and installing Trane for 20-years and still do. I'm by no means saying don't buy Trane – they make a great product and have exceptional reliability for the most part. Some of my closest friends in the industry are longtime Trane employees so I know the caliber of their people. This article is strictly about; is that name and reliability worth MORE money, not is it good or bad. In 2018, compared to their competition I said yes, the price difference was worth it, in 2021 I say no (in most cases), perhaps in a few years it will shift again.
Lastly, this is my opinion based on 34-years experience and current model offerings. For many years I purchased mostly Ford trucks, now I own a GM. Would I buy another Ford? I sure would. At the time I bought my latest truck, the GM offered more bang for the buck for the features and benefits I wanted. Perhaps in a few years when I need a new one the tides will have shifted again!
Buying a new A/C & Heating System? You may also like:
The Best New AC Unit – A Complete Guide
Is Variable Speed AC Worth the Money?
How Much Does a New AC Unit Cost?