AC Unit Cost – Upfront & After
November 15, 2018
An Interview with Someone Who Knows All About the Cost of a New AC Unit
Several months ago, Phoenix, AZ utility company, Salt River Project (SRP), referred a homeowner wanting to get a home energy audit to Magic Touch Mechanical in Mesa, AZ. He had a new AC unit installed in his home from an air conditioning contractor he thought was giving him a good deal. After all, the company was licensed, had "many good reviews" and by all accounts, seemed reputable. He was quoted the new AC unit cost including installation and trusted it would be done well.
Unfortunately, he soon discovered that his new AC unit was not installed as it should've been. What he thought would be a quality heating and air conditioner installation he wouldn't have to worry about for a long time, was not what he got at all. He learned what his new AC unit cost would actually be after the fact.
He agreed to be interviewed and share his experience for this article written by Magic Touch Mechanical (Mesa, AZ) owner, Rich Morgan. The hope being, other consumers may stumble across his story and avoid the same situation. Hopefully before hiring an HVAC Company to install a new AC unit. In order to protect his privacy, I will refer to him only by his first name (Robert), while we share his story.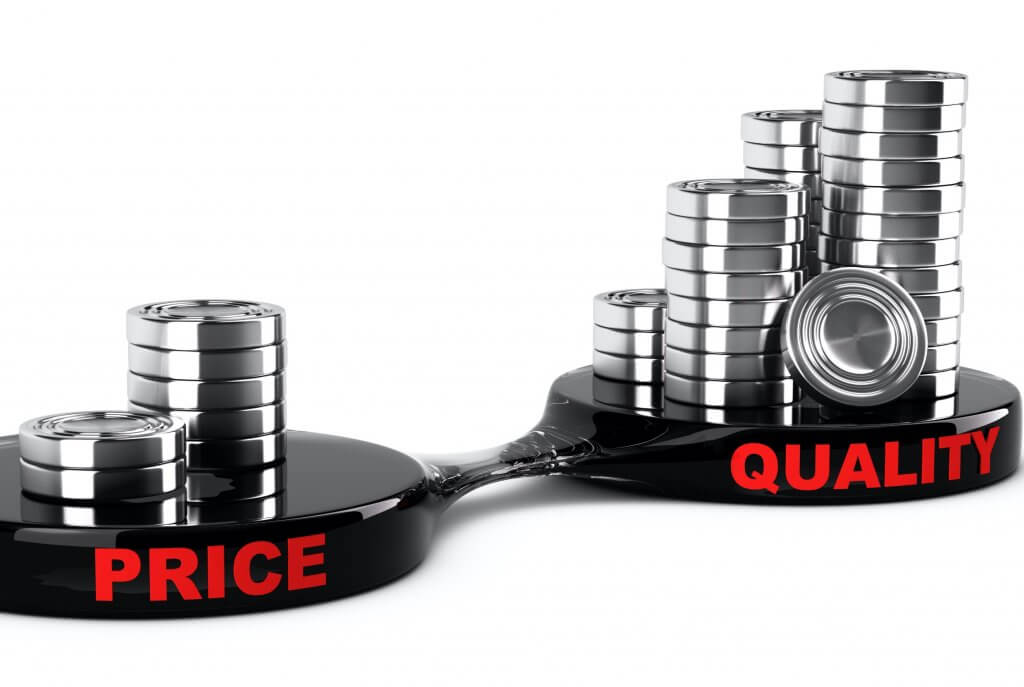 A Phoenix Homeowner's New AC Unit Cost Story
The New Air Conditioner is Leaking on the Ceiling!
Robert first started to learn his new A/C & heating system wasn't installed correctly when the evaporative coil in his attic began leaking condensate water. The new air handler was installed improperly causing the unit to leak onto his ceiling.
What most homeowners aren't aware of is; the cooling coil (evaporator) and air handler should be equipped with a secondary aka emergency drain pan underneath. The purpose of the emergency drain pan is to protect your ceiling, drywall, framing, and insulation if the main line clogs.
While it's not meant to protect your property from damage in the case of an un-level air handler installation like this, it could've – had the correct pan been used.
The Secondary Drain Pan Installed Was Too Small!
Unfortunately, the proper sized emergency pan was not installed either! The pan that was installed, was too small. It doesn't take an HVAC Service Technician to know the overflow pan should at the very least cover the size of the unit.
It's many small items like this that most homeowners don't know (and really shouldn't have to) that separate a good installation from a poor one. It's also items like this that make that "cheaper" price cheaper in the first place! This is why I always tell people; "Just because it's the same model unit (and possibly even some of the same accessories listed) on the sales proposal – doesn't make it apples-to-apples." If one A/C Company's proposal is $1,000 higher than the next – it's likely because the higher priced company is not cutting corners the lower priced company is.
No Emergency Overflow Switch Installed!
All Magic Touch Mechanical AC unit installations include a "ceiling protection kit". This is a device known as an emergency overflow cut-off switch. This device is designed to immediately shut-off the unit in the case of an overflow. Yet another item that separates a quality install from a cheap install. Think about this…
TIP: If a cheap AC install omits ten $100 items (i.e. takes ten "shortcuts") which allow them to charge $1,000 less for the "same exact model" – you did NOT get a better deal! That $1000 in shortcuts will likely cost you many thousands of dollars over the years – and you may never know it!
To be fair, the original installers did come back out and fix the drain pan and un-level installation. Had the problems ended there… not the end of the world. Even the best of us can't claim we never make mistakes in the course of a construction project. Making sure to make things right (quickly) is what separates the good from the bad. As it turned out, the problems did not end there!
Uneven Temperatures Room to Room
The second sign something just wasn't right with his brand new HVAC (Heating, Ventilation, & Air Conditioning) System was uneven temperatures throughout his home. In his own words, Robert and his wife noticed, "The distribution of AC & heat was not evenly dispersed through the home".
Robert stressed one of the things he really wanted people to understand when reading his story is: "The original installers never even inspected the ducts throughout the house to see if they were properly installed and designed to allow the installed unit to perform efficiently without overworking the unit."
"The manufacturer warranty was in jeopardy of being worthless. Since my new unit was not installed per manufacturer specifications, any claims could've been denied – leaving me uncovered" added Robert.
TIP: Robert is correct, it clearly states in all mfg. warranty terms & conditions that equipment failures will not be covered if not installed to specification and code.
Excessive Dust Ever Since the New AC Unit Was Installed
The third sign something just wasn't right: Robert noticed his home was getting very dusty. In his own words, he "found this surprising" as he had "recently installed new high-performance windows."
Not knowing (perhaps?) how to help Robert with the  uneven temperatures & dust situations, the AC company that installed his new AC unit only a year earlier recommended he call SRP for an energy auditing company referral. Enter BPI Certified Building Analyst & Home Energy Auditor, Ty Sharp from Magic Touch Mechanical.
Unfortunately for Robert and many others in this exact situation… the audit was about to uncover a much larger problem. Magic Touch Mechanical Energy Auditor, Ty, pinpointed the cause of the uneven air distribution and excessive dust in the home during his testing & inspection.
Left unchecked, the issues  would've inevitably caused his new HVAC equipment to not only continue to perform poorly… it would've caused the new AC unit to breakdown frequently and fail prematurely.
Not to mention the comfort (or lack thereof) and inefficiency issues!
Robert agreed to share his experience before, during, and after he chose one of Magic Touch Mechanical's competitors to install a new air conditioning & heating system. It's a lesson of true new AC unit cost – with the emphasis on the true cost of choosing the wrong company to install new air conditioning and heating equipment.
Ironically, it was this very competitor that led Robert to Magic Touch Mechanical. While we discovered Robert's issues early enough to address them before his new AC unit cost him even more money, not everyone is so lucky. 
It should be noted, Robert never disparaged the company that incorrectly installed and sized the system he bought from them. In fact, during the course of this interview, I never even asked who it was. Frankly, I don't even want to know, as it's irrelevant.
Like Robert, I'm just eager to share his story to hopefully help people avoid the same mistakes. Or, at the very least, tell them how to go about correcting it if they already have.
Finding out your new AC unit cost is going to be much higher after the fact because it was done improperly the first time – is avoidable!
The reason it doesn't matter to me who the air conditioning contractor was is… this is actually a very common scenario. Sadly, there are too many companies, not just here in the Phoenix area, but all over the U.S. that poorly install good HVAC equipment. How do I know? Other than seeing this exact scenario on an almost daily basis in my 30-years in HVAC, there have been many studies and tests that found the same.
Case in point:
North Carolina Alternative Energy Corp. (NCAEC) HVAC Efficiency Study
The NCAEC is an unbiased, non-profit, third-party organization. Their study included inspecting and testing a wide sample of air conditioning systems after they had been installed.
The purpose: To determine if these AC systems were actually achieving the rated efficiency they were capable of. The results were not pretty.
The NCAEC AC Efficiency Study concluded:
90% of the AC Systems tested were wasting energy due to improper installation.
50% of theses air conditioners were not even properly charged with the correct amount of refrigerant.
A Texas A&M study found a 23% refrigerant undercharge results in a 52% efficiency loss.
40% of the newly installed units failed to meet minimum air flow requirements.
Studies have shown airflow deficiencies of 20% can result in a 17% efficiency loss.
Even worse, it's been proven that a duct system with 15% leakage will reduce a 12-SEER AC to only 6-SEER.
BOTTOM LINE: 9 Out of 10 New AC Units Installed Are Wasting Energy!
Think about that for a minute, 9 out of every 10 new AC unit installations are not achieving the efficiency ratings they are capable of! How does that even happen?
In my experience, it happens because most people choose the lowest bid. Look, I get it…I'm a consumer just like everyone else, I want the best deal I can find too. If I'm buying any plug-n-play appliance, electronics, etc. I choose the model I want and look for who's selling it for the cheapest price. HVAC (Heating, Ventilation, & Air Conditioning) "Systems" are anything but plug-n-play though.
Buying the cheapest new AC unit installation is almost always the most expensive in the long run. Even if you are buying the top-of-the-line unit, it's the design and installation that matter most! Ultimately, it's not about the upfront new AC unit cost…it's about how much is costs (or doesn't cost) over it's lifetime that matters!
Frankly, Robert didn't do anything wrong. He chose a licensed contractor who had good reviews. The sad part is most of those good reviews are likely from customers just like Robert that don't even know their new AC units are not installed properly either. The sadder part is when the equipment breaks down often, most people will blame the equipment brand, not the installing contractor. 
You may think, "well I'll buy the cheap one and then hire another company to inspect it." If something's not right, I'll make the cheap company fix it! Well, that sounds good, but there are a great many things that even another contractor can't or won't test. Not to mention, most respectable contractors are not going to voluntarily get into a pissing match, or act as an expert witness against another local contractor. That's a topic for a whole other article but I can tell you this, I've seen it all before (a hundred times) it never ends well for anyone.
Frankly, this story is a great example – Robert was smart not to even bother with the original installer. He licked his wounds and moved on. Now he rests easily, confidently knowing it was done right and without all the added aggravation.
We decided the best way to share Roberts story from the beginning was interview style. So, we asked him the following questions about his A/C & Heating System purchase experience and here's what he had to say:
Interview with Robert, His "New AC Unit Cost Story" – Somewhere Near Phoenix, AZ
Rich Morgan / Magic Touch Mechanical: Good morning Robert, thank you for agreeing to let us interview you and share your story. Our blog is widely read and I think your story will help many people understand the difference between a low AC unit price upfront vs. the "costs" of a poor installation.
I'd like to start by confirming that you're an actual Magic Touch Mechanical client. You initially hired us to conduct a home energy audit because of poor airflow, uneven room temperatures, and a dust problem in your home. You have since hired us to repair a number of deficiencies with your HVAC duct system. Is that all accurate?
Robert: Yes, that is exactly how this began.
Rich Morgan / Magic Touch Mechanical: Robert, you wrote a wonderful review about your experience with Magic Touch Mechanical on Google recently, thank you so much by the way!
Robert: You're quite welcome. It was my pleasure to share a review about Magic Touch.
Rich Morgan / Magic Touch Mechanical: In your review, you mentioned that you never knew about the problems with your AC unit that was installed a year ago until you requested an energy audit through SRP. Let's talk about your experience replacing your HVAC System before you met Magic Touch Mechanical's Energy Auditor, Ty Sharp.
Rich Morgan / Magic Touch Mechanical: Can you tell us why you initially purchased a new AC unit (was your existing system not working or were you planning)?
Robert: I moved to the valley a little over 18-months ago and purchased a house in Tempe, Arizona. The AC unit was over 20-years old and was not working very well so I decided to just replace it.
Finding an Air Conditioning Company Near Phoenix, Arizona
Rich Morgan / Magic Touch Mechanical: What was your buying process when you purchased a new AC unit? More specifically, how did you find the company?
Robert: Being new to the area, I didn't know much about local AC companies. Like most people, I started by looking online at websites like Angie's List. Being I also wanted to install a water softener, I chose a company that advertised both plumbing and AC & Heating that had many good reviews.
Rich Morgan / Magic Touch Mechanical: Did the salesperson interview you to find out what was important to you when considering a new ac unit and propose multiple brand, efficiency, and feature options?
Robert: No. It was actually the owner of the company who came out to give me a quote. He recommended an AC unit based solely on the size of my home.
Rich Morgan / Magic Touch Mechanical: How much time did he actually spend evaluating your system and your home?
Robert: The whole process took about five minutes, he didn't "evaluate" anything. Like I said, he based his only recommendation on the square footage of my house.
Rich Morgan / Magic Touch Mechanical: Did he use any testing equipment?
Robert: No.
Rich Morgan / Magic Touch Mechanical: Did he show you any pictures of what he found and tell you what he would do to improve existing deficiencies?
Robert: No. There was absolutely no investigation of the ducts or vents. Nor did he ever inform me about the actual importance of the duct system… it wasn't even mentioned.
I think I'm probably the typical customer when it comes to my knowledge of air conditioners. I was aware there are different AC sizes and that SEER is related to how efficient a new AC unit is.
Rich Morgan / Magic Touch Mechanical: So, if he didn't complete a load calculation, inspect the duct the system, or find out how you used the home and what was most important to you… how did you decide on the unit you bought?
Robert: It was completely based on the price. The higher efficiency unit was over a thousand dollars more than the 15-SEER unit I chose. I wasn't offered any other brands or options. Also, none of the important things I later learned from Ty [Magic Touch Mechanical's Energy Auditor] were ever mentioned to me. So, as far as I was concerned SEER rating and price were the only differences.
SRP Sponsored Home Energy Audit
Rich Morgan / Magic Touch Mechanical: You mentioned meeting Ty from Magic Touch Mechanical after requesting an energy audit through SRP. Let's talk about that experience a little more.
How did you find out about the Energy Audit program sponsored by SRP?
Robert: About a month after [the new AC unit] installation, the unit above my utility room started flooding the ceiling because the drip pan wasn't properly located.
It was only then I realized they [the installing company] may have been a skilled plumbing company, but they were not very good at installing air conditioners!
Soon thereafter, we noticed that we were seeing a lot more dust on everything. We were surprised because we had new windows installed and they were supposed to decrease dust getting into the house.
I wasn't sure who to call so I started by calling the company who installed the new AC unit. I told them we were seeing more dust in the home since the unit was installed. They suggested we call SRP and request a referral to a local energy auditing company who could run tests to find out where it was coming from. They told me SRP sponsored a $99 Energy Audit Program and they [SRP] recommended you [Magic Touch Mechanical].
Rich Morgan / Magic Touch Mechanical: What were your initial thoughts about getting an energy audit, had you ever considered it before?
Robert: No, I'd never even thought about it. In fact, I questioned the SRP representative about it. I flat out asked; How do I know they won't just come here and push me to buy things that may not really be necessary? They assured me that not only do they review all the recommendations you make to make sure everything is appropriate, but they would actually come inspect the work once it was completed.
As you know, the inspector who came out commended your [Magic Touch Mechanical's] work. He was impressed at the ingenuity of Ty's design and how you were able to make things right in such a limited amount of space.
TIP: In Phoenix, AZ homeowners can request a free courtesy inspection from their utility company (SRP or APS) if the work was completed by an approved qualified contractor – like Magic Touch Mechanical.
Rich Morgan / Magic Touch Mechanical: Do you think the results were worth the $99 you paid for the energy audit?
Robert: For sure. Calling SRP for the audit was the best decision I made throughout this process. The resulting education I got from your energy auditor Ty, and his explanation of the problems he found were a true eye opener. The custom booklet [energy audit report Magic Touch gives our clients with every audit] with photos of my entire attic, the duct system and vents were very helpful in understanding all of his recommendations.
Ty explained all the technical aspects, and the booklet helped me fully appreciate and understand all of the issues and why they needed to be fixed.
Rich Morgan / Magic Touch Mechanical: In many areas, utility companies do not sponsor energy audit programs and an energy audit typically costs about $300 or more. Would you recommend this process for homeowners outside of Arizona? Would the same process have been worth spending $300 in your opinion?
Robert: Yes. Based on what I learned, I would never again use an AC installer who doesn't do all of the necessary things like; measure total duct resistance [aka static pressure] or who doesn't even bother to inspect the entire duct system. I learned the hard way why this is so important, and it wound up costing me more.
I also learned, one should not buy a unit only based on square foot size of the home, or go with the lowest bid.
Rich Morgan / Magic Touch Mechanical: In your defense, I don't blame you or any homeowner for that matter for not knowing to "not buy a unit based on square footage". Frankly, your HVAC Contractor is supposed to be the expert. You call them for their expertise. I think it's a terrible shame so many contractors don't even know how to do a load calculation or make sure the duct system is the right size and design for the new AC unit they are recommending. And, if they do know how, and still don't do these things…that's flat out negligence and malpractice in my opinion.
With regards to your comment about not going with the lowest bid – we see this every day. It's understandable too. We all want to get the best deal on everything we buy… I'm no exception. Unfortunately, every day we hear "ABC Company quoted me $1,000 less than you for the same exact unit…I checked the model numbers, it's apples to apples." The problem with that when it comes to HVAC Systems is, this equipment is not "plug-and-play" like a refrigerator or television.
As you now know, the "low bid" is lower because it's NOT the same…you're getting less for less! Unfortunately, 1 in 2 customers find this out the hard way like you did…and 40% never find out they did not get what they paid for! The 40% who never find out; pay higher utility bills than they should have, more repair bills than they should have, and are never as comfortable as they could have been. Typically they wind up replacing the unit sooner than they could have, and blame the brand not the installing contractor!
Robert: I'll add that since your company did the testing and work you did, I'm now quite confident the unit will provide the level of efficiency which the manufacturer promised.
I've already referred Ty and Magic Touch Mechanical to some of my neighbors. Now that I know I found a quality company I can trust, I can comfortably say…I highly recommend your company.
I now consider myself a well-informed customer. I recommend anyone buying a new AC unit or furnace to make sure the installer they choose understands the proper engineering needed to actually get what you pay for.
Rich Morgan / Magic Touch Mechanical: Robert, if you don't mind, I'd like to circle back to the energy audit process and the report you received. So many people are reluctant to get an energy audit for the same reason you were. They think the company that comes out will sell them snake-oil. Unfortunately, much like there are bad HVAC Contractors, there are also bad Energy Audit Companies. So, I completely understand people's skepticism. Can you tell us a little bit more about your energy audit experience? How do you feel about the report you received about your home? Was it comprehensive? Was it easy to understand? Was it more or less information than you expected to receive?
Robert: Okay, so the first thing that happened was Ty [Magic Touch Energy Auditor] came and spent about two hours running tests, inspecting things in the attic and around the house, etc.
A week later he returned to review all his findings which were all individually listed in a custom report specific to my house. The report included many photos of my entire attic, ductwork, insulation, etc.
It highlighted all the areas of concern as well as detailed descriptions of all energy reducing recommendations. Each recommendation included the actual dollar savings I could expect to save, as well as the complete costs to make each repair.
Ty was very thorough. He considered all of the ways I could reduce our energy costs, not just the AC unit. He took the time to explain things like; our windows, the benefits of keeping some interior doors open, our insulation, etc.
He spent well over an hour educating my wife and I on the importance of the volume of air to and from the AC/Heating unit. As well as, how this effected efficiency and wear and tear on the unit.
Again, it was a total shock to me to learn just how crucial these things were in order for the new AC unit to function properly. None of that was ever reviewed by the company that installed the new AC unit.
Rich Morgan / Magic Touch Mechanical: Do you have any recommendations on how Ty Sharp or Magic Touch Mechanical could improve the process, our work, or follow-up?
Robert: Like I said, I've already referred Ty & Magic Touch to some of my neighbors. Ty told me at the beginning that he really cared about my home and his job was to make sure I get the best out of my unit. He and your company lived up to that promise.
I'd say Ty went well beyond what was required. Specifically, helping me re-insulate areas where insulation had to be moved in order to install the new air plenums.
The bottom line is, I couldn't be happier with Ty or Magic Touch Mechanical… you guys really go the extra mile!
New HVAC System Installation – Before & After
Rich Morgan / Magic Touch Mechanical: Let's discuss the "before and after" aspects of your original AC system purchase and your subsequent system improvements installed by Magic Touch Mechanical.
If you could turn back the clock to before you purchased a new air conditioning system and start all over again, what would you do differently?
Robert: Yes. Based on what I learned, like I said earlier, I would never again use an installer who doesn't do things the right way from the start.
Rich Morgan / Magic Touch Mechanical: After learning the original company who replaced your air conditioner failed to inform you about all the problems the energy audit uncovered, how did you feel? Did you consider contacting them to make corrections or had you lost trust in them?
Robert: The original installer offered to make some repairs, but at that point I totally lost faith in him and his company. I didn't want to let them make any repairs as I didn't feel they had the knowledge Ty did to correct the problems. I wanted it done right, and had faith Magic Touch was the company that could/would do just that.
What if Your AC Contractor Had Done His Job Correctly?
Rich Morgan / Magic Touch Mechanical: If you had been informed of the problems with your ductwork, and the salesman added the needed work to the new AC unit cost to make the needed corrections in order for it to be installed per manufacturer specifications; would you have paid more to have it done correctly in the first place?
Robert: Not knowing what I do now, if an AC company would've originally presented this extra work on the ducts, I still would've chosen the lowest bidder. Especially if they told me I didn't need the extra work and expenses.
Not until I was properly educated by Ty did I appreciate why the extra work was necessary.
In hindsight, taking the lowest bid was much more expensive in the long run, but again I think like most people, I'm not an expert when it comes to these things.
I only spoke to, and subsequently hired one company, because they were highly rated. I assumed they were expert plumbers and air conditioner installers.
Before, I didn't know any better. Now, I would advise people not to choose a company that didn't check out the whole duct system and measure the resistance levels, or who only had one brand of new AC units to choose from.
Or… a company that never mentioned the size and condition of the present duct system could damage my new AC unit. Or that the new AC unit would not achieve the full benefit I thought I was getting and save me money.
Being a typical customer, I believed the salesman (who was the owner) that the only factor in choosing an AC unit was square footage.  It took him less then 5 minutes for a recommendation.
Energy Savings & Improved HVAC System Performance
Rich Morgan / Magic Touch Mechanical: I know it's the end of summer and your savings will be much greater in the summer but, what kind of utility savings have you seen since Magic Touch made the corrections to your HVAC system?
Robert: Since the duct leaks were sealed, the new plenum boxes were installed, (which allowed the air to flow more efficiently), and the new cold air return air duct was built; my home's dust level has dropped considerably.
The force of the air flow is much greater and my electric bill has dropped.  I haven't been through a winter and it was installed in late summer so I don't know how much money I will save for the entire year yet. But, I am confident I will see the benefits.
Advice for Other Homeowners
Rich Morgan / Magic Touch Mechanical: What advice would you give now to other homeowners who are planning to have their air conditioning system replaced?
Robert: I believe I was the typical customer purchasing a new AC unit. I was clueless to the fact that the vent system effects how well the AC unit performs.
My assumption was homes built in the last 30 years would have proper output and return air ducts appropriate for the size home. I learned my ducts were severely deficient in this regard.
To summarize what I learned; my duct system was too small for the new AC unit (both in output and air return). This resulted in poor circulation of the air output and inadequate return of air to the unit.
The analogy Ty used that I could relate to was trying to drink a thick milk shake through a tiny straw. My new AC unit was overworking and was completely out of the manufacturer's specs. It could've been worse too as the manufacturer could've voided the warranty since it wasn't installed to their specification.
My duct system also had significant air leaks. In other words, I was losing a significant amount of cooled or heated air, which was going right into the attic! This was why my home was getting so dusty, because it sucked the dust from attic right into my home!
My advice to others is to choose a company who does things the right way, doesn't choose the system based solely on square footage, inspects and tests the ducts, offers different brands and explains each one, etc.
Rich Morgan / Magic Touch Mechanical: Robert, thank you so much for taking the time to share this all with us. I'm quite sure this article I'm writing will help a great deal of people all over the country. In fact, our blog readers send us messages from all around the globe so you're helping people everywhere. On behalf of all of those people, thanks again!
Robert: My pleasure, thank you!
Here is the review Magic Touch Mechanical received on Google from Robert after completing his repairs
Robert's Google Review of Magic Touch Mechanical
I never knew the problems with my AC unit just installed 1 year ago until I asked for an energy audit from SRP. I was lucky enough to have Ty evaluate my home and he found severe issues with high resistance in the vents due to incorrect sizing of the vents in the home. Something never addressed by the original installers. Ty measured what was needed so I would help the unit work optimally and not burn out my new AC motor. His company made the repairs and now I expect to have my AC work efficiently, save money and avoid damage to the previously overworked motor. I couldn't be happier with the Ty and the crew who made the repairs. He patiently explained about the engineering and science behind an AC unit and how crucial the size of the vents are. The teams where on time, pleasant and neat.
Articles You May Also Like:
5 Things You Should Know Before Buying a New AC Unit?
Should I Buy a Cheap New AC Unit?
Who Sets The Standards For New HVAC System Installations?
Obviously, the equipment manufacturer provides HVAC Contractors with all of the engineering specifications they require to achieve optimal performance and efficiency. There is also another organization that creates the standards of a quality installation. That organization is called the ACCA (Air Conditioning Contractors of America).
Magic Touch Mechanical is one of only a few dozen companies in the USA to have ever been recognized as the best of the best by the ACCA. We were awarded the prestigious ACCA National Residential Air Conditioning Contractor of the Year Award!
ACCA provides homeowners with additional consumer resources to aid them in choosing the right installation contractor. This consumer worksheet will help you make the right choice and a very well-informed decision: AC Contractor Comparison Tool
New AC Unit Installation & Home Energy Audit Services Near Phoenix, AZ
Contact Us today to Schedule a free consultation for new air conditioning & heating systems, home energy audits, ductwork design & repairs, and more!