Magic Touch Mechanical & Eagle Motorcycles Team Up for BBB Charity
October 8, 2018
Per the Central Arizona BBB website, they; "…offer consumers tools and resources about making informed purchasing decisions and support businesses in their efforts to operate with the highest ethical standards. Our mission is to promote the importance of business ethics and provide resources to consumers make better buying decisions."
All of us at Magic Touch Mechanical (Mesa, AZ) strive to demonstrate that doing business with an HVAC Contactor can and shouldbe a pleasant experience. In an industry that has notoriously received a black eye from a few unscrupulous bad-apples, we make it our mission to do business ethically and honestly.
"Participating in charities and events that celebrate ethics has always been important to us" says Magic Touch Mechanical co-owner Michele Morgan. "The BBB Integrity Online Auction is a perfect example. It awards the next generation of high-school students that demonstrate these same values…and these are our future community and business leaders" she adds.
This Year's Donation – $250 in Gift Cards!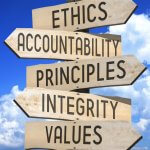 As an added bonus, when you bid on one of the five $50 Gift Cards from Magic Touch Mechanical (good for any product or service we offer), you also get a $50 Gift Card from Eagle Motorcycles good towards your ride's 5k mile service! Anyone who rides a motorcycle or has a friend or family member who does knows we never run out of a need for gift cards for our pride & joy!
ITEM NAME: FOR THE HARLEY (WO)MAN
Magic Touch Mechanical has teamed up with Eagle Motorcycles and donated some great prizes in the name of charity!
Auction proceeds help the Central Arizona BBB recognize and award Arizona high school students for their commitment to ethics in athletics and the classroom.
Item Description: Service your motorcycle with a $50 certificate towards a 5K mileage service or oil change at Eagle Motorcycles. Then take care of your residential or commercial needs with HVAC services and products with a $50 gift card to Magic Touch Mechanical.
Includes: (1) $50 gift card towards 5K mileage service/oil change (1) $50 gift certificate towards any product or service from Magic Touch Mechanical
About the BBB (Better Business Bureau) Integrity Online Auction 
This is the second annual Integrity Online Auction sponsored by the Better Business Bureau. Prizes range from sporting events tickets to gift certificates donated by local Arizona businesses who are proud to support their community and high ethical standards.
All proceeds help the Better Business Bureau show public recognition and give awards to high school students who exemplify an ongoing commitment to ethics in the classroom and on the field in athletics programs.
About the Better Business Bureau's Institute for Ethics 
The BBB Institute for Ethics is a 501(c)(3) non-profit corporation for charitable and educational purposes.
About Magic Touch Mechanical 
Find out more about about us and how we support our community!