Mitsubishi MLZ Ceiling Cassette Review
September 30, 2018
All of us at Magic Touch Mechanical Air Conditioning & Heating (Mesa, AZ) eagerly awaited the arrival of the very first Mitsubishi MLZ in Phoenix. It finally arrived, we've completed the installation of a few, and are ready to share our Mitsubishi MLZ Ductless One-Way Ceiling Cassette Review!
If you've read any of our other Mitsubishi Ductless air conditioner / heat pump reviews, you know we are huge fans of their products. Magic Touch Mechanical is one of the largest Mitsubishi Preferred Diamond Dealers in Arizona. We've been installing ductless mini split units for over twenty years, and have completed thousands of mini split installations in homes and commercial buildings.
The Mitsubishi MLZ One-Way Ceiling Cassette enables HVAC Contractors like Magic touch Mechanical to install mini split ductless A/C & Heating in existing home applications without the need for an exposed unit hanging on the wall.
Ductless Air Conditioners – Not Just Wall Units
While wall mounted ductless air handlers aka high-wall units still remain the most popular option, they're not for everyone. Many homeowners want to take advantage of the benefits of ductless AC units and heat pumps, but want more "hidden" equipment options.
This is easy to accomplish when building a new home, however becomes more challenging when it comes to a retrofit installation in an existing home or commercial building. The Mitsubishi MLZ One Way Ductless Ceiling Cassette design and dimensions change all of that.
Mitsubishi MLZ Ductless One-Way Ceiling Cassette – Better by Design
There have been multiple non-wall-mounted ductless unit options available for years. Unfortunately, when it came to ceiling cassettes, the design and dimensions prevented its use on existing homes. The problem – it just didn't fit between the homes framework (studs).
Even in applications where we could make it work, it required the addition of an access panel next to it in order to service the unit. Aesthetically, having to add an access panel in the ceiling just wasn't pleasing to the eye in most applications.
The Mitsubishi MLZ Ductless One-Way Ceiling Cassette not only fits between studs in existing homes, it doesn't require an access panel to service it!
Will the Mitsubishi MLZ Ductless One-Way Ceiling Cassette Work in Your Home?
In a word, yes – this will work in most homes. The one-way ceiling cassette is approximately 14" wide. This narrow dimension was purposely chosen by Mitsubishi's design team to fit between the studs in all types of homes. Keep in mind, there may be certain applications such as vaulted ceilings or other obstructions that limit placement in some homes.
Another consideration when choosing a ductless ceiling cassette is ancillary work that may be needed when adding one. Unlike wall mounted ductless units which typically do not require any drywall or paint repairs, ceiling cassette installations very well may.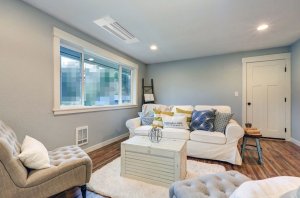 How Well Does the Mitsubishi One-Way Cassette Work?
Mitsubishi is the #1 selling ductless air conditioning & heating brand in the U.S. for a reason. Magic Touch Mechanical has installed thousands of their systems over the last two decades in the Phoenix, AZ market. Not only do we install a lot of their product, we own Mitsubishi equipment ourselves. Bottom line, we already knew the MLZ would perform well, and we weren't wrong.
The Mitsubishi MLZ Series uses whisper-quiet technology to shower the entire room with gentle conditioned air. Moving air in a sweeping motion both up and down and side to side, the MLZ provides consistent comfort. As with all of their ductless air handlers, the included remote control allows you to make all the speed and temperature adjustments you want.
Mitsubishi MLZ Ductless One-Way Ceiling Cassette Specifications
The air handler is available in three sizes (tonnages):
MLZ-KP09NA– 9,000 BTUH Cooling / 12,000 BTUH Heating (3/4 Ton Cooling / 1 Ton Heating)
MLZ-KP12NA– 12,000 BTUH Cooling / 15,000 BTUH Heating (1 Ton Cooling / 1.25 Ton Heating)
MLZ-KP18NA– 18,000 BTUH Cooling / 21,000 BTUH Heating (1.5 Ton Cooling / 1.75 Ton Heating)
All three models come with a 5-speed fan motor that can be adjusted to deliver optimal airflow for any application.
The Mitsubishi MLZ is quiet!
Aside from being exponentially more efficient than central AC (largely due to the elimination of air ducts), the low noise ratings of ductless air conditioners are one of their biggest attractions.
The Mitsubishi MLZ is no exception. Measuring as low as 26dB (decibels), you just can't hear it operating! To put that number in perspective, most decibel rating charts equate that to a person standing 5' away whispering to you. We found one chart that equated 25dB to the sound of a leaf falling from a tree!
Mitsubishi MLZ Ductless One-Way Ceiling Cassette Review Summary
The Mitsubishi MLZ is yet another game-changer in their ductless equipment product portfolio. Ductless air conditioning and heating makes more sense than central air on many levels. Mainly because they're more efficient, quieter, last longer, are more reliable, and provide better air quality.
What's not to like about them, right?
Well, some people didn't like the idea of a wall unit in certain areas of their homes. The MLZ Ductless Air Handler solves that – leaving nothing left not to like!
Schedule a free consultation with an expert. Magic Touch Mechanical provides ductless mini split design & install service in the Greater Phoenix Metropolitan Area (within 35 miles of Mesa, AZ).