Modern Fireplace Ideas
January 12, 2022
How to Transform Your Old Fireplace Into a Modern Fireplace
Here are some modern fireplace ideas for naturally vented gas & propane fireplaces & fire pits. Magic Touch has been converting old gas fireplaces into a modern fireplace works of art for 25+ years. We thought it would be great to show our readers how we transform drab into fab with these modern fireplace ideas!
PRO TIP: A word of caution before we get to it – Gas fireplaces are safe when properly installed & maintained by an experienced, trained technician. We highly recommend you do not attempt to replace, service, or repair a gas fireplace without the proper training. However, gas fireplaces can be extremely dangerous when improperly installed or maintained. Fire, property damage, carbon monoxide poisoning, and other dangerous scenarios are not worth the risk! Be safe, hire a professional fireplace repair company, and enjoy these modern fireplace ideas for years to come!
Most of the following modern fireplace ideas are intended for natural draft fireplaces. One way to tell if your fireplace is natural draft is if it has a chimney. If your fireplace vents directly out the back, you most likely have a direct vent fireplace. The Fire Place by Magic Touch (a division of Magic Touch Mechanical) can help transform your direct vent fireplace as well. Schedule an inspection with one of our professionally trained fireplace technicians to learn more!
You don't have to spend a fortune replacing your fireplace insert, chimney, mantle, etc. to completely transform the look of your fireplace. Most of these modern fireplace ideas can be professionally installed for a fraction of the cost of a complete remodel.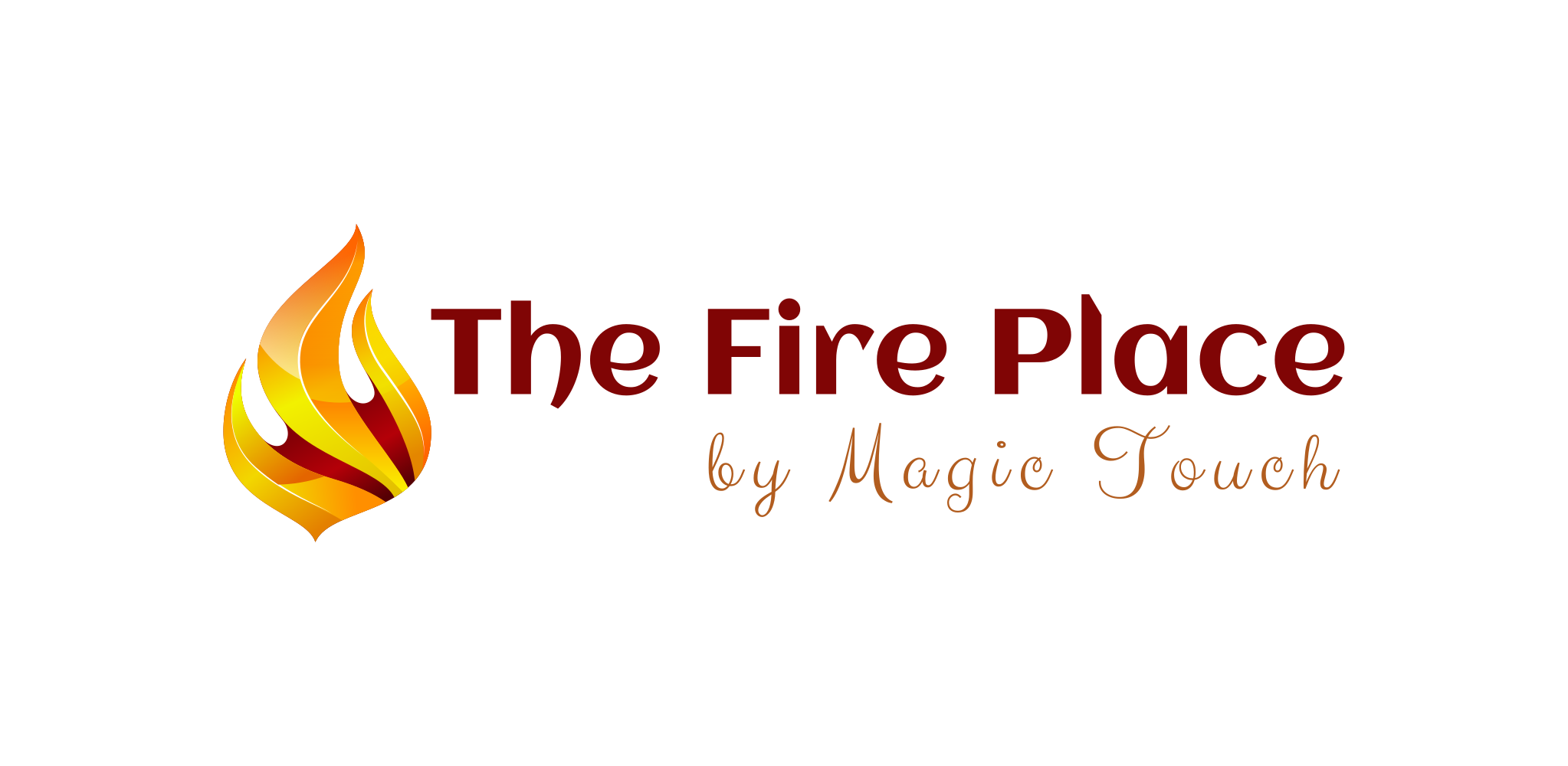 Modern Fireplace Ideas – Stainless-Steel Burner Pans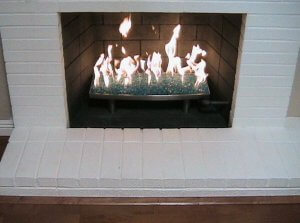 One of the most popular modern fireplace conversions with Phoenix homeowners in recent years is undoubtedly the stainless-steel burner pan.
This gas fireplace remodel starts with the removal of the existing gas logs, burner, embers, etc. Once we have a clean firebox to work with, we install a new stainless-steel burner pan, gas flex, and ancillary items.
The stainless-steel pan comes in multiple sizes and shapes to best suit the existing firebox. Once installed, tested for proper operation, and ensuring there are no gas leaks, the pan is filled with colorful fire glass. Other media options include fire stones, cones, and diamonds.
PRO TIP: The fire glass Magic Touch Mechanical uses is not ordinary glass. We install fire glass specifically designed to withstand high-heat and direct contact with flames. It does not melt, crack, pop, or scorch. Never attempt to use ordinary glass or cheap imitation fire glass in any fireplace.
See what's included with this modern fireplace idea. 
Modern Fireplace Ideas – Trapezoid Burner Pans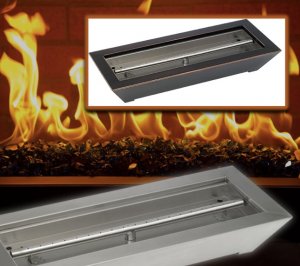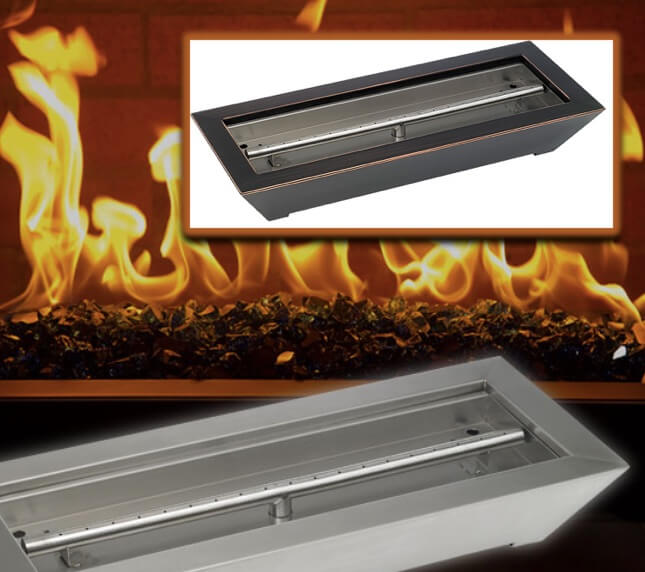 Similar to the stainless-steel burner pan, the Trapezoid Burner Pan is another popular option. Both offer a clean, uncluttered look that transforms a basic fireplace to a stunning focal point of the room.
Trapezoid burner pans come in two finishes; oil-rubbed bronze or stainless-steel. They work well with both ultra-modern furnishings and more contemporary surroundings. We've even installed these pans in homes with both rustic and southwestern surroundings. No matter the décor, our clients love the results!
See what's included with this modern fireplace idea.
Modern Fireplace Ideas – Hidden Burners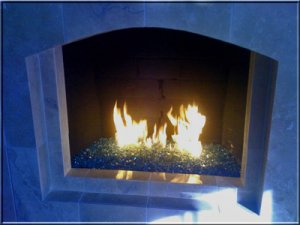 The Hidden Burner fireplace remodel is the modern fireplace idea that started it all for The Fire Place by Magic Touch. When we first saw it, we knew many of our clients would be interested in recreating the look in their own home. 
You've probably seen something similar in an outdoor firepit on the patio of a high-end hotel or restaurant. That's where we first saw it, and we searched high and low for the components necessary to duplicate it indoors.
The beauty of the Hidden Burner is how the flames seem to be dancing on top of the fire glass out of seemingly nowhere! The flames twinkling and reflecting the colors of the fire glass inside the fireplace are, as some of our clients say, simply breathtaking!
See photos what's included with this modern fireplace idea.
Modern Fireplace Ideas – Burner Pan on Fire Glass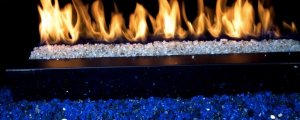 A recent trend, and one that we think is absolutely stunning, is a combination of both the burner pan look and the hidden burner look.
We start by installing either a stainless-steel burner pan or trapezoid burner pan. After that, we fill the rest of the firebox with additional fire glass. Impress your guests with your design skills! We have dozens of fire glass colors and types to choose from. 
The resulting look offers the best of both modern fireplace ideas. Your guests will think you spent a lot more than you did!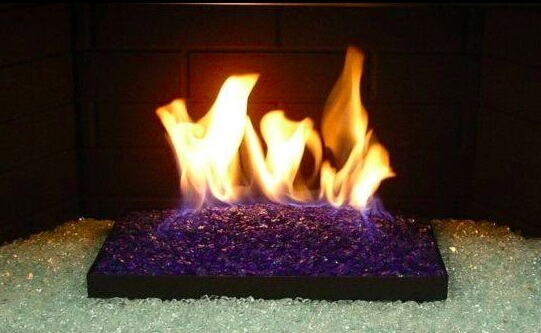 More Modern Fireplace Ideas
Fire glass is cool but does it fit your home's style and decor? If not, there are still ways to give your fireplace an update look and still have a traditional log set. Did your builder-grade fireplace came with fake-looking logs? Don't worry if it did… you're not stuck with them! Ask your Magic Touch fireplace service technician about modern gas log sets. Todays gas log sets have evolved dramatically and offer a far more realistic look than the sets of even 10-years ago. 
Rich & Michele Morgan, owners of The Fire Place by Magic Touch, didn't think fire glass matched the look of their valley home. Instead, they opted for a beautiful white birchwood gas logset to replace the builder-grade logset that came with the home. "I love the way the white birch 'pops' against the black background of our fireplace," said Michele. "Plus, the new logsets look much more like real wood – it was an easy decision to go that route", she added.
"Michele gets her way when it comes to the inside of our home." says Rich. "I have a little more sway when it comes to the outside, so I did manage to talk her into fire glass in our gas fire pit." We have two fire pits in our backyard, one is a traditional wood burning bowl, the other is a gas fire pit on our patio. Originally, our gas fire pit came with plain old lava rock, but I much prefer the look of mirrored fire glass. After upgrading the burner and ignition system, we installed a mix of clear, brown, and blue fireglass. I use it most nights because it's easy and doesn't make a mess." he added.
BELOW: Fireplace Technician, Jason G. proudly displaying a fireplace transformation he completed for a Magic Touch client.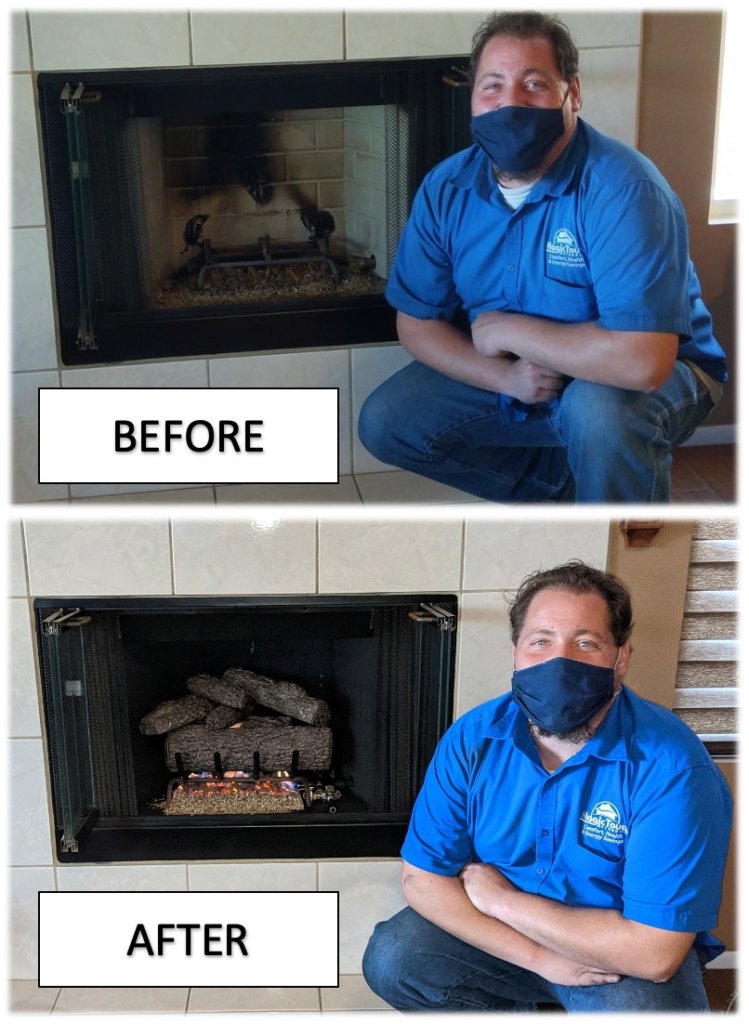 Gas Fireplace Remote Control Kits
Did you know we can add a remote-control kit to your gas fireplace? This way, you can turn your fireplace on & off… without getting off the couch! Or, take things to the next level with a kit that allows you to control the flame height and heat output with a variable flame remote control kit. Ready for a romantic evening with your spouse, just grab "the clicker" and presto – a cozy fire! Things getting a little too hot? No worries, adjust the flame height down a few settings and give everyone a chance to cool down. 
Push Button Flame 

Ignitor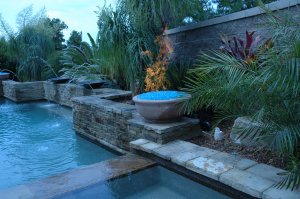 Do you have to light your gas fireplace with a match? WHOOSH!
Save your arm-hair, eyebrows, and a few extra heartbeats with a push-button ignitor. With this upgrade you'll no longer have to reach into your fireplace to light it. This upgrade is similar to the push-button ignitor on a gas barbecue grill, only more dependable. As a result, you can save your matches for more birthday candles!
Fire Pits, Fire Bowls, Fire Features
Of course, no backyard is complete without fire, well – controlled fire that is! The Fireplace by Magic Touch has been turning fire pits from drab to fab for over 1/4 century. In fact, the possibilities when it comes to upgrading outdoor gas fire pits are almost limitless. Did you always want a gas fire feature shaped like a warship with moving parts? Yeah, we didn't either, but believe it or not it's available. How about a burner insert in the shape of an electric guitar on fire? Yup, you guessed it, if you want it we can make it happen.
For those that aren't looking for something as extreme, there are plenty of options to modernize your outdoor fireplaces, bowls, pits, and features.
We Offer Gas Fireplace Repair, Maintenance, & Cleaning Throughout Phoenix, AZ Metro Area
All gas fireplace manufacturers recommend professional maintenance annually. Magic Touch Mechanical offers annual fireplace maintenance and cleaning in Phoenix and nearby cities. Even better, we make sure we have the most affordable pricing in Arizona! Is your gas fireplace not lighting? Does your gas fireplace light and shut back off? Magic Touch Mechanical offers professional fireplace repair for both residential and commercial customers in Mesa, AZ and within a 35-mile radius. Give us a call today, or schedule your fireplace repair service online now!
Follow us on Facebook and Instagram to see our latest projects and articles you can use!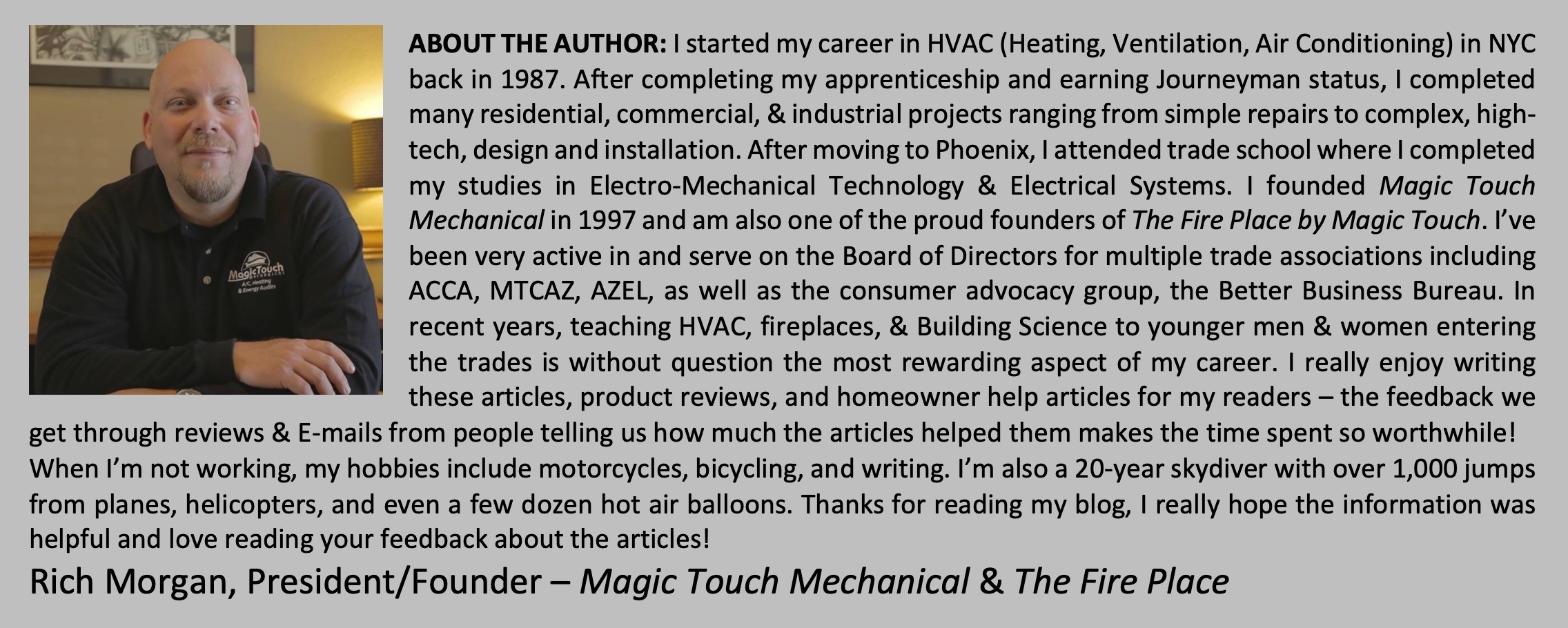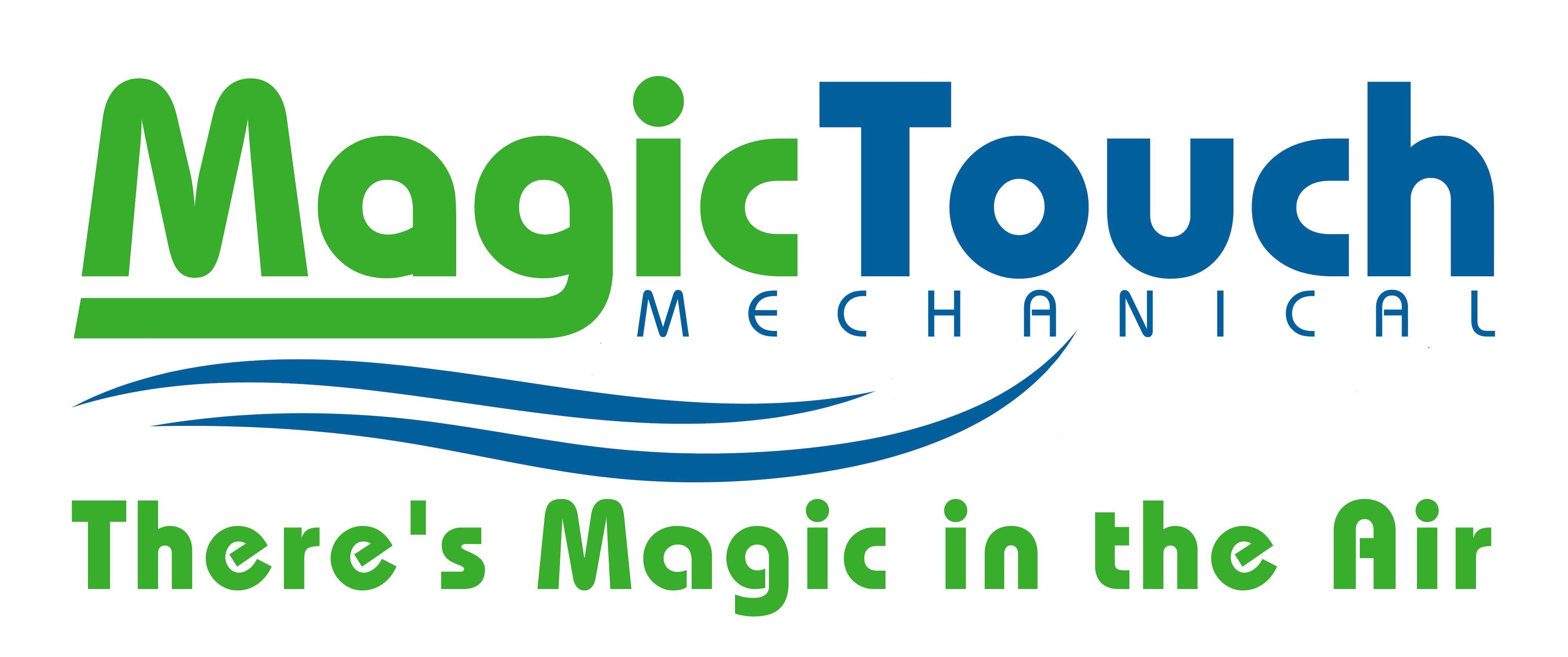 The Fire Place by Magic Touch is a division of Magic Touch Mechanical, Inc. There's Magic in the Air!