Lennox and Trane Parts
January 13, 2020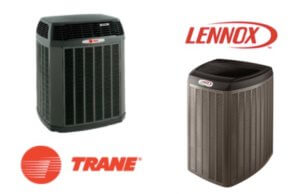 I'm writing Lennox and Trane Parts to dispel a myth. Well, in reality it's not so much a myth as much as it's a lie you may have been told. Before I go any further, if you're searching for Lennox and Trane parts for sale, you won't find them here. Magic Touch Mechanical does not sell air conditioner parts to the public. We sell & install Lennox and Trane parts (as well as all other brands) for our clients in the Phoenix, AZ area. We're not a parts supplier, we're an HVAC Contractor – meaning we supply both parts and the labor for repairs & installations.
Lennox and Trane Parts – The Myth aka Lie
The myth is that Lennox and Trane parts are hard to get, not stocked locally, very expensive, etc. The reason I say it's not so much a myth but a lie is based on who's telling consumers this: AC Contractors & Salespeople who sell other brands.
I could have named this article Carrier Parts, Goodman Parts, or pretty much any other air conditioner brand name. What I mean is; this is no more than a scare tactic!
We often here this from consumers who were told this by one or more air conditioning contractors' salespeople. The reason is; they are trying to scare people away from a brand they're considering which they don't carry!
Lennox and Trane Parts Are Not "Hard to Get"
At Magic Touch Mechanical we take a different approach than many heating & air conditioning contractors in the Phoenix area. We carry, sell and install many of the major air conditioner brands. Not only do we sell both Lennox and Trane, we also sell Bosch, Mitsubishi, Day & Night, Goodman and others. We wouldn't sell them if we couldn't easily get parts for them.
We sell a lot of brands because we believe our clients deserve more choices to pick what's best for them – not us. Here's how we look at it; if we'd put it in our own home, it's a brand we carry. If we wouldn't, we don't! Do we have our favorites? You bet we do, and we don't hold back on sharing that – just read our blog articles.
Don't get me wrong, there are a number of brands we just wont install. Perhaps they've proven unreliable, perhaps they don't perform as well as their competitors, perhaps the build quality is low. Whatever the reason, or reasons plural, it boils down to the question: Knowing what we know, would WE buy this product for ourselves? If the answer is no, it's not a brand we offer. However, we're not going to lie about it and say it's for any other reason than "we wouldn't install it in Mom's house!"
Lennox and Trane Parts are Closed on Major Holiday's
It's true that Lennox and Trane Parts Stores are closed on major holidays. So is Carrier, York, Rheem, Ruud, Maytag, Goodman, Daikin, and the rest. So is almost every other retail store, office, manufacturer and most likely… your company or employer!
Authorized Dealers Get Lennox and Trane Parts Quicker
There's one scenario where an HVAC Tech or Salesperson may truly have trouble acquiring Lennox and Trane parts quickly. Factory owned supply stores are always going to give the best service to their "Authorized Dealers". This is especially true in the high-season when they're very busy. When it's 100+ degrees in the summer, or 40 degrees in the winter, heating & air conditioning companies are hopping. Suppliers are equally busy, so their loyal customers (authorized dealers) are going to get preferential treatment over non-regular contractors. Fair is fair!
Long Wait Times for Lennox Parts
Magic Touch Mechanical has been a Lennox Premier Dealer (basically a Lennox "preferred" contractor) for over a dozen years. However, we were a Trane Comfort Specialist for more than a decade before we sold our first Lennox air conditioner. As a major player with Trane Phoenix, we know most of their employees on a first name basis. On the Lennox side, before becoming a regular customer we experienced a lot of trouble acquiring Lennox parts. As it turns out, this was by design!
Lennox Courts Magic Touch Mechanical
Magic Touch Mechanical received a lot of great press in 2008 after winning the Better Business Bureau Torch Award for Business Ethics. This garnered the attention of several premium air conditioner manufacturers whose products we were not promoting at the time.
Representatives from Lennox International aka Lennox Air Conditioning, were particularly interested in meeting with us to discuss a partnership. While I took the meeting, deep down I had no intentions of adding the Lennox brand to our brand offerings. Having worked in the air conditioning & heating business since I was a teenager I was very familiar with Lennox. In fact, in NYC, I worked for one of the largest Authorized Lennox Dealer's in New York state. I loved the product and knew it was a reliable, premium brand. However, took issue with the incredibly slow and unresponsive service we had received from the Phoenix, AZ branch. Technicians reported ridiculously long wait times both on the phone and at the counter, parts availability stunk, etc.
As it turns out, I learned that was all by design. I was promised the moment we became an Authorized Lennox Dealer wait times would stop and parts availability issues would end. Basically, we'd receive the same "front of the line" service from Lennox that Magic Touch Maintenance Club Members receive from us. It clicked, and made sense immediately. When it's 100-degrees and one of our maintenance club members need immediate repair service, they're going to get it! Sure, if we can fit a brand new customer on our schedule same day, we're going to do it. However, if we have one appointment slot left, naturally our loyal client is going to get it over a non-customer. And so – the Lennox / Magic Touch partnership is born!
Magic Touch Mechanical Proudly Carries Both Brands & Then Some
In the old days, you picked your horse and rode it. In other words, air conditioning companies represented one major brand, maybe two (a premium brand & a budget brand). We decided a long time ago that was a disservice to our loyal clients. Imagine if you went to the new car lot and your only choice was red? Or, the lot up the street had both red and green but nothing else?
We decided if the brand was reliable, well-built, feature-rich, had a great warranty, great service, etc.; we'd proudly install it. Ultimately, the deciding factor is; is this a product I'd install in my own home? If the answer is yes, it's an option we extend to our customers side-by-side with the other brands we carry.
In fact, there are really only 7 major air conditioning brands (mother companies) that own all the 150 brand names. The major brands are Nortek, United Technologies, Daikin, Johnson Controls, Ingersoll Rand, Rheem, and Lennox.
For example, United Technologies owns; Carrier, Bryant, Day & Night, Payne, Tempstar (formerly Whirlpool), Comfortmaker and a dozen others. Ingersoll Rand owns Trane, American Standard and a new brand introduced in 2020; Run-Tru. With the exception of a few specialty units like ductless mini-splits; whatever brand you own is made by one of these seven companies.
Yes, That Part is Available in Phoenix!
I won't sit here and tell you that every part for every unit is always available 24/7/365. Especially as specific models start to age, some parts need to be ordered, sometimes even built per order. However, that's not a brand specific issue; that's a "life happens" issue, and it happens with all brands – sometimes!
What I can say in good conscious is; we form these partnerships so we can "pull some strings" when needed. I've even had parts removed from brand new units still in the box so we could take care of our customer. While that's an extreme measure and not normal practice, it's all about the relationship.
Bottom line: If an air conditioning contractor tells you, "(Blank) brand is hard to get parts for," he/she's not being honest.
Compare Air Conditioner Brands Side-By-Side
If you live in the Greater Phoenix, AZ area, you're in luck! Magic Touch Mechanical not only sells many brands and presents them without bias, we service the entire East & West Valley. We won't pigeon-hole you into one air conditioner brand. We want you to choose the brand that's best for you, your home, and your budget. In fact the only brand we hope you'll buy is ours – Magic Touch Mechanical!
Schedule a free home evaluation and brand comparison today!
You May Also Like:
The Best New AC Unit – A Complete Guide
Cheapest Air Conditioning Unit