HVAC Apprentice Program
May 3, 2022
Magic Touch Mechanical is excited to welcome candidates to apply for our HVAC Apprentice Program!
The HVAC (Heating, Ventilation, & Air Conditioning) industry provides lifetime career opportunities everywhere in the world. Imagine having a skill that allows you to live anywhere you want and always be in high demand. As the Baby-Boomer and Gen-X generations retire or move into management and ownership roles HVAC positions need to be filled. The demand for new Service Technicians, Install Technicians, and Crew Leaders continues to grow. HVAC is one of the few industries where an individual starting with no experience can earn $70,000 or more within one year. $100,000 or more within 2-years, and practically limitless potential for their entire life!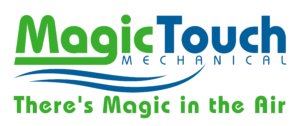 How an HVAC Apprentice Program Set Me Up for Life
My name is Rich Morgan, I'm the owner of Magic Touch Mechanical. I was lucky enough to be accepted into an HVAC Apprentice Program over three decades ago and still believe it was one of the best decisions I ever made.
In my early twenties, when many of my friends were just graduating college (some still living with their parents) and hadn't even begun paying off their student loans, I was debt-free and earning great money.
In my mid-twenties I already owned my own house, had nice cars, motorcycles, a beautiful boat and was able to take nice vacations. By the time I was in my mid-thirties, I owned two homes and investment properties. I'm not sharing this to brag – I'm sharing it because getting into that HVAC Apprenticeship Program made it all possible!
HVAC Technicians & Installers Needed Everywhere
I was accepted into an HVAC Apprentice Program when I lived in New York City. Ironically, at the same time I had the opportunity to apprentice as a union Ironworker. After much consideration I decided to stick with HVAC because there were more opportunities that did not depend on whether the construction industry or economy was doing well. People need heating, cooling and refrigeration all the time … no matter what!
I left NYC and moved to Phoenix, AZ without having a job lined up. A few days after landing in Phoenix, I applied for a job at three different AC Companies – all three made me an offer that day. Like I said, imagine having a skill that allows you to live anywhere you want and always be in high demand.
Magic Touch Mechanical HVAC Apprenticeship Program Opportunity
I founded Magic Touch Mechanical over 25 years ago and am fortunate enough to work with some of the most talented people in the industry whom I met along the way. People with decades of experience and knowledge to share with the next generation of HVAC professionals. For months we've been building our own HVAC Apprentice Program and are now ready to select a few candidates for our first group. We're seeking applicants who are ready for an exciting and lucrative HVAC career!
While most HVAC apprentice programs require candidates to have completed a trade school program first, our HVAC Apprentice Program will also be accepting candidates who have no experience or trade school.Trade school graduates will be given special consideration, however it is not a requirement to be accepted into the Magic Touch HVAC Apprentice Program.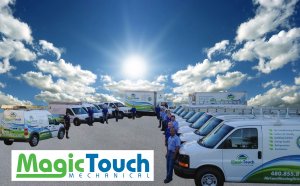 HVAC Apprentice Program Eligibility Requirements
Applicants must meet the following minimum requirements:
18-years of age or older
Valid AZ Driver's license
Must be a US Citizen or provide proof of eligibility to work in the U.S.
Must attend training Monday through Friday 8am through 5pm
This is a paid HVAC apprentice program!
Accepted candidates will be paid to learn. Training will include equal parts classroom training as well as one-on-one tutoring. You'll also receive and hands-on training in the field under direct supervision. HVAC Trade Schools can cost as much as $40,000 to attend prior to even landing an apprenticeship. The Magic Touch Mechanical HVAC Apprentice Program has $0 costs. In fact, accepted applicants will be paid an hourly wage while learning.
Successful graduates of  the Magic Touch Mechanical HVAC Apprentice Program can expect to earn as much as $70,000 after just one year. If you have what it takes you can easily earn up to $100,000 per year within two-years!
Sound good? Well, it's not easy!
Sure, you're not working in a cubicle, not flipping burgers, and not making cold-call sales, but being an HVAC Apprentice isn't for everyone. Those who are successful in the AC & Heating trade must work in confined spaces and can't have a fear of heights. You'll often have to carry heavy ladders and tools, and work in Arizona's hottest summer heat. All of this while maintaining a positive attitude and working safely.
But take it from someone who's done it … it's totally worth it! An HVAC career leads to prosperity and the ability to go anywhere in the world and be in high demand.
Apply By Filling Out the Form Below
Only complete applications will be considered. We anticipate a high volume of applicants so please be patient and be sure to show us why you stand out!
Good luck, we look forward to meeting you!
Magic Touch Mechanical
942 West 1st Avenue
Mesa
,
AZ
85210
Phone:

4808558789