How Much Does A Ductless AC Cost?
February 26, 2020
How Much Does a Mini Split Air Conditioner Cost?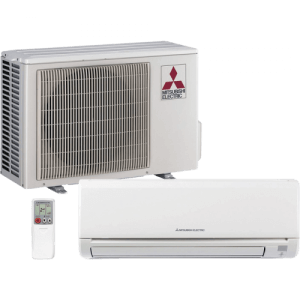 Since publishing "How Much Does a New AC Unit Cost?", we've received a lot of inquiries from people asking "How much does a ductless ac cost?" and, "How much does a heat pump mini split cost?" I like to use the questions we get a lot as the subject matter of my blog posts, so…ask and you shall receive! The prices below are relevant to the Phoenix, AZ area. Prices may vary by $1,000 or more in your area.
This article was updated 2/26/2020
I'm going to get to ductless ac install price in a moment, but first it's important to understand what these machines are and how they are installed to understand the range in price.
Single Zone = 1 Indoor Unit
A "single zone" ductless air conditioner aka "mini-split", is the most common type of ductless system. Here in Phoenix, people typically install ductless units to cool a garage or Arizona Room (sun room). Installing a mini split is also common as supplemental air conditioning in one room of the home. These systems can provide AC only or, both air conditioning and heating via a ductless heat pump. Note: Heat Pumps provide electric heating utilizing a component called a reversing valve. A single zone mini split consists of a condenser (outdoor unit), and an air handler (indoor unit). The units are connected by refrigerant lines (copper pipes) and electrical wiring.
Price Range of Ductless Mini Split with One Indoor Unit Including Installation
The typical price of a single zone ductless AC including installation will range between $4,500 and $6,000*
*Prices vary based; brand, efficiency rating, type of air handler (discussed below), and the biggest variable; application (which determines the amount of labor and additional materials needed to complete the install).
Outside of the U.S., people are very familiar with ductless mini split air conditioners. They're prevalent in most parts of the world for a reason. Many old-world homes and buildings were built long before air conditioning was invented. Therefore, they have no ductwork to accommodate a central ducted air conditioning and heating system.
Ductless mini-split air conditioners have longer warranties**, are more efficient, quieter, and in general more reliable, than ducted AC. Which explains why they're the quickest growing segment of new HVAC sales here in the US.
**Mitsubishi Ductless Heat Pumps & AC's come with a 12-Year Parts and Compressor Warranty ONLY when installed by a certified Mitsubishi Diamond Dealer (like Magic Touch Mechanical). If installed by a non-certified contractor the warranty reverts to a standard 7-year warranty.
Types of Ductless AC Indoor Units
One reason people say they haven't considered a mini split before is; they don't want something hanging on the wall. Wall-mounted air handlers are called "high wall" units and are the most common and affordable. However, there are a number of other types of indoor units that can be connected to a mini-split condenser.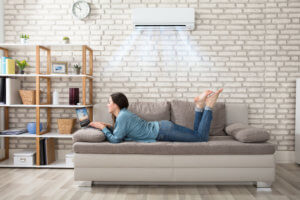 High Wall / Wall Mount – The most common of all ductless ac indoor units. "High-wall" or wall mount air handlers are also the most economical in most cases. This is mainly due to ease of installation in most homes and office applications. This is our most requested ductless option when our clients want to cool Arizona Rooms and garages. We install several mini splits per week in garages around the Phoenix Metro area.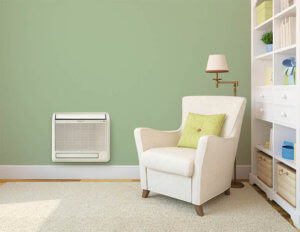 Low Wall / Floor Mount –The latest indoor unit to hit the market, the "low wall" is mounted like a modern day version of a heat radiator. Anyone who has ever lived in a big city like New York or Chicago probably seen these before. Of course they are much more attractive than an old radiator but similar in size only not as deep and mounted directly to the wall a few inches off of the floor as opposed to sitting on the floor like old steam radiators were.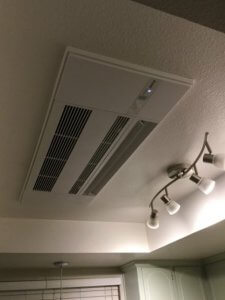 Ceiling Cassette / Recessed – The ceiling cassette has been popular in commercial applications for years and is starting to gain popularity in the residential home segment in recent years. These look similar to ceiling registers (vents) that we are used to seeing in Phoenix.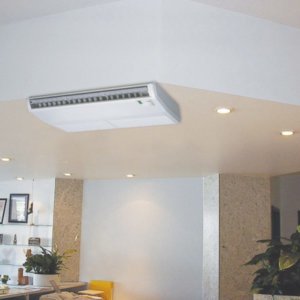 Ceiling Mount / Suspended – as the name suggests, this unit is mounted to the ceiling but is not flush with the ceiling like the ductless ceiling cassette. It hangs down a few inches from the ceiling and can be a great option for rooms with limited wall space.
Hybrid Mini Splits Utilize Both Ducted & Ductless Indoor Units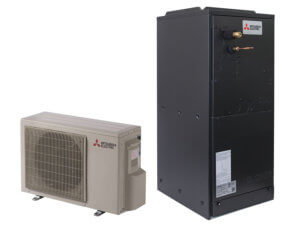 Ducted – I know this article is about ductless equipment but, for multi-zone systems which we are going to get into next, a growing trend is to mix both ducted and ductless air conditioners together into one system in order to "zone" the air conditioning and heat in every room of the home or building.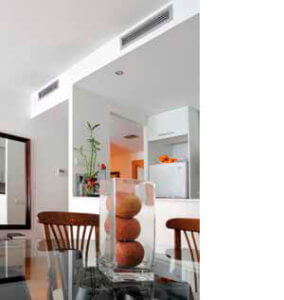 Concealed – For spaces with enough attic space above there are also completely concealed air handlers (see picture below) that utilize small "high-velocity" ducts much smaller than traditional air ducts but deliver a significant amount of air due to the unique design of the air handler and how the air is distributed.
The typical price of a SINGLE ZONE ductless AC with ONE of the SPECIALTY AIR HANDLERS described above will range between $4,900 and $6,900*
Multi-Zone Ductless Mini-Split Systems
Mini-split ductless systems are not only meant for one room. In fact, we at Magic Touch Mechanical have installed residential ductless air conditioning and heating systems in homes as large as 8,000 square feet…with NO DUCTWORK anywhere in the home!
On the opposite end of the spectrum, just this year (I originally wrote this article in November 2016), we installed a five-zone heat pump system in a single-wide mobile home.
Your Electric Bill is What?
In the first example, consider the costs of cooling and heating an eight-thousand square foot home…okay, are you still breathing? Now think about how much of that home goes largely unused the majority of the time. The ductless system we installed in that home allows the owners to control every room in the house at a different temperature, and even completely shut off the units in some rooms while leaving others on. To take things a step further, on that particular system, the owners have the ability to be heating one room while cooling another.
In the second example, the mobile home was donated to a charity organization that provides homes for homeless pregnant teens. As a non-profit that relies on donations to keep doing the great work they do, obviously keeping utility costs to a minimum is extremely important. The ductless system not only allows them to individually control the temperature of each room, it is also extremely efficient in general, because ductless units have very high SEER Ratings (Seasonal Energy Efficiency Ratio) and HSPF Ratings (Heating Season Performance Factor).
Price Range with Multiple Indoor Units Including Installation
The typical price of a multi-zone ductless heat pump system including installation starts as low as $8,000 for 2-zones. As a "rule of thumb" 

budget

 between $4,500 – $5,500 per zone in most residential applications. 
There is nothing "typical" about one multi-zone ductless mini-split installation from one to the next. Each one is completely custom from the next because beyond just the equipment itself. The materials needed, labor needed, etc., etc., etc. are always completely different. This is the main reason it is impossible for a contractor to give a "ballpark price" over the phone without seeing the job first.
A good example of this are two, 6-zone Mitsubishi Ductless AC & Heating Systems that Magic Touch Mechanical installed last month. The total installed price of one of those systems was $18,100, while the other was $23,900. One took 2.5 days to complete and the other took 4 days to complete.
It Boils Down to the Application
The differences between these two jobs were many. Not only were each of the six air handlers different capacities (tonnages or BTU's), they were also different models. Beyond the size and model differences, one home required drilling multiple holes through masonry walls, while the other was simply stucco (which meant multiple hours of difference in the labor needed). One required a total of 400′ of refrigerant lines be installed, while the other required only 250′. I could go on and on about the differences in the two jobs, but really am trying to make our readers understand that there is nothing "plug-and-play" about these installations. So trying to get a price, site-unseen, for multi-zone mini-split or even a single-zone mini split for that matter is the equivalent of asking "How much does a new car cost?" – are we talking about a Ford Focus or a Bugatti Chiron?
It hasn't escaped me that you are probably curious how much the system in the 8,000 square foot home cost! Well, let's just say it was north of $55,000 which was about $10,000 more than quotes they were getting for conventional ducted equipment, but also money they recovered in efficiency savings very quickly! The cost for the mobile-home? Well some very generous people got involved so it didn't cost the charity anything but was valued at about $21,500.
Ductless Mini-Split Price
Whenever we receive an inquiry from someone looking for "ductless mini split price", my first order of business is making sure they know what these units are. One of the biggest misconceptions about these systems is people compare them to a window AC. In reality these systems are nothing like a window air conditioner, in fact, they are significantly more technologically advanced than the majority of central air conditioning units on the market. There is nothing "advanced" about a window unit, or as we refer to them in the HVAC business; window shaker's.
Not Your Fathers Window Unit!
Window units are really somewhat disposable as they typically only last a few seasons. Not that they don't serve their purpose, they are pretty inexpensive (as low as a few hundred bucks in some cases), but they are loud, inefficient, and pose a security risk since they are easily "pushed through" giving burglars a convenient hole to climb through. (Ductless equipment does not require a big opening like a window unit. The total hole size for the electrical, refrigerant lines and drain lines is a 3" hole which then gets sealed).
Where most people go wrong when searching the internet for "ductless unit cost" is mistaking cheap Chinese knock-offs for the real deal. They see a cheap price and then think they're all the same, which couldn't be further from the truth. Even if they do come across the top of the line equipment for sale online (Mitsubishi Ductless for example), they fail to consider all of the other materials and labor that go into a properly installed "system".
Only Mitsubishi Diamond Dealer Contractors Offer 12-Year Warranty
Mitsubishi Ductless gives units installed by a licensed HVAC Contractor a 7-year warranty. However, systems installed by a Mitsubishi Diamond Dealer receive a 12-year warranty. 
A 12-year warranty on an HVAC product is incredible to begin with. The reason Mitsubishi Ductless can do it is; they know these systems are extremely reliable when designed and installed properly. Mitsubishi Diamond Dealers are required to be certified by the manufacturer themselves. We fly our technicians to California to spend several days in a hands-on lab working on, repairing, and installing equipment. Technicians must also pass a difficult written test demonstrating competency to earn their certification.
Manufacturer May Void Warranty If Purchased Online
It's easy for them to track this as every piece of equipment is serialized. Mitsubishi can see who purchased the unit! They know if it went through their distribution channels, and if it was purchased by a licensed contractor.
Don't fall for online retailers that tell you, they warranty the unit. We've seen dozens and dozens of cases where people have purchased equipment online. When there's a problem the excuses as to why "it's not covered" begin. We've even seen cases where people received cheap knock-off's with the stickers of a recognized manufacturer on them!
For this reason, Magic Touch Mechanical and most reputable HVAC Companies in Phoenix will not even install equipment purchased online…it's not worth it for you or us!
Want to see side-by-side comparisons of ductless air conditioners and ductless heat pump mini-splits? Search our blog!
If you live in Mesa, Phoenix, Peoria or surrounding AZ cities, Magic Touch Mechanical can provide a free estimate for ductless AC installation for you. From one room to a mansion, we can help customize the perfect mini-split system for you! Give us a call today.
Exclusive Deals for Our Fans!
PRO TIP! We share exclusive deals and information with our Facebook Fans about ductless mini split air conditioners & other cutting-edge products, Be sure to like our page to claim your deal!