Bosch vs Gree
May 24, 2022
The idea for writing an article pitting Bosch vs Gree was born when one of our clients posed the question. If you're not a regular reader of our blog, you may not know Magic Touch Mechanical carries many brands. Our sales philosophy is simple, "give clients options not ultimatums." We show our clients all the major brands side-by-side so they can choose the option that best suits their budget and needs. When comparing Bosch vs Gree there are many similarities, so we decided to share what's the same and what's different.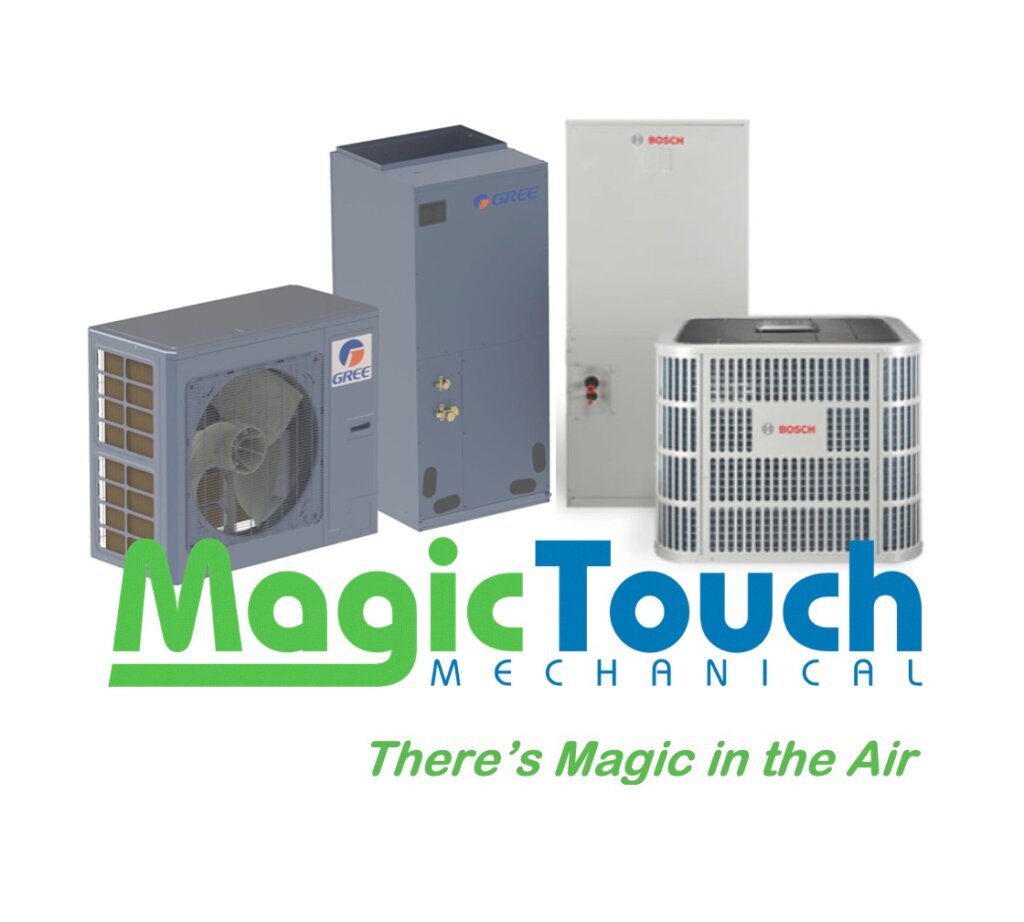 Bosch vs Gree – Who's Who?
Bosch was founded 156 years ago in Stuttgart, Germany and is one of the most recognized name brands in Europe. Technically, the company started in 1731 making cast-iron stove plates. Bosch came to North America 116 years ago in 1906 and has over 100 locations in the U.S. & Canada. Widely known for appliances (like the top-rated dishwasher & oven), Bosch manufactures everything from auto parts to power tools. They manufactured their first heat pump 47 years ago in 1975 – long before homeowners knew what a heat pump was.
Bosch reported sales of over 83 billion dollars last year.
Gree doesn't have the rich history Bosch does, it was founded 33 years ago in 1989. However, that hasn't stopped Gree from becoming the world's largest residential air conditioner manufacturer in a little over 3 decades! As of 2022, Gree manufactures 1/3rd of all the air conditioners being installed in homes today. Let me say that again – 1 of every 3 air conditioners made in the world today is made by Gree!
The company manufactures air conditioners for many of America's best-known brands and currently has two joint ventures with Daikin. You may even already own a Gree unit now and not even know it because it has a different brand's 'sticker' on it.
Since we're comparing Bosch vs Gree in this article, both have equal footing regarding who's who? One has a long history dating back over 150 years – technically 281 years if you trace their history back to its original founder. The other, has become the largest air conditioner manufacturer on the planet in just 33 years in business!
Bosch vs Gree – What Makes Them Special?
According to Bosch and their suppliers, Magic Touch Mechanical is one of, if not the largest Bosch contractor in the country. We put in the very first Bosch heat pump installed in the Phoenix area and now install hundreds per year. I knew they had something special when I first saw them years ago, especially for the Phoenix, Arizona market. Frankly, we all want the best bang for our buck when we buy a product and Bosch heat pumps deliver just that.
Years ago, I affectionately called Bosch the Trane-killer in a review article. More recently I questioned whether Gree would become the Bosch-killer. As with Bosch, Magic Touch Mechanical is leading the charge in Phoenix installing the newest Gree heat pump – Gree Flexx. We installed the very first one in Arizona earlier this year.
Frankly, there's room for both in this market and I predict both will continue to outsell other big brand names. When comparing a dozen brands with clients, often it boils down to Bosch vs. Gree in recent months. Why it keeps boiling down to Bosch vs. Gree is simple – you get more for less with both brands. Trane, Lennox, Carrier, Rheem, etc., all have impressively quiet, efficient, high-tech, heat pump systems on the market. In fact, a few have models with mind-boggling efficiency numbers we never imagined possible even five or six years ago. However, those models also come with mind-boggling price tags nowadays. Often it boils down to Bosch vs Gree after comparing many brands because they both deliver quiet efficiency for thousands less.
Bosch vs Gree Price & Install Costs
You can find dozens of articles on the Magic Touch Mechanical blog comparing Bosch vs. Trane, Bosch vs Lennox, etc. The results are the same in every article, Bosch heat pump prices are thousands less in every application. Bosch heat pump install costs are significantly lower, not only because the equipment is less expensive, but they also don't require expensive upgrades. Lennox, Trane, and the rest require their proprietary thermostats, wi-fi hubs, and other expensive add-ons you can't opt out of. Their communicating equipment won't even run without them. Bosch requires none of that! In fact, very often we can utilize a clients existing thermostat if they want – saving even more.
Just because it costs less, don't think you'll be sacrificing much. Bosch heat pumps are highly efficient, quieter than most of their competitors' best models, and have comparable warranties. They deliver the best available technology (variable speed inverter-driven compressor) without locking you into all the 'required' accessories.
Watch Out Bosch – Gree is the New 'Best Price' in Town
For years Bosch was the lowest price heat pump you could buy with variable speed technology – those days are over. When Gree introduced the Gree Flexx, we were shocked to see they were $1,000 to $2,000 less than even Bosch.
Compared to Trane, Carrier, and the rest, you can have a variable speed Gree Flexx complete heat pump installed for as much as $5,000 to $7,000 less. As with Bosch, you're not 'sacrificing' with the Gree Flexx. It too is ultra-quiet, efficient, utilizes the best technology, and has a comparable warranty to all its competitors.
Here's What Sucks About Them!
Use the search tool on the top of our website (magnifying glass) to search, "Bosch" or "Gree" for more information. In many of those articles, I give specs., reviews, and tell you all about what I love about this equipment. Now (since you asked), let me tell you what sucks about them.
As this is a Bosch vs Gree article let's start with the former. Bosch sells their equipment to every Tom, Dick, and Harry with a contractor's license and a pulse. This is largely due to Bosch's large distribution network. Most brands sell their brand exclusively through 1 or 2 suppliers, Bosch sells through many (4 in the Phoenix market alone). While that may sound like a good thing, and it is for Bosch's bottom line, it's not the best for consumers. It's created a situation where many of these systems are being installed by unqualified installers and the homeowner suffers the consequences. We've seen dozens of examples where Bosch equipment was poorly installed by a company who "had the best price" both in-person and on HVAC Forums. We were called out to help see if we could "make it right" on the examples we've seen in-person. Frankly, we won't touch most of them – it's like swinging a broom at a hornet's nest – it's better not to!
Garbage In – Garbage Out
Bosch inverter-driven heat pumps must be installed by factory-trained, experienced technicians. They must be sized appropriately, connected to the 'right' duct work (the right way), and wired properly. We see them wired wrong regularly causing major comfort, humidity, and efficiency issues for the homeowner. We've also found them installed in applications not suited for a Bosch inverter (without making other modifications to the home).
Why do we care about a competitor's crappy installation? Too often a brand gets a bad name not because the equipment is bad, but because it was installed wrong. The Goodman brand (now owned by Daikin) suffered this fate for over a decade, people called them Goodluck – and other not so nice names. Why? They sold them to anyone who would buy them (without training), and they failed constantly as a result. I attribute more of their issues during that time to poor installation rather than the equipment's quality.
I hope Bosch pays attention to this trend and circles the wagons before their reputation suffers the same fate. It really is great equipment when properly spec'd, installed, commissioned, and maintained. Aside from Gree Flexx, it's the best value on the market still and has been for several years. However, improperly installed, or installed by the untrained, it's a disaster waiting to happen, and you'll get more than you bargained for. For you, the homeowner, this simply means you must do your due diligence when choosing an installation company. Choose an installer that you can verify installs these regularly, not one who "can get one" – because every contractor can get one!
What Sucks About Gree?
This is a Bosch vs Gree article so it would be unfair not to pick on Gree the same way we did Bosch.
First, as with any brand air conditioner, the most important day of its entire life is the day it's installed. If it's not designed, sized, and installed properly, it will have problems – period. Just like Bosch, Gree requires a higher level of knowledge and training due to its high-tech components. Unlike Bosch, Gree is only available (as of now) to a select group of already trained installers. If Gree maintains that distribution model, the first 'sucky' thing won't be an issue – it's not a very forgiving design.
Even outdoor unit placement must be considered carefully with Gree. Being a side-discharge condenser, it's important the unit isn't placed where discharge air is impeded. Its side discharge airflow can either be a pro or a con. Pro, it can be installed in very tight walkways. Con, how it's installed in that walkway leaves no margin for error.
So far, I haven't found a lot about the Gree Flexx that's not to like. So, if I must get nitpicky, I guess it sucks they don't have more models to choose from. If I only get one model to choose from, I'm glad it's the best technology you can buy (variable speed). However, it would be nice to see a mid-grade and entry-level model in the lineup giving homeowners more options.
Bosch vs Gree – Which is Better?
Both Bosch and Gree deliver exceptional value for the price. They're both beyond quiet, extremely efficient and utilize the best tech available today. Both pass the "Mom test." meaning, I'd feel comfortable putting either brand in my own mother's house. However, it's not a draw in my opinion.
Bang for the buck winner – Gree. The Gree Flexx unseated Bosch after years of holding that title by delivering the same or more for significantly less money.
Test of time winner – Bosch. The Bosch company is 150 years old in its current state – 281 years old if you count the years before they made boilers, etc. Compared to Gree, who is only 33 years old, Bosch could be it's great, great grandfather. That said to put things in perspective… Google is 23, Tesla is 18, Facebook is 18 and the device you're reading this on didn't exist when Gree started making air conditioners!
Bosch Heat Pumps & Gree Flexx Installed in Arizona
Are you interested in learning if a Bosch Heat Pump or Gree Flexx Heat Pump are the right system for your Arizona home? Contact the company that installed the 1st of both in Phoenix, AZ – Magic Touch Mechanical!
We'll provide you with a free no-obligation quote and tell you if either the Bosch or Gree are right for your home. If so, we'll show you a Bosch vs Gree comparison right at your kitchen table and let you decide which one best meets your needs and budget. Better yet, because we carry many brands we'll show you how they compare to Lennox, Trane, American Standard, Mitsubishi and more. No matter what brand you choose, you'll receive our Lifetime Workmanship Guarantee, 5-Star Service Guarantee and an installation done right!
You May Also Like These Related Articles…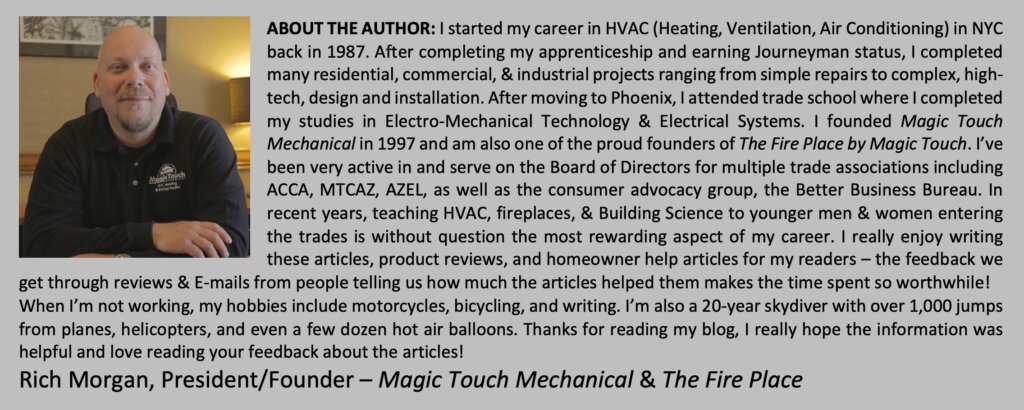 There's Magic in the Air!