Bosch Packaged Heat Pump
October 28, 2019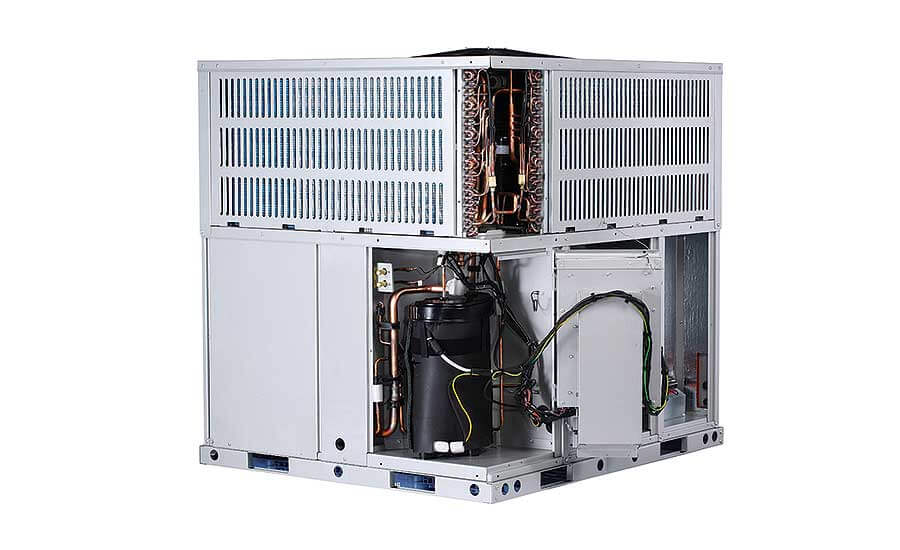 Before the Bosch Packaged Heat Pump came along, the best technology available in a rooftop packaged AC was 2-Stage. While companies like Trane, Lennox and Carrier have had 2-Stage packaged units for years, none have a variable speed option. That all changed with the introduction of the Variable Speed Bosch Packaged Heat Pump.
What's the big deal – who cares right? Well, those of us who own packaged rooftop or packaged ground units care! Considering there are hundreds of thousands of homes in the Southwest alone with rooftop heat pumps, there's a lot of us. I personally own four packaged units on three different properties.
Bosch Packaged Heat Pump vs Trane vs Lennox
It's no secret I'm a fan of both Trane & Lennox products. In fact, aside from my Mitsubishi ductless mini-split systems, every AC unit I personally own is either Trane or Lennox. I don't live in a castle, I own several properties both residential and commercial, so I own quite a few. I've been in the HVAC business for 30+ years, and founded Magic Touch Mechanical in 1997. In other words, the brands I choose to own are based on experience and factor in; reliability, longevity, performance & support.
A relative newcomer compared to Trane & Lennox, Bosch took the HVAC world by surprise with its latest release. The Bosch Packaged Heat Pump is the first of its kind in that it's the only variable speed packaged unit on the market today. While the others have all told us HVAC contractors "we have one coming," Bosch was the first one to deliver. And deliver they did!
I'm a pretty tough critic when it comes to heating and air conditioning units. I have to be…people depend on my air conditioner reviews when deciding on which to purchase for their home. Besides… for my company (Magic Touch Mechanical), installing HVAC systems is a large chunk of our business. Our clients depend on us to weed out the cheap stuff and advise them on the models we stand behind. Bosch has proven they deserve a spot on the list, and their variable speed package heat pump certainly does too.
As of late 2019, neither Trane or Lennox have even released a variable speed rooftop heat pump. So, when it comes to a comparison – there's nothing on the market to compare. Both A/C heavy-hitters lead the charge when it comes to variable speed inverter split systems – but no rooftop model.
The Bosch Variable Speed Heat Pump is a Game Changer!
A few years back I reviewed the then new Lennox LRP16HP I installed in my own home. I shared the noticeable difference in comfort, noise, performance & dehumidification compared to the single-stage Trane unit it replaced. In fact, years later, I wrote another article titled "Why I Love My Lennox Air Conditioner". The difference was all in the technology assembled in one well-engineered design. The high and low speeds compared to the single speed unit was not only more efficient, it improved my home's comfort dramatically. The room to room temperatures were more even, the airflow was significantly better, and it was noticeably quieter. That was just the difference between one speed and two speeds. The Bosch Packaged Heat Pump is variable, meaning many speeds, or more accurately; 85 speeds. In other words, the precise speed needed at that moment to achieve the best results for the conditions at the moment.
Had a variable speed package unit been on the market at that time, I'd have undoubtedly gotten one. In fact, I've mentioned in several other articles that our clients who buy variable speed split AC's all write raving reviews. The difference is really that dramatic.
Recently I purchased a new home – upgrading the two 12-year old split A/C's with variable speed systems is my first order of business. If the new home had packaged units, I'd choose the Bosch Packaged Heat Pump in a second. Since the new home has split systems, I'm deciding between the Bosch BOVA, Lennox XC25 and Trane XV20. If you read my blog regularly, you know I'll be writing articles about my choice, why, and the results! But I digress, back to package units from here on out.
Feedback from Bosch Packaged Heat Pump Owners & Install Technicians
We first reported the much anticipated release of the 1stresidential variable speed pack last summer. It was too early to tell then if the system would live up to the hype as they were just arriving. Well, they've been selling like hotcakes after Sunday service since then and the results are coming in. Our clients all give their new Bosch Packaged Heat Pump very high marks and so do we.
Bosch Packaged Heat Pump Price
Unlike the Bosch Variable Speed Split Heat Pump System, the packaged unit is the most expensive in its class. However, it's also the least expensive in its class. Wait, what? The point I'm making is this unit is in a class of its own at the moment. Since it's the only variable speed packaged heat pump on the market it's not fair to compare pricing with 2-stage units.
That said, Bosch split systems are significantly less expensive than their competitors' units in the same class. When companies like Trane, Carrier and Lennox unveil their variable speed packaged units, I anticipate Bosch's price will be well positioned.
Bosch Variable Speed Pack Specifications
Currently the most efficient packaged heat pump on the market, the Bosch clocks in at 19 SEER in cooling. S.E.E.R. = Seasonal Energy Efficiency Rating
Heating efficiency is equally as impressive with an efficiency rating of 10 HSPF. HSPF = Heating Season Performance Factor
The variable speed, inverter-driven compressor has 85-speeds and can ramp up or down in 1% increments for precise comfort control.
Bosch's outdoor (condenser) fan motor is a 10-Speed electronic motor which is both extremely efficient and ultra-quiet. The indoor (air handler) motor utilizes two stages for better dehumidification.
Read more about the Bosch Packaged Heat Pump and its variable speed split-system siblings in our Bosch Air Conditioner Review.
Magic Touch is the ONLY Platinum Accredited Bosch Contractor Installer in Arizona!
We're not the only HVAC Company in the Phoenix, AZ area who installs Bosch Air Conditioning systems. However, we are the only Platinum Accredited Bosch Contractor in Arizona!
What the heck does that mean? Well, for starters it means we've installed more Bosch heat pumps in the state than any air conditioning contractor. It also means our installation and service technicians have completed more advanced hands-on factory training from Bosch themselves than other dealers. For you, that means the best possible installation and the best possible results you can get in all of Arizona!
Call today for a free home evaluation and consultation with one of our Bosch air conditioner & heat pump experts!