Beautiful Gas Fire Pits – Arizona Style
October 25, 2019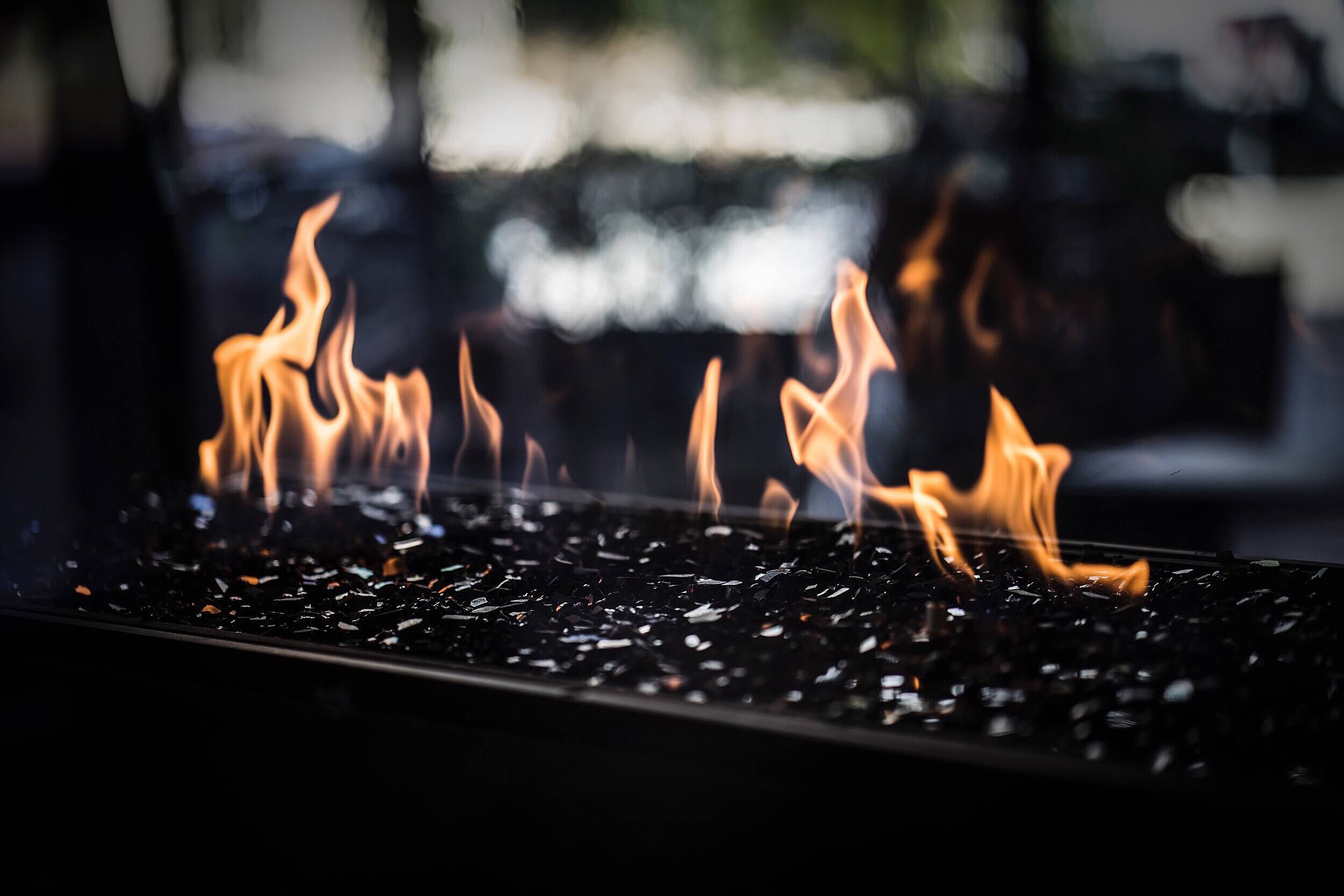 For almost a quarter century, Magic Touch Mechanical has been creating beautiful gas fire pits near Phoenix, Arizona!
It usually starts with a phone call from a homeowner whose gas fire pit isn't working. Sure, we've been providing gas fire pit repair for decades and sometimes they're already beautiful and just need repairs. However, often our clients find out how inexpensive it is to turn their gas fire pit from drab to fab!
Beautiful Gas Fire Pits Start with An Idea
Back in 1997, when I founded Magic Touch Mechanical, I trained newer technicians how to safely service gas fire pits & fireplaces. As an HVAC Technician from New York City, gas appliances were commonplace, so I cut my teeth on them. However, in Arizona gas appliances are not as common as electric, so many technicians aren't well trained on them.
As luck would have it, when other HVAC companies got requests for gas fireplace and fire pit service they referred them to us. As a result, we became known as the place to call for fireplace and fire pit repair & service near Phoenix.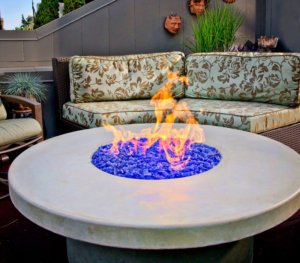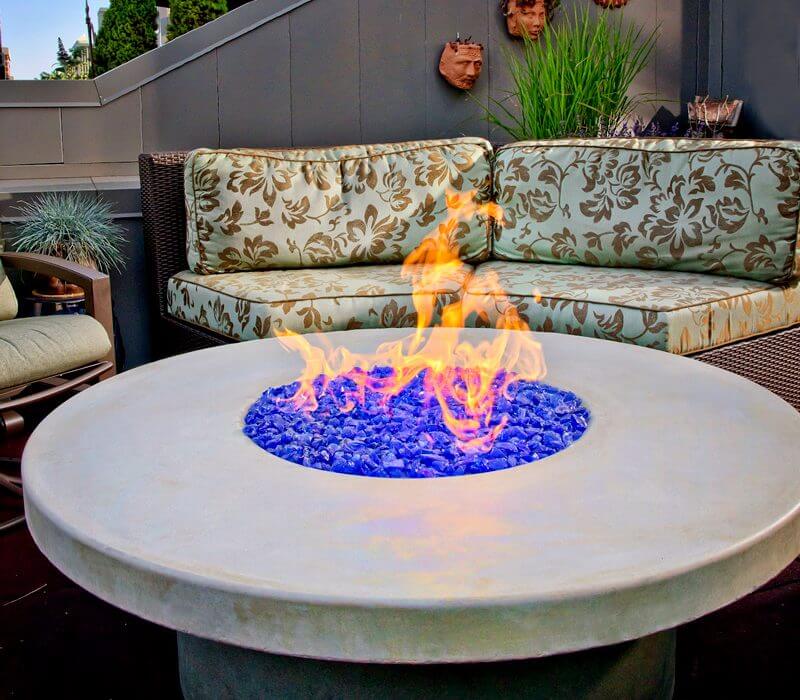 Quite often we'd receive calls from commercial clients like restaurants & hotels who needed their patio fire pits repaired. When we saw outdoor fire pits with outdated lava rocks and rusty burners, I'd offer to "modernize" things. When you're enjoying dinner on your favorite Phoenix restaurant's patio, that beautiful gas fire pit next to you may be our work!
It was from these beautiful gas fire pits we were updating for commercial clients that an idea was born. Why not offer residential clients the same upgrades? Why not enhance a gorgeous backyard patio or pool deck with a modern gas fire pit?
Lava Rock is for Barbecues!
Let's face it, we all live in Arizona for the beautiful fall & winter weather. That's our time to stop hiding in our air conditioned homes and enjoy the beauty of the great outdoors, right? Even as I write this article, I'm sitting outside on the patio enjoying the fresh air!
Ironically, it just so happens, I'm staying at an AirBnB with a gorgeous yard…a fire pit is all that's missing! But I digress, this article is meant for people with an existing fire pit that needs a makeover.
There are yards all over Chandler, Scottsdale, Tempe & Phoenix with fantastic fire pits and stunning masonry work. Unfortunately, the center of attention (the fire itself) is filled with ugly brown and black lava rock. Lava rock is for preventing flare-ups in gas barbecue grills – not for a beautiful gathering place with friends & family!
That's where our "Magic Touch" comes in! It's probably time for fresh lava rock in your grill anyway, so let us pull it out of your fire pit. In its place, we can install a modern stainless-steel burner pan, colorful fire glass (that never turns black) and more!
Beautiful Gas Fire Pits with Fire Glass with Hidden Burners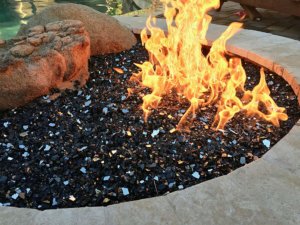 Just like the hotels, bars & restaurant fire pits you admire your backyard fire pit can be the envy of the neighborhood. We all love the way the fire dances over glistening colorful glass. The hidden burner is reason it appears to be coming from nowhere and that the rock itself is on fire.
First, we remove all of the existing burner components and install a weather resistant stainless-steel fire pit burner. Next, we cover it with safe and durable fire glass which comes in hundreds of colors and sizes. The result – a beautiful gas fire pit which will stay looking clean and modern year after year!
Fire Pits with Decorative Burner Pans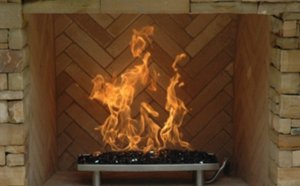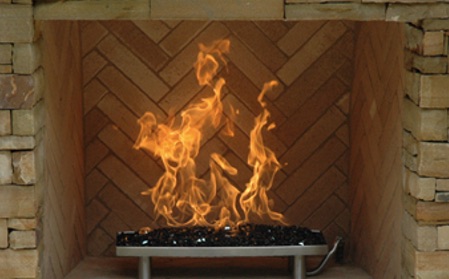 Many of our clients opt for the "cleaner look" of a decorative burner pan, a personal favorite of mine. The idea behind a decorative burner pan is to make the burner pan itself stand out rather than hiding it.
Again, we start by removing all of the existing burner components. However instead of covering up the bottom of the fire pit, we embrace the beauty of the stone masonry work. We carry a variety of pans that come in weather-resistant finishes like bronze or stainless for clients to choose from.
Lastly, we fill only the pan itself with fire glass, fire diamonds, or special fire-rated stones. The result is always unique and stunning and simply "wows" our client. In fact, it's pretty common to get a call from our clients' friends asking for something similar.
Beautiful Gas Fire Pits with Both Fire Glass & Decorative Burner Pans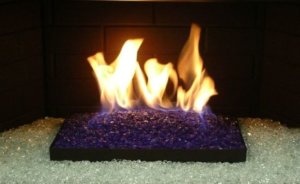 The latest trend in creating beautiful gas fire pits is combining both fire glass and a decorative burner pan together. Frequently our clients choose two colors of fire glass to create a bold and ultramodern look.
One color of fire glass is used as the "base" color and installed at the bottom of the fire pit. The decorative burner pan then sits on top of the rock and is filled with an accent color. The finished product is a rich, modern fire pit that becomes the focal point of any outdoor space!
Don't Forget Gas Fire Bowls and Fire Features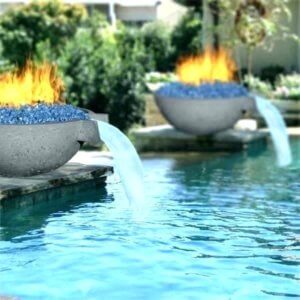 Arizona and swimming pools go together like PB & J. Many pool builders incorporate gorgeous fire features & water features into the pool's design. As awesome as these designs are, often it's the finishing touches that need our help! Remember that ugly lava rock?
If your pool has a great fire feature, or the ever-popular fire bowl's that just need a modern flare – give Magic Touch Mechanical a call today!
We Create Beautiful Gas Fire Pits Throughout the Phoenix, Arizona Area
If you live in Mesa, AZ or any nearby cities within 35-miles downtown Mesa, you're in luck! Whether you want our help designing a beautiful gas fire pit, or your fireplace or fire pit just need repair: Magic Touch Mechanical is your gas fire pit & fireplace company!
How Much Does a Beautiful Gas Fire Pit Cost?
See our published price guide for all the options shown in this article!
Other Articles You May Like: