Will Radiant Barrier Make My Home Cooler?
June 23, 2019
Updated for 2019, this article is about the benefits of radiant barrier installation. The project described herein was completed in 2014. All are welcome to come visit our offices and see and feel the results for yourselves. The radiant barrier was installed in an air conditioned & heated space with no other insulation!
It's very important to note this project was completed in Mesa, Arizona (a suburb of Phoenix). Radiant barriers will not have the same effectiveness in other parts of the country as they do in the hot and arid southwestern United States. If you live outside of Phoenix, you should consult an energy efficiency expert in your area to see if a radiant barrier will work for you.
Magic Touch Mechanical – Back in the Day!
I founded Magic Touch Mechanical, Inc. back in 1997. If you'd asked me then if I'd ever need a dedicated training room, parking for twenty+ vehicles, an all-terrain forklift, etc., I would've laughed. Fast-forward 23- years and now I'd tell you we could use a little more space than we have now!
Early on, we were able to get by with a small office near Falcon Field Airport in Mesa, Arizona. However, it became quickly apparent we were busting at the seams and desperately needed warehouse space. So, we decided it was time to relocate and moved into a space about three times the size in Gilbert, Arizona.
Now we had office space and warehouse space but soon had two new problems. Being in an office park, parking was limited. Even when we found a place to park all of our service trucks, we were all crammed into the small warehouse for training. It just wasn't a comfortable space for twenty-five people…especially in the summer!
Moving Our AC Company Back to Mesa, AZ
In 2007, after ten years in business, we took the plunge and purchased our own building. It was a much larger facility, complete with a huge yard, plenty of storage, and even more office space. Our warehouse alone was now 3.5 times the size of the one in Gilbert.
Air conditioning and heating units are large and require a lot of storage space when ordering in quantity. Add thousands of AC & furnace parts, pallets of cellulose & fiberglass insulation, refrigerant tanks, etc. and before we knew it, we were out of room…again. So, we installed custom storage shelving in enclosures 100'L x 30'H x 6'D that could store over 100 new AC units. We also purchased a fifty foot steel trailer and built wall to wall shelving inside. The trailer holds all the components and ductwork we need to keep on-hand to provide same day repairs & installation.
What does all of this have to do with the effectiveness of radiant barrier?
I'm getting there, first I want to explain why it was needed and how it served its purpose.
With all of our HVAC equipment and parts now in outside storage buildings, we had more space for people instead of products!
I envisioned a large training facility complete with working air conditioning and heating training equipment, computer stations, a projector and televisions for conducting presentations, etc. We'd be able to provide world-class training to our service technicians, installers and energy auditors, all in-house.
So we built it! We installed all of the above plus a working split air conditioning system, a working ductless mini-split heat pump, & a packaged heat pump. Then, we fabricated internally insulated spiral ductwork and added NEST Wi-Fi learning thermostats, Honeywell Wi-Fi programmable thermostats, and Wi-Fi controls for the ductless system.
We even added an Air Scrubber Plus and HEPA filtration for the IAQ (Indoor Air Quality) benefits they provide. Now, not only did this equipment heat and cool the space, they were live "training machines".
Installing Radiant Barrier in our Mesa, AZ Former Warehouse Space
Warehouses are not typically designed to be conditioned space. They're not insulated and rollup style warehouse doors leak air and energy like sieves. Rollup doors are made of steel. When the Arizona sun is pounding on steel doors they become excellent heat conductors. In fact, we measured 120 degrees on the interior surface on a 89 degree day (prior to installing radiant barrier).  When you add 25 "heat generating" people to the mix, you don't exactly have a model of efficiency. Not good for a company that makes it's living on making homes and buildings more efficient!
We sell and install a lot of radiant barrier because we know how effective it is in keeping heat out of a building in Arizona. So I knew radiant barrier was perfect for this application. We installed a traditional foil radiant barrier on the ceiling of the flat roof. The air space between the rafters made for a perfect application. We then installed spray-on radiant barrier on the roll-up doors and vertical walls. The results were dramatic. A significant comfort improvement was noticeable immediately!
Before & After Installing Radiant Barrier in Mesa, AZ.
The roll-up doors which measured 120 degrees prior to installing the radiant barrier were now 90 degrees…a 30 degree temperature drop! The thermostats which previously never satisfied when set to 82 degrees were now being satisfied. In other words the air conditioning units were now shutting off and cycling normally as opposed to running constantly. In fact, we could cool the space to the low 70's now, which wasn't possible prior to the radiant barrier.
It's important to note that this drastic change was all due to the radiant barrier installation. We did not add any insulation and we did not seal the air leaks at the roll-up doors!
Why not seal the roll ups? We enjoy gorgeous weather outside of the summer months in Arizona and we wanted to take full advantage of that. I wanted the option to open the bay doors in those months and create a nice indoor/outdoor space our employees could  enjoy in cooler weather.
This gave me a new idea! Since we do commercial refrigeration work as well, we are very familiar with the effectiveness of door strips as well as air curtains. For those of you that have ever worked or been in the kitchen of a restaurant, you are familiar with door strips. Door strips are the heavy plastic strips that hang in the doorway of a walk-in freezer or refrigerator to keep the cold air from escaping.
Our Personal Case Study with Radiant Barrier Spray Installation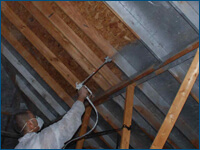 The Magic Touch Mechanical building in Mesa, AZ was the working case study in this article. We applied some techniques that were less than conventional, including spraying radiant barrier on the warehouse bay doors. We found that not only was the spray radiant barrier effective in this application…it out-performed our expectations!
Spray on radiant barrier is typically installed in attic spaces where foil applications are not feasible. It's not as effective as foil radiant barrier, however works well in many applications. Frankly we weren't sure what the results of spraying directly on a vertical steel surface would be – it hadn't been done before to my knowledge. I even consulted with some of the leading energy efficiency experts in the country about my idea. All of them said, "let us know the results."
We've since completed some other projects for clients using the same non-traditional methods with amazing results.
Would You Like Radiant Barrier Installed in Your Home?
If you'd like to know more about installing radiant barrier in your own home (or warehouse "wink"), you can also check out our page on insulation services.
If you live in the Phoenix, Arizona area and would like to schedule a consultation with a Magic Touch Mechanical Certified Building Analyst, contact us today!