What Air Conditioning System Should I Use to Cool My Arizona Room?
April 22, 2021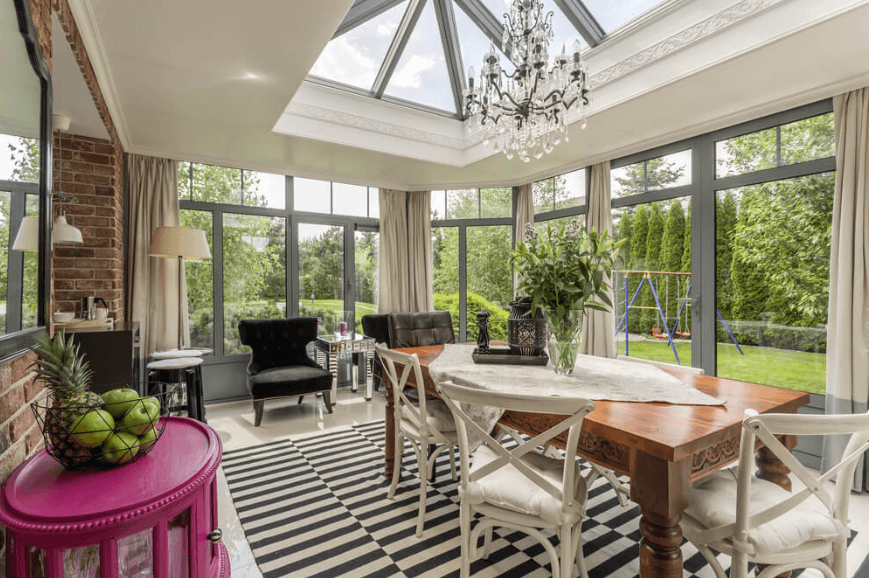 Before air conditioning was invented, Arizonans just had to live with the sweltering heat, both outdoors and inside their homes. Personally, I would've loaded up the covered wagon and headed East. Clearly, those that came to Phoenix, AZ were a lot tougher than me! Arizona rooms were invented so residents could sleep in screened porches to keep a bit cooler during the sweltering summer months.
What is an Arizona Room?
Originally an Arizona room was an entirely screened-off area, much like a porch, only in the rear of the home. They were designed as an addition of livable space to the house. While some are still only screened off, most modern Arizona rooms have glass windows and other custom structural features.
The addition of windows allows homeowners to add air conditioning, keep out bugs, and block weather elements. They also add an additional level of security and privacy than we needed in "simpler times".  As you may have guessed from their name, Arizona rooms are extremely popular here in the sunny state of Arizona. These rooms have evolved far beyond the cool sleeping rooms of the past. They are useful for entertaining guests, a quiet reading area away from the kids, sewing rooms, man-caves, and more.
Many customers ask us, what kind of air conditioning system is best for my Arizona room? We usually recommend a ductless mini-split system for Arizona rooms because of their flexibility, reliability, efficiency, and quiet operation. However, we also provide a few other low-cost options suited for this application depending on how the space is used.
The Ductless Mini-Split Air Conditioning System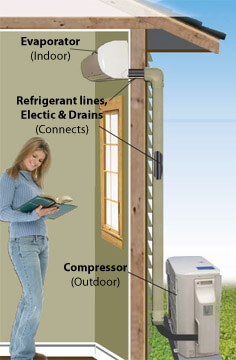 The Ductless Mini-Split Air Conditioning System is hands down the best choice for an Arizona room. Mini splits offer the ability of having a "built in," permanent, cooling and heating solution for only one room. While they can cool multiple rooms like a traditional central air system, they're an ideal single-room solution.
As mentioned in many previous blog posts, ductless mini-splits are a Magic Touch customer favorite for Arizona rooms and garages. They don't affect the temperature of the rest of the house because they are entirely separate and independent HVAC systems. For this reason, ductless mini splits make it easy to accommodate your needs in one specific room quietly & efficiently.
The mini-split system comes in a variety of sizes and types for aesthetic and convenience purposes to fit your lifestyle. Ductless mini-splits are available as a wall mount air handler, a concealed air handler (hidden in the ceiling), and several other configurations. All of the available ductless options require professional installation, as they are a more permanent solution than the options we talk about below. However, they start paying you back right away in comfort, convenience, and low-energy use.
Don't have it in the budget for a system that requires professional installation? Or, just have something even simpler in mind? Here are some alternative low cost options for cooling an Arizona room:
Alternative Options for Cooling an Arizona Room
A portable air conditioning unit can be a convenient option for a small Arizona room. Portable units can be moved around the room if needed and they are a relatively inexpensive option. They do require a little more work as they collect condensation water in a tank that must be drained regularly. Portable units also require an exhaust hose be run out a window or door to expel the heat they put off. They're not the perfect solution or good in all applications, however are a great low-cost alternative when the Arizona room isn't occupied on a daily basis.
Another much simpler option is simply using a portable fan or ceiling fan to cool your Arizona room. Just keep in mind that fans cool people, not rooms, so don't expect to spend a Phoenix summer day in your Arizona room.
Lastly, you could use an old-school window unit, or as we in the HVAC business refer to them; a window-shaker. If you're somewhat handy, a window unit isn't difficult to install and can be plugged into a regular wall outlet. Just be aware that window units are notoriously inefficient so be careful to run it sparingly, especially in the extreme heat.
Installing Air Conditioning in an Arizona Room
While we only use portable air conditioners as loaners and don't sell them to the public, we do install air conditioning in Arizona rooms regularly. As discussed above, most of our clients choose to install ductless mini split air conditioners & heat pumps in their Arizona room. However, depending on the application, budget, and home's design, we can often provide traditional ducted central air systems as well.
If you are looking to add air conditioning to your Arizona room, contact Magic Touch Mechanical today!
Air Conditioner Rebates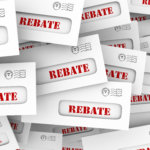 At the time of this posting, there are instant cash rebates available on select Mitsubishi mini split heat pumps & air conditioners. The current promotion allows customers to get an instant cash rebate of $250 for every room in your home – no limit! But more = Save more!
If you happen to be reading this article after the current rebate promotion has ended, don't worry! Check out all of our latest promotions, sales and closeouts on our COUPONS page. Magic Touch Mechanical installs more ductless mini split systems than almost any other air conditioning company in the Phoenix area, so you'll always find a great deal going on! We're far from the largest AC company in Arizona, but we pride ourselves on delivering better service, better installs, and a better customer experience than the rest!
Other Articles You May Like:
How Much Does a Ductless AC Cost?
How to Avoid a Bad AC Installation
INFOGRAPHIC: Guide to Going Ductless