Vent Free Fireplaces in Arizona
September 6, 2023
This article answers some of the most frequently asked questions we get about using vent free fireplaces in Arizona.
Are vent free fireplaces allowed in Arizona?
Are ventless fireplaces safe?
How does a vent free fireplace work?
I answer these questions and more as well as some considerations most people don't know to ask about fireplaces.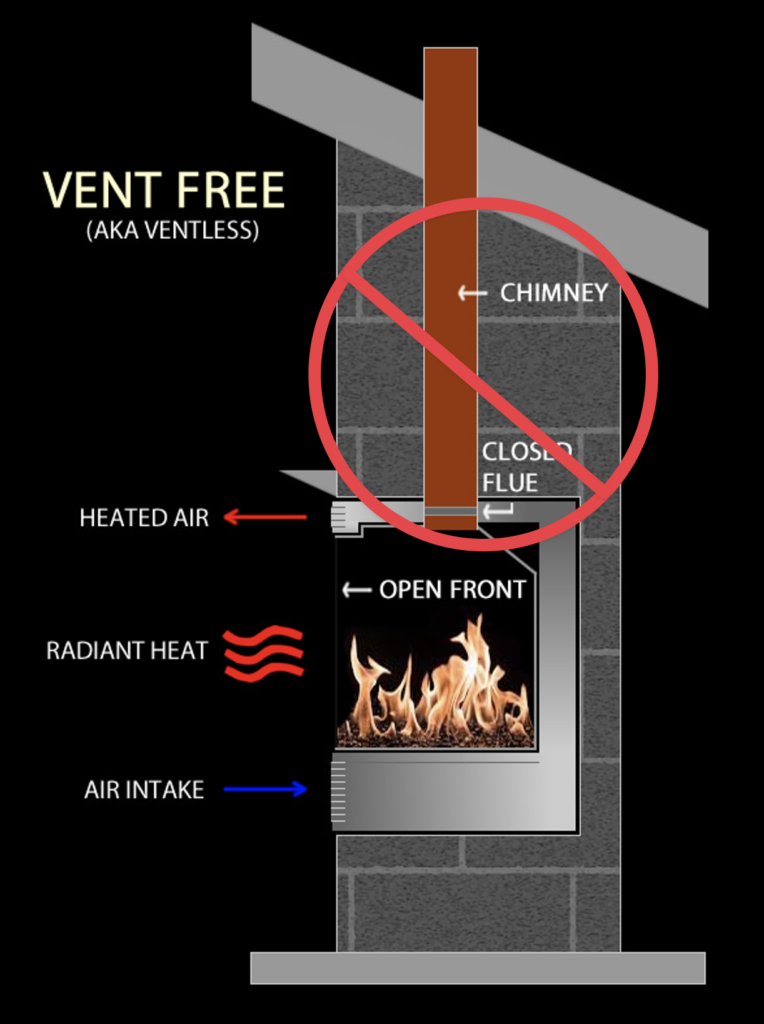 Are Vent Free Fireplaces Legal in Arizona?
Undoubtedly the most common question we hear is, are vent free fireplaces legal in Arizona?
Yes, vent free fireplaces, also known as ventless fireplaces, are legal in Arizona. There is local code & room-size requirements that must be met first and each municipality may have their own regulations. However, yes, you are allowed to install ventless fireplaces in the Phoenix area when installed by a professional licensed contractor.
Fireplace Pro Tip
Keep in mind there are ventless fireplaces, vent free gas logs, ventless burners, and other products on the market. They're not all the same things. Each is used/allowed in specific applications whereas maybe not in other applications.
Always check with your local city and municipality code officials before assuming you've got the green light. Every municipality reserves the right to enforce stricter building codes than the state's code. Ultimately, it is the homeowner's responsibility to make sure any home improvements are allowed and to obtain required permits in Arizona.
The Fire Place by Magic Touch repairs and installs fireplaces in Arizona cities like Phoenix, Chandler, Mesa, and surrounding cities. In my research of other states, I found a handful of municipalities around the country with varying regulations. Some places allow ventless fireplaces, but not ventless gas logs. Others allow ventless fireplaces only in homes built prior to 1980. In parts of Wisconsin the use of vent free gas logs is based on the population of the city. Always check first.  
Bottom line, in many places (Phoenix being one), the responsibility falls on the homeowner to acquire permits and schedule inspections. In other states your contractor may be responsible for permits & inspections.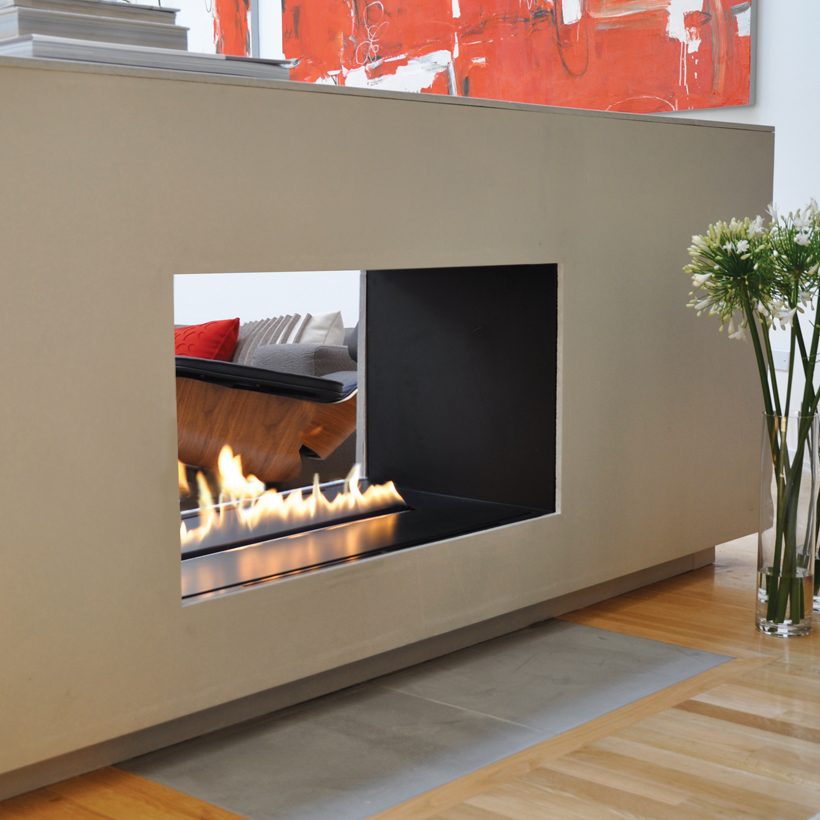 How Do Vent Free Fireplaces Work?
Of the 4 types of fireplace vent systems, only vent free fireplaces do not require a chimney or flue (exhaust).
Vent free fireplaces are also the most efficient type of fireplace (up to 99% efficient). Since they don't require a chimney, almost all the heat stays inside the home rather than up the chimney.
Using special burners, the ventless combustion process produces little to no harmful gases as opposed to the other fireplace types. If any gases do remain after the combustion process they're deemed 'minimal' and 'safe levels' for people & animals. As a result, these appliances are certified to be installed indoors with no venting requirement.
The other three fireplace types, (direct vent, power vent, and natural vent) do not burn as efficiently. The resulting combustion gases must be vented outdoors due to the high concentration of dangerous gases.
The downside of vent free fireplaces is the fact that they must be installed in an 'unconfined' space. Larger rooms such as living rooms, family rooms, & dens are typically great locations for vent free fireplaces. They should not be installed in smaller, more confined rooms – those rooms are best suited for vented fireplaces.
Oxygen Level Sensor for Safety
Like a natural vent (B-vent) fireplace, vent free fireplaces draw their oxygen from the air in the room they're installed in. A fire cannot burn without oxygen. Certified vent free fireplaces are equipped with a safety feature called an ODS (Oxygen Depletion Sensor). The ODS turns off the fireplace in the event the rooms oxygen becomes too low for added safety.
Always Install Carbon Monoxide Detectors
As with any gas appliance, you should install a carbon monoxide detector near your gas fireplace. While vent free fireplaces leave little to no harmful gases in your home, carbon monoxide detectors should be installed.
Reasons to Consider a Vented Fireplace Instead
Vent free fireplaces have a lot going for them. If the space they're being installed in is large enough, they can be installed virtually anywhere in the room. It also costs less to have one professionally installed as there's no need to add venting or a chimney. There are many very attractive options to choose from in traditional, contemporary, and modern styles. You can even choose different style media such as, gas logs, fire glass, and fire balls, to match your décor.
However, there are several cons associated with owning a ventless fireplace to consider before purchasing one.
Air Quality Concerns
People with known respiratory issues should consider a vented fireplace instead of ventless. As a vent free fireplace pulls in air from the room for combustion, it also draws in other impurities. Dust, dander, pollen, household chemicals, and other known lung irritants are found in higher concentrations indoors than outdoors. When these impurities become part of the combustion process, they can become stronger and more irritating to sensitive people.
Consider Vented in Humid Locations
This article is about owning a ventless fireplace in Arizona where The Fire Place by Magic Touch is located. Obviously, we don't have humidity issues here in Phoenix – we all know the joke, "but, it's a dry heat." That said, this is for our readers in other parts of the country.
The main byproduct of the combustion process in a ventless fireplace is water vapor. I wouldn't recommend a ventless fireplace in a place like Florida as the last thing you need is more moisture in the air. In Phoenix, a little more humidity is always welcome!
Size Limitations
As we discussed earlier, ventless fireplaces use oxygen in the room. While they include an oxygen sensor, they are still limited in size as a precautionary measure. This precaution is taken to make sure there's still enough oxygen in the room for people and pets. Vent free fireplaces are limited to 40k BTUh max., and when installed in a bathroom or bedroom 10k BTUh max.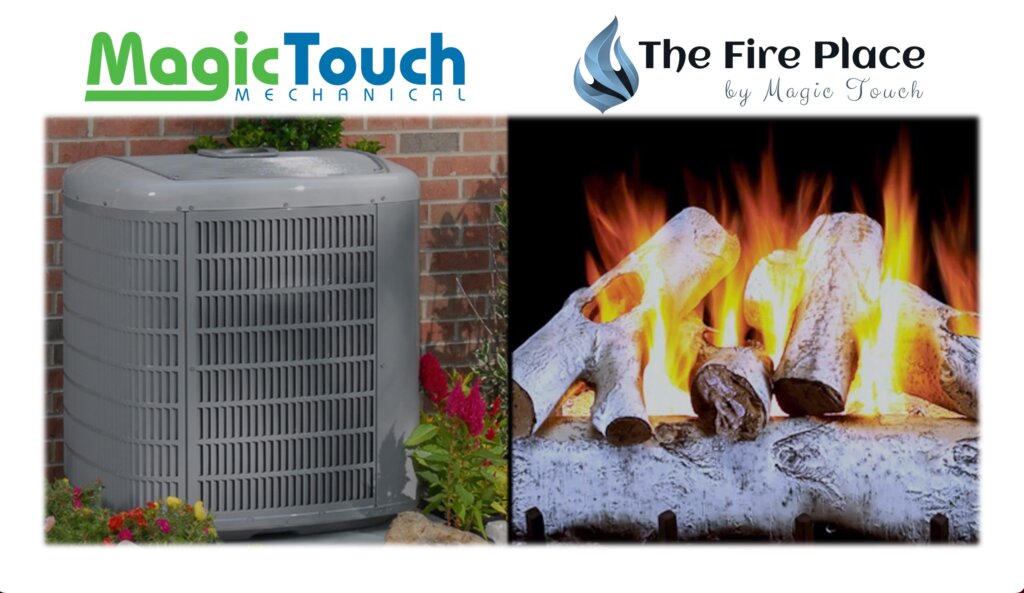 We Install Them All!
Give the experts at The Fireplace by Magic Touch a call, text, or book an appointment online. We have over ¼ century experience installing, repairing, and maintaining all types of fireplaces, fire pits, and fire features. We look forward to building your perfect fire space indoors or outdoors!
Phoenix AZs Top Rated Fireplace & Air Service. Since 1997!