Fireplace Vent Types Explained
September 5, 2023
While writing a post explaining how vent-free fireplaces work, I realized I needed to reference other fireplace vent types several times. It dawned on me I've never posted an article that explained all the fireplace vent types in one place. So, I saved my work and decided to write this one first.
4 Fireplace Vent Types
There are 4 fireplace vent types, and each serve a different purpose, specific application, and type of hearth or appliance.
Natural Vent (also called B-vent or natural draft)
Direct Vent
Power Vent (also called powered vent)
Vent Free (also called ventless)
Again, each fireplace vent type is used in specific applications, and each have pros & cons. Knowing the difference can help you determine which one is best for your project, budget, and needs.
Natural Vent – Commonly Called B-vent or Natural Draft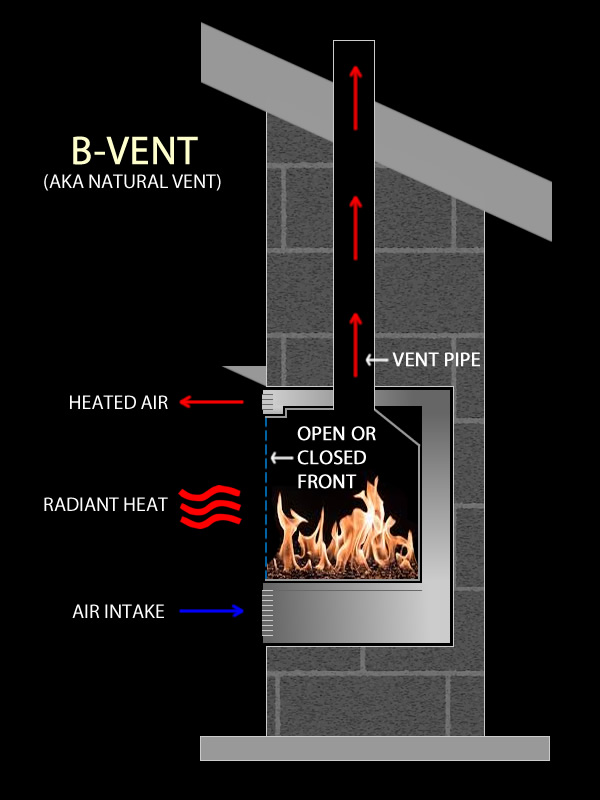 Natural vent is the most widely known of all fireplace vent types. Most wood-burning fireplaces in older homes use natural vent fireplaces via a masonry chimney. Natural vent fireplaces use oxygen inside the home to feed the combustion process. Without oxygen a fire can't burn so the oxygen needs to come from somewhere – in this case, it comes from air in the room.
As the fire burns, it creates combustion gases. These gases rise naturally up the chimney or vent pipe because the air is hotter than the incoming air. Since heat rises, it creates a "natural draft" which expels the gases up the chimney to the outside.
PROS
Natural vent fireplaces typically tall, active, dancing flames.
Flexible venting options for many installation applications.
Less expensive install materials that require less labor keep prices lower.
CONS
Least efficient fireplace vent type can be as low as 20% efficient. Expect higher fuel costs as literally 80% of the heat generated is literally going up in smoke!
Air flow & room pressure changes in the home & cause combustion gases to be drawn inside.
Direct Vent – The Most Popular Fireplace Vent Type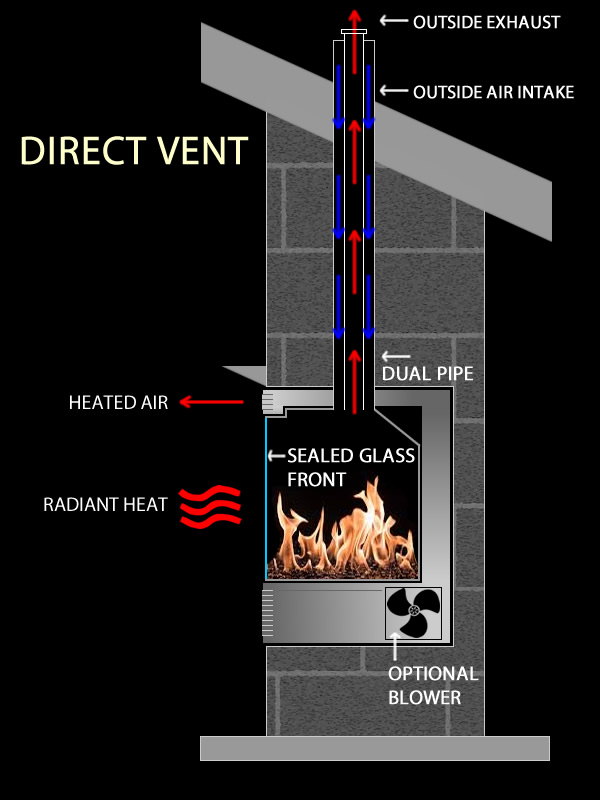 Of all the fireplace vent types, direct vent fireplaces are by far the most popular. 9 out of every 10 new fireplaces sold today are direct vent according to industry groups & publications. Unlike other fireplace vent types, direct vent fireplaces get their combustion air from outside and are usually a sealed system.
Rather than using oxygen from inside the home, direct vent fireplaces suck outside air through a pipe into the fireplace. A separate pipe exhausts the combustion gases outside. These vents can be two separate pipes or co-axial (a smaller pipe inside a larger pipe). One reason direct vent is the most popular fireplace vent type is they're one of the safest of the bunch. Being a sealed system, virtually all combustion gases are expelled outdoors regardless of the homes air flow or room pressure changes.
PROS 
Virtually all combustion gasses are terminated outdoors – best for indoor air quality.
Venting can be installed horizontally or vertically allowing flexible install options.
Typically, 50% – 65% more efficient than B-vent fireplaces.
CONS
Higher price material costs than other fireplace vent types (like natural draft).
Power Vent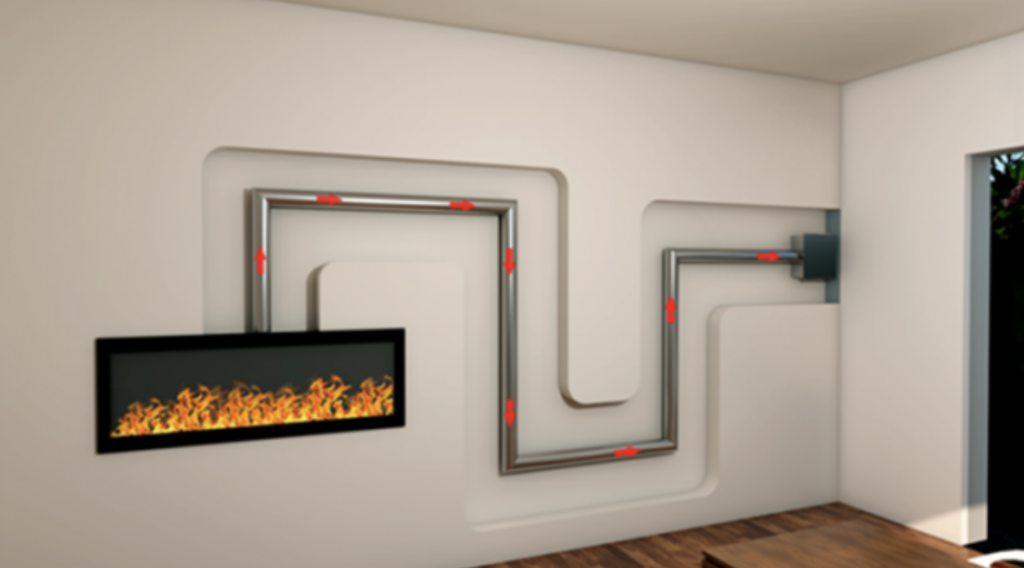 Power vent fireplaces were invented to solve a problem – installing a fireplace where other fireplace vent types can't be installed! When you see a fireplace in a hotel lobby, restaurant, or large home in a freestanding wall in the center of a room, it's likely a power vented fireplace.
Power vented fireplaces use a fan motor in the vent pipe to hasten the air exchange. The fan allows for longer venting runs with more twists and turns than could be used without a fan.
PROS
Most flexible for installation applications than both fireplace vent types above.
Venting can go in any direction, even vertically downwards.
CONS
Fireplace can't be operated in the event of a power outage like fireplace vent types above.
Additional flexibility requires more materials and accessories raising install costs.
Requires additional electrical circuits be installed.
Higher maintenance and repair costs.
Vent Free – or Ventless Fireplaces
It feels a little odd discussing a product that doesn't use vents in an article called fireplace vent types. However, vent free fireplaces have earned their way not only into this article, but into millions of homes. In fact, industry experts estimate over 50 million homes worldwide have a ventless fireplace, approximately 8 million in America alone.
Vent free fireplaces work quite differently than the other gas fireplaces we've discussed in this article. The reason they don't require any type of exhaust flue or chimney has to do with how they burn.
Like a natural vent (b vent) fireplace, vent free fireplaces take their oxygen from the homes inside air. Unlike a natural draft fireplace however, ventless fireplaces are extremely efficient. In fact, ventless fireplaces are the most efficient of the 4 fireplace vent types we've discussed in this article. It's not unusual to see vent free fireplaces that are 99% efficient.
Why Don't Ventless Fireplaces Require a Chimney?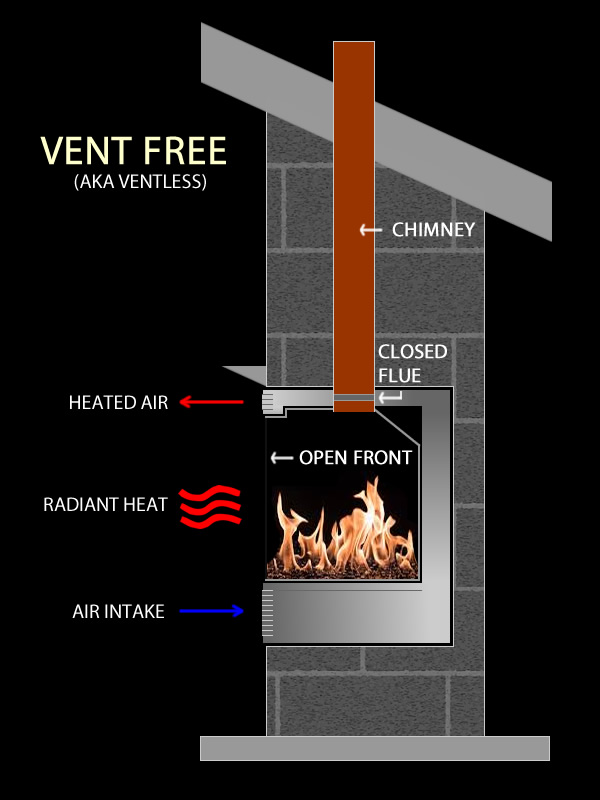 Their high efficiency is the reason ventless fireplaces don't require a chimney – very little combustion gases remain. That said, these appliances are not to be used in small or enclosed spaces. I also would not recommend them to anyone with a respiratory disorder as small traces of combustion gases can remain – especially in tightly sealed homes. That said, Arizona is the perfect place for them as we can crack a window even in the winter while using one.
PRO TIP: When considering a ventless fireplace always hire a professionally trained fireplace contractor. A pro will do calculations to assure it is installed in a "non-confined" location of your home.
Oxygen Depletion Sensor
Any ventless appliance should be equipped with an ODS (oxygen depletion sensor). As ventless fireplaces and log sets use oxygen from the room for combustion, the ODS is a needed safety device. The ODS will automatically turn off the appliance in the event oxygen levels fall below an acceptable level.
As with any type of gas appliance in the home including water heaters, ranges, ovens, and dryers, CO detectors should be installed in the home when installing a vent free fireplace. I have many gas appliances in my home and have more than a few CO detectors in different areas. Overall, ventless fireplaces and gas appliances are safe so long as they're properly installed, maintained, and operated per manufacturer specifications.
PROS
Ventless fireplaces are the most efficient of all fireplace vent types.
They tend to be a very affordable option as they require less material and labor to install.
Flexible placement and applications as they're not restricted by the need for venting.
CONS
Limited to being installed in larger rooms / unconfined space.
Not recommended for people with respiratory illness.
Smaller flames than other fireplace vent types.
Fireplace Installation Near Phoenix, AZ
The Fire Place by Magic Touch has been installing, remodeling, upgrading, & repairing fireplaces in Phoenix for almost 27 years. We're proud to be the highest rated fireplace company in the valley on Google, Angi, BBB, and other review sites – with over 3,000 online reviews.
Our fireplace technicians receive ongoing training & education from NFI (National Fireplace Institute), HPBA (Hearth, Patio, Barbecue Association) and manufacturers. Our decades of experience in home heating, furnaces, flue & chimney installation, and home performance give us unique credentials not shared by other companies in our field.
Contact Us today for your custom design quote!