The Best New AC Unit – A Complete Guide
November 7, 2021
Updated 11/7/2021
The Best New AC Unit – A Complete Guide; to help you choose the best option for you.
Buying a new AC unit is one of the largest home improvement (replacement) purchases most homeowners will make according to experts. New central air and heating, roofing, and new windows rounding out the top of that list. However, there are many more choices to make when it comes to HVAC than with a new roof or windows. Making the whole experience tougher to navigate. I hope this guide helps you to choose the best new AC unit for your family, home, and budget!
I will ask one favor in return: If you're in Mesa, or within 35-miles of Phoenix, AZ., give Magic Touch Mechanical an opportunity to earn your business! If you're outside of our area, review our blog on Google or Facebook and let people know it helped you!

Fine Print & Disclaimers 
Like I said, I wrote this guide to help people choose the best new AC unit for their home. However, first things first: It's important you know more about myself and my company, Magic Touch Mechanical. This way you'll know my advice and opinions are unbiased.
I own Magic Touch Mechanical. I sell new AC units for a living. 

While we may carry a variety of brands I don't sell "brands", I sell air conditioning systems. I don't own shares in Trane, Carrier, Lennox, or any other manufacturer…I own shares in Magic Touch Mechanical.
Throughout this guide I refer to the "AC unit". 

However, I'm referring to a completely new heating & cooling system (the whole kit and caboodle).
Gone are the days of simply replacing an AC condenser or furnace only – regional efficiency standards saw to that. 

A new system includes a condenser, coil, furnace (or air handler) and all ancillary items. We refer to this in the industry as a complete system matchup. I discuss this in detail below.
I've been an HVAC Install & Service Technician for over three decades. I founded Magic Touch Mechanical back in 1997. 

In other words, I've recommended, sold, installed, and repaired thousands of air conditioners, furnaces and heat pumps over the years.
I'm not advocating any one particular brand or model in this guide (however I do mention a few). 

I do mention a few brands in this article that I own personally as well as brands Magic Touch Mechanical sells and installs that have a good history and low failure rate. They're purposely not placed in any particular order. It should be noted, I also mention some brands I like that we do not sell – and why. 
We make the same profit installing a "basic" AC as we do on the most expensive AC unit available today. 

That means; the same formula is used for a 14-SEER generic brand as a 20+ SEER Trane, Lennox, Bosch, etc. I explain how this works and why we build our pricing the way we do below.
I want people to choose Magic Touch as their contractor. 

They can choose any of the half-dozen brands we install based on their desired results and budget!
We only service the Greater Phoenix area & surrounding cities.

M

any of my readers don't even live in our service area. If you do, I certainly hope you'll give us the opportunity to earn your business. However, if you read Magic Touch Mechanical reviews on Google, you'll see how many people we assist outside our area.
AC Unit Cost & Contractor Markup Formulas
There are two common pricing formulas used by HVAC Companies to establish pricing for new AC unit installations.
Margin-Based: Using margin-based pricing the more expensive the unit, the more markup the customer pays for it.
GPMD (Gross Profit Per Man Day): Using GPMD, the contractor makes the same profit on every installation no matter the unit cost.
Magic Touch uses GPMD to establish our prices on new AC units.
In a nutshell, that means we charge a flat-dollar amount no matter what new AC unit our client chooses. That's important to know as we discuss the advantages of some of the more expensive units on the market.
Frankly, I'd prefer our clients choose "better" and "best" units… but only because I know they'll be happier with the results. I discuss this more below and how I know that's the case. For that reason, we use GPMD to make these units more obtainable to more people. Often people who thought they could only afford a budget unit are pleasantly surprised to find they can afford a better system.
How Much Is the AC Unit… Labor… Material?
Let me dispel the myth right now that AC Companies are making money hand over fist. Truth be told, had I known 20+ years ago how hard the contracting business was, I may have remained an employee!
When it comes to new AC unit installation, the cost the breakdown typically looks like this.
50% of the price is the cost of equipment, labor & materials.
40% of the price is the cost of overhead (buildings, trucks, insurance, training, tools, administrative employees, taxes, etc.)
10% of the price is profit (assuming everything goes perfectly!)
NOTE: There may be a little fluctuation between contractors based on how efficiently their company runs. Some may earn higher profit than others, some may have less overhead. However, generally speaking this is a pretty close approximation based on thousands of service contractors across the U.S.
It's pretty well-known that most contracting companies struggle to earn double-digit profits. Most business advisors, coaches, groups and associations believe many make less than 5%… some fail to turn a profit at all.
Why Should You Care if Your Contractor is Profitable or Not?
When a component or something fails, you'll need to use your warranty. If the company is out of business because they failed to remain profitable, their warranty isn't worth much to you. Neither is their maintenance contract or any other promises they made you now have an empty promise written in the contract! You may think you're safe, after all… it's a brand new system! That would be a shortsighted. Brand new systems break down all the time. This equipment is made up of many electrical and mechanical components and run constantly in extreme weather conditions – they break!
Assuming you choose to work with a "profitable" business, consider this:
Your HVAC contractor made approximately $500 on your $5,000 system / $1,000 on your $10,000 system. Also remember, that's only if everything goes 100% to plan. Based on three decades of experience I can assure you many things can happen that were unplanned. A good AC company will satisfy their customer first – even if that means losing money on the installation! I share this to say, the contractor with the higher price may not be making more profit. He/she may be giving you more value, have better trained & paid installers, doing things better than the "lowest bidder". In the end, that may "cost" you less than hiring the contractor who charged the least upfront. 
Why did I share the fact that we use a GPMD formula when pricing new unit installations?
Magic Touch Mechanical sells & installs new AC units… it's how we make a living. I shared our pricing model so you'll understand; we don't make more profit when clients choose a more expensive unit! Sure, we want people to choose us over our competitors, but which unit they choose is irrelevant – sort of. I say sort of because I know people who choose the higher end units are happier in the long run.
There's no better outcome for a business owner than happy customers!
If we used "margin-based" pricing, we'd make more money on higher-end systems (and they would cost more than we charge). However, using GPMD pricing, we make the same on a high-end system as we do on an entry-level system. I just told you consumers are more satisfied with the highest-end units on the market. These units have a higher upfront price tag than single-stage and two-stage units. However, not everyone has the budget for a new AC unit that can run as much as 9k, 10k or higher. That's a lot of bread!
If you're working with a small budget, my advice is:  Buy the highest end unit you can afford.You'll be happier with a two-stage unit for 7k, than a single-stage unit for 5k. The reviews are in and the numbers tell the story. Whatever you choose, remember; you'll be living with your choice for the next 10 – 15 years! However, the unit itself isn't the 1st decision to make if you hope to choose the best new AC unit. Let's talk about choosing the right AC installer first!
Never Buy a New AC Unit Based on Upfront Price
I can't stress this enough. Whenever I see buyer's remorse, it's always from people who chose the cheapest contractor aka "the lowest bid". This is true even when they bought a "better" unit from a "cheaper" contractor.
Two Golden Rules When Buying a New AC
You're far better off buying the cheapest unit on the market from the best contractor, than the most expensive unit from the cheapest contractor!
When shopping for a new AC unit, you should 1st be comparing AC companies – not the AC units (yet)!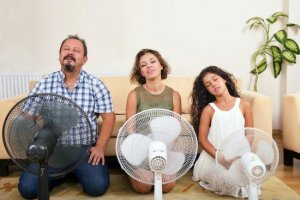 A Contractor Choosing Another Contractor
Recently, I purchased a very expensive, high-end garage door for my home. The price was 3-times what I could've gotten an entry-level door for. I also chose a contractor that was more expensive than the others for the same exact door. Don't get me wrong, I'm certainly not saying more expensive equals better – we all know that's not always the case. I chose that contractor because I felt they would do the best job installing the same product over their competitors.
A garage door is a 15 to 20 year commitment – maybe more if installed well. Installed improperly, by a contractor who cuts corners to keep the price down, would most likely have problems over time. Which would make me a dissatisfied customer…with a high-end garage door! The same holds true for a new air conditioning & heating system installation. The difference being; with an HVAC system it will cost you in higher power bills & an uncomfortable home.
HVAC Systems Are Not Plug & Play
Unlike a refrigerator which is a sealed box that comes "plug and play", an HVAC system requires complex installation knowledge. Everything from proper sizing, air distribution connections and refrigerant charge play a role in its reliability, longevity, and performance.
In other words, if you wish to choose the best new AC unit, you must first choose the best installer.
An interview with a homeowner who chose the wrong contractor
How to Choose the Best New AC Unit Install Company
Choosing the best new AC unit installer is going to be the hardest part of the process. However, as we just discussed, it's the most important part in choosing the best new AC unit.
Do Your Due Diligence When Choosing an Air Conditioning Contractor
Here's a list of items to research to narrow down who you invite to your home to give a quote.
Licensing Board / Registrar of Contractors– I hope it goes without saying that you should hire a licensed air conditioning contractor! Don't take their word for it though. Look up their licenses. See how long they've been licensed, if they have open complaints, & if their license is for the right classification.
Here's one of Magic Touch Mechanical's license records as an example.
Better Business Bureau– While it may seem outdated, the BBB was the "original consumer review site." To remain a BBB "Accredited Business", the business must agree to participate in a conflict resolution process. This adds a level of consumer protection for you should there ever be an issue that goes unresolved.
Here's an example – Magic Touch Mechanical's BBB record
Google Reviews– What do the businesses customers have to say about their experience? Are the reviews current? Are the reviews credible (beware of 500 5-Star reviews & no negative reviews)? Is the company responsive to reviews? Are the reviews relevant to AC installation (or are they all about plumbing, electrical, etc.)?
Here's an example – Magic Touch Mechanical Reviews on Google
Tip: Both positive & negative reviews may be fakes! I know for a fact some of my competitors who have hundreds of "purchased" reviews. I've also been the victim of fake negative reviews written by competitors and disgruntled ex-employees. Of course, there are also scathing reviews written by people who just can't be pleased – we all know the type! Take your time with this part, dig deep, and go with your gut.
3rd Party Endorsements / Affiliations – Is the company recommended by your local utility company, ACCA (Air Conditioning Contractors of America), MTCSW (Mechanical Trade Contractors Southwest) (or similar for your region in the country)? Again, don't take their word for it…check!
Here's an example – Magic Touch Mechanical endorsements:
Now You're Ready to Choose the Best New AC Unit!
Once you've narrowed down who the best new AC unit install companies are in your area, select your new system. A company that has your best interests in mind (and not their own), should offer multiple brands. If the salesperson is "pushing" you towards one brand (their brand), he/she's focused on their best interest, not yours!
Reliability, Performance, Longevity & Support
At Magic Touch Mechanical, we offer many brands that have a good track record of reliability, performance, longevity and support. Your contractor should be more interested in earning your business than pushing you on one particular brand or model. Keep in mind, good support from the manufacturer plays a huge role in your satisfaction as the end user. This varies by region. For example, we get excellent support from Trane, Lennox, Bosch, Mitsubishi, etc. here in the Phoenix, Arizona area. However, I know contractors in other parts of the country that curse the local branches & distributors of each.
NOTE: Be careful of statements like, "Brand X is very hard to get parts for." I hear that all the time from customers who were told that by our own competitors. They're saying that as a scare tactic because they don't sell that brand, or are incentivized by another brand! While I'm on this subject I'd like to address it further since it's a pet peeve of mine:
If you're in the Greater Phoenix area the following brands have great support & getting parts is NOT a problem.*
*This article was originally written pre-pandemic. Supply chain issues have in-fact led to parts availability issues and even equipment availability issues. Some manufacturers are facing far longer backorders than others. Trane & Bosch have some of the longest backorders – Goodman & Mitsubishi seem to be doing the best at filling orders. I assume things will return to normal sooner or later so this information is meant for "normal" circumstances.
Trane

Lennox

Bosch

Mitsubishi

American Standard

Day & Night

Samsung

Fujitsu
Note: We don't even sell some of these brands! I'm just bothered by the deception of some HVAC salespeople when they make false statements to consumers. We DO service all brands,so I know this whole "problem getting parts" statement is false (in Arizona, anyway).
Also note this is a partial list, but I think you get my point. There are a few brands with poor representation here in AZ which can make parts acquisition difficult. However, if you stick with a well-known brand name, chances are parts acquisition will not be a problem. Well, so long as you choose the right contractor…and an "authorized dealer" of that brand.
A note about FAD's (Factory Authorized Dealers). Some manufacturers and manufacturer reps (suppliers) do indeed give priority service to their own dealers. I was told this first hand when considering adding a brand to our product offerings. I told them one of my hesitations was long wait times and parts acquisition problems we had experienced with them. Point blank, they told me that was by design and wouldn't happen if we were a FAD for their brand. Low and behold, these problems all but disappeared once we became a dealer.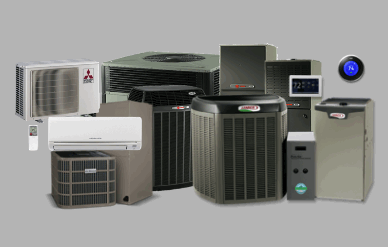 Stick with the Name Brands When Choosing the Best New AC Unit
If you're old enough to remember the compact car company Yugo, you also remember it was short-lived in the US. In fact, it was sold in the US for only 7-years. It saw some success in the first few years with almost 50,000 sold in its peak year. In its last year that number dwindled to less than 1,500 sold. It appealed to consumers who wanted a brand new car…cheap! A brand new car for only $4,500 – an incredible price even back then. However, price and value are two very different things!
Within a few years, Yugo owners were paying the price for their "cheap" car. Some weren't even able to register their vehicles because they couldn't pass emissions tests. Others had frequent breakdowns and their cars sat in repair shops more than they were on the highway. When they were on the highway, they were dangerous…the 45HP car couldn't get out of its own way!
Great Reputations Are Built Over Decades
Compare that track record to name brands like Ford, Chevy, Toyota, Mercedes, etc. Sure, all of these brands have their own history of problems over the years – but they're all still here. You'll have no problem finding a mechanic or parts for any of them – try to find the same for Yugo!
As an AC contractor for 20+ years, and an installer & technician for 30+, let's look at what I own.
I own a commercial building with many AC units, my own home, and residential rental property. I personally own traditional split heat pumps, rooftop package units, and ductless mini-split systems – all of them are one of three brands: Trane, Lennox, and Mitsubishi*
*Update November 2021: I recently replaced my last existing Trane equipment and chose to replace with Lennox. While we've been a long time Trane Dealer, I just don't think their equipment is offering the bang for the buck it once did.
I too could buy much cheaper units. Heck, I could probably get some for free just so the distributor could say "Magic Touch Mechanical uses our units." However, as with the Yugo analogy, there's a difference between price and value. Even though I have the resources to repair my unit quickly if it breaks down…who wants a unit that breaks down regularly! I want the same thing for my own use that every other consumer wants – performance, reliability, longevity & support. I've got a business to run and a family to go home to. I don't have the time to keep repairing or replacing an inferior product. Not to mention, I need to practice what I preach so… rest assured my home is comfortable & efficient!
I'm not saying these are the only three brands I "would" own, but they're the only brands I "do" own.
We sell a few other brands I would own, and maybe I'll reconsider come replacement time. However, at replacement time thus far, these brands & models offered the best bang for my buck comparatively. That said, as the owner of Magic Touch Mechanical, happy clients are my top priority. Therefore, if I wouldn't put it on my own home – my company won't sell it either. Furthermore, if a product fails to meet our standards, we don't hesitate removing it from our shelves.
This brings me to another way to choose the best new AC unit…visit the contractor's offices. What units do they have? I invite anyone to come see our building!
Magic Touch Mechanical is located at 942 W. 1st Ave. Mesa, AZ 85210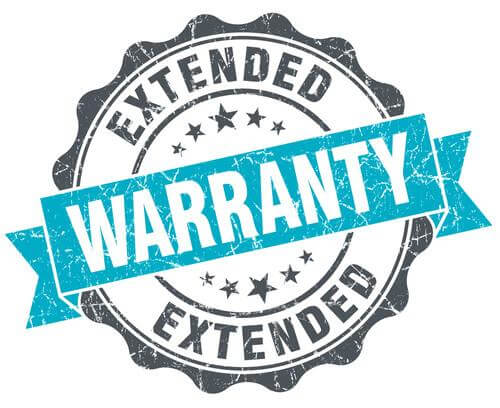 Know Your Warranty to Choose the Best New AC Unit?
There's more than meets the eye when it comes to warranties on new AC units. You have to look beyond the manufacturer parts warranty to get the best coverage possible. Knowing what your warranty does and doesn't cover empowers you to choose the best new AC unit.
Air Conditioner Manufacturer Parts Warranty
You can't take the manufacturer parts warranty at face value all the time. If you do, you may find you don't have the coverage you thought you did.
Box Warranty vs Original Purchaser Warranty
In the old day's if a new AC unit carried a 10-year parts warranty, who owned the home didn't matter. This is referred to as a "box warranty". In other words, if you sold your home, the new owners were covered – the warranty stayed with "the box". Nowadays, the rules have changed (on certain models). Often, the new air conditioner parts warranty covers the "original purchaser" only. If the home is sold, the warranty reverts to a lesser time period – typically 5-years to as low as 1-year.
AC Warranty Lessons Learned
I learned this lesson the hard way myself years ago. Our name is on the line, so if we ever make a mistake, the client always gets what we promised. I sold more than a few units over the years and promised "box coverage" – unaware "the game" had changed. There were years when Magic Touch came out of pocket to fulfill the promises we made. Hence, I learned my lesson and know how to advise customers who are considering selling their home.
This may or may not be a big deal to you, but you should at least know. Obviously saying a new ac unit is "still under warranty" is a selling-point that helps you as the seller. However, if you're wrong, you could be held accountable – as I was even though it was an honest mistake.
Rule-of-thumb: Most brands "best" models come with a box-warranty. Most "good" and "better" models provide coverage to the original owner only. This is true of many brands.
Installation Workmanship Warranty
HVAC Contractors aren't necessarily obligated to provide a workmanship warranty on the quality of their installation. Depending on where you live, you may have some protection from your state's regulatory agency. However, often these agencies act only when the issues are grossly inadequate or don't meet minimum code standards. "Minimum" code standards are laughable in some cities. You don't want "minimum", you want excellence!
In my opinion, all good contractors should provide a great workmanship warranty. I don't even hesitate putting my workmanship guarantee in writing. Magic Touch spends tens of thousands of dollars annually ("overhead costs") training our technicians & installers. We have very high standards! I take great pride in being a "craftsman" and building "craftsmen" because I want to confidently stand behind our work.
That said, even replacing an existing HVAC system is "construction". Mistakes can be made and things can be overlooked – even the best installers & technicians are only human. What defines a good company is how they make things right when problems arise. They should own up to it, and fix it, period. I say "should" because an unprofitable contractor (low bidder) may not have the resources to stand behind their work… even if they wanted to!Doing what you say you're going to do is the very definition of having integrity. So, how do you make sure your installing contractor is going to live up to their promises? Get it in writing!
We take the promises we make very seriously at Magic Touch Mechanical. Therefore, we offer a Lifetime Workmanship Guarantee in writing on all of our contracts. Furthermore, we define exactly what's covered by our workmanship warranty right on the contract as well.
New AC Unit Labor Warranty
Many people mistake the labor warranty with the workmanship warranty. Workmanship warranties are meant to provide coverage for the quality of the installation. Labor warranties provide coverage for the labor needed to install a failed component (during or after the parts warranty). Example: Your AC fan motor fails 5-years after installation. Your contract states 10-year "parts" warranty & 1-year "labor" warranty. You wouldn't be responsible to pay for the part, but you would be responsible for the "labor" to replace it.
Using the same scenario (5 & 1): If the fan motor failed within the 1st year you wouldn't be responsible for either. The labor warranty is provided by the contractor, the parts warranty is provided by the equipment manufacturer. This is an important distinction. Again, choosing the right contractor plays a huge role in making sure you choose the best new ac unit. Any warranty or promise is only as good as the company backing it. If the company isn't financially sound or doesn't have a reputation for doing the right thing, it will cost you!
Extended Labor Warranties
Extended labor warranties can either be underwritten by a 3rd party or by the installing contractor. Typically, 3rd party labor warranties are underwritten by the same companies that cover electronics and appliances in big box stores. I won't dive too deep into this because we're all familiar with these warranties. It seems you can't buy a pack of gum in Best Buy and not be offered the extended labor warranty. This boils down to personal preference as they can be quite expensive. Like insurance, you pay whether you use it or not, but it's nice to have in the event of a major repair.
I personally rarely buy extended warranties on smaller ticket items, but I've been known to on big ticket purchases. It sure makes delivering bad news about a major component failure easier to a client who purchased the coverage! That said, I neither discourage or encourage extended warranties because it boils down to your comfort with risk. Keep in mind, even the best equipment can suffer component failure. Here in Arizona, our air conditioners work hard battling the extreme heat of our long summers. If you want to "set it and forget it", and not have to worry about an unexpected bill… get the extended warranty. If you have a higher risk tolerance, roll the dice.
Three Types of New AC Unit's Available Today & Customer Reviews
One important thing to know about new air conditioning & heating systems is the technology available. There are 3 main types on the market today.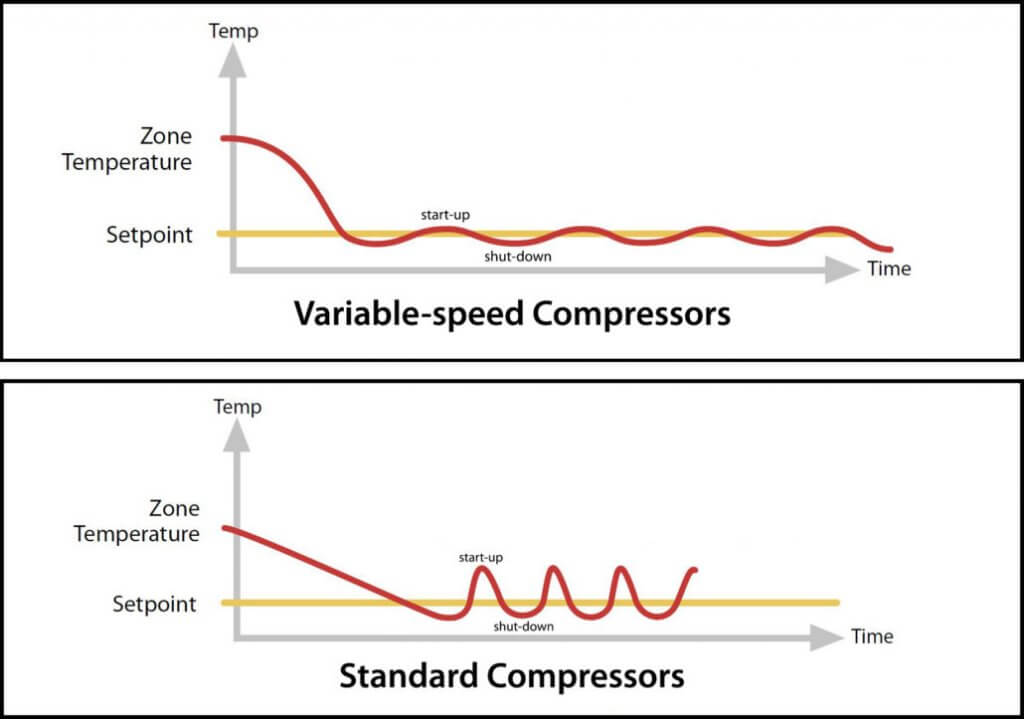 Single-Stage:

 A single stage A/C unit has one speed, it's either on (cooling), or off. Consumer reviews show single-stage AC unit owners report the highest level of dissatisfaction with their new HVAC system.

Two-Stage:

 Also called Dual-Stage, this technology has a low speed & high speed. Basically, the unit runs in its lower speed when temperatures are mild, conserving energy. When outdoor temperatures rise, the unit runs at 100% like a single stage unit does 24/7. Two-Stage unit owners report higher levels of satisfaction with their new AC unit than single-stage unit owners.

Variable-Speed:

 Sometimes called "Inverter Driven", variable-speed A/C units fluctuate their speed based on demand (outdoor temperature, humidity, and desired temperature indoors). These units not only offer the most precise comfort, they are much more efficient than their counterparts. Homeowner reviews indicate the highest level of satisfaction with their new variable-speed air conditioning & heating systems.
You may also like:  Variable Speed Air Conditioner vs Two-Stage vs Single-Speed
The Unit Itself – Who Makes the Best New AC Unit?  
We already talked about some important things:
Contractor pricing & getting the best deal even on premium models.

Choosing the right contractor to install your new AC unit.

Avoiding false information from overzealous salespeople.

Why you should stick with a name brand unit.

Different warranty types and what to look for.

The 3-types of new AC units available today.
The Infamous Question – Which Brand Makes the Best AC Unit?
Nothing is more important in choosing the best new AC unit than who installs it!
I've seen the best units on the market have failure after failure because they were installed poorly. I've also seen base model units run for decades and their owners are delighted with them… because they were installed right!
When I say "installed right", I'm not simply talking about "everything was screwed in properly." I'm talking about things like:
A load calculation was completed and the unit was sized properly using an ACCA Manual-J Load Calculation software program.

Return & supply air plenums were installed, properly sized, and sealed.

Refrigerant piping was the correct diameter and length.

Existing refrigerant lines were flushed, purged with nitrogen, etc.

Brazing was done properly with nitrogen flowing while brazing.

Duct take-offs were "tapped" in the right places on the plenum.

The entire duct system was checked and has the proper static-pressure and design.

The system was charged to the manufacture specified superheat.

The blower motor fan speeds were appropriately set for the home.

Features like adaptive-recovery were programmed correctly.

Etcetera, etcetera, etcetera.
This list could go on for another few pages. It's these things the average consumer doesn't know about that can help or hurt them. Not doing them is what cuts down on labor time and material cost – shortcuts!
Shortcuts equal lower price which in turn equals lower value, and in the end a higher cost to you!
Assuming everything was sized, commissioned, and installed properly:
I've done the vetting for you already as to who makes the best new AC unit. I know I will get flack for the following statements (from contractors who represent other brands). I'll also get some nasty comments from homeowners who had a bad run with these brands. As well as those who had a good run with brands not on my list!
That will tell me two things:
Those people did not read everything else I said in this article.

The comments will come from homeowners whose installs were done well – or not at all!
My OPINION on the 3 Best New AC Unit Brands**
Trane / American Standard* (see update 11/2021)
Lennox
Mitsubishi
A relative newcomer to the group in recent years is Bosch. I think they deserve an honorable mention and are quickly rising to the top of my list.
*Update November, 2021 – As mentioned, Magic Touch has been installing Trane for almost 25 years. In recent years, we've seen a rise in failure rates and quality control concerns. With newcomers like Bosch on the market and massive improvements in the quality of brands like Goodman, AirTemp, and others – I'm moving Trane down my recommended list. It brings me no joy to share this as we've installed literally thousands of Trane HVAC systems throughout Phoenix. I've owned many Trane units and have many friends who work for the company. However, we're known for selling many brand options and I call it how I see it – there's just better bang for the buck on the market right now.
**Disclaimers
This is all my opinion based on personal use and professional experience. 

I personally own all of these brands.

Magic Touch sells (most of) these brands (we choose to sell them because we think they're the best). Note: We don't sell American Standard, but Trane is the same product.
My company sells brands not on this list also!

This is based on low failure rates from systems we installed over the last 20-years (so we know they were installed properly).

We've discontinued selling brands with higher failure rates we know were installed properly.

We service thousands of units every year so have 20+ years of data to review.

This is not a paid endorsement of any brand (most won't like that they're competitors are listed along with them!).
What about brands like Rheem, Ruud, Carrier, York, Payne, etc.?
Again, I know I'll catch some heat for this! Magic Touch Mechanical has been in business for over two decades. In that time, we've installed many brands we no longer recommend. If you're a regular reader of my blog, you know we have a sales philosophy:
"We Offer Options Not Ultimatums!"
What that means to us is; we like to offer our clients a variety of brand options to choose from. This philosophy isn't very popular with the manufacturers. They would much prefer we only sold their brand – as many contractors do (one or two brands).
To compare it to a new car dealership; your Ford Dealer doesn't also offer Chevy, Toyota, Mercedes, and Nissan. We're able to do it because our volume is large enough with each brand to keep them all happy. Not to mention we're "low maintenance"! We install equipment according to the manufacturers precise specifications. In other words, we're good representatives of each brand and our clients are happy so they review their products well.
The other reason is we have a nationally recognized and awarded training program. It's not easy to know and understand all the details and nuances of each brand and model. However, we literally spend hundreds of hours & tens of thousands of dollars annually teaching our technicians and installers just that. All of this training assures our clients their unit is installed properly. The old saying "you get what you pay for" applies.
Which leads me back to the initial question of… what about other brands?
If we no longer recommend a brand (or never did) there's a reason. Either the brand had too high a failure rate, or the service and support was lacking.
If I had it my way, we'd carry every brand made – that would just be more options for our clients. However, my objective is happy clients. If a brand has a high failure rate, or the distributor service is poor, it affects our client's experience. Ultimately, every client's experience ends with us – the buck stops here so to speak. So, while I won't disparage any brand, I will say, if we don't offer it it's for one or both of those reasons.
How to Choose the Best AC Unit for Arizona 
I'll end with a request. If you don't live within 35-miles of Mesa, AZ but found this guide helpful – please do me a favor and give us a 5-Star Google review. Your review will let Google know I am putting good content out there which will help us to show up on Google more. You'll also be helping other people like yourself find this information.
If you do live in Phoenix or surrounding cities, you ARE in our service area – give us a shot!
We'll work hard to earn your business and exceed your expectations. There's no doubt our services are ones you need and use every day!
SEE OUR LATEST SPECIAL OFFERS!