#MagicTogether
March 23, 2020
#MagicTogether an Initiative to Spread Kindness not Viruses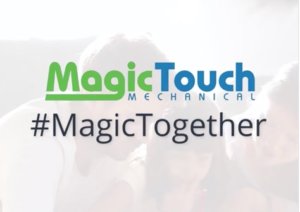 For over 23 years, Magic Touch Mechanical has been blessed by all of the people in our Arizona community. Your support has enabled us to employ and provide life-changing opportunities to young men and women just entering the workforce. It has enabled us to provide air conditioning, heat, and other services to people in our community who otherwise couldn't afford what they needed. Most of all, your support has inspired us to keep giving back to the community that has given so much to us!
Random Acts of Kindness
The acts of kindness and compassion we've seen so many of you participate in to help others is overwhelming! We stand with you in these troubling times and look forward to the day when things start getting better. Things will get better – we're sure of it!
In the days after we started learning about the Coronavirus, now known to us as COVID-19, the uncertainty began. How would we protect our employees and their families? Our customers and their families? What could we do to support our clients, friends and families that were losing their jobs or closing their businesses doors? We provide essential services to our community and knew we couldn't just stop providing those services.
COVID-19 Pandemic Announced
Like so many others, we quickly created a COVID-19 Pandemic action plan. We deployed safety gear and implemented additional safety measures to keep our staff and customers safe. And, we immediately started preparing for the weeks and months to come, not knowing what would change next. Our technicians & installers had to quickly adapt to the added safety measures for both yours, theirs, and our families' safety. Our office staff was split so that some could work remotely while others could safely work from our main office in Mesa, AZ.
It's imperative that we all stay current on the news coming from the CDC, WHO, and Federal & State Government. However, all of this information can be overwhelming to a lot of people and some people may feel hopeless. We want to make sure everyone knows it is definitely not hopeless and we will get through this – together!
#MagicTogether – Because People Need Hope!
With all the bad news we're receiving about not just the virus, but our economy and future, we wanted to do more to help. We wanted to spread the good things people are doing in Arizona and around the globe to help other people. Between all of our social channels, blog subscribers and other media, we can spread news about the best of humanity to tens of thousands of people.
We're asking for your help in spreading feel-good stories about acts of kindness during this crisis. It can be anything positive, uplifting, or even amusing that people are doing to help lift others up. We're calling this initiative #MagicTogether
#MagicTogether – Share Your Story with Thousands!
To participate in #MagicTogether, simply share your story on any one of our social media sites (links below) and include the hashtag #MagicTogether. We'll share your stories on all of our other networks!
If you want to share something and you're not sure how: Click here to contact us and send us a message – we'll get your story posted!
Stay safe and healthy friends, we're Magic Together!
SHARE YOUR STORY ON: