Magic Touch Mechanical Wins Angie's List Award!
February 4, 2019
Magic Touch Wins 2018 Super Service Award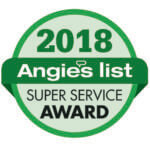 Magic Touch Mechanical is highly rated in multiple service categories on Angie's List in the Phoenix area. We received our very first Angie's List Member review 13-years ago. Since that time, hundreds upon hundreds of members have reviewed their experience with Magic Touch. The overwhelming majority of members rate their experience an "A" (the highest possible rating).
Members from Chandler to Peoria have shared their experience with other members about Magic Touch's service…and they're happy! Their happiness beats even the prettiest award.
Magic Touch Mechanical's most reviewed service categories on Angie's List
Heating & AC – 554 Reviews / A Rating
Energy Efficiency Auditing – 178 Reviews / A Rating
Fireplaces – 99 Reviews / A Rating
Every year, Angie's List gives companies in the top 5% of each category an award for providing exemplary service. They call this award the Super Service Award.
Per Angie, "The Angie's List Super Service Award honors excellence among home service pros who maintain superior service ratings and reviews on Angie's List. The 20-year-old award is a prestigious, annual distinction and is intended to recognize the best-in-class providers. Winners demonstrate consistent high-levels of customer service from the past year and overall."
"I'm so proud of our team for everything they do to earn this prestigious award year after year" said co-owner Michele Morgan. "The old saying, 'it takes a village' comes to mind. From Customer Service Reps. who answer the phone, to our dispatchers who schedule appointments, to our technicians – everyone deserves credit."
Company president, Rich Morgan adds: "What I especially love about Angie's List Members is their willingness to share a positive review when they've had a good experience. Nowadays it seems like many people are quick to leave a poor review on a restaurant or service company. In fact, sometimes I read negative reviews about things the restaurant or business doesn't even have control of. However, Angie's List Members seem to share a lot of their positiveexperiences – it's more like a community than other review sites."
Magic Touch Mechanical's 17th Super Service Award
Not only has Magic Touch earned this prestigious award for many back-to-back years, we've received multiple awards per year!Considering Angie's List says only 5% of companies on their list earn this award – winning several categories is huge. "It's something we're all very proud of around here." says Field Operations Manager, Rick Barrow.
Even though our trophy case is full of these awards and many others, that's not what we care about. What we're truly passionate about is practically overwhelming our client with great service. Our "product" isn't the A/C unit, fireplace repair, or insulation… our product is "customer service". When the overwhelming majority of our customers rate us with the highest possible grade and a kind review – we're reaching our goal!
A Special Thanks, From the Magic Touch Mechanical Team!
To all of the customers who take the time out of their day to review Magic Touch Mechanical – THANK YOU! From the bottom of our hearts, we sincerely appreciate all the support and loyalty from so many & for so long.
Be Magic Touch Mechanical's Next 5-Star Review Author
We want to earn your business and 5-star review as well! Magic Touch Mechanical provides service to the entire greater Phoenix metro area and surrounding cities. We are located in Mesa, AZ. And provide same day service in most cases within a 35-mile radius.
Whether you need you're A/C unit serviced or replaced, attic insulation, or even fireplace repair – we'll work hard to exceed your expectations.