Installing Lennox XC25 Air Conditioners
March 6, 2020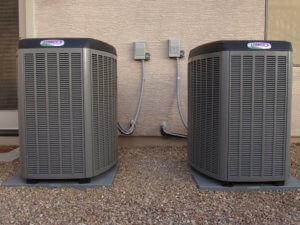 This week, Magic Touch Mechanical's HVAC Installers are installing Lennox XC25 Air Conditioners in my Gold Canyon, AZ home. After 20-years living in Mesa, my wife and I decided to take advantage of record-low interest rates and make a move. We chose Gold Canyon for the stunning views of the Superstition Mountains, quiet neighborhood, and "bang for the buck" home prices.
We're installing Lennox XC25 air conditioners to replace the two existing 12 year old York air conditioning & heating systems. Both AC units & furnaces are currently working and are even covered by the home warranty company for a year. However, we knew we'd replace them before the summer heat, and we knew we'd be installing Lennox XC25 Air Conditioners.
Why We're Replacing Two Working HVAC Systems
Many of our clients choose to replace working air conditioners before they become a problem. Others take their chances with their aging units and only replace them when repair is no longer cost effective. Since we both repair & install A/C & heating systems, and are homeowners ourselves, we understand both viewpoints. However, knowing what we know after 30 plus years' experience in HVAC, replacing our inherited York units is a no-brainer! Here's our reasons:
Installing Lennox XC25 Air Conditioners for Improved Comfort
After installing Lennox XC25 air conditioners in hundreds of Phoenix homes, we know our clients absolutely love them. In fact, customers literally rave about the comfort difference they experience after installing the XC25 & heat pump version; XP25.
The 65-speed, variable speed compressor communicating with the electronic blower motor & Lennox S30 Smart Thermostat result in precise control. Maintaining precise humidity & room temperatures within ½ a degree of our temperature setting is what the XC25 does best. So, we're practicing what we preach and making the investment it takes for our own home comfort needs.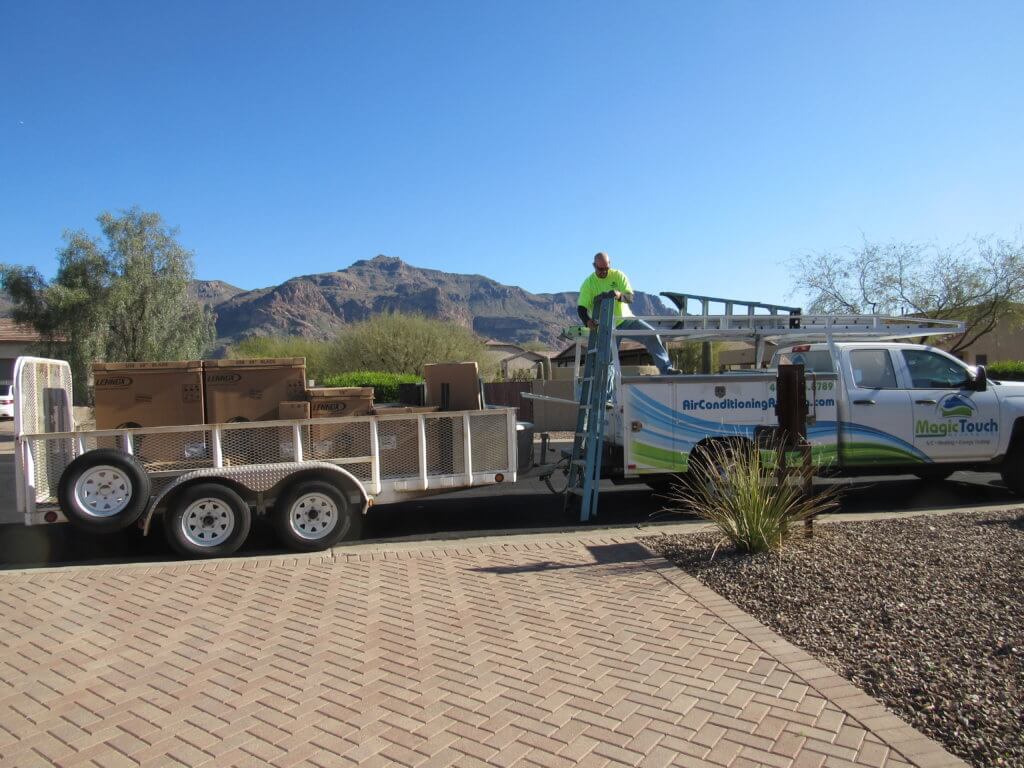 Lower Cooling Costs Are Important to Us
Our new home is a single story Santa Barbara/Tuscan just shy of 3,500 square feet with 12' ceilings throughout. I completed a Manual-J load calculation and determined 9-tons were needed to cool and heat the space. 9-tons of air conditioning would get very costly to operate with the existing 12 year old, 13-SEER (when new) York AC units. When you consider the estimated 45% estimated savings in annual cooling costs, the Lennox XC25's start earning their keep immediately.
Installing Lennox XC25 Air Conditioners for Peace and Quiet
Again, we chose Gold Canyon for the views and the peace and quiet we were lacking in Mesa. The York air conditioners sound like freight trains when they're running, and literally start up with a bang. What good is a beautiful view if it's accompanied by noise pollution? By way of comparison, after installing Lennox XC25 air conditioners for our clients, they all appreciate that they're remarkably quiet. In fact, they're actually one of the quietest air conditioners on the market today!
Hear the 5-ton Lennox XC25 Air Conditioner Run
The Existing York Air Conditioners Are at The End of Their Lives
Owning an air conditioning company, we could hypothetically keep these York air conditioners running for many more years. Well, at least until certain parts are no longer available (which could be the case already). However, the question becomes; at what expense?
Sure, I buy my parts at wholesale cost, and I've been an HVAC Service Technician for over 30-years. I however need to ask myself, is it worth throwing good money after bad repairing noisy, inefficient A/C units? I wouldn't advise that to a client, so I need to practice what I preach.
The "useful" life expectancy of a modern air conditioning unit is 10-15 years on average. Conveniently, that's also the length of most manufacturers' parts warranties! Seeing as these York A/C units were installed in 2007, they've done their time and have already achieved retirement age.
Dust Control & Air Quality Are High on Our Must Have's List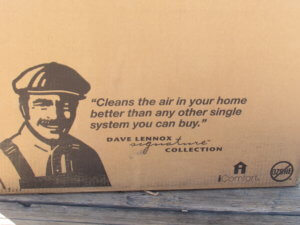 After 3-decades of crawling around in dirty attics , I've been diagnosed with an occupational related interstitial lung disease. Combined with the fact that Maricopa county receives multiple "F" grades from the American Lung Association's air quality report – I need to mitigate the risks.
Consumer Reports ranks the Lennox Pure Air as the highest rated indoor air cleaner & purifier on the market today. The Lennox Pure Air combines hospital-grade HEPA filtration and UV Purification in one unit with a 4" MERV 16 pleated filter. We chose the "S" model which communicates filter life (typically about 1-year) and UV Bulb life to the thermostat display.
Not having to dust a 3500 square foot home frequently is the icing on the cake. The cake itself is the health benefits of extreme air filtration!
The Lennox iComfort S30 Thermostat is Nothing Short of Sexy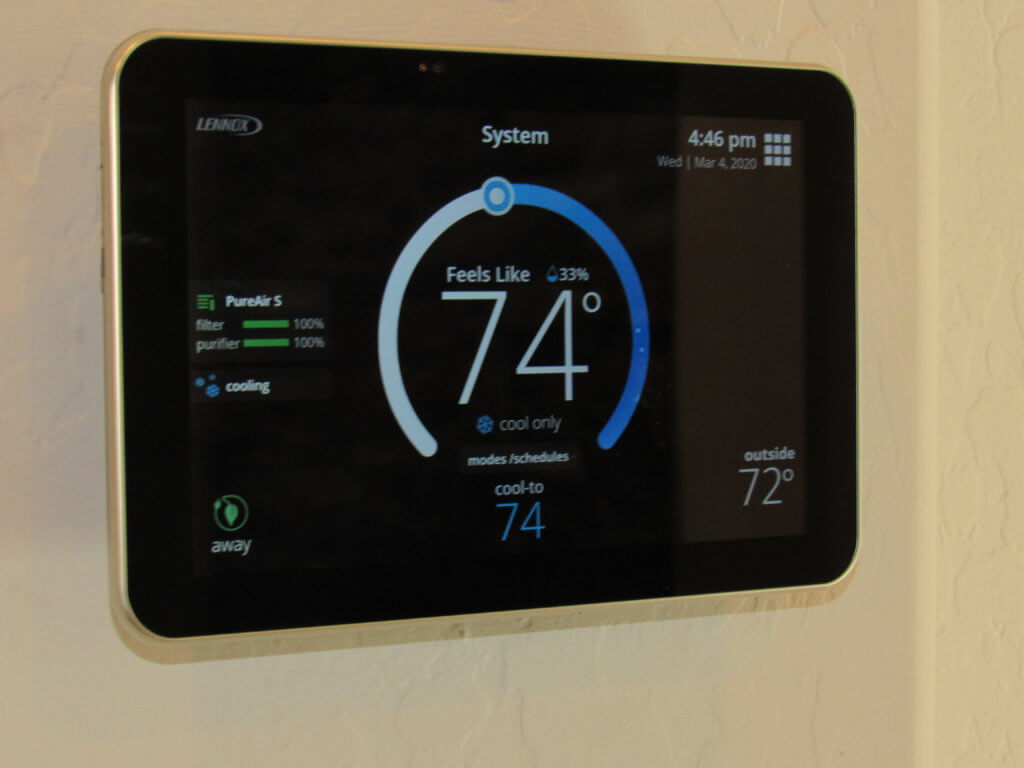 I realize I'm an HVAC geek but Lennox customers agree calling the Lennox iComfort S30 sexy is accurate. It basically looks like an iPad mini on the wall as opposed to a stale white thermostat. However, the Lennox iComfort S30 is more than just another pretty face! The functionality and information it can deliver to both the homeowner and service technician is mind-boggling.
I won't bore you all with all of the diagnostic information the iComfort is able to show your service technician. However, let's just say this thermostat has on-board diagnostics that will save the end user a lot of money. Not only in saved hourly diagnostic service charges if there's a problem, but in problem detection before major components fail.
The really cool thing about the iComfort S30 is all of the pertinent information it will give you, the homeowner. At a glance you know; indoor and outdoor temperature, humidity, forecast, filter life, air purifier life, time, date and much more. You can even set it to work with Accuweather and see the weekly forecast displayed on the screen. Or, you can upload your own digital photos and use it as a photo frame.
I'm barely scratching the surface in this article, so if you want to know more; read about it here.
We're Installing Lennox XC25 Air Conditioners Because we Love the Company
On the back of every Magic Touch Mechanical contract is a "note from the owner," yes, that's me. In a nutshell, I talk about why you can trust doing business with our company. We admittedly make mistakes – we're only human after all. I go on to say, the way to measure a company and their leadership is how they respond to mistakes. We own up to our mistakes and make sure we make things right. It's that culture that has earned us the stellar reputation we enjoy today after almost 1/4 century doing business in Phoenix.
Lennox International operates with the same level of openness and integrity that Magic Touch Mechanical does. We've been doing business with them for over 12 years – things can and do go wrong. Mechanical equipment fails, manufacturing mistakes happen, things get damaged in shipping, inventory managers make mistakes – these are all facts of life. However, when things do go wrong, I know Lennox will own their mistake and make things right. In turn, we can take care of things for our client (technically our mutual client since they chose Lennox and us).
While I wish I could say that about all air conditioner manufacturers, I simply can't. In fact, there are brands we just won't sell for this very reason. They may even make an excellent product, but if I can't count on them when things go wrong, I don't want to recommend them to my clients.
Lennox takes care of their employees! Happy employees' equal happy customers. To truly understand the company culture at Lennox, read this article. If your eyes are still dry when you read this – check your pulse!
Lennox XC25 Reviewed by a Homeowner
If you've read my blog before, you know I purchase, install, test, and review many of the products my company sells personally. I install them in my home, our offices, even Mom's house! I dissect the good, the bad, and the ugly and then report them back to you in my reviews. That said, check back frequently because I'll be reviewing every component and accessory in detail as both a homeowner and contractor. I'll let you know how they stand the test of time, things I dislike, and what I'd do differently.
Would You Like an Evaluation of Your Home's Air Conditioners?
If your home is within 35 miles of Mesa, AZ., you could be the next delighted Magic Touch Mechanical client! Obviously, we sell, install, service & repair Lennox air conditioning & heating systems as well as other brands, but that's not all. If it has to do with the comfort, efficiency, or air quality of your home – one call covers it all. We also offer products and services unique to our industry which clients rave about, surf our website and see for yourself!
You May Also Like
 How to Avoid a Bad AC Installation
How Much Does a New Air Conditioner Cost?