Fireplace Modernization Project
December 7, 2018
Recently we published an article called Modern Fireplace Ideas which has been wildly popular. We've received lots of calls from people wanting Magic Touch to do a fireplace modernization in their own home.
Magic Touch Mechanical recently completed another fireplace modernization for Robert C. in Peoria, AZ. Robert chose an Oval Stainless Steel Burner Pan coupled with beautiful turquoise fire glass. We love how he chose to surround the raised fireplace burner pan with the same color fire glass. Pictures can't really do this homes fireplace justice, it's absolutely gorgeous!
Fireplace Modernization Before and After
Previously, Robert C's gas fireplace was the builder-grade model most of us are used to. It had a traditional gas log set installed that looked well, dated.
However, this gas fireplace looks anything but dated after our most recent fireplace modernization project. As you can see in the before and after photo, Robert is the proud new owner of a very clean & modern fireplace.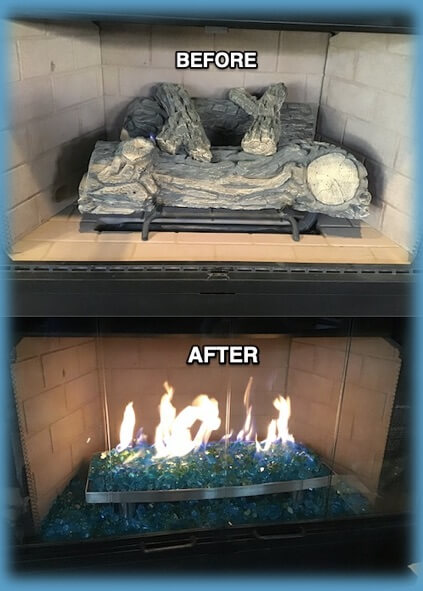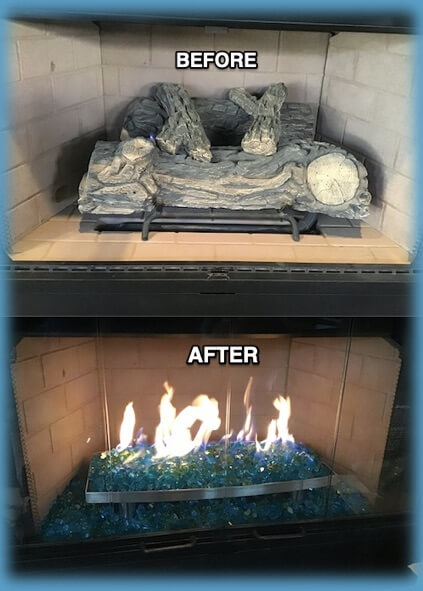 Other Fireplace Modernization Upgrades
As mentioned in the Modern Fireplace Ideasarticle, stainless steel burner pans are just one great option. These gas fireplace burner pans come in a variety of sizes, shapes, and finishes. Installing a hidden burner (no pan) so the fire appears to be coming from the fire glass itself is another great option and continues to grow in popularity with Magic Touch Mechanical clientele.
While we love how Robert chose one color for both inside the pan & firebox, they also look great when contrasting colors are installed.
Add a Remote Control to Your Gas Fireplace
The convenience, speed, and efficiency of a gas fireplace make them a popular choice amongst homeowners. Gas fireplaces can also be equipped with a remote control making lighting and adjustable flame height / heat output a breeze.
Magic Touch Mechanical installs two types of gas fireplace remote control kits. The simpler model allows you to turn the fireplace on or off the same way you do your TV. For those who want more control, choose the variable fireplace remote. The variable unit allows you to not only turn the flame on and off – but also lets you control the size and heat output of the fire!
Push Button Ignitor for Gas Fireplaces & Safety Pilots
If the added convenience and wow-factor of a gas fireplace remote control is not your thing, one of these fireplace modernization upgrades may be.
Push Button Fireplace Ignitors
As its name implies this upgrade allows you to light your fireplace with a button push. No more, scary "whoosh" when you light your fireplace with a match.
Safety Pilot Gas Valve
We're surprised how many match-lit and standing pilot gas fireplaces still exist in the Phoenix Metro area. Ask one of our well-trained gas fireplace specialists about installing a safety pilot gas valve in your fireplace. Not only will you be bringing your hearth into the new millennium, you'll be making your home safer and more fuel efficient.
Gas Fireplace Service Near Phoenix AZ
The reviews are in and our customers have spoken! Magic Touch Mechanical has won multiple Angie's List Super Service Awards in both the gas fireplace & gas log categories. On top of that we've received hundreds of 5-star reviews for our fireplace service & cleaning on sites like Google & Facebook.
The reviews say that not only do we have the best pricing in Arizona for our fireplace service – we're "more dependable" too. If we say, we'll be there – we'll be there! Apparently, some of our competitors didn't get the memo that doing what you promise is important!
Check out all of our home services and products, reviews, awards, and find our more about us. Then schedule your appointment right on our website. We look forward to exceeding your expectations!