Don't Buy a High Efficiency Air Conditioner
June 1, 2020
You may think it's strange that an HVAC Contractor is the person saying; don't buy a high efficiency air conditioner. After 30+ years in the air conditioning & heating business, it feels strange to me too! Stick with me for a few paragraphs and you'll see why I advise people efficiency shouldn't be their first consideration.
Don't Buy a High Efficiency Air Conditioner. Wait, What?

When I founded Magic Touch Mechanical 23-years ago, "don't buy a high efficiency air conditioner" would've never crossed my lips. In fact, quite the opposite. Back then, I advised our clients to buy the most efficient unit their budget allowed.
Magic Touch was actually known for specializing in high efficiency air conditioners in the late 90's through the 2000's. Our best-selling AC Unit in those days was the Trane XL19i which had not one, but two compressors. It was one of the first residential two-stage air conditioners available to the general public. Not only did we install a lot of Trane XL19i's, we sold more than any HVAC Company in Arizona! The Magic Touch Technician Training Center walls at our Mesa offices are lined with "High Efficiency Leader" awards from Trane year after year.
Today, we still install mostly high efficiency AC & heating systems. However, the fact that these air conditioners are very efficient is really just the icing on the cake. Comfort, airflow, humidity control, and impressively low noise levels are the main reasons our clients choose specific models nowadays.
The Importance of SEER Has Changed Over Time
If you're researching for the purpose of choosing a new HVAC System, you're probably already familiar with SEER. SEER (Seasonal Energy Efficiency Ratio) is most easily compared to miles per gallon. The higher the number, the more efficiently the machine operates. SEER is only one of several efficiency ratings to be considered, but it's the most common one discussed with homeowners.
In Mesa, AZ where Magic Touch Mechanical was founded, SEER is a very important consideration due to our extreme climate. In other parts of the country, seasonal efficiency ratings are far less important. This is because SEER is a "Seasonal" rating vs. EER (Energy Efficiency Rating) which is a measure of annual efficiency.
Buying a High Efficiency Air Conditioner in the 2000's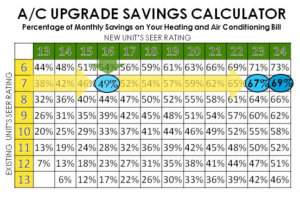 From 2000 – 2005, we were replacing air conditioners originally built and installed between 1980 – 1985 (in most cases). The average life expectancy of an air conditioning system (outdoor condenser, indoor coil & air handler) is 12-15 years. Yes, the old ones lasted longer but don't shoot the messenger, I don't build them, I repair & replace them!
To explain why I've changed my advice from "choose the most efficient AC you can afford" to "don't buy a high efficiency air conditioner" we need to look into SEER further.
The first minimum efficiency standard, 10 SEER, was established by congress in 1987. Units built prior to that were seldomly even rated but if they were, they were most likely 6-8 SEER. Replacing a 6 SEER unit with a 10, 11 or 12 SEER meant the system was significantly more efficient. The ROI (Return on Investment) was relatively quick. This is especially true in a very hot climate like Phoenix where our AC's run constantly 6+ months of the year. Most HVAC experts, including myself, carried SEER comparison charts in our trucks to show our clients. SEER charts quickly made the argument why a higher SEER unit would pay for itself in most Phoenix area homes. This was mostly due to the fact that the installed cost difference between the two was between $800 – $1500.
January 2006, 13 SEER Set As the New Standard
If your HVAC system was installed after 2006, it most likely included a 13 SEER air conditioner. It's important to know they do lose efficiency over time the same way MPG decreases in your car. However, for the purpose of this article, let's focus on what the system was rated new. As I write this article in 2020, those units manufactured around 2006 are nearing the end of their life expectancy. Since that time, air conditioner efficiency standards have changed to "regional standards." Here in the Southwest region, nothing lower than a 14 SEER AC can be legally installed. In most other regions 13 SEER is still the minimum as they rely more on heating systems than air conditioning.
Jumping from a 13-14 SEER unit to a 20+ SEER unit will significantly reduce air conditioning costs. However, the upfront price of a 20+ SEER air conditioner vs a 13-14 SEER air conditioner is significantly higher nowadays. While you may pay $6-8k for a 14 SEER HVAC System, you may pay $9-13k for a 20+ SEER system. In other words, the ROI between the minimum SEER A/C and 20+ SEER A/C is not as quick as it was back in the old days.
Don't Buy a High Efficiency Air Conditioner in 2020
To be clear, I still recommend buying the highest efficiency air conditioning system your budget will allow. However, I don't recommend "energy savings" be the leading factor in the model you choose. With changes in air conditioning technology (specifically compressor technology) certain units are going to have high SEER ratings by default.
Today's A/C compressors are either single-stage (one speed), two-stage (low & high speed), or variable speed inverter (65-750 speeds). Typically, the compressor technology itself is going to play a large role in how efficient the air conditioner is. While there are some deviations in certain models, below is a general idea of the SEER ratings associated with each.
Single-Stage Models: Typically, 13-16 SEER
Two-Stage Models: Typically, 15-17 SEER
Variable-Speed Models: Typically, 18-24 SEER
Savings Between 14 SEER and Higher SEER Air Conditioners
Years ago, you might be replacing a 7 SEER AC with a 16 SEER AC. It was a "no brainer" decision because you stood to save a whopping 49% on your cooling costs. Let's assume that same 16 SEER unit is now operating at 14 SEER (the minimum allowed in Arizona now). Here's what your savings might look like today:
Replacing a 14 SEER air conditioner with a:
14-SEER: 0% Savings
15-SEER: 3% Savings
16-SEER: 6% Savings
17-SEER: 8% Savings
18-SEER: 11% Savings
19-SEER: 13% Savings
20-SEER: 15% Savings
21-SEER: 18% Savings
22-SEER: 21% Savings
23-SEER: 23% Savings
24-SEER: 25% Savings
As you can see in the SEER savings estimates above, you save 2-3% per SEER above 14 SEER. Comparatively, if you replaced an existing 6 SEER unit with a 24 SEER unit, you'd see a whopping 73% savings. However, unless your existing unit is 30+ years old, it's likely operating at a much higher efficiency than 6 SEER.
Choose Comfort. High Efficiency is Already Included
Unless you've replaced your air conditioner in the last few years, you most likely have a single-stage air conditioning system. This is the same technology we've used since the invention of air conditioning in 1902 – 118 years ago! There's also a chance you have a 2-stage AC unit – if you upgraded your system to what was considered the "best" in the early 2000's. If so, you already know the low and high speed improved both your efficiency and comfort.
Today however, variable speed air conditioners are the best AC units money can buy. They come with a higher price tag than most single & two stage systems – but the differences are night & day. The biggest difference is home comfort – these units can maintain the temperature you set throughout your home within 1/2°. As I write this article, my Lennox XC25 variable speed air conditioner is maintaining a brisk 70° – it's 103° outside!
Why, on earth would I set my temperature to 70° in June – because I can! I have two variable speed air conditioners in my home and they're 19 & 20 SEER (varies by tonnage). Although I have a total of 9-tons of cooling for my home, rarely do they need to run at 100%. However, they can when needed (like when it's 112° this Thursday). Even though it was already a very hot May, I keep my temperatures very low, and have 9-tons of AC – my electric bill last month was $180. Note I also have a pool (variable speed pump), landscape lighting, and all the typical power usage of an Arizona home.
I Chose Comfort. High Efficiency Was Free.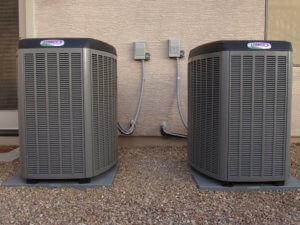 Sure, I'm an HVAC Contractor, of course I chose the best air conditioning & heating system money can buy. However, I'm a homeowner and working man just like most people reading this. I could've saved a lot of money by choosing an air conditioner that would "get the job done." That said, I also know that our clients that choose two-stage are more satisfied than those who choose single stage. And, clients who choose variable speed are practically ecstatic about the difference – that's what I wanted for my own family.
There are other reasons to choose variable speed. They're quieter, come with nicer controls, have better warranties, and much more. Yes, they're also much more efficient by design than two-stage and single speed air conditioners & heat pumps. But again, when you choose an air conditioner based on getting the best comfort, the high efficiency is just icing on the cake.
Stay up to date with "just the facts" about home comfort, efficiency & air quality by following us on Facebook!
Compare New AC Units Side by Side
At Magic Touch Mechanical, we believe in offering options not ultimatums! Unlike other Phoenix area air conditioning companies that sell only 1 or 2 brands, we sell many brands. Schedule a free consultation and compare prices and popular brands like Trane, Bosch, Lennox, Goodman, Mitsubishi and others! You'll find no high-pressure salespeople on our team, just honest people hoping to earn your business with great prices and 5-Star service!
You May Also Like:
How Much Does a New Air Conditioner Cost?
How To Avoid a Bad AC Installation
Best Value Variable Speed Heat Pump