Daikin vs Gree
April 12, 2022
A few weeks ago, we published an article comparing ductless mini split heat pumps in a side-by-side comparison. Two of the 4 brands we compared were Daikin vs Gree. Mitsubishi vs Fujitsu rounded out the product comparison as these are the 4 most requested mini split brands.
Daikin vs Gree Side Discharge Units (Central Air)
This Daikin vs Gree comparison is quite a bit different. Rather than compare Daikin vs Gree ductless units, we're going to look at their ducted central air options.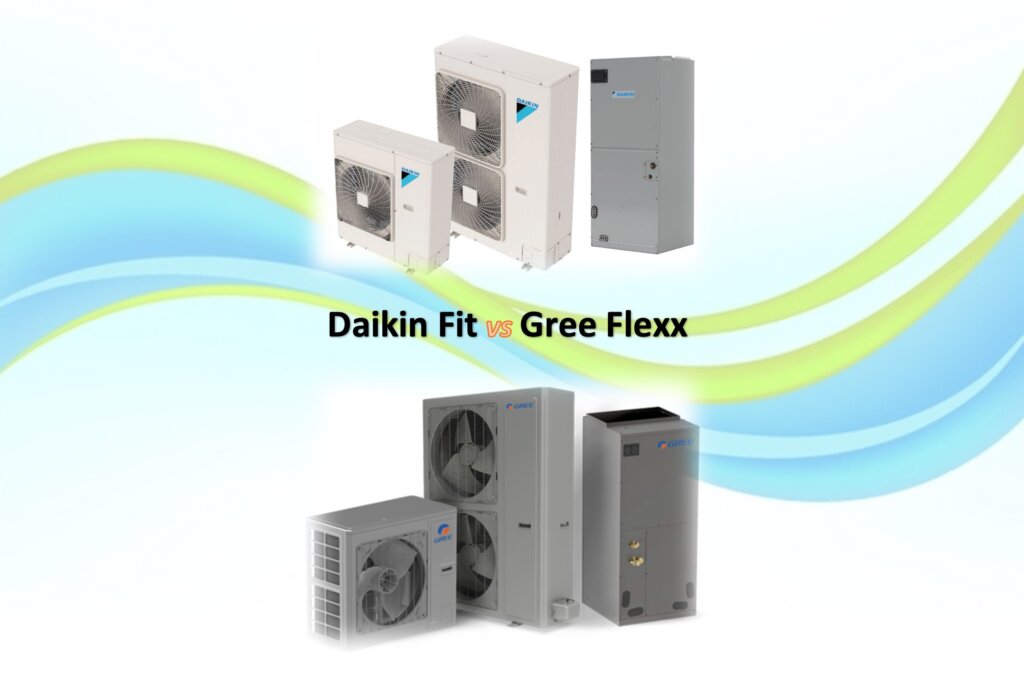 Magic Touch Mechanical Installs Gree & Daikin Products
Anytime I write an article comparing two brands, I like to mention which brands Magic Touch Mechanical sells and installs. In this case it's easy to demonstrate how this is an unbiased review of Daikin vs Gree – we sell both!
Admittedly, Magic Touch Mechanical has been selling & installing Daikin (parent company of Goodman, Amana, & Franklin) for many years. In fact, for commercial projects, we almost exclusively install Daikin units as they have the best commercial consumer warranty available. On the residential side, we've installed thousands of Goodman, Amana, & Franklin units in the past 25-years in business.
While the Gree brand is one of our newer offerings, they're selling fast. When people see side-by-side specifications & prices, be it Gree vs Daikin, Trane, Rheem, Carrier, whoever – Gree stands out. Why does it stand out? Spoiler Alert! Pound-for-pound Gree offers more bang for the buck than most of its competitors in the same class. That said, let's see how Gree does against one of the HVAC industry's biggest giants, Daikin in Daikin vs Gree!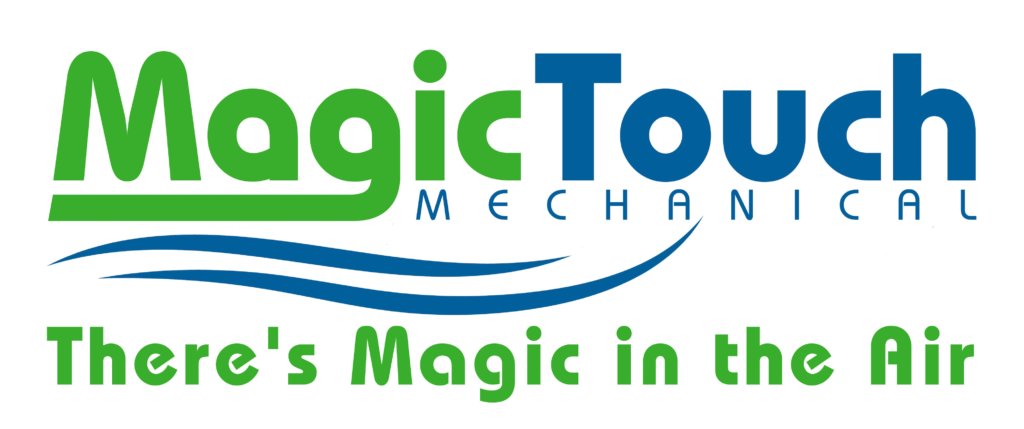 Daikin Fit vs Gree Flexx
Both Daikin and Gree manufacture a ducted central air conditioning system the utilizes a side discharge outdoor unit. The side discharge condenser (outdoor unit) is paired with a ducted air handler (conventional indoor unit) providing central air & heat.
What Is a Side Discharge Condenser?
A side discharge condensing unit is basically an outdoor unit roughly the width of a large suitcase. Rather than 'discharge' the air out of the top of the unit, the fan blows air out the 'side'. They're about 1/3 the width of older style air conditioners, some of which are very large – and getting larger. If you own or have seen the outdoor unit of a ductless mini split, you've seen a side discharge unit. In a nutshell, both the Daikin Fit & Gree Flexx pair a mini split condenser with a traditional air handler. Now that we know what they are, let's see who wins in Daikin vs Gree – battle of the behemoths!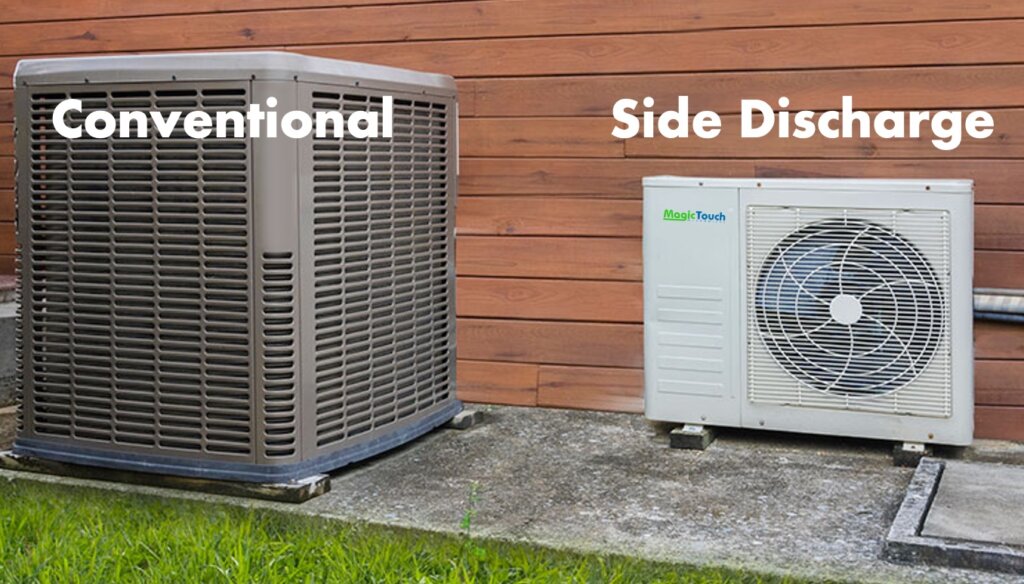 Daikin vs Gree – Who's Who?
American consumers don't realize most of the world doesn't use central air for the most part. They mostly use ductless systems and have been for many years. Here in the USA, we tend to think of names like Carrier, Trane, and Lennox when we think AC brands. In fact, we often refer to those brands as 'the big 3" here in the United States.
However, the truth is, from a global market perspective the big 3 are Daikin, Midea, and Gree. You may even own some of their products and not even know it! For example, if you own a Lennox, Carrier, or Trane ductless system, you may own a Midea or Gree. All these manufacturers' mini splits were made by Gree or Midea over the years. They were "white label" machines made by one or the other adorned with a Lennox, Carrier, or Trane sticker.
Both still make a good portion of the white label air conditioners being sold in the USA and globally today. In fact, Gree claims to make 1 of every 3 air conditioners and heat pumps manufactured in the world today.
Daikin on the other hand claims to be the largest HVAC manufacturer in the world. If you own a Goodman, Amana, Franklin, or even Goettl* – you own a Goodman (owned by Daikin).
*Goettl once manufactured their own equipment. Today all Goettl units are private labeled Goodman units.
Daikin vs Gree – Price Comparison
All things being equal, IE., the exact same application, size, required labor, etc. the Gree costs significantly less installed.
Air conditioning installation costs can vary from contractor to contractor – each having different overhead costs, labor costs, etc. As Magic Touch Mechanical sells so many different brands, we compare them side-by-side "at the kitchen table" with our clients. We charge the same amount for our installation no matter what brand we install. When comparing the Daikin vs Gree, the Gree comes out well over $1k less.
In fact, the Gree Flexx is well over $1,000 less than the previously least expensive variable speed inverter, Bosch IDS. Bosch held on to the title of "best bang for your buck inverter" for the last several years – until Gree.
Cooling Range
Here in the Phoenix, AZ area, the cooling range is an important consideration amongst side discharge units. In recent years we've reached record-breaking temperatures, records for most consecutive record-breaking days, and well – longer 'summers' than usual. While 110°F days are expected in central Arizona, seeing temperatures near or above 120° have become more commonplace the last few years.
The Gree Flexx operating range is up to 129°F
The Daikin Fit operating range is up to 115°F
To be fair, we have very few days per year when we exceed 115°. When we do, it's for a few short hours in the late afternoon (typically).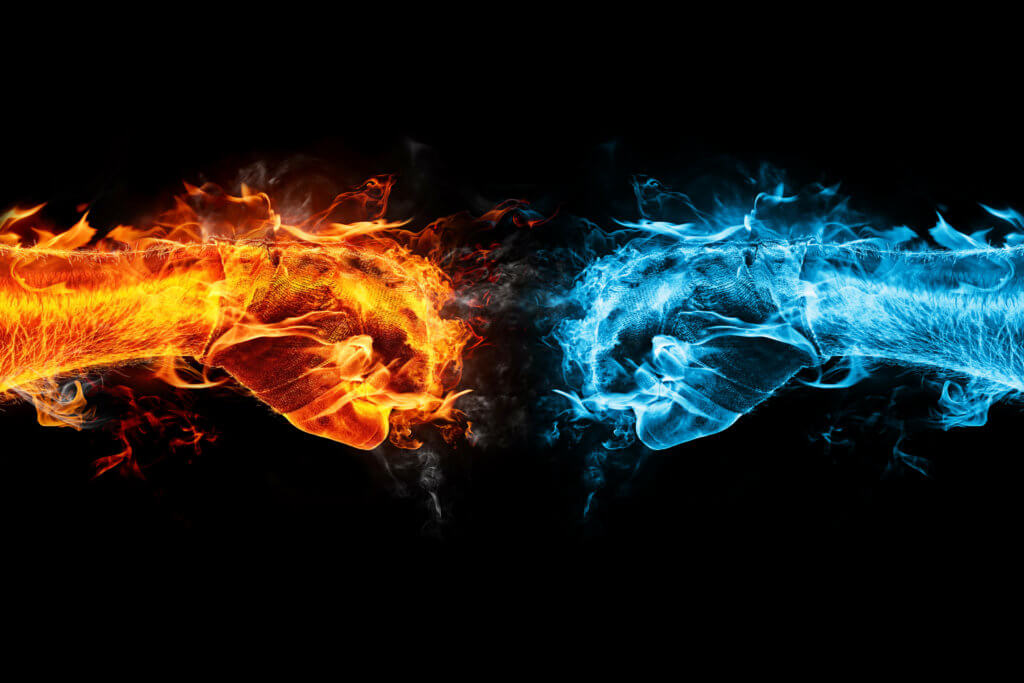 Heating Range
This applies more to any readers who live in cold country than it does to my fellow Phoenix area residents:
The Gree Flexx can operate in heating mode with outdoor temperatures as low as -22°F
The Daikin Fit heating range goes down to -20°
In the 25+ years Magic Touch has been in Mesa, AZ., (a few in Gilbert, AZ) we've rarely seen freezing temps. It happens, a few times a year however not -20°F. That said, if you need a machine that can handle the cold, both Gree & Daikin appear to be up to the task.
Daikin vs Gree – Efficiency
The exact efficiency of each unit depends on the tonnage you need. We're comparing the entire range of tonnages in this article – from 18,000 BTUh (1.5 ton), to 60,000 BTUh (5ton). Therefore, the following efficiency ratings are 'up to' across the entire lineup of each brand.
Cooling Efficiency (Seasonal Energy Efficiency Rating)
The Gree Flexx SEER rating goes up to 20 SEER
The Daikin Fir SEER rating goes up to 18 SEER
Heating Efficiency (Heating Season Performance Factor)
The Gree Flexx HSPF goes up to 10.5 HSPF
The Daikin Fit HSPF goes up to 10.0 HSPF
For what it's worth, both machines are considered high efficiency with those kinds of ratings. Both will save you money compared to single-stage and even 2-stage central air & heating systems. However, this is a product comparison so, the win goes to Gree for most efficient.
How Quiet Are They (Outdoor Unit)?
While both the Daikin Fit and Gree Flexx are very quiet, the Gree is exponentially quieter than the Daikin.
In fact, when compared to Daikin, Fujitsu, Rheem, Bosch, Carrier, and Mitsubishi; Gree Flexx is quieter than everything in its class.
At its quietest, the Daikin Fit sound level is as low as 60 decibels

The Gree Flexx however goes down as low as 45 decibels
To put that in perspective, 60dB is equivalent to a normal conversation between 2 people. 45dB is approximately equivalent to an electric toothbrush or light rain.
Other Considerations
Thermostats
A pet peeve of mine is the fact that most HVAC manufacturers equipment requires the purchase of their proprietary thermostats. I'm yet to find one of them that I wouldn't consider "overpriced" *. Sure, some of them are very nice looking and feature-rich, however as a consumer myself, I'd like the option.
*One manufacturer's proprietary thermostat wholesale cost (contractor price) is a whopping $700 … you read that right 700 clams … for a thermostat! Granted, it's an awesome thermostat (practically an iPad) but there are feature-rich thermostats that cost much less!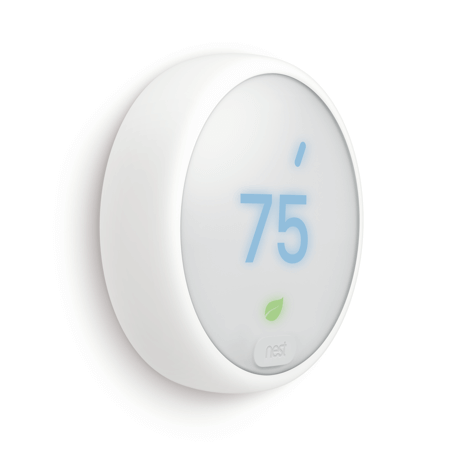 Daikin vs Gree Proprietary Thermostat Required or Not
The Daikin Fit requires you use their proprietary thermostat; it will not operate without it.

Gree allows consumers to use the thermostat of their choice, no proprietary thermostat needed. If you have a thermostat you love, already have the Wi-Fi app on your phone, etc., Gree is your winner.
Home Additions & Remodels
While this only applies to a select group of homeowners, the Gree Flexx holds a huge advantage for home additions. Unique to Gree and Bosch, these brands can 'grow with you'. Unlike the Daikin (or anyone other than the 2 two mentioned), the Gree Flexx's tonnage is flexible.
Let's say you need a 4-ton unit for your existing home, but plan on building an additional bedroom next year. The Gree Flexx can be field adjusted to produce 5-tons of cooling & heating when the time comes. The same is true for either a 2-ton or 3-ton model.
Conversely, this option is not possible with the Daikin Fit. If you purchased a 4-ton last year and needed a 5-ton for added square footage, you'd have to buy another unit. Your choice would be to add a second unit for the addition or replace your 4-ton unit with a 5-ton. With the Gree Flexx, changing the 4-ton to a 5-ton is literally the flip of a switch on the circuit board.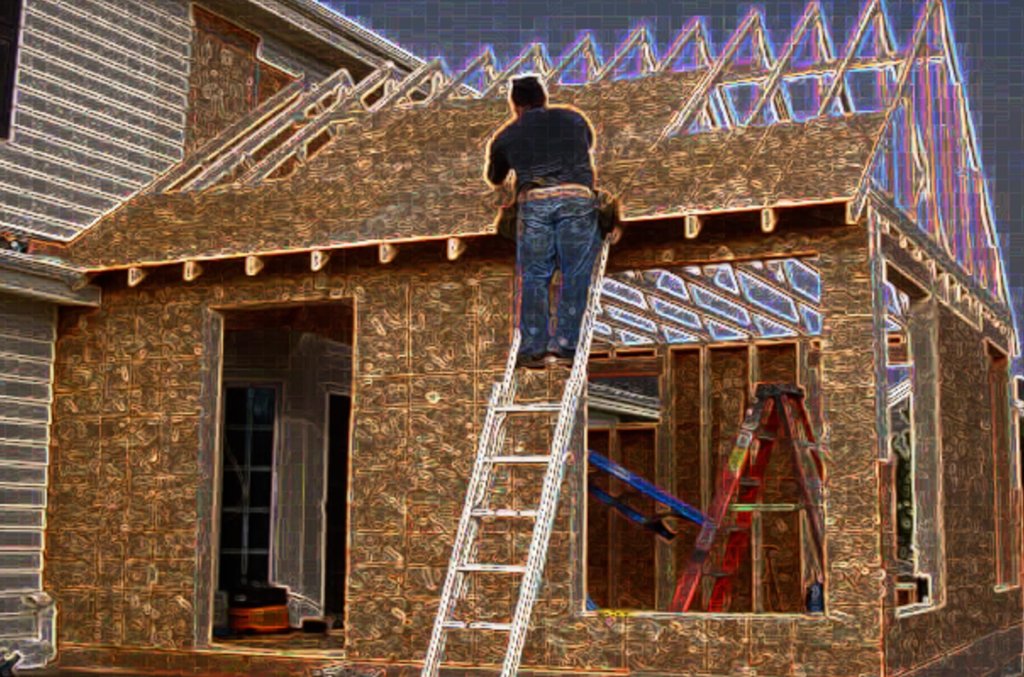 Which One Do I Recommend?
A few years ago, I wrote an article comparing Rooftop Package Heat Pumps for commercial applications. In that article I praised Daikin for being the best option in its class, in that category. That remains true today. In fact, one of our largest commercial clients has slowly been switching all their 100+ units from Trane to Daikin.
When it comes to residential inverters (variable speed compressors), I must give this one to Gree. The numbers speak for themselves in this Daikin vs Gree article. It's less expensive, quieter, more efficient, and provides a wider temperature operating range. Most homeowners appreciate the option to use the thermostat of their choice with Gree (not an option with Daikin). Lastly, the unique design allows people adding square footage to their home the ability to change the capacity (tonnage).
I'm Installing Gree in My Own Home
I like the Gree Flexx so much, I'm installing one in my workshop. As you might imagine, I'll be writing an article and even filming my installation, follow us on Facebook to see it. Not on Facebook? Follow us on Instagram, Twitter, LinkedIn, and YouTube to keep up with the latest product reviews and energy saving advice!

You May Also Like These Articles
There's Magic in the Air!