COVID-19 Creates Air Conditioner Shortages
July 17, 2020
No thanks to COVID-19 for creating air conditioner shortages in Phoenix and other parts of the nation!
Back in January of this year, we published an article dispelling a "salesman myth" about A/C parts being hard to get from certain manufacturers. The article described the practice of salesman using scare tactics to push people away from brands they didn't sell. As Magic Touch sells many competing brands, we know good and well getting parts for most brands wasn't an issue. Of course, that article was published before most of us even heard of COVID-19.
Unfortunately, it looks like we need to take back some of the things said in that article now. What was true for the quarter-century I've been an HVAC Contractor in Phoenix, has been turned upside down by COVID-19. Several major HVAC manufacturers are not only struggling to get repair parts, they have little to no new A/C units!
Goodman Air Conditioner Shortages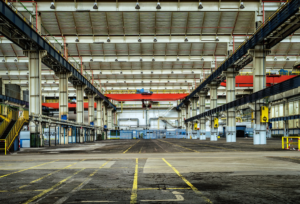 Ironically, the largest manufacturer in the world Daikin, who owns the Goodman brand, was first to announce air conditioner shortages. Several employees at their 1-million square foot manufacturing plant in Texas tested positive for COVID-19 back in March. As a result, the entire plant ceased manufacturing operations for almost one month. With record breaking summer temperatures, inventory in local branches started being depleted quickly. Pictures of near empty warehouses which would normally have hundreds, even thousands of air conditioners stacked to the ceiling are being circulated on HVAC contractor forums and Facebook groups.
Although the Daikin / Goodman facility is back up and running around-the-clock, demand is still exceeding supply. Turnaround times for larger HVAC Contractors like Magic Touch have averaged 1.5 to 2 weeks to get equipment orders – if at all. As a result, many Magic Touch clients have been choosing other brands like Lennox and Bosch who have inventory right now.
Trane Air Conditioner Shortages
Not nearly as large as Daikin / Goodman, but possibly more well-known to consumers, Trane is now experiencing major air conditioning shortages. The timing couldn't be worse for the company after parent company Ingersoll Rand spun off the brand from its portfolio. Now called Trane Technologies, stock prices plummeted from $146/share in February to less than ½ that one month later at $71/share.
The Trane brand has a rich history in the HVAC world so it's likely to survive the current downturn. However, dwindling parts availability of important components like evaporator coils is sure to leave a mark on their 2020 sales. Normally brand-loyal consumers are not willing to "wait-and-see" when air conditioner shortages will end when temperatures in Phoenix are 110°+.
Compressors & Other Components in Low Supply
In some cases, the shortage of new A/C units is not due to the air conditioning manufacturer themselves, but their suppliers. One example would be the temporary production halt of compressor manufacturer, Copeland. What many people outside of the HVAC industry may not realize is most manufacturers rely on the same supply chains for the components inside their A/C units. Contractors around the country that represent Rheem, Ruud, York and Carrier have all reported equipment shortages as a result of component shortages.
Many accessory products are also in low supply and high demand. This is especially true of IAQ (Indoor Air Quality) accessories and replacement kits. Items like air filters, UV lights, and air scrubbers are backordered with many of the major HVAC suppliers in the Phoenix, AZ area.
Good News for Lennox, Bosch & Others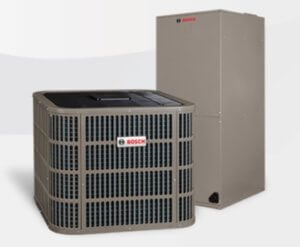 While companies like Daikin & Trane struggle to keep up with high demand, others appear to be gaining market share. For contractors like Magic Touch Mechanical who sell many A/C brands, air conditioning shortages have resulted in "brand shifting". Consumers who were initially interested in Trane or Goodman are not willing to wait several weeks or longer. What we've seen is; more consumers interested in brands that are in stock and can be installed quickly. The extreme temperatures and families spending more time at home have created a feeding frenzy of new air conditioner sales.
The Bad News for Consumers & Contractors
It remains to be seen whether more brands will experience the same air conditioner shortages Trane & Goodman have been. With demand at an all-time high, goods from overseas slowed or halted completely, and shut-downs here in the states, things could worsen.
Air conditioners may be a luxury in certain parts of the country, but for others they are life-sustaining. To make matters worse, component shortages could make temporary repairs impossible on certain equipment. Just last week Trane announced "surcharges" on all evaporative coils – a vital component needed for all new air conditioning systems. Many of these coils are also required when repairing existing systems. The simple principle of supply and demand leads me to believe we could see prices spike, even skyrocket for parts and equipment.
You may be wondering how all of this could spell bad news for air conditioning contractors as well. The price range for a new HVAC System can range from $5,500 for base models to  $15,000 for ultra-premium systems. Frankly, most consumers don't have that type of money in-hand and rely on financing. Should the country fall into another recession, which many predict will happen, the criteria for financing gets tougher. If consumers simply can't get access to capital, not only are they left without air conditioning, contractors lose revenue they rely on to stay in business.
It's Not All Gloom & Doom
If running a contracting business for almost ¼ century has taught me anything, it's never doubt the American spirit. Case in point; two years ago this week, a tornado devastated the Lennox manufacturing facility in Marshalltown, IA. Immediately after, news stations and people in the industry began to speculate that it could spell the end of the 125 year old company. Read the article and see how American spirit not only rebuilt the plant and the city but strengthened the company. Ironically, just two years later, Lennox is one of the manufacturers who seems to have a good grip on production and inventory. Let's all keep our fingers crossed for companies like Trane and Goodman, their employees, and our country!
An HVAC Contractors Advice
While I may be an air conditioning contractor, I'm also a homeowner and consumer like most of our readers. I'm no expert on infectious diseases or global economies nor do I have a crystal ball to predict the future. COVID-19 took us all by surprise and recent events are unprecedented in most of our lifetimes. What happens next is anybody's guess.
What I am an expert in is air conditioning and running an HVAC Contracting business. For the first time in 3-decades in the air conditioning industry, I can say air conditioner shortages are real and getting worse. As a consumer and homeowner, I'm very glad I replaced my air conditioners in the 1st week of March. In fact, we completed the installation a week before we started hearing about COVID-19 and quarantines.
Good Timing!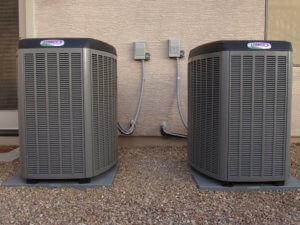 I had no idea any of this was coming so it was by chance the timing worked out so well. What I can say is; I feel very fortunate to have replaced two working air conditioners at the end of their useful lives. I installed ultra-efficient Lennox XC25 air conditioners just in time to be home more often in record-breaking heat. Several of our technicians recently followed suit and one is installing a new Lennox in his own home this weekend.
My advice is; if your HVAC is nearing the end of its life, consider replacing it sooner rather than later. If your equipment is less than ten years old and it's not replacement time, make sure they're in tip-top shape. Has your technician has been recommending any repairs to keep them running up to manufacturers specifications? – Don't hesitate any longer. Living in the Phoenix, I can't imagine not having air conditioning. Being stuck with an inferior brand because it was the only thing left is never good. (Think toilet paper!)
Hopefully There's Not a "Air Conditioning Shortages – Part 2"
Had the coronavirus hit in the Fall, we may not even have been discussing this. Most HVAC equipment manufacturers use the "Just in Time" manufacturing philosophy, and only produce enough to meet projections. Like the rest of us, none of them banked on plant shutdowns, material shortages or the other chaos this pandemic has caused.
Let's all hope things start to get back to pre-COVID normal and I don't have to write a follow up article with worse news! Stay healthy, safe & cool!
If you live in the Phoenix-Metro area and are looking for award-winning, 5-Star air conditioning repair or replacement, contact Magic Touch Mechanical today – it's our mission to make sure you're glad you did!