Bosch Heat Pump Review
March 4, 2021
It's been 3 years since Magic Touch Mechanical installed the first Bosch Inverter Driven (Variable Speed) Unit in Phoenix, AZ. We've written several Bosch heat pump reviews since then on the Bosch 1.0, Bosch 2.0 and the packaged heat pump. However, we thought we'd see how the first one we installed is doing 3-years later in a new Bosch heat pump review.
Plus: We look back over the last three years and discuss what we think of the brand after installing several hundred Bosch systems.
First, Why This is Unbiased
If you've never read any of my articles before let's get something out of the way first: I founded Magic Touch Mechanical in Mesa, AZ over 23-years ago and have always recommended and installed multiple brands. Besides Bosch, we install Lennox, Goodman, Trane, Amana / Franklin, Mitsubishi, Day & Night (a Carrier brand) and others. In other words, every brand and model will always get an unbiased review, because chances are, we sell it. If we don't sell it, it's likely because I wouldn't put one in my house or my mom's house. So, if it's not good enough for me or mom, I'm certainly not going to recommend it to a client.
If the product is reliable, durable, well-built, and the manufacturer provides good service, parts availability & warranty, we'll install it. We're not going to put our name on something or even recommend it if it doesn't meet all that criteria. Bottom line, this Bosch Heat Pump review is based solely on its own merits & performance over three years!
Bosch Heat Pump Review – 3 Years Later
Before the Bosch 2.0, the new IDS Light or the Variable Speed Package Unit came along, there was Bosch 1.0
Ironically, the first person to introduce me to the Bosch Heat Pump was once a Trane employee (a competing manufacturer). He'd recently changed jobs and went to work for an HVAC supplier who was carrying the Bosch equipment line. I was familiar with Bosch appliances from all my years as an appliance technician and knew they were top notch. Long story short, several of my best technicians, installers and myself put one of their systems through the paces. We all concurred that the unit was well designed, built tough, and impressively quiet so we decided to give them a shot.
Technically, that was our first Bosch heat pump review, but it was time to put one to the test with a client. The true test of a product has to come from someone who sees, hears, and feels it 24/7/365. This is especially true of an HVAC system in Phoenix. It absolutely must perform well on the hottest Arizona days and chilliest winter mornings.
A long-time Magic Touch client, ready to replace his AC & heating system, agreed to be our test subject. I asked him to provide his personal Bosch heat pump review specifically for this article after 3 years of ownership.
He was asked to rank the system on a scale of 1-5 on: Performance, noise level, operating costs & appearance. I also asked him to provide any additional comments homeowners would care about. Here's what he had to say:
Bosch Heat Pump Customer Review
Performance: 5 out of 5-Stars
Sound Levels: 5 out of 5-Stars
Operating Costs: 5 out of 5-Stars
Appearance: 5 out of 5-Stars – His exact words: "I mean it's an air conditioner not a Monet painting Rich, but it still looks new 3-years later."
Comments: "The Bosch has been a good choice so far. I've noticed the variable speed compressor does make a very big difference and there are noticeably less temperature swings throughout the day than with my last unit. It is a lot quieter than my old unit which sounded like an airplane. Even though electric rates have gone up, my summer bills are still much lower than they were before. I've already recommended this unit to a friend and he is happy with his as well."
Magic Touch's Test Results of a 3-Year-Old Bosch Heat Pump
In its first year in service, Magic Touch service technicians ran field tests on the unit 4 times (every 90 days). Admittedly that was probably overkill but I wanted to capture and analyze performance data in extreme heat and milder temperatures. In years 2 and 3 we performed routine semi-annual maintenance in the Spring and Fall as recommended by the manufacturer. Here's what we found in the first three years:
Component Tests: All components are operating according to manufacturer specifications and no component replacements have been required.
Refrigerant System: Refrigerant levels have not changed and no refrigerant leaks, factory weld issues, or coil issues have been detected.
Electronics & Circuit Boards: All electronics, PCB's and wiring have been tested at each visit and no issues have been found.
Cabinet / Paint / Hardware: No unusual wear has been found. We check for things like fading paint, rust, fastener and screw integrity and unusual vibrations.
Why 3-Years is an Important Milestone for a Heat Pump
On an 'A/C with Gas Furnace' system, the outdoor AC Condenser only operates in the summer. The gas furnace works independently in the winter providing heat thereby allowing the AC compressor a winter break. However, a heat pump utilizes the condenser's compressor for both cooling and heating, so it works year-round.
According to most manufacturers, the average life expectancy of a modern A/C or Heat Pump Condenser is approximately 12 years. Based on the average useful life of a condenser, after 3 years it has used approximately 25% of its life. While 3-years seems 'new' us, it's in fact about 20 in 'human years' since our life expectancy averages 80 years.
PRO TIP: People have asked me over the years if they're better off with an AC/Furnace combination instead of a heat pump. Thinking the entire system will last longer since the AC doesn't run in the winter. The logic is sound as gas furnaces last much longer than AC or Heat Pump condensers. Unfortunately, unlike the old days, you can no longer replace just the condenser and the indoor coil and keep the old furnace. In most municipalities it's not even legal anymore as an 'AHRI certified' – 'matched system'* is required.
*AHRI (Air Conditioning, Heating, Refrigeration Institute) is a 3rd party organization who certifies the efficiency ratings (SEER, EER, HSPF, etc.) of matched HVAC Systems. A matched system consists of an AC condenser, coil, and furnace for gas systems or HP Condenser & air handler for heat pumps.
Bosch Heat Pump Review After Installing Several Hundred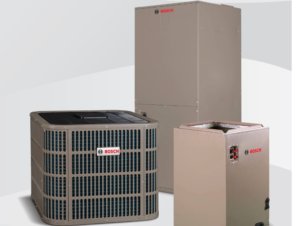 With brands like Trane, Lennox and Mitsubishi we know what to expect since we've been installing them for decades. Technically we've only been installing the Lennox brand for 15-years, but you get my point. Frankly, we've installed thousands of them all, so we know failure rates, how long they last, even common issues.
This article is a Bosch Heat Pump Review of only one unit 3 years after install. So, how do we know it's not a fluke that this particular one has done very well for the last 3 years.
Well, because of what you get for the price, Bosch heat pump units have been selling like hotcakes. We've been installing several hundred a year for the last three years so now have a large sampling to review. By and large, I can comfortably say the Bosch ranks up there with premium brands like Trane, Lennox & Carrier.
We monitor equipment failure rates very closely as our reputation is on the line if we recommend unreliable products. Of course, I can't say we've never had a problem with any of the hundreds of Bosch units we've installed. However, the failure rate has been very low and comparable to that of any of the premium brands. Most importantly, in the few cases where we did find a problem, Bosch was very quick to take care of things.
My Personal Bosch Heat Pump Review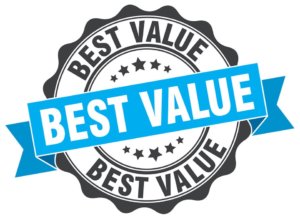 Not only do I give Bosch two thumbs up, but I also plan to replace my own mothers existing systems with Bosch. Mom is the only person on the planet that gets my services free of charge. Since it comes out of my pocket, and because I can't risk my elderly mother not having reliable cooling & heating – I want the best value I can get. Each year we share our "Best Of" in multiple categories. Bosch has been our Best Value Variable Speed Heat Pump pick for two years running.
How Much Does a New Bosch Heat Pump Cost?
Let's put it this way, compared to every major heat pump brand, Bosch is by far the best value right now. Compared to other variable speed inverter heat pumps, it costs significantly less installed. Combined with variable speed rebates from utility programs like SRP Cool Cash, you could save yourself several thousand dollars.
As every application is different and diagnosis without examination is malpractice, we need to see the home to give exact quotes. However, because we sell so many brands, I can say when people see the specs and prices side by side – a lot are choosing Bosch.
See for yourself, schedule a free no-pressure, no obligation, home assessment today!