Best Value Variable Speed Heat Pump
February 2, 2021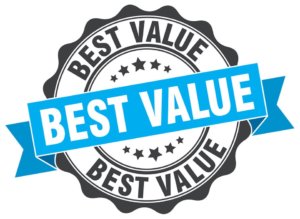 I'm impartial when it comes to choosing the best value variable speed heat pump because we sell many competing brands. Trane, Lennox, Bosch, Goodman, & Mitsubishi (5 of the brands we install), each have their own unique position in the market. Each have their own "best in class" models, and each have their own "best value" model. My definition of best value isn't lowest price, it's the option that offers the best bang for the buck.
That said, let's take a look at who earns the title of "best value" in the variable speed air conditioner & heat pump category for 2021.
Variable Speed vs Two Stage vs Single Stage
If you don't already know the differences between the types of heat pump compressors, I recommend you read this article. In my opinion, determining which compressor technology you want is the first step in choosing the right heat pump for you. You'll be living with your choice for the next 12-15 years (at least) so it's important to think ahead. If you're wondering if variable speed is worth the extra money, I recommend this article to help you decide.
This article "Best Value Variable Speed Heat Pump" assumes you've already decided on variable speed. Or, possibly are trying to decide between a two-stage unit and a variable speed heat pump. If you're still trying to decide – this article is for you too.
Best Value Variable Speed Heat Pump Criteria 
The model we've chosen as the best value variable speed heat pump just happens to be the least expensive in its class. However, we didn't base our decision on price alone. The criteria we used to determine best value were:
Installed Cost
Parts Warranty
Efficiency
Noise Levels
Dependability/Reliability
Design/Build Quality
Manufacturer Support
Parts Availability
Our Pick – Bosch 1.0 – The Best Value Variable Speed Heat Pump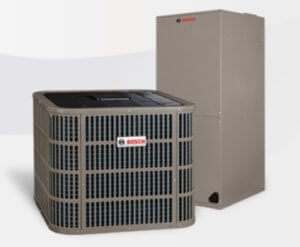 I recently published an article comparing the Bosch 1.0 vs Bosch 2.0 side by side. It was actually a tough call between the two for this article as both models offer incredible value. Ultimately, the Bosch 1.0 won the title – best value variable speed heat pump in our opinion – by a thin margin.
It could've very easily been the Bosch 2.0 to take the title, but the 1.0 is all that, a bag of chips, and still one of the lowest priced variable speed units on the market in 2021.
Bosch 1.0 Heat Pump Installed Cost
Compared to Trane, Lennox, Goodman, and Mitsubishi ducted heat pumps, the Bosch 1.0 is significantly lower priced. When I say significantly lower, I mean over a thousand, or even thousands of dollars lower than their competitors. In fact, the Bosch Variable Speed Split Heat Pump is more competitively priced than others 2-stage & even some single-stage systems. If there's a lower priced variable speed heat pump on the market today, I'm not aware of it.
Again, there's a big difference in price and value! So, we didn't choose this unit as the best value variable speed heat pump based on installed cost alone.
What's the Parts Warranty?
When installed by an ABC (Accredited Bosch Contractor) the warranty is upgraded to 11-years on all Bosch 1.0 parts. I emphasize the word when as the better warranty is applied when registered by an ABC company only. There are three levels of Accredited Bosch Contractors; Platinum, Gold & Silver. Platinum Contractors have completed all of the advanced factory training and install Bosch A/C & Heating Systems frequently.
As of the time I'm writing this article, Magic Touch Mechanical is the only Platinum Accredited Bosch Contractor in Phoenix, AZ. We're also the largest Bosch Heat Pump dealer in Arizona and have installed hundreds of Bosch Variable Speed Heat Pumps. I don't say that to brag, more so to establish we're very familiar with this product and the criteria we judged it on.
Bosch 1.0 Efficiency Ratings – Best Value Variable Speed Heat Pump
The Bosch 1.0 variable speed split heat pump is far from the most efficient variable speed unit on the market. In fact, it's not even Bosch's most efficient system. However, it's still considered an ultra-efficient air conditioning system. Depending on tonnage, the SEER (Seasonal Energy Efficiency Rating) ranges from 17.50 to 18.50. The annual EER (Energy Efficiency Rating) ranges from 11.20 up to 13.00. Comparatively speaking, some of the most efficient variable speed heat pumps from their competitors are only 2-5 SEER & 1-2 EER higher.
The Bosch 1.0 is One of the Quietest Heat Pumps Available
My guess is most of you have an outdoor unit right next to the master bedroom or family room window. Do you have to turn the television volume up when your air conditioner is running? Can you have a peaceful nap next to the pool when the AC unit is plugging away? Most people tell us "quiet" is an important factor in choosing what brand/model heat pump is best for them.
As mentioned in previous articles, Bosch's engineers hit it out of the park on this one. The Bosch 1.0 is one of the quietest variable speed heat pumps money can buy. With sound ratings as low as 56 decibels, Bosch beats out almost every premium brand competitor out there. To put that into perspective: I own two units rated 58dB, I only hear faint air movement noise when they are running – standing several feet away. Two decibels is actually exponentially quieter! This is yet another reason we think the Bosch 1.0 is the best value variable speed heat pump today.
Dependability, Reliability, Design & Build Quality
I decided to lump these criteria together as they all tie into each other. If the product design or build quality are inferior, dependability and reliability are sure to suffer. We've been installing brands like Trane, Lennox, Goodman & Mitsubishi for decades, however Bosch heat pumps only about 4-years. We very carefully vetted the Bosch units for a long time before we finally gave them the thumbs up. Frankly, we're not going to sacrifice the reputation we've spent nearly a ¼ century earning – experimenting with our client's wallets!
We put Bosch units through some hard tests and asked our Installers, Service Technicians, & Sales Consultants to take part. We quite literally "kicked the tires", in that we actually kicked a demo unit a number of times to see how it was built.
Ultimately, we all agree the design and build quality are every bit as good as all of their premium competitors.
Update: I originally posted this article in the Summer of 2020. Each year I write "best of" articles for different categories and obviously this article is about the "best value" amongst variable speed AC units. While it's still early in the year, based on what I know is coming down the pipe from all the manufacturers… it looks like Bosch will retain the title in 2021 too.
Manufacturer Support
Unlike brands like Trane & Lennox who we purchase our equipment factory-direct from, we purchase Bosch through a supplier. While in some cases, that could present issues, in this case it's a benefit. We've been working with this supplier for over a decade and their support is phenomenal. It doesn't hurt that this supplier is one of the largest independently-owned HVAC suppliers in the USA. That also doesn't stop us from gaining direct access to factory-direct support. In fact, as we are the largest Accredited Bosch Contractor in Arizona, we get immediate attention when we need them. This advantage allows us to better serve our clients who are ultimately the end-user of Bosch products. It's this support that checks another box making Bosch our Best Value Variable Speed Heat Pump Winner.
Parts Availability
I wrote an article last year about a sales "scare tactic" in HVAC sales, I'm not fond of and have heard too many times. While I can't say I've specifically heard salesman saying that about Bosch, its worth mentioning. The tactic is salespeople telling consumers that brands they don't sell are hard to get parts for. After all, in Phoenix, AZ. the last thing you want to hear is your A/C is hard to find parts for. In fact, it's one of the reasons we sell so many brands – we want our clients to choose what brand is best for them, not for us. As I mentioned in that article, I wouldn't recommend a brand that I couldn't get parts for! That would just make my life harder and destroy the stellar reputation we've earned over the decades.
Best Value Heat Pump in Phoenix, Arizona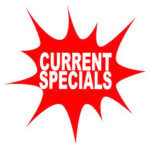 Of course, it's not a great value if it's not installed in your home by the best air conditioning contractor in Phoenix! Magic Touch Mechanical is not only the largest Bosch Heat Pump installer in Arizona, we're a nationally awarded HVAC Contractor! We've maintained an A+ record with the Better Business Bureau since…well, always – and remain one of the highest rated AC Companies in the valley on Angie's List and other consumer review sites. Be sure to check out our special offers and contact us for a free home evaluation and quote today!