5 Benefits of Solar Sunscreens for Your Arizona Home
March 12, 2020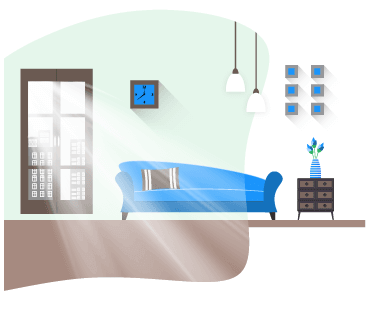 With the summer season approaching in a few months, solar sunscreens (also known as shade screens) are a great way to reduce your energy bill while keeping cool indoors. Below are five reasons why Magic Touch Mechanical's solar sunscreens would be a great fit for your home.
1. They reduce heat, but not light.
How often have you sat in the dark during Phoenix's hot summer days, simply because the only way to reduce your energy bills was to draw the blackout curtains 24/7? We want you to be able to reduce your energy bill without getting rid of the natural light you love! We also understand that indoor and outdoor home aesthetics are important when making home improvements, and with our shade screens, you can choose from a wide range of colors to keep your home cool and stylish.
2. They prevent the furniture and wall furnishings inside your home from fading.
The sun's rays are powerful, and many windows will block most UVB rays, but not necessarily UVA rays. This makes not only your skin vulnerable; it also leaves your furniture, wall paint, and artwork prone to fading and damage. Even on days when it's overcast, the sun's rays are still hitting your windows, so it's best to ensure your valuables are protected.
3. You get free money in rebates.
Everyone likes free money, right? Whenever you make a move for greater energy efficiency, you're eligible for rebates and tax credits that can help you minimize your up-front costs. In addition, shade screens are a cheaper alternative and they achieve the same result as energy-efficient windows, without all the bother of new window installation. When you choose to install shade screens with Magic Touch Mechanical, you can receive a rebate of $0.80 per square foot, as we're a SRP certified contractor. This applies to South, West, and East facing windows and doors that we install shade screens on in your home. With us, you can trust that you'll not only choose the more cost effective option, you'll get additional money back too!
4. Our shade screens are built to last.
Shade screens, while protecting your home, endure a lot themselves. It's no wonder that cheap budget options often fall apart after a few years and quickly look dingy and damaged. Magic Touch Mechanical shade screens have a 10 year warranty and are thick enough that they will not rip or tear. This ensures that no matter what is thrown their way, they will stand the test of time.
5. Your energy bill is lower.
Now we come to the most important reason to install shade screens. They can help you save a significant amount of money, especially if you have a large house where the air conditioner works harder to cool the entire home. Choosing shade screens can help you use your air conditioner more efficiently and put money back in your pocket.
Magic Touch Mechanical is an air conditioning company based in Arizona that has provided award-winning service to the East and West Valley since 1997. We have a variety of services for clients, including residential and commercial HVAC services. Our home improvement services, including shade screen installations, help keep your home cool and your energy bill lower. For more information, contact us online or at (480)-855-8789.