Window Sunscreens
Sunscreens go by many names, shade screens, solar screens, window screens, and solar shade screens, to name a few. No matter what you call them, there's no denying sunscreens significantly reduce the amount of heat entering your home.
If you're looking for the highest quality, longest-lasting solar shade screens you can get in Phoenix, you're in the right place! All of our sunscreens come with a 10-year fabric warranty, 5-year frame warranty. We use the best rated fabric and frame manufacturers and every screen is handmade to fit your windows precisely.
Don't waste your time or money on cheap window screens what will be faded, broken, torn, and ugly after 2-3 years – we replace them all the time! 2-3 years after we replace cheap sunscreens (when ours still look brand new), our clients tell us they should've chosen Magic Touch the 1st time.
Solar Sunscreen Prices, Colors & Information Below!
Energy Savings Benefits
After 26 years serving the Phoenix, AZ area and surrounding cities there are 3 things we've done a lot of:
Air Conditioner & Heating System Installs
Home Energy Audits
Load Calculations / Heat Gain Analysis
Let's look at them individually and see the impact they've each had for clients we've installed sunscreens for.
Sunscreens Reduce Strain and Runtime on Your Air Conditioner
Magic Touch has installed tens of thousands of AC systems throughout Arizona in the last 26+ years. There's no doubt that homes with solar sunscreens and good insulation reduce the strain & runtime of the air conditioner. Increasing the life expectancy of your air conditioner even by a few years dramatically increases your return on investment.
We Recommend Window Shade Screens on Most Home Energy Audits
When conducting a home energy audit, Magic Touch utilizes modeling software to determine the ROI on different home energy improvements. Time and time again, the software shows installing solar screens provides the fastest payback amongst all the possible energy improvements.
Load Calculations / Heat Gain Analysis – Air Conditioner Sizing
What size air conditioner a home needs cannot be determined by square footage alone. A load calculation also known as a heat gain analysis, determines what size (tonnage) air conditioner is needed for your home. As the name implies, it is used to calculate how much "heat gain" a home absorbs throughout the day.
Installing window sunscreens on South, West, and East facing windows blocks a significant amount of heat from entering your home. As a result, some homes require a smaller air conditioner when sunscreens have been installed as opposed to the same home without shade screens. This is especially true of homes with a lot of southern & western facing glass.
Why does that matter? Smaller tonnage AC units cost less to operate and cost less to install at point of purchase. In other words, solar sunscreens not only reduce your air conditioning costs all summer, but they may also save you money when it's time to replace your AC as well.
Wide Variety of Fabric & Frame Colors to Choose From
Our shade screen fabric comes in 4 different levels of UV blocking capability. Most of our clients choose 80% UV blockage in areas they want to still allow enough natural light to enter. For homes with a lot of south & west facing windows, some clients opt to block even more UV with our 90% fabric. Our newest offerings include 95% and 97% UV blockage for those that want to block as much heat gain as possible.
Choose A Sunscreen Fabric Color to Enhance the Beauty of Your Home
Our Suntex 80% – 90% sunscreens are available in 6 colors to compliment any home. Choose from Black, Beige, Brown, Dark Bronze, Grey, and Stucco.
Suntex 95% & 97% are available in Sand, Chestnut, White/Grey, Alpaca, Dark Bronze, Black, Stucco, Mocha, Carbon, and White.
The Thickest, Strongest, & Best Built Metal Frames You Can Buy
We partnered with the best manufacturers & fabricators in the business! There are more than a few solar shade screen companies in the Phoenix Metro area. We met with most of them when choosing a partner to fabricate sunscreens for our clients. Since the Magic Touch name is synonymous with quality, we weren't willing to sacrifice our reputation on cheap product.
A lot of shade screen manufacturers out there use fabrics that discolor and tear quickly and easily. There are fabricators using thin gauges of metal to build their frames. Their frames are butted together using 90° connectors made of plastic (making the corners weak), and worse they look ugly!
Our fabricators use heavy duty metal corners internal of the frame and all the corners are mitered. This not only makes our frames stronger than the competitions, the seamless design looks and feels like one piece. And, they're thick … 1″ x 7/16 to be exact vs some of their competitors frames which are only 3/4″ x 5/16″ and in this case, size matters.
Choose Your Solar Shade Screen Frame Color
Frame colors available: White, Almond, Adobe, Bronze, Black, Mill, and Gray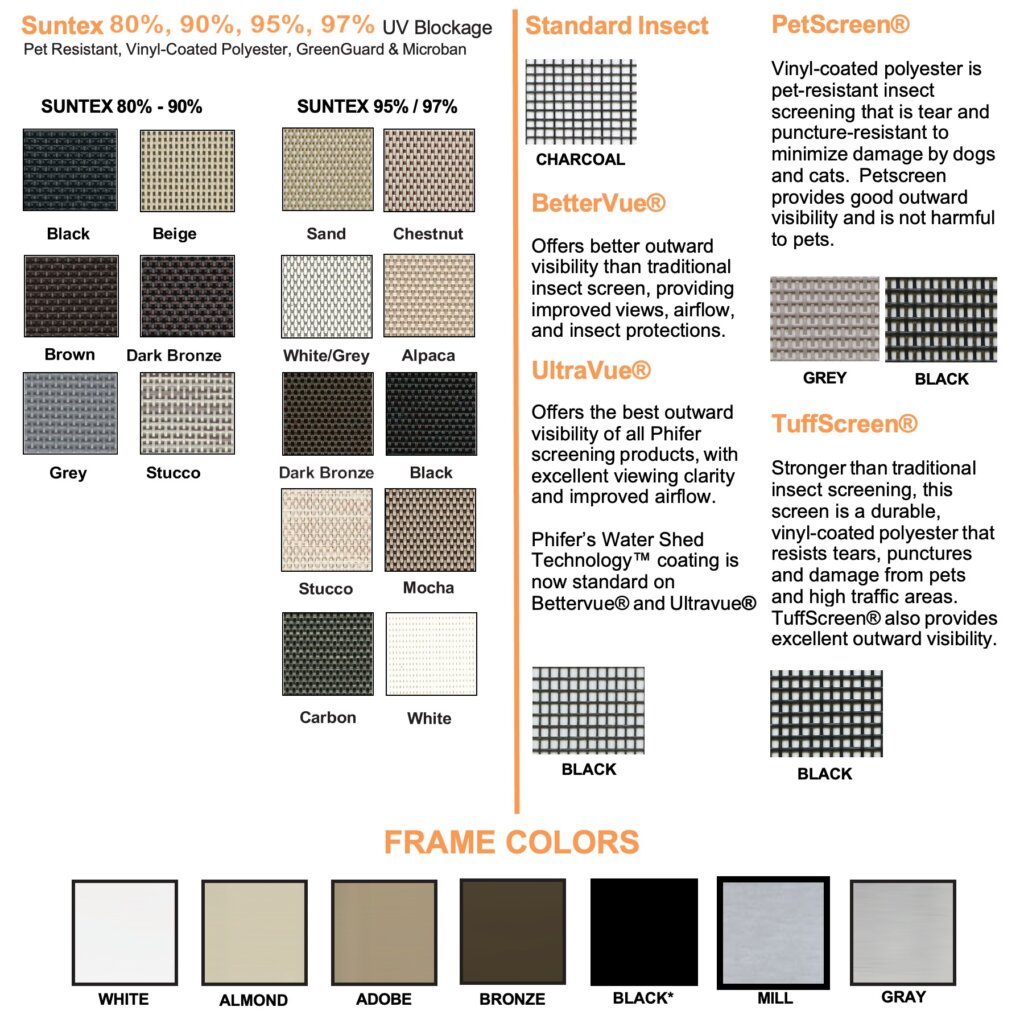 How to Buy Sunscreens from Magic Touch Mechanical
We offer sunscreen installation in the Phoenix Metro Area and most surrounding cities in the East & West Valley. Check our Service Area if you're not sure if we cover your neighborhood.
Below we've provided an easy chart showing the installed price of our most popular shade screen: 80% UV blockage. Simply estimate the height and width of your window and find the corresponding price on the chart. The price shown is installed and already includes tax, all hardware, labor, and the 10/5 warranty through Magic Touch.
Examples:
If your window is 2′ wide x 5′ tall (24″ x 60″) the total installed cost for that window is $130
If your window is 2′ x 2′ (24″ x 24″) the total installed cost for that window is $76
Don't know your window measurements? No problem, we'll measure for you!
Actually, we were going to measure anyway! Solar sunscreens are built to order specifically for your windows. We don't "rough guess" and hope they work – all sunscreen orders include an exact measurement visit. There is a $100 non-refundable measurement fee for us to come to your home measure your windows exactly and cover the administrative costs of registering your shade screen warranty. We provide the pricing below so you know how much the out-the-door, installed pricing will be exactly.
Already know your rough measurements and which windows you want shade screens for? Complete the form below to start your order. We will verify your order details and contact you to complete the order process. NOTE: Shade screens are special order, custom built for your windows specifically. All custom orders must be paid in full before we can begin fabrication.
The pricing below is the total price per window – installed. The only other fee is the $100 measurement fee to ensure your screens fit precisely before fabrication begins. The average turnaround time from order to installation is 2-4 weeks on average.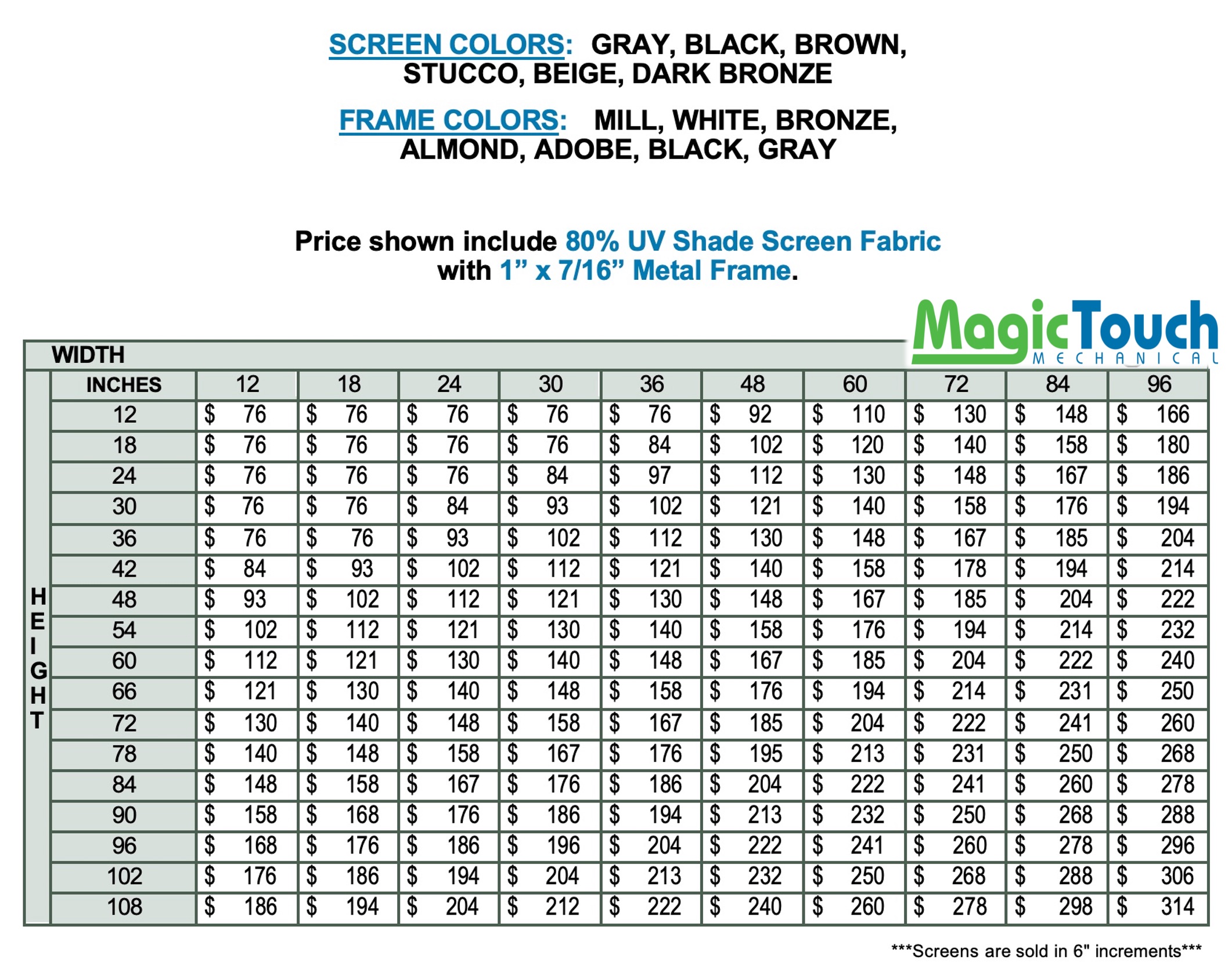 Window Shade Screen Price for 90% UV Blocking: Add 10% to price in chart above.
Price for 95% UV Blocking: Add 15% to price in chart above.
Price for 97% UV Blocking: Add 20% to price in chart above.
Solar Sunscreens for Arch Windows – Circles – Octagons
Arch windows, octagon windows, and circular windows can be found on homes throughout the Phoenix area. Many builders in Scottsdale and Fountain Hills added these windows to custom homes to add curb appeal to their design. Often these odd-shaped windows are located high on a wall and allow a significant amount of heat to enter the home. No worries – we build custom solar shade screens for these windows too. Better yet, adding window screens to them is not very expensive and the energy savings they offer provide a great return on investment.
Circular, Octagonal, and Arch Window Shade Screens Price
To determine the cost of specialty shape window screens, use the arrows below to measure your window. Find the closest size in the sunscreen price chart above to get your base cost. Then add as follows.
Arch Window Shade Screens
Use respective 80%, 90%, 95% AND 97% screen pricing that matches approximate size of arch and add $45.00
Arch with Legs (pictured far left), Circular, Hexagon, and Octagon Shaped Windows
Use respective 80%, 90%, 95% AND 97% screen pricing that matches approximate size of window and add $85.00