Heat Pumps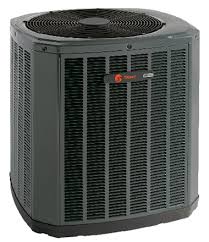 Compressor Type

Variable Speed

Efficiency Rating

up to 18 SEER / 10 HSPF

Sound Rating

as low as 54dB
Trane
Trane XV18 Heat Pump
 Trane XV18 Heat Pump
Other than being 2 SEER less efficient than Trane's premium  variable speed heat pump the XV20i, the XV18 heat pump is almost a complete replicant of the 20i on the inside. Comparing the specifications of the XV20i and XV18 side by side they have the same heating efficiency rating, compressor, fan motor, and sound range. The biggest difference of the two is the outdoor unit cabinet design.
The XV18 heat pump sheds the composite top that discharges air to the side vs. out the top. For applications where a lower profile is needed (like beneath a window) this model could have an advantage. In most applications, the other major difference will be the Trane XV20i price vs the Trane XV18 price. You can expect the cost of the XV18 to be approximately $1,500 less than the XV20i*.
Trane XV18 Heat Pump Efficiency Ratings
SEER (Seasonal Energy Efficiency Ratio) ratings as high as 18.o in cooling mode
HSPF (Heating Season Performance Factor) ratings as high as 10.0 in heating mode
The XV20i earns "ultra-efficient" status with those ratings, but that's hardly this units only trick!
Variable Speed Inverter Driven Compressor
The Trane XV18 heat pump shares the same compressor as the XV20i. The variable speed compressor is inverter driven allowing it to speed up or slow down to one of its impressive 750 speeds! To the people living in your home, that translates to precise comfort to within 1/2 degree of where you set your thermostat. As compared to its closest rival, the Lennox XP20 which can only operate at 65-speeds, the Trane XV20i will literally micro-manage your comfort.
Further explained, its compressor has the ability to operate as low as 25% of it's total output capability. It can slowly ramp up to 100% capacity in 1/10th of 1% increments. The Lennox XP25 works in much the same way however can only operate down to 35% capacity and ramp up at 1% increments. Not that we find that unimpressive, but that means the Trane unit has ten speeds for every one of the Lennox compressor.
Trane XV18 Heat Pump Sound Levels
Sound levels are measured in decibels (dB). To give you an idea of how the XV20i sounds, consider a conversation between two people standing next to each other. That range is between 60 and 65dB.
There are definitely times when you have to get right next to the XV18 to even know it's running. The overall sound range of the outdoor condensing unit is between 54 and 76 decibels. Keep in mind that most of the time this unit will not need to be using its maximum capacity. For the owner that means the majority of the time, this unit will be quieter than two people talking!
Trane XV18 Comfort Link II Communications
Trane's air handlers and heat pump condensers are able to work harmoniously by communicating back and forth. Its like being in a constant state of self-diagnosis. The main benefit to the end user is the optimal comfort and efficiency that results. There are no adjustments that need to be made by the homeowner. Just set the thermostat where you like, and it will automatically figure out the rest.
Nexia Comfort Link 2 Thermostats
Trane's Comfort Link 2 thermostats are the command-ship of its communication technology. User input is friendly and intuitive. The color screen gives the Comfort Link thermostat a sleek high-tech look that blends nicely with most home decor.
With the Nexia application on your smart device, you can also connect to tons of other smart home devices. Including; door locks, lighting controls, garage door openers and more. Of course, the built-in Wi-Fi connectivity also allow you to do what an air conditioner thermostat was designed to do – change temperature settings! You can control your thermostat from another continent, or just another room.
Trane XV18 Warranty Information
Another area where the Trane XV20i outshines most of its variable speed heat pump competitors is its warranty. This unit comes with a full 12-year compressor warranty one-upping the Lennox XP25 by a full two years, and the Bosch BOVA by one full-year*.
Other functional parts in the Trane XV20i are covered by a full 10-year warranty (requires registration).
*Bosch variable speed heat pumps come with an 11-year compressor warranty only when installed by an ABC (Accredited Bosch Contractor) like Magic Touch Mechanical.
Trane XV18 Heat Pump Summary
If you visit the Magic Touch Mechanical main office in downtown Mesa, AZ you'll see plaques and awards adorning the walls and shelves. Amongst them are at least a dozen from the Trane company. They include the Distinguished Dealer Award, but it's the others that mean the most to our clients. The others are for being the Phoenix District market leader for variable speed units. XV Leader, XL Leader, even the Dual Compressor Leader (dating back to when multi-speed units had two compressors).
We bring that up because when you consider Magic Touch Mechanical has installed more of these units than anyone in Phoenix – we know a lot about them. It's also given us the chance to see how durable and reliable they are over the course of two decades. Many of those units we installed almost twenty years ago are still running strong. Others we have just replaced in the last few years.
The Trane XV18 belongs to one of the product families we've installed so many of. It may have been tweaked and improved over the years, but its still the same well built product it always was. Of course, any HVAC system is only as good as it is installed. When properly installed and maintained, the XV18 will last a very long time and provide excellent performance results. Not to mention it will do it all at a whisper. For all of those reasons and the specifications of this model, we give it very high marks!
Are You Interested in Trane XV18 Installation?
Choosing a new cooling and heating system is a 10-15 year plus commitment (unless you choose the wrong installing company). We work in thousands of homes around the Phoenix valley each year and unfortunately see the discomfort, aggravation, and expense their owners deal with when the whole "system" was designed and installed improperly.
Aside from things like free maintenance, an ACCA approved Manual J load calculation, optimized airflow design, and more, there are many things that set a Magic Touch Mechanical installation apart from the others: What's Included With This Installation?
Schedule a Free home evaluation & system design and compare units & prices side-by-side.
*Depending on size, model, upgrades chosen, application, ducting, and ancillary items needed.
With rebates, utility participation, company sales, etc. it may be possible to save a couple of thousand dollars or more on this system.
Other Products to Consider
Lennox XP20
Bosch BOVA Variable Speed Heat Pump
Mitsubishi MXZ