Air Conditioners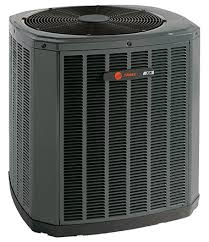 Compressor Type

Two-Stage

Efficiency Rating

up to 18 SEER

Sound Rating

as low as 74dB
Trane
Trane XR17 Air Conditioner
Trane XR17 Air Conditioner
If you thought owning a Trane two-stage AC unit wasn't within your budget, you may not know about the Trane XR17 air conditioner! Magic Touch Mechanical clients who own this model report being "Extremely satisfied" with its performance. That customer feedback explains why the XR17 is one of our best selling dual-stage (two-speed) air conditioning systems.
Efficiency Ratings of the XR17
SEER (Seasonal Energy Efficiency Ratio) ratings as high as 18.o 
Don't let the 17 in the model number fool you. When matched with certain Trane furnaces and indoor coils, the Trane XR17 can actually achieve efficiency ratings up to 18-SEER.  That puts this model in the same high-efficiency league as its more expensive bigger brothers like the Trane XL18i and the Trane XV18 – with a much lower upfront price tag.
Trane XR17 ClimaTuff Two-Speed Compressor
We've said it over and over again in our product reviews and blog articles – two-speed air conditioners just make sense in a hot climate like Phoenix, AZ. That's because we need to size new AC units in Arizona to handle extreme temperatures that can exceed 110 degrees for weeks or even months at a time. Sometimes however, we just don't need to use all that energy to keep our homes comfortable. Why waste energy we don't need and we're not really using?
During those times of the day when we don't need all of that power, the Trane XR17 automatically runs at a lower speed keeping more of your hard earned money in your pocket as opposed to giving it to your power company. All the while, the XR17 maintains the temperature you set at your thermostat so you never have to "sweat" your utility bill while sacrificing your comfort!
Trane XR17 Air Conditioner Sound Rating
If you research "decibel chart" you will find hundreds of results comparing sound ratings of things we commonly hear. You will probably also notice each is a little different as there are a lot of factors involved and a little subjectivity as well. The Trane XR17 has been measured with decibel ratings as low as 74dB. While this sound level is shown as "moderately quiet" on most of these charts, it should be noted it is on the louder side of most Trane air conditioners – though not by much.
We can't recall a client ever telling us this model was too loud, however we also can't recall a client telling us "you don't even know it's running" like they say about the XL16i or the XV18.
Trane XR17 Air Conditioner Warranty Information
Like every consumer-grade Trane air conditioner, the XR17 comes with a 10-year factory warranty on the condenser coil, compressor and all functional parts -when registered. If you fail to register your new AC unit within 60-days, the warranty reverts to five years. Unless you hire Magic Touch Mechanical. We register every system we install so you don't have to! It's just another one of the things we do like our slogan states – better than it has to be!
If you don't live in the Greater Phoenix Metropolitan area, unfortunately you'll have to find a different contractor to install your new Trane XR17. Just make sure you personally register your product online or by mail within two-months of installation so you don't lose coverage.
Trane XR17 AC System Summary
If you've been reading our website you know we take an unbiased approach to new AC unit brands and models. Besides selling many brands, we also tell it how it is! The manufacturers might not always like us being so transparent about our opinions, but we don't work for them – we work for you!
The good news for Trane is we really do like the XR17 air conditioner overall. Yes, we wish it was a little quieter like some other models in this category, but there's more to like than dislike about this machine. Teflon coated screws and fasteners, a virtually indestructible base-pan, aluminum spine-fin coils, and Trane's workhorse two-stage compressor all wrapped in its powder-coat painted cabinet.
Of the two-stage units on the market today, the Trane XR17 can not only stand toe to toe with the best of them – it can knock out most of them in a few rounds.
Are You Interested in Trane XR17 Installation?
Choosing a new cooling and heating system is a 10-15 year plus commitment (unless you choose the wrong installing company). We work in thousands of homes around the Phoenix valley each year and unfortunately see the discomfort, aggravation, and expense their owners deal with when the whole "system" was designed and installed improperly.
Aside from things like free maintenance, an ACCA approved Manual J load calculation, optimized airflow design, and more, there are many things that set a Magic Touch Mechanical installation apart from the others: What's Included With This Installation?
Schedule a Free home evaluation & system design and compare units & prices side-by-side.
Other Products to Consider
Lennox EL16XC1