Air Conditioners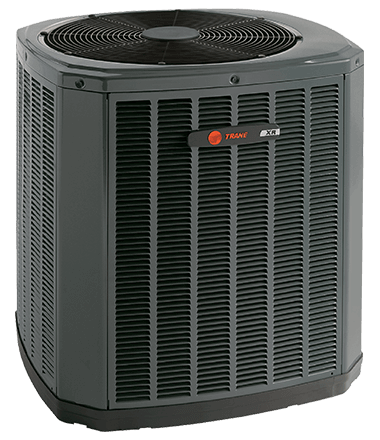 Compressor Type

Single-Stage

Efficiency Rating

up to 17 SEER

Sound Rating

as low as 71dB
Trane
Trane XR16 Air Conditioner
Trane XR16 Air Conditioner
It's hard to stop a Trane. When we first visited Trane's "torture chambers" at their manufacturing plant in Tyler, TX two-decades ago, we got to see why with our own eyes. While it's painful to watch a brand-new air conditioner worth thousands of dollars being repeatedly abused and trashed, the end result is why they're so durable. Of the many brands Magic Touch Mechanical installs, Trane has one of the lowest failure rates of the bunch.
Efficiency Ratings of the XR16
SEER (Seasonal Energy Efficiency Ratio) ratings as high as 17.o 
Paired with an AHRI rated matched evap. coil and furnace, the Trane XR16 air conditioner offers extremely efficient cooling. This model sits squarely in the center of the "better" group when comparing AC units as good, better, best.
Trane Climatuff Compressor
The Trane XR16 is one of the brands highest efficiency air conditioners in the single-stage compressor category. While two-stage and variable speed air conditioners may offer higher efficiencies and quieter operation, they are not within everyone's budget. That's not to say single speed compressors are inferior – after all it's the one that started it all and the technology that's been cooling homes since the beginning of central air. They've stated the test of time!
When comparing compressors, most HVAC technicians and installers would probably agree with us when we say Trane's Climatuff compressor is the toughest ever made. It's one of the reasons Trane air conditioners last as long as they do (when properly installed), and it's at the heart of the Trane XR16.
Trane XR16 Air Conditioner Sound Rating
For consumers seeking the quietest of the quiet – right brand, wrong model. The Trane XR16 measures in with decibel ratings as low as 71dB tying its closest rival in this category, the Lennox EL16. If you want an idea of what that sounds like standing next to it, it's similar to your average dishwasher or washing machine. For most people, that means a machine that is much quieter than the one its replacing!
Trane Quality Included!
It's the little things that Trane systems include that has earned them the reputation they have. While Trane had value for the money in mind when they introduced the XR16 AC unit, they didn't spare any expense when making sure it was packed with the things that make them tough in the first place.
A good example is Trane's Duratuff base pan that withstands the harshest conditions and prevents corrosion of the cabinet. Even here in the Phoenix, AZ area where we don't experience snow or much rain, this pan helps keep things "tight" and quiet lending to Trane's reputation for durability. Speaking of keeping things tight, even the screws and fasteners used to hold everything together in the XR16 have a Teflon coating on them to prevent them from rusting and loosening up!
Trane XR16 Air Conditioner Warranty Information
All functional parts in the Trane XR16 A/C are covered by a 10-year factory warranty, as is the compressor. It's important to note that product registration with the factory is required to receive the 10-year extended warranty. If not registered within 60-days, the warrant reverts back to a 5-year warranty. Here at Magic Touch Mechanical, we don't take any chances when it comes to our client's protection so we register every system we install on our customers behalf.
If you don't live in the Phoenix-Metro area and aren't fortunate enough to get a Magic Touch install and the level of quality and service we're known for – make sure you register your equipment within 60-days so you don't lose out!
Trane XR16 AC System Summary
Magic Touch Mechanical recommends and installs over a half-dozen brands besides Trane so we are far from biased. However, we've been installing this brand for over two-decades for a very good reason – they make a great product! Side-by-side most air conditioners in this class look just like the one next to it, but it's the attention to detail that we appreciate in the XR16.
There aren't many competitive models on the market that offer the value the XR16 does in this price range. In fact, many competitive models offer less for more! This unit is a great choice in the "better" category for anyone not wanting something entry-level, but not wanting all the bells and whistles either. We recommend considering the Lennox EL16XC1 if you want to compare a comparable product from another premium brand. Fair warning though – it may be tough to choose between the two!
Are You Interested in Trane XR16 Installation?
Choosing a new cooling and heating system is a 10-15 year plus commitment (unless you choose the wrong installing company). We work in thousands of homes around the Phoenix valley each year and unfortunately see the discomfort, aggravation, and expense their owners deal with when the whole "system" was designed and installed improperly.
Aside from things like free maintenance, an ACCA approved Manual J load calculation, optimized airflow design, and more, there are many things that set a Magic Touch Mechanical installation apart from the others: What's Included With This Installation?
Schedule a Free home evaluation & system design and compare units & prices side-by-side.
Other Products to Consider
Lennox EL16XC1
Mitsubishi MXZ