Packaged Units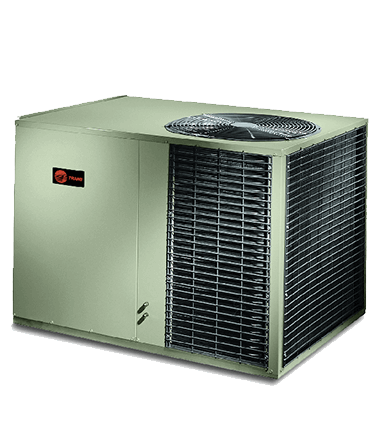 Compressor Type

Single-Stage

Efficiency Rating

up to 16 SEER

Sound Rating

as low as 74dB
Trane
Trane XR14h Packaged Heat Pump
Trane XR14h Packaged Heat Pump
If you've lived in Phoenix, AZ for a long time, you may remember Goettl Air Conditioners and Heat Pumps. Not the service company that bought the name, we're referring to the HVAC equipment manufacturer that closed down many years ago.
When the Goettl Air Conditioning was building rooftop packaged heat pumps, they came up with something clever. They changed the way the airflow moved in and out of a packaged unit compared to other manufacturers. They designed it so filtered return air came in the bottom, and conditioned supply air left out the top. We call this airflow configuration "Over/Under".
Most other manufacturers made (and do today) the airflow configuration side by side. When the time came to replace a Goettl air conditioning unit or heat pump, everyone realized just how clever this design was. At that point, it was easier to replace the unit with another over/under! These units were installed all over Phoenix, giving Goettl a competitive advantage.
When the competition realized they were losing these sales, several quickly produced their own over-under packaged unit. The Trane XR14h is one of the only over-under rooftop heat pumps still built today – long after the original Goettl Air Conditioning manufacturing facility closed its doors.
Trane XR14h Heat Pump Efficiency Ratings
SEER (Seasonal Energy Efficiency Ratio) rating up to 16.00*
HSPF (Heating Season Performance Factor) rating up to 8.20
Regional energy efficiency standards require all new AC units installed in Arizona meet minimum efficiency standards of 14-SEER. The highest efficiency packaged heat pumps on the market today achieve 16-SEER.
* The Trane XR14h Over/Under packaged heat pump is available in four sizes (tonnage)**: 2, 2.5, 3. and 3.5 tons. Only the 2-ton model achieves 16-SEER. The remaining models are all rated 14-SEER.
** Previously, the XR14h was called the 4WHC30. At that time both 4 and 5-ton models were still produced.
What is a Twist Elbow?
If you previously owned a Trane Over/Under Packaged Rooftop heat pump, you may have heard the term "twist elbow". Simply put, HVAC and Sheetmetal contractors can fabricate a special sheet-metal connection that allows a conventional side-by-side unit to replace an over/under unit. The results being the homeowner was no longer limited to choosing only another over/under.
This practice is fine and in fact encouraged in some applications – if done correctly! 
Air doesn't naturally want to "twist". When built properly, a twist elbow cleverly turns the direction of the airflow. When built or installed poorly, a twist-elbow can actually impede airflow.
When replacing an existing over/under (Goettl, Trane, GE, or Tappan) with a Trane XR14h over/under unit, the twist elbow is unnecessary.
Trane XR14h Package Heat Pump Sound Levels
The Trane XR14h packaged heat pump sound ratings range between 75dB (decibels) and 78dB. While it's not a Mack Truck, it's not the quietest model around either. In most applications, the fact that this heat pump is often mounted on the roof lessens noise concerns.
Just keep in mind the XR14h isn't winning any awards for world's quietest.
Trane XR14h Package Heat Pump Summary
The XR14h is produced for a very specific application. Therefore, it is produced in smaller quantities than other Trane packaged heat pumps. It's also slowly being phased-out as the 4-ton and 5-ton models no longer in production demonstrate.
It's also not as feature-rich as other rooftop units. What it is, is a well-built, "meat and potatoes", all-in-one heat pump. It get's the job done and frankly is the only* option in some applications.
*Assuming modifications to convert to a conventional side-by-side unit are unfeasible or limited by budget and/or building design.
Magic Touch Mechanical, has owned three Trane over/under heat pumps on various buildings we've occupied in the last 20+ years in business. Two lasted almost 20-years, one only lasted ten. To be fair, the one that lasted ten was hit by a power surge in a lightning storm.
Are You Interested in Trane XR14h Installation?
Choosing a new cooling and heating system is a 10-15 year plus commitment (unless you choose the wrong installing company). We work in thousands of homes around the Phoenix valley each year and unfortunately see the discomfort, aggravation, and expense their owners deal with when the whole "system" was designed and installed improperly.
Aside from things like free maintenance, an ACCA approved Manual J load calculation, optimized airflow design, and more, there are many things that set a Magic Touch Mechanical installation apart from the others: What's Included With This Installation?
Schedule a Free home evaluation & system design and compare units & prices side-by-side.