Heat Pumps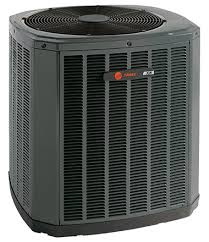 Compressor Type

Single-Stage

Efficiency Rating

14 SEER

Sound Rating

as low as 71dB
Trane
Trane XR14 Heat Pump
Trane XR14 Heat Pump
Let's face it, nobody buys a new central air conditioning and heating system because they have nothing better to do. We replace our systems when they become unrepairable or no longer run efficiently. Many homeowners are surprised to learn there are some systems on the market that cost as much as $15,000. The Trane XR14 isn't one of them, in fact it's the most affordable split heat pump system in the Trane lineup.
Efficiency Ratings of the Trane XR14 Heat Pump
14-SEER (Seasonal Energy Efficiency Ratio)
Paired an AHRI (Air Conditioning, Heating, and Refrigeration Institute) certified indoor air handler, Trane's XR14 heat pump outdoor unit meets the regional minimum efficiency standard. If your current heat pump was installed prior to 2006, it is most likely operating at 10-SEER of less. When compared on a SEER rating chart, a 14-SEER unit operates between 23 and 29% more efficiently than a 10 SEER unit, and 43-45% more efficient than an 8 SEER unit.
Trane Climatuff Compressor
At the center of the Trane XR14 heat pump is Trane's Climatuff compressor, one of the most reliable compressors ever built.
We've visited the Trane factory in Tyler, Texas where their industry-famous test labs are located. It would be more appropriate to call these labs "torture chambers" seeing the abuse the equipment is subjected to there. The ClimaTuff compressor is overheated, frozen, charged with too much refrigerant, etc. The point of which is for Trane's engineers to see what kills them so it can be improved. In the case of the compressor, one in particular nicknamed "Snowball", ran for over 18-years completely encased in a ball of ice.
Trane XR14 Heat Pump Sound Ratings
Sound ratings are measured in decibels (dB). The overall sound range of the Trane XR14 heat pump is between 71-76 decibels. The Lennox 14HPX, which may be the XR14's closest rival from the other premium brand starts at 76dB and increases from there. In fact, it's not until you purchase one model up, the Lennox XP14, that you get a similar sound rating as low as 71dB.
Trane Quality Built Into Every Trane XR14 Heat Pump
Louvered panels protecting the outdoor coil and components from hail, pets, and landscape equipment.

DuraTuff corrosion resistant condenser base pan

Teflon coated screws and fasteners keeping everything tight and rattle-free for years

Trane's patented "spine-fin" coil.

Upgraded condenser fan motor
Trane XR14 Heat Pump Warranty
The XR14 comes with a 10-year parts and compressor warranty if registered within 60-days of installation. If not registered within 60-days, the warranty reverts back to a 5-years parts & compressor. We don't put out clients at risk at Magic Touch Mechanical, so we register every system we install on our your behalf!
If you don't live in the Phoenix-Metro area and aren't fortunate enough to get a Magic Touch install and the level of quality and service we're known for – make sure you register your equipment within 60-days so you don't lose out!
Trane XR14 Heat Pump System Summary
While it's more important who installs your heating and cooling system, and how they do it, than the brand and model you choose – some units are simply built better than others. As you look through our website you will notice besides Trane, we also install Bosch, Mitsubishi, Lennox, Franklin, Goodman, Day & Night and a few others. We believe people deserve options when considering such a long term purchase. Most of our competitors only sell one or two brands, and "push" their customers in the direction that best suits them not the client.
That said, there's a reason we've been selling the Trane & American Standard brands for so long – they're built tough! In fact, we have found Lennox has one of the lowest failure rates of all the brands we install.
The XR14 isn't as fancy as many other Trane heat pumps, nor does it have all the bells and whistles. What it does have is the quality Trane has become recognized for. It's durable, reliable, and backed by a factory 10-year limited parts, coil and compressor warranty. If you're looking for something that will last on a limited budget, the Trane XR14 heat pump is a solid choice!
Are You Interested in Trane XR14 Installation?
Choosing a new cooling and heating system is a 10-15 year plus commitment (unless you choose the wrong installing company). We work in thousands of homes around the Phoenix valley each year and unfortunately see the discomfort, aggravation, and expense their owners deal with when the whole "system" was designed and installed improperly.
Aside from things like free maintenance, an ACCA approved Manual J load calculation, optimized airflow design, and more, there are many things that set a Magic Touch Mechanical installation apart from the others: What's Included With This Installation?
Schedule a Free home evaluation & system design and compare units & prices side-by-side.
Other Products to Consider
Lennox 14HPX
Lennox XP14
Goodman GSXC14