Air Conditioners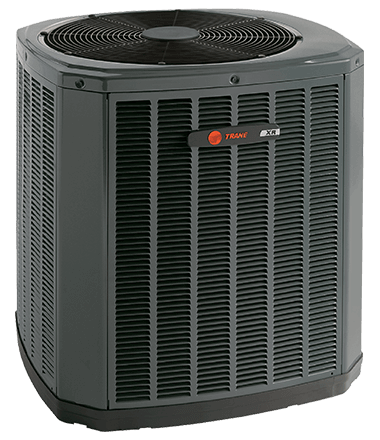 Compressor Type

Single-Stage

Efficiency Rating

up to 16 SEER

Sound Rating

as low as 72dB
Trane
Trane XR14 Air Conditioner
Trane XR14 Air Conditioner
It's hard to stop a Trane. It would be hard to stick with that slogan as long as they have if they couldn't back it up. As a Factory Authorized Trane Dealer for decades, all of us at Magic Touch Mechanical have come to believe it too. Of the many brand options we offer, Trane has certainly proved to be one of the most reliable and durable brands we have ever installed. While the Trane XR14 may be Trane's entry-level consumer model, it is built with the same quality, on the same manufacturing line, by the same people as some of their premium models. We've been to Trane's manufacturing facilities on many occasions and seen it for ourselves!
Efficiency Ratings of the XR14
SEER (Seasonal Energy Efficiency Ratio) ratings as high as 16.o 
Paired with certain AHRI rated evaporative coil and gas furnace, the Trane XR14 air conditioner is capable of achieving 16-SEER efficiency. Even better, for the same cost as some of its 14-SEER competitors! This is a great way for homeowners with a limited replacement budget to get a mid-tier end result with an entry-level tier investment.
Trane Climatuff Compressor
The Trane XR14 may be a basic single-stage cooling system, but it's still built with some of the same components as its "better" and "best" counterparts. Most HVAC Service Technicians would agree that Trane's Climatuff compressor is one of the most solid and durable compressors ever built – and there's one in every XR14. The compressor is the heart of an AC unit so its nice to know your unit has the best one ever made!
Trane XR14 Air Conditioner Sound Rating
Trane comes out the winner in this category as compared to the majority of its competitors in this class. With decibel ratings as low as 72dB, the Trane XR14 is considerably quieter than most 14-SEER AC units. Typically, manufacturers concentrate on low sound levels in their mid to top-tier models but not Trane – they managed to pull it off in this model too!
Trane Quality Built in to the XR14 Air Conditioner
Louvered panels protecting the outdoor coil and components from hail, pets, and landscape equipment come standard in the XR14. As does the Duratuff corrosion resistant condenser base pan and Teflon coated screws and fasteners keeping everything tight and rattle-free for years to come. From Trane's patented "spine-fin" coils to an upgraded condenser fan motor, you get more than you pay for when you buy an XR14 in our opinion.
Trane XR14 Air Conditioner Warranty Information
Trane's XR14 comes with a 10-year parts and compressor warranty if registered within 60-days of installation. If not registered within 60-days, the warranty reverts back to a 5-years parts & compressor. We don't put out clients at risk at Magic Touch Mechanical, so we register every system we install on our your behalf!
If you don't live in the Phoenix-Metro area and aren't fortunate enough to get a Magic Touch install and the level of quality and service we're known for – make sure you register your equipment within 60-days so you don't lose out!
Trane XR14 AC System Summary
While it's more important who installs your heating and cooling system, and how they do it, than the brand and model you choose – some units are simply built better than others. The quality of materials and components in the Trane XR14 is better than some other manufacturers entry-level models making it a good choice for the entry-level market. Consider upgrading the accompanying indoor coil to squeeze out a little better efficiency and you wind up with a premium brand 16-SEER unit that will last a long time!
Are You Interested in Trane XL16c Installation?
Choosing a new cooling and heating system is a 10-15 year plus commitment (unless you choose the wrong installing company). We work in thousands of homes around the Phoenix valley each year and unfortunately see the discomfort, aggravation, and expense their owners deal with when the whole "system" was designed and installed improperly.
Aside from things like free maintenance, an ACCA approved Manual J load calculation, optimized airflow design, and more, there are many things that set a Magic Touch Mechanical installation apart from the others: What's Included With This Installation?
Schedule a Free home evaluation & system design and compare units & prices side-by-side.
Other Products to Consider
Lennox ML14XC1
Goodman GSXC14