Heat Pumps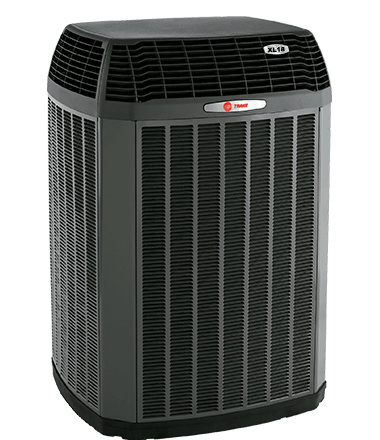 Compressor Type

Two-Stage

Efficiency Rating

up to 18 SEER

Sound Rating

as low as 73dB
Trane
Trane XL18i Heat Pump
Trane XL18i Heat Pump
Magic Touch Mechanical is located in Mesa, AZ., a suburb of Phoenix where temperatures have exceeded 120-degrees in recent years. It's not unusual for our temps. to exceed 110-degrees for weeks and even months at a time. Needless to say, central air conditioning is a necessity here not a luxury. What makes central Arizona unique is the fact that temperatures can drop by 30 degrees or more at night. These conditions are what make a two-stage AC and heating system perfect for our climate.
As the name suggest, a two-stage heat pump has both a high and low speed in both air conditioning and heating modes. When it's extremely hot or extremely cold (it could happen!), the unit will automatically run in high speed. As the temperatures drop (or rise in the winter) the unit will switch to low speed saving energy.
Trane XL18i Heat Pump Efficiency Ratings
SEER (Seasonal Energy Efficiency Ratio) ratings as high as 18
HSPF (Heating Season Performance Factor) ratings as high as 9.5
Think about Seasonal Energy Efficiency Ratings and Heating Season Performance Factors like MPG (Miles Per Gallon). Just as better gas mileage doesn't make the car faster, AC efficiency ratings don't mean the unit cools or heats better. What they do mean is that the unit can do the same amount of work more efficiently. The efficiency ratings for the Trane XL18i mean it is ultra-efficient as compared to units that meet minimum efficiency standards.
Trane XL18i Heat Pump Sound Range
Several premium models on the market are quieter than the XL18i, including the Trane XV18 and XV20i, as well as the Bosch BOVA and several Lennox models. The XL18i's overall sound rating ranges from 72-74 decibels. Not to say that's loud, as mot decibel charts would categorize that as "relatively quiet" but it's worth noting. For most people who choose the XL18i, it is exponentially quieter than the older unit it replaces and they're tickled pink.
Other Trane XL18i Heat Pump Features
As with all of Trane's higher end A/C and Heat Pump condensers, the XL18i has a few features unique to both Trane and this family of products. Including:
Weather Guard top – Unique to Trane, this composite-material top is made to protect the fan motor and coils from debris as well as tiny fingers!

Baked-on powder paint, Teflon coated screws, and a composite material base pan keep this unit tight, quiet, and looking good for many years.

A variable speed condenser fan motor helps reduce air noise, improve overall operation and increase the efficiency of the XL18i

All-aluminum Spine Fin™ outdoor coil. An innovation Trane is quite proud of and an award-winning feature that promotes more efficient heat transfer.
Trane XL18i Heat Pump Warranty
The XL18i comes with one of the best compressor warranties on the market – 12-years. The coil and remaining functional parts are backed by a 10-year manufacturer warranty.
Trane XL18i Heat Pump Summary
The XL18i is built on the same frame and wrapped with the same cabinet as its bigger brothers the XV18 and XV20i. It also has the same composite top and base pan as the others. The main difference, other than a lower price-point is its tow-stage compressor vs. their variable speed compressor.
You can't really make a bad choice in the Trane family as far as we're concerned. Everyone we've ever installed a Trane XL18i for reports significantly lower cooling costs and excellent performance. It's yet another one of their well-engineered, designed and executed products. That's coming from an HVAC contractor that regularly recommends and installs over a half-dozen other brands.
Are You Interested in Trane XL18i Installation?
Choosing a new cooling and heating system is a 10-15 year plus commitment (unless you choose the wrong installing company). We work in thousands of homes around the Phoenix valley each year and unfortunately see the discomfort, aggravation, and expense their owners deal with when the whole "system" was designed and installed improperly.
Aside from things like free maintenance, an ACCA approved Manual J load calculation, optimized airflow design, and more, there are many things that set a Magic Touch Mechanical installation apart from the others: What's Included With This Installation?
Schedule a Free home evaluation & system design and compare units & prices side-by-side.
Other Products to Consider
Trane XV18 Heat Pump
Bosch BOVA Variable Speed Heat Pump
Lennox XP21 Heat Pump
Lennox XP16 Heat Pump