Air Conditioners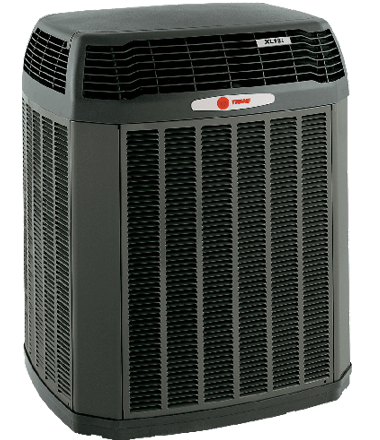 Compressor Type

Two-Stage

Efficiency Rating

up to 18 SEER

Sound Rating

as low as 73dB
Trane
Trane XL18i Air Conditioner
Trane XL18i Air Conditioner
2-Stage air conditioners, sometimes referred to as dual-stage, make a lot of sense in places like Phoenix, AZ where we have to size and design our air conditioning system to endure temperatures that can reach 120 degrees. That "size" may be what we need on those extreme days, however can be too much on say a 90-degree day. The Trane XL18i is a great example of a well-balanced 2-stage air conditioner with many of the bells and whistles of the Trane XV20i less the variable speed compressor.
Trane XL18i Air Conditioner Efficiency Ratings
SEER (Seasonal Energy Efficiency Ratio) ratings as high as 18
In Phoenix, AZ the minimum efficiency is 14-SEER (set by the US Department of Energy). The Trane XL18i far exceeds the minimum requirement by up to 4-SEER placing it firmly in the ultra-efficient category.
Two-Stage Trane Compressor
If you have been reading about other Trane air conditioners on our site you've probably noticed we are very big fans of Trane's compressors. They are one of the few manufacturers who builds their own compressor. Most of their competitors install Copeland compressors in their equipment – also a great compressor in its own right, but the Trane compressor may very well be one of the best ever made.
Trane's two-stage compressor does exactly as the name implies – operates at two speeds. Think about it as a high speed for extremely hot days, and a low speed for days when we still need air conditioning but maybe not as much. Obviously this makes the unit run more efficiently but it also increases comfort for the occupants of your home. Another added benefit of dual-stage cooling is lower noise levels. When the compressor is running at low speed the unit operates quieter as well.
The two-stage compressor, lie the one found in the Trane XL18i is a solid middle-ground choice as compared to a traditional single-speed (on/off) compressor and today's inverter driven variable speed systems.
Trane XL18i Air Conditioner Sound Levels
The XL181 measures in at 73db (decibels). While that's considered moderately quiet and is probably much quieter than the AC you'll be replacing – it's hardly Trane's best. Compared to the XV18i's rating as low as 55dB or even the XL16i's (model below) 69dB, we hope to see Trane improve on that in their next rendition of the XL18i.
To be fair, this unit packs a punch in a lot of other areas, and 73dB is by no means very loud.
More Trane XL18i Features
As with all of Trane's higher end A/C and Heat Pump condensers, the XL18i has a few features unique to both Trane and this family of products. Including:
Weather Guard top – Unique to Trane, this composite-material top is made to protect the fan motor and coils from debris as well as tiny fingers!

Baked-on powder paint, Teflon coated screws, and a composite material base pan keep this unit tight, quiet, and looking good for many years.

A variable speed condenser fan motor helps reduce air noise, improve overall operation and increase the efficiency of the XL18i

All-aluminum Spine Fin™ outdoor coil. An innovation Trane is quite proud of and an award-winning feature that promotes more efficient heat transfer.
Trane XL18i Air Conditioner Warranty
The Trane XL18i is backed by a factory 10-year warranty on the outdoor coil and functional parts. It also includes an industry-leading 12 year limited compressor warranty.
Trane XL18i AC Summary
The XL18i is the Trane Company's top two-stage split air conditioner. For those seeking a new AC unit and considering the Trane brand we recommend also comparing it to the Trane XR17. Both the XL18i and the XR17 are dual-stage air conditioners with similar sound and efficiency ratings. The XL18i is the better option for those looking for a more premium model which incorporates many of the design features found in the Trane XV family of products – like the composite top for example.
The Trane XL18i earns high marks online as well as from Magic Touch Mechanical clients who own one. It has proven to be reliable and durable as we've come to expect from this manufacturer, and for those reasons – we give the Trane XL18i the Magic Touch seal of approval!
To better understand Trane's model "families" the XV family is considered their "best", the XL is their "better", the XR is their "good", and their XB is "builder-grade".
Are You Interested in Trane XL18i Installation?
Choosing a new cooling and heating system is a 10-15 year plus commitment (unless you choose the wrong installing company). We work in thousands of homes around the Phoenix valley each year and unfortunately see the discomfort, aggravation, and expense their owners deal with when the whole "system" was designed and installed improperly.
Aside from things like free maintenance, an ACCA approved Manual J load calculation, optimized airflow design, and more, there are many things that set a Magic Touch Mechanical installation apart from the others: What's Included With This Installation?
Schedule a Free home evaluation & system design and compare units & prices side-by-side.
Other Products to Consider
Trane XR17
Lennox XC21
Lennox XC16