Air Conditioners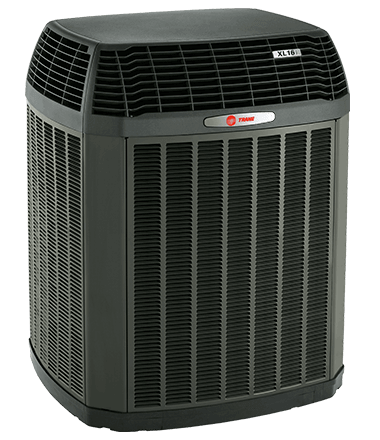 Compressor Type

Single-Stage

Efficiency Rating

up to 16.50 SEER

Sound Rating

as low as 69dB
Trane
Trane XL16i Air Conditioner
Trane XL16i Air Conditioner
Single-Speed central air conditioning is what most homes in the U.S. currently have. That includes the majority of homes here in Mesa, AZ where Magic Touch Mechanical is based. Although we've seen a rise in popularity for both two-stage and variable speed air conditioners in recent years, single-stage units like the Trane XL16i still outsell them both. Some experts believe the simple on/off functionality and basic mechanical design of the compressors at the heart of these systems make them more reliable.
Trane XL16i Air Conditioner Efficiency Ratings
SEER (Seasonal Energy Efficiency Ratio) ratings as high as 16.50
With one of the longest cooling seasons in the country right here in the Greater Phoenix, AZ Metro area, efficient air conditioners are a must. Utility rate increases like those recently give to APS customers are happening all over the nation and predicted to only keep increasing. The Trane XL16i delivers when it comes to doing its job efficiently! With efficiency ratings up to 16.5 SEER, it outperforms many other single speed compressor AC units on the market today.
Single-Stage Trane Compressor
If you haven't already read it on many other pages of our website or elsewhere while researching air conditioners – Trane builds a great compressor. While most of their competitors are using Copeland compressors, most Trane units including the Trane XL16i, come with Trane's own ClimaTuff compressor*. While the Copeland compressor has earned its reputation as reliable and long-lasting, most HVAC Technicians agree the ClimaTuff is the most durable compressor ever built.
*Some Trane units are built with a Copeland compressor instead of the ClimaTuff.
Trane XL16i Air Conditioner Sound Levels
Another category topper for the XL16i is its low operational sounds. This model proudly boasts decibel ratings as low as 69dB. That's fairly low for an air conditioner in general, and amongst the best of the best as far as single speed cooling units go.
More Trane XL16i Features
All Trane products in the XL family feature a unique cabinet design reserved only for their premium models like the XL16i.
Weather Guard top – Unique to Trane, this composite-material top is made to protect the fan motor and coils from debris as well as tiny fingers!

Powder paint (baked on), Teflon coated screws, and a composite material base pan help the XL16i preserve its good looks for many years.

Part of the thanks for how quiet this unit is goes to the variable speed condenser motor which keeps air noise to a minimum and increases efficiency.

All-aluminum outdoor coils mean reduced chances of refrigerant leaks as the unit ages as well as better heat transfer for better efficiency.
Trane XL16i Air Conditioner Warranty
The Trane XL16i is backed by a factory 10-year warranty on the outdoor coil and functional parts. It also includes an industry-leading 12 year limited compressor warranty.
Trane XL16i Air Conditioner Summary
The XL16i earns its "best in class" status in this category (single speed cooling) in a few areas. Most notable, very few of Trane's competitors amongst other premium brand names can claim efficiency ratings as high as the Trane XL16i can. Also, worth mentioning again is quiet operation. Low sound ratings are usually reserved for units containing variable speed compressors and some two-stage models.
Trane (now owned by the manufacturing giant Ingersoll Rand) proudly advertises they are "America's most trusted HVAC brand" for several years running – and we trust them too. Although we sell many other brands including Lennox, Franklin (Amana), Bosch, Goodman, Day and Night, Mitsubishi and several others, Trane remains one of our clients favorite picks. The Trane XL16i is packed with all of the quality that has earned our trust and owners happily report they are pleased with their choice.
Are You Interested in Trane XL16i Installation?
Choosing a new cooling and heating system is a 10-15 year plus commitment (unless you choose the wrong installing company). We work in thousands of homes around the Phoenix valley each year and unfortunately see the discomfort, aggravation, and expense their owners deal with when the whole "system" was designed and installed improperly.
Aside from things like free maintenance, an ACCA approved Manual J load calculation, optimized airflow design, and more, there are many things that set a Magic Touch Mechanical installation apart from the others: What's Included With This Installation?
Schedule a Free home evaluation & system design and compare units & prices side-by-side.
Other Products to Consider
Trane XR17
Lennox XC21
Lennox XC16