Packaged Units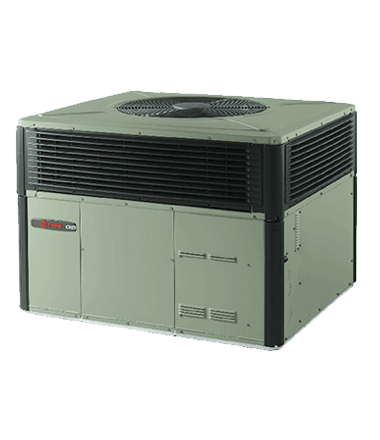 Compressor Type

Single-Stage

Efficiency Rating

up to 15 SEER

Sound Rating

as low as 69dB
Trane
Trane XL15c Packaged Heat Pump
Trane XL15c Packaged Heat Pump
You can't drive anywhere in Phoenix, Mesa, Tempe, Chandler or Gilbert AZ without seeing residential rooftop packaged heat pumps. Rooftop air conditioning & heating units are prevalent all over Arizona.
Packaged aka package heat pumps work the same way as conventional split systems. They contain the same major components as well, only in one cabinet vs. two. Although they stand out more than their split counterparts, they do have their benefits.
One benefit anyone shopping for a new HVAC unit will like – they're less expensive! Because they are installed on your roof, they're also often quieter (most anyway) when relaxing in your back yard.
Trane XL15c Heat Pump Efficiency Ratings
SEER (Seasonal Energy Efficiency Ratio) rating: 15.00 (all sizes)
HSPF (Heating Season Performance Factor) ratings as high as 8.40
EER (Energy Efficiency Ratio) ratings up to 13.00 
Regional energy efficiency standards require all new AC units installed in Arizona meet minimum efficiency standards of 14-SEER. The highest efficiency packaged heat pumps on the market today achieve 16-SEER. The Trane XL15c sits squarely in the middle in the rooftop heat pump category.
Trane ClimaTuff Single-Stage Compressor
With the toughest compressor ever made in our opinion, chances are slim you will have to replace it. If you've ever had to replace your AC compressor before, you know it's an expensive endeavor. The compressor is the heart of the heat pump. Like open-heart surgery, it requires a lot of training, time, and precision.
The single-speed ClimaTuff compressor is manufactured by Trane themselves. It's probably the main component that earns their right to claim "Nothing Stops a Trane".
Trane XL15c Package Heat Pump Sound Levels
Sound levels are measured in decibels (dB). Decibel ranges of the Trane XL15c packaged heat pump range between 69dB and 74dB. This makes the XL15c one of the quieter rooftop units around in some sizes.
By way of comparison, a conversation between two people next to each other will range between 60 and 65dB. Considering it's up on a rooftop, you'll be hard pressed to hear it at all!
More Trane XL15c Features
The XL15c is built around the same frame and bears the same cabinet design as the premium XL16c. It also uses many identical components and features of its big brother. Including:
Trane's patented Vortica™ blower. A variable-speed indoor motor that runs quietly and efficiently allowing you to run it constantly and filter air while providing better dehumidification.

Unique Comfort-R™ humidity control algorythm for enhanced comfort in the home

Aluminum outdoor coil. Aluminum coils are less prone to refrigerant leaks than copper coils.

Coil Guard protection keeps your unit cleaner and more efficient.

Powder-coat paint keeps your unit looking new longer.
Trane XL15c Rooftop Heat Pump Warranty
The Trane XL15c packaged heat pump is backed by a factory 10-year warranty on the outdoor coil and functional parts. It also includes an industry-leading 12 year limited compressor warranty.
Trane XL15c Package Heat Pump Summary
The Trane XL15c is a solid machine and a good choice for most people. It's basically the Trane XL16c only with a single-speed compressor vs. the two-stage found in the 16c. Over the years we have sold and personally owned Trane packaged heat pumps.
They've earned their reputation for reliability and durability (when installed properly). Magic Touch Mechanical has installed thousands of these units over the past two decades. Many of which we are just now replacing 20-years later.
It's fairly quiet, efficient (for a rooftop unit), and…it's a Trane!
The only negative thing we can say about the Trane XL15c is in regards to the upfront cost. We recommend competitive models that are significantly lower in cost. However, Trane has the lowest failure rate we've seen. In other words, the cost-to-own this unit, combined with it's long lifespan make it a good value.
Are You Interested in Trane XL15c Installation?
Choosing a new cooling and heating system is a 10-15 year plus commitment (unless you choose the wrong installing company). We work in thousands of homes around the Phoenix valley each year and unfortunately see the discomfort, aggravation, and expense their owners deal with when the whole "system" was designed and installed improperly.
Aside from things like free maintenance, an ACCA approved Manual J load calculation, optimized airflow design, and more, there are many things that set a Magic Touch Mechanical installation apart from the others: What's Included With This Installation?
Schedule a Free home evaluation & system design and compare units & prices side-by-side.
Other Products to Consider
Lennox LRP16HP