Gas Fire Pits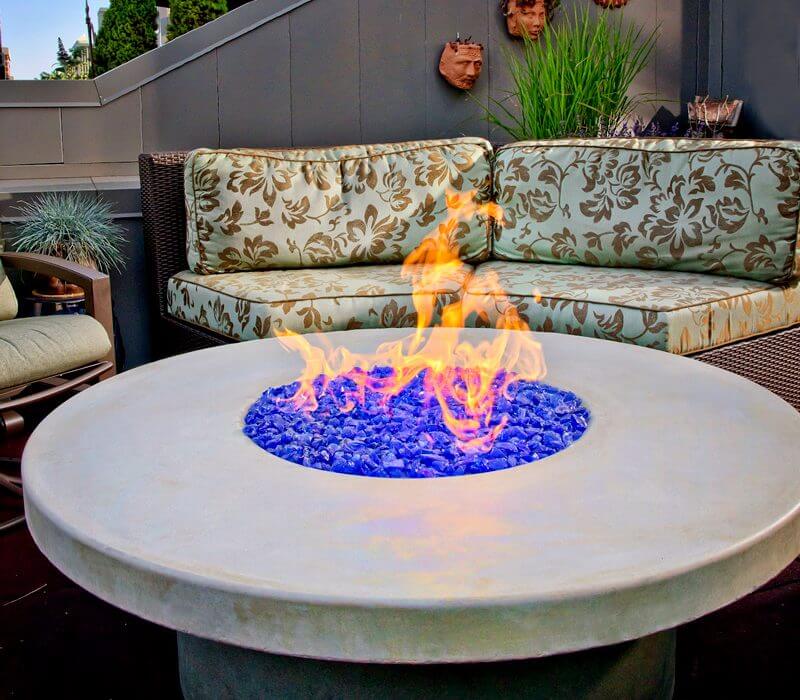 Outdoor Gas Fire Pits
The Fire Place by Magic Touch helps clients build their perfect outdoor fire 'space'!
Outdoor Gas Fire Pits
It's hard to beat the convenience of an outdoor gas fire pit. They eliminate the hassle of buying, carrying, and storing large stacks of firewood. There's no messy ash cleanup at the end of the night. And, no critters to deal with since firewood stacks are notorious hiding places for spiders, scorpions, and snakes. Best of all, outdoor gas fire pits can be used when wood burning fires are not allowed during Phoenix "no burn" days.
Another reason gas fire pits are so popular in Phoenix & nearby areas is their easy on/off operation. There's no concern of burning embers or having to watch the fire when you're done with it. You can turn it on/off with the flip of a switch, a remote control, or with Alexa! Try that with a wood fire pit!
Pro Tip: Did you know we can upgrade or remodel your existing outdoor gas fire pit? From converting a match-lit gas fire pit to remote control or bluetooth, to installing new burners & valves, we can help. Do you want to give your outdoor gas fire pit a complete remodel? Ask us about our fire pit modernization packages available for both residential & commercial fire pits.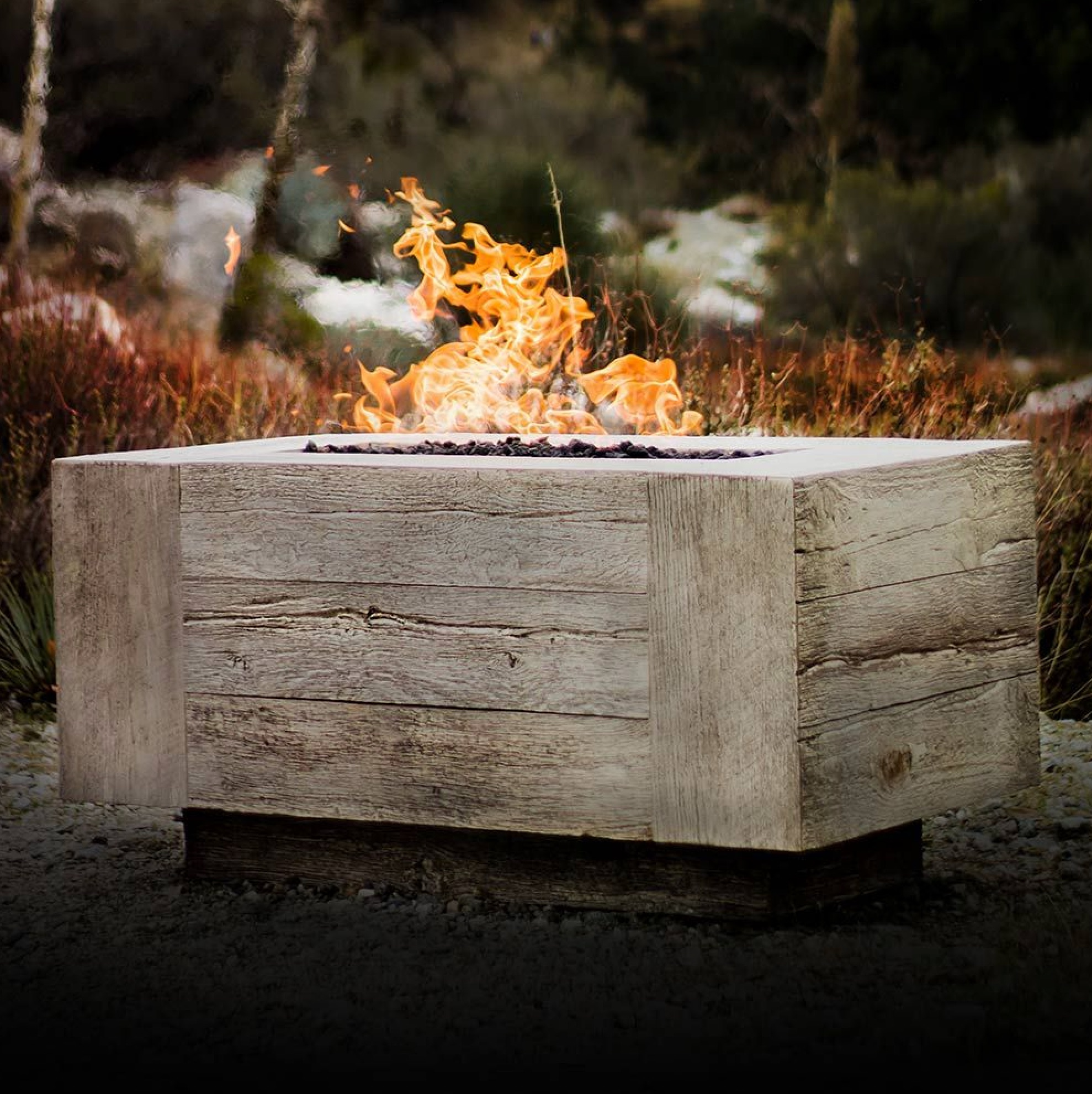 A Style & Design to Match Every Outdoor Space
From small to huge, rectangular, oval, circular, or linear, The Fire Place by Magic Touch can design the perfect gas fire pit for your home, restaurant, or pool area. From single-family homes to national hotel chains our experienced designers and installers will help create the perfect fire"space" for you.
Do you need a gas fire pit 10-foot around made of copper and finished with reflective copper fire glass? We can make it happen for you!
How about a wood-grain finished gas fire pit that doubles as a fire table for your guests that's 12-feet long x 5-feet wide? Our only question is, what color?
Stainless-steel, brass, hammered copper, or rolled steel. Concrete, wood, or composite materials. Shaped like a wave, a ship, or a guitar, we like to say your only limited by your imagination and your budget. If you live or own a commercial property in the Phoenix, Scottsdale, Chandler area or nearby cities, The Fire Place by Magic Touch can build your dream gas fire pit.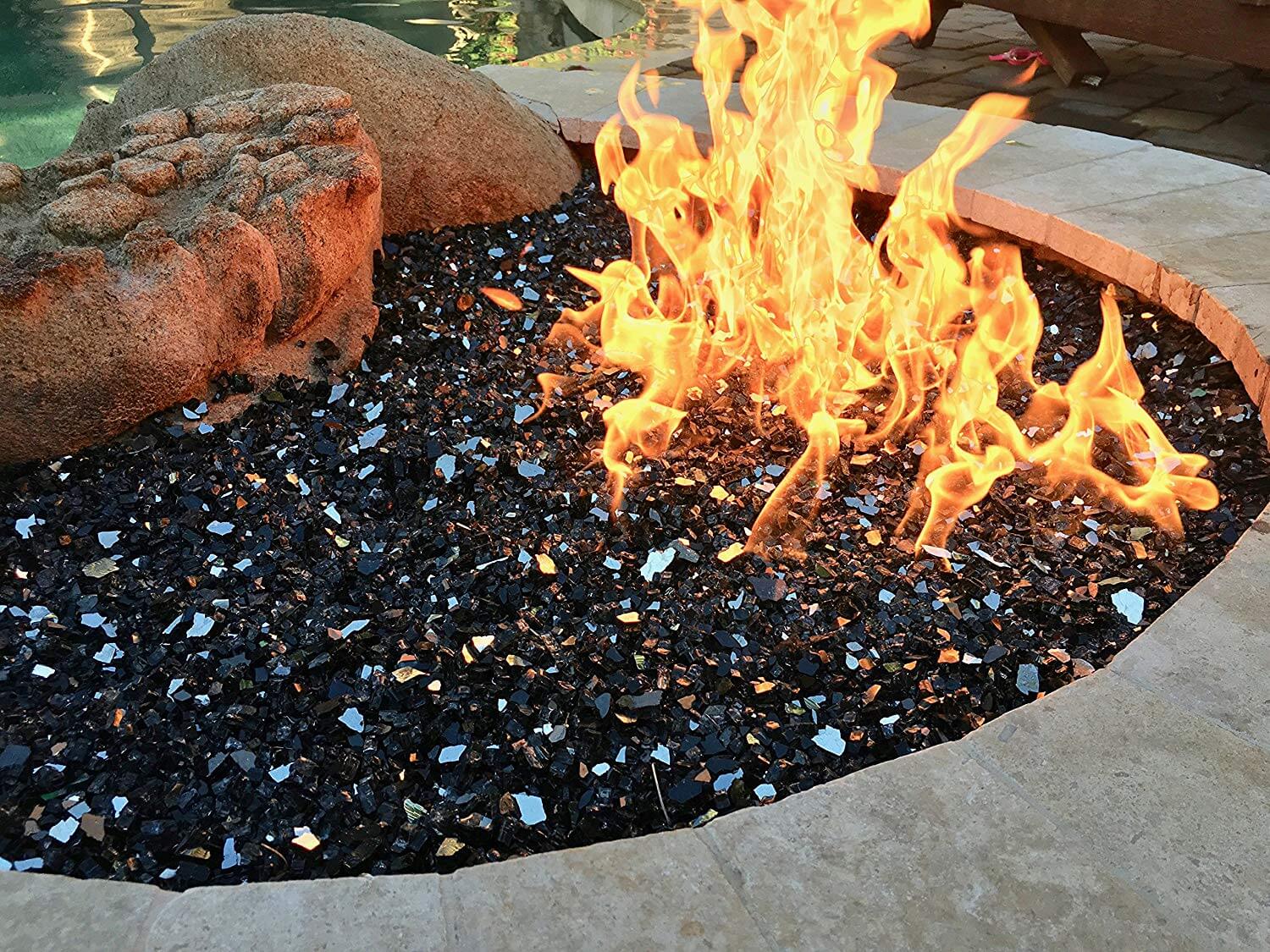 Fire Pedestals | Fire Towers | Fire Urns | Fire Bowls
Outdoor gas fire pits are not limited to the sizes, shapes, and materials of yesteryear. They also don't need to be limited to a gas fire pit to sit around. Many businesses and homes are creating fire features in their outdoor space that wow guests, neighbors, and visitors alike. Fire pedestals, fire towers, fire urns, and fire bowls are all examples of gas fire pits that are more fire feature than fire pit. 
Want to make a grand statement in your backyard, driveway, or on your restaurant patio? Consider a gas fire pedestal or gas fire tower that stands 6′, 7′, or 8′ above the ground with a beatiful fire atop. It will definitely make the statement your looking for!
Fire Urns & Fire Bowls come in all shapes, colors, and sizes and can be used to add beauty around the pool, in a garden, or near a walkway. Create a dazzling light show throughout your property with strategically placed fire features to compliment the landscape.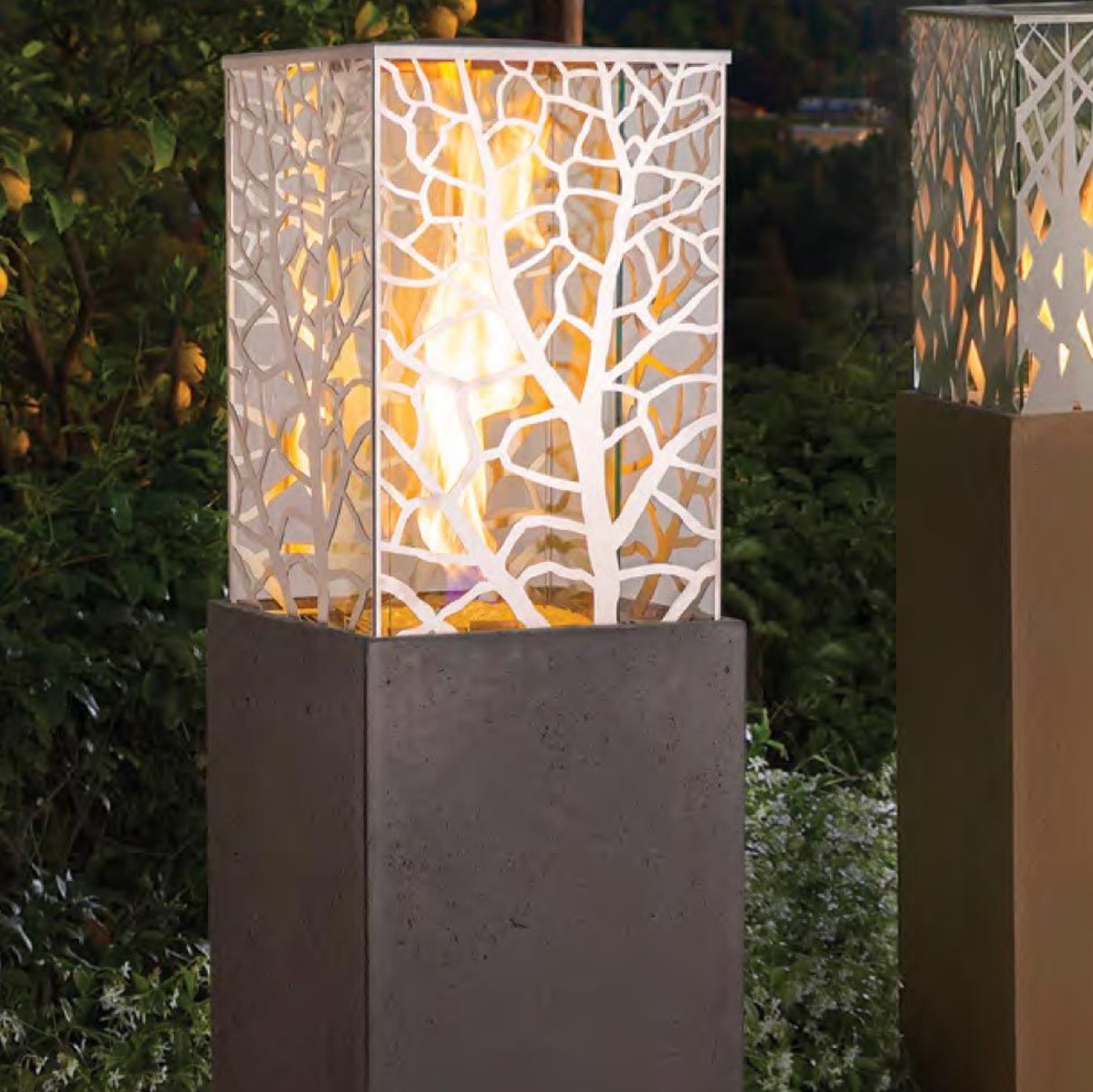 Outdoor Gas Fire Tables 
If the words gas fire table conjure up thoughts of the cheap disposable things they sell at Costco & WalMart – forget them! Our selection of gas fire tables are meant to stand the test of time, not one or two seasons like the ones found in big box stores. Gas fire tables sit outside year-round and must be able to withstand the sun, wind, and rain. They also need to withstand the wear and tear of commercial use in restaurants, bars, or hotel common areas. We source and build outdoor gas fire tables to please even the toughest critics. 
Our gas fire tables also come in many shapes, sizes, and finishes and are available for both natural gas and propane fuels. From something small for a residential courtyard or patio, to something 12′ long and 5′ wide for a large space, we'll create the perfect solution.
You can still have a beautiful gas fire table, fire pit, or fire feature even without natural gas. The Fire Place by Magic Touch serves communities throughout the Greater Phoenix area that don't have natural gas. Not having natural gas is not a dream-killer , we have many options that run on propane. From large refillable tanks that can be installed above or underground, to small exchangeable tanks, many Phoenix residents use propane gas fire tables & fire pits.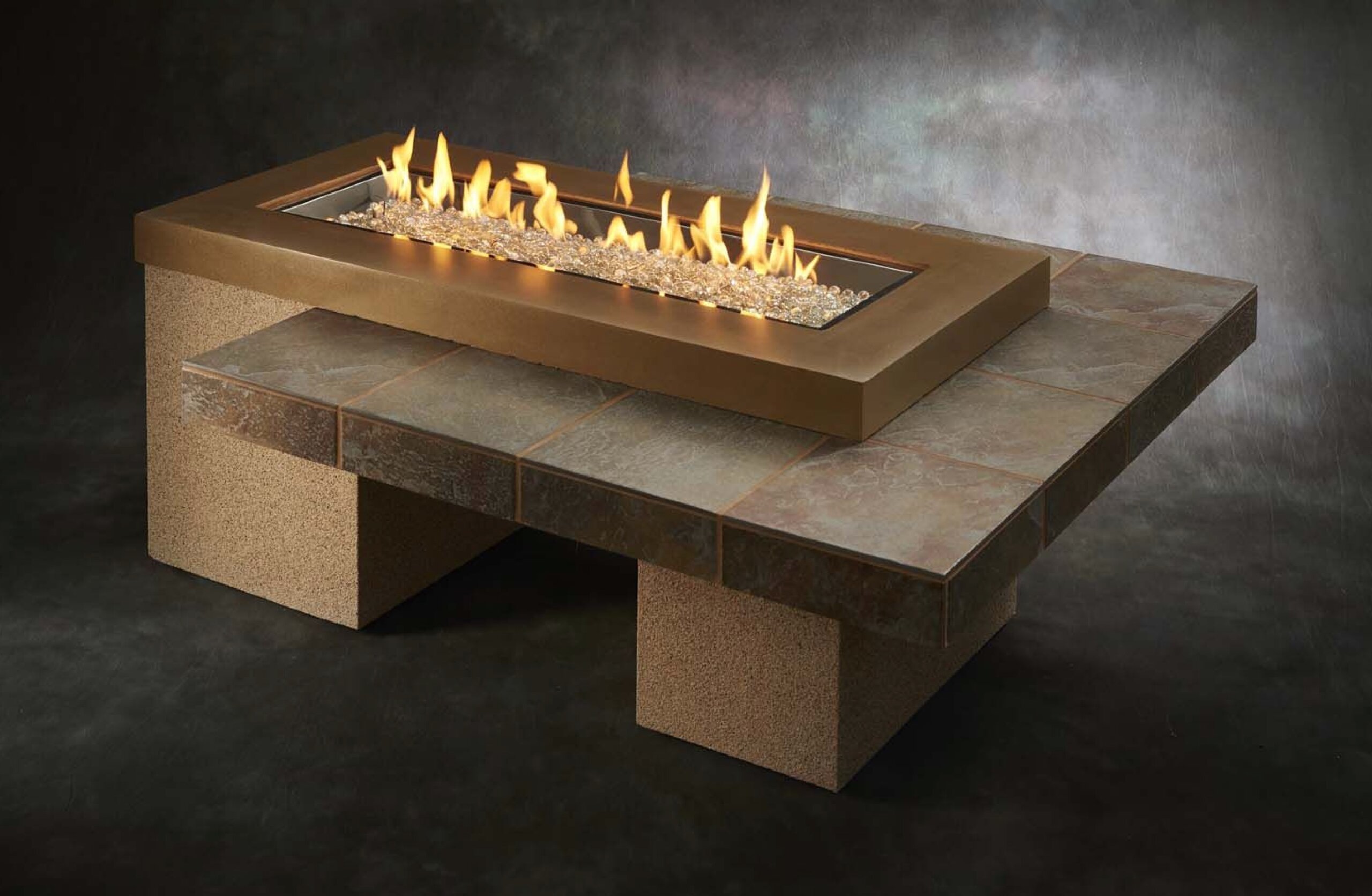 Outdoor Fireplace Installers in Phoenix & Nearby Valley Cities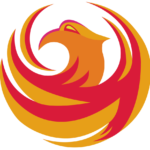 Contact us to help plan your outdoor fire pit design & installation anywhere in the East or West Valley and outlying areas. The team at The Fire Place by Magic Touch has been helping Arizona businesses & homeowners with their gas fire pit projects for almost 27 years! And remember, you'll never have to worry about "no burn" days again when you have a gas fire pit! You won't have to carry firewood or check the wood pile for spiders and scorpions before reaching into it. Your guests clothes won't smell like smoke and neither will your patio furniture. And … you can turn your fire pit on/off with the press of a button or flip of a switch!
Do you need a highly rated gas fire pit service company to repair your existing outdoor gas fire pit? The Fire Place by Magic Touch offers gas fire pit repair service, maintenance, cleaning, and remodeling throughout Phoenix. Get in touch with us today and see why we're the highest rated gas fire pit service company in Arizona!