Thermostats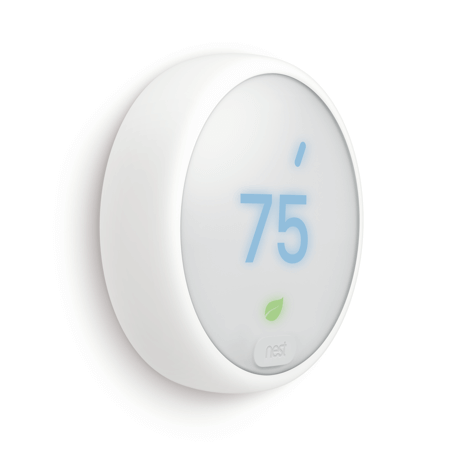 Energy Star Certified
Nest Thermostats
Nest Thermostat E
Nest Thermostat E
Many people are shocked to learn that there are a few high-end air conditioning thermostats on the market today that can exceed $800 installed. That's not a typo. Luckily neither Nest Thermostat comes close to that price with one being about half of that, and the other about 60% less.
The Nest Thermostat E retails for $169. Assuming tax at $16 and $150 for installation, the Nest E should run you around $335 professionally installed.
For comparison purposes: The 3rd Generation Nest Learning Thermostat retails for $249 not including tax or installation. Assuming tax will add about $24 and installation averaging $150, the Nest 3 runs about $423.00 professional installed.
Nest Thermostat 3 vs Nest Thermostat E
The most noticeable difference when comparing the Nest Learning Thermostat 3rd Generation vs the Nest Thermostat E is fit and finish.
Nest E vs Nest 3 Display
The Nest Thermostat E display has a frosted glass appearance vs. the bright high-resolution screen on the 3rd gen. The Nest E is slightly smaller and thinner than the Nest 3, but not by much either way. Although the frosted glass appearance was made to cut down on costs, we think it still looks pretty cool, just not as high-end.
Nest E vs Nest 3 Materials / Build Quality
The differences between the two Nests in build and material quality is instantly noticeable. The Nest Thermostat E has a plastic outer ring vs. the 3rd Generation Nest's metal ring. If furniture stores sold Nest Thermostats, you'd probably find the Nest E at Ikea, and the Nest 3 at Copenhagen.
Again we like the look of the Nest E it's simple and modern like items found in Ikea, but the Nest 3 has a more rich, sleek look and feel like items found in Copenhagen. Full disclosure we have nothing against Ikea and some of Magic Touch Mechanical's office furniture was purchased there!
Nest E vs Nest 3 Sensors / Technology
The Nest Thermostat E is equipped with proximity, ambient light, temperature, humidity sensors.
The Nest Thermostat 3 is equipped with all of the sensors found in the Nest E and adds near-field activity and far-field activity as well. These additional sensors make the Nest 3 more accurate when determining if you are home or not for automatic temperature adjustments.
Nest Thermostat E Learning Capacity
The Nest Thermostat E has the same behavior and lifestyle learning capacity as the Gen-3. It's sensors and memory keep track of your settings and patterns and then automatically creates a program to mimic them. This is the very feature that earned Nest a spot next to big boys like Honeywell, Nexia, and Lennox. It also made it the first thermostat to re-earn the Energy Star label after the DOE removed it from all programmable thermostats.
Wi-Fi Connectivity and Remote Control
It wouldn't be a Smart thermostat if it wasn't equipped with on-board Wi-Fi. Just like the Nest 3, the Nest Thermostat E can be controlled and adjusted from anywhere from any device with an internet connection. The application is free for both iOS and Android devices and of course you can log into your profile from any laptop or desktop.
Nest Thermostat E Color Options 
Choose any color you like – as long as it's white! Unlike the Nest 3 which comes in stainless steel, copper, black, or white. The Nest E only comes in white. But, we'll say it a third time – we think it's a pretty cool looking little number. Not to mention it's $90 less than Mr. Fancypants the 3rd!