Mini Split Ductless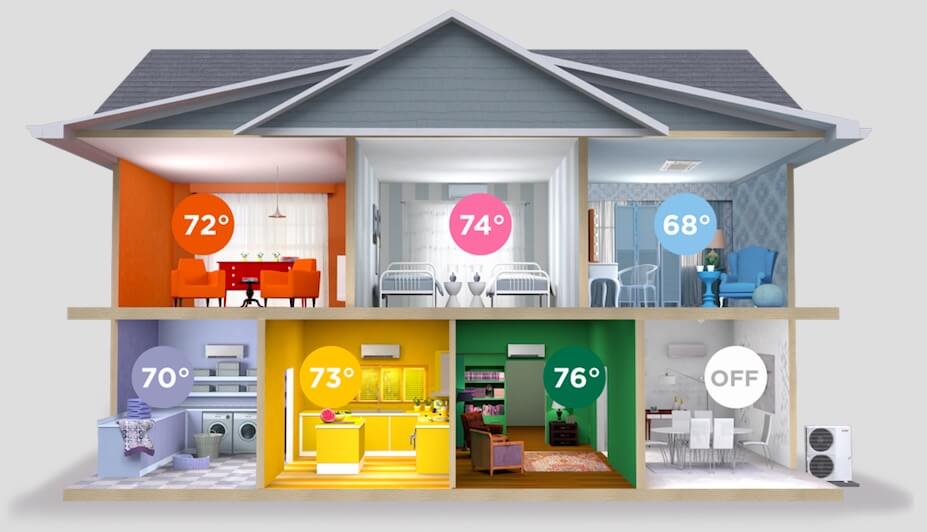 Multi Zone Mini Split Ductless
Multi Zone Ductless AC and Heat Pumps
Twenty years ago Magic Touch Mechanical installed a few multi zone mini-split ductless systems a month. Today, we install a few every week – which is quickly becoming a few every day!
What's changed even more is how many whole-home conversions we do every month. People replacing their conventional central air conditioning and heating systems with multi zone ductless heat pumps is all the range in the Phoenix, AZ market.
The flexibility of a multi-zone ductless mini split system is one of its greatest strengths. You can use one of these systems to cool and heat two rooms, three rooms, or every room. Maybe you want to condition the upstairs bedrooms separately from the downstairs. Or the west wing vs. the east wing. How about the garage and the master bedroom? There aren't many applications that can't be conditioned just the way you want it with a multi zone ductless mini split!
Multi Zone Ductless Heat Pumps
A multi zone mini split ductless heat pump gives you the ability to keep each room at the ideal temperature. Unlike a central air system, each room has its own individual indoor air handler. The benefit to the end user is, the master bedroom can be kept at one temperature, while the guest room can be another.
Say goodbye to hot rooms and cold rooms when you have a multi zone ductless mini split. It is truly the only way to have completely separate temperature settings per room.
Multi Zone Mini-Split Ductless Efficiency
You can't buy a more efficient system to heat and cool your home than a multi-zone ductless system. Not just because they have high efficiency ratings to begin with, which they do. Mostly, because you only use it where you need it.
Let's say you have a 2,000 square foot home. At night your family is using three or four bedrooms – let's be generous and say 800 square feet. The remaining 1200 square feet (kitchen, living room, den, etc.) doesn't need to be cooled to the same temperature as the bedrooms. During the day the opposite is probably true.
Let's break that down a little further. What if you work from a home office and the kids are in school. You can keep the office super cool if you want and the rest of the home at a more conservative temperature. The end results are low cooling costs and your ideal comfort levels.
Forget Air Ducts and Energy Waste
Even with perfect duct-design, installation and duct-sealing, ductwork by its very nature is inefficient. When figuring out what size air conditioner is needed to cool a space, Magic Touch Mechanical completes what's known as a load calculation. "Duct loss" or the energy lost through this inefficiency is especially high in Arizona where most ductwork is located in hot attics and walls.
In other words it takes a bigger central air conditioner to cool the same space than a ductless AC unit can. This additional efficiency isn't even accounted for in the SEER rating which is why we said they are more efficient "out of the box".
How To Get Rid of Dust In Your Home
No, we didn't just completely change subjects! Anyone who owns a home in the Phoenix, AZ area battles with dust. This is especially true durning monsoon dust storms.
What most people don't understand is how that dust gets into the house. One of the main culprits is ductwork. All duct systems leak, and where are ducts located? In your attic. When your return duct has leaks it sucks in dust from your attic. That dust then gets blown right into your home.
Many people are switching to multi zone ductless systems for that reason alone. The utility savings and quieter operation are added benefits to people with severe allergies, asthma, and other pulmonary diseases.
Ductless Air Handlers – Mix and Match
Depending on the brand and model, many residential multi zone ductless mini splits are very flexible. One outdoor unit may be connected to up to 6-8 indoor units. Some VRF (Variable Refrigerant Flow) models can connect up to 16 indoor units. Not that you'd have the need for it, but some models are capable of running in heating and cooling at the same time!
Our of our preferred brands of multi zone ductless equipment at Magic Touch Mechanical is Mitsubishi. We install other brands but after installing hundreds of these systems have found them to be amongst the best. That probably explains why it's the best selling brand in the U.S. It also explains why in early 2018 they joined forces with another well-known name in central air conditioners, Trane.
Mitsubishi offers five different styles of air handlers, as well as a true "ducted" air handler. This gives you the ability to mix and match to create the perfect "system" for your home. With the introduction of the ducted air handler a few years ago, we can now install a "hybrid" system.
A hybrid system uses a ducted air handler in conjunction with ductless air handlers. This is the perfect solution for creating one large zone with multiple smaller zones. It's also helpful for applications where ductless air handlers are unfeasible or not aesthetically pleasing.
Wall Mount Air Handler
A lot of people are familiar with wall mounted ductless air handlers, aka high-wall units. Although a lot of people think they are similar to a window AC – nothing could be further from the truth. In actuality, ductless mini splits are the most technically advanced units being built today.
Recessed Ceiling Cassette
The recessed ceiling cassette air handler looks similar to a typical ceiling register (vent). These ceiling units are more discreet than a wall mounted unit. In fact, most people wouldn't even notice they were there unless you pointed it out to them.
Low Wall / Floor Mount Air Handler
The low wall aka floor mount ductless air handler is the newest style of air handler. It's a modern twist on an old fashioned radiator like seen in older buildings in big cities. They have a similar dimensions to a small radiator but are thinner so don't stick out as much. Second only to the wall mounted high-wall units, these are the most popular air handler with Magic Touch Mechanical clients.
Suspended / Ceiling Mount
Not as commonplace as the rest, several manufacturers produce a ceiling mount ductless air handler. This air handler hangs from the ceiling. Instead of being flush with the ceiling like the ceiling cassette, this model hangs down a few inches. This application is great in applications where the cavity in the ceiling cannot accommodate a flush-mounted cassette and wall space is limited. Magic Touch often installs this model in sunrooms and garages, although it is not limited to these applications. 
Concealed Air Handler
You guessed it, this air handler is well – concealed! For areas with attic access above the room, homeowners can have all the benefits of a ductless unit installed in the attic. These air handlers aren't truly duct-less however. They utilize very small ducts in short lengths that blow air at a very high velocity.
Ducted Air Handler
Used for either conventional central air or hybrid systems. The benefit of using the ducted air handler alone is to take advantage of the mini split's variable speed inverter technology. The flexibility to "add-on" to the system later on down the road is not really an option with a conventional system.
Ductless Units – Fastest Growing AC Segment in the USA
First introduces in Asia, ductless units are the most common type of cooling and heating equipment in the rest of the world. Most homes and buildings in Europe, Asia, Central America, and the Middle East use predominantly ductless systems. Here in North America they are seen often in Mexico.
When you consider that many of the homes and buildings in the "Old World" were built hundreds of years before the invention of air conditioning, you start to understand why. There was no place to install ductwork!
Even modern buildings and homes thought the rest of the world and new homes being built use this technology in the rest of the world. The reason is simple – they are quieter, more efficient, more durable and more reliable than central air conditioners!
Many U.S skyscrapers and office buildings have been using VRF multi zone ductless heat pumps and air conditioners for years. Building owners know they can keep energy costs low utilizing this tip of "zoned" system.
While they are fair more reliable than central air systems, there's another advantage. When a central air handler fails it can effect a whole section or floor of a building. When a multi zone ductless air handler fails, it only effects one room or office.
For the last decade, mini split ductless air conditioners and heat pumps are the fastest growing segment of new HVAC equipment sold in America.
Ductless Air Conditioner Price
How much does a multi-zone ductless air conditioner cost? We knew you were going to ask about the price, so we already have it covered!
Since there are so many different variations, models, and types we wrote an article that answers how much a multi zone ductless system costs. Before you jump right to that page though note every application is different unlike central air conditioners.
For more information on the price of a new multi zone mini split ductless heat pump, visit this page of our website.