Heat Pumps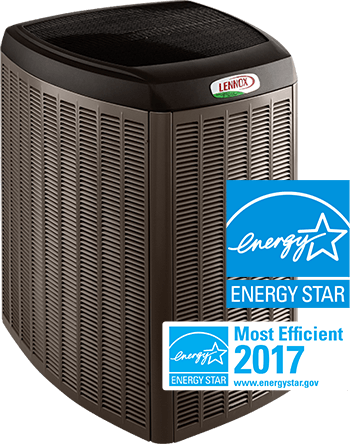 Compressor Type

Variable Speed

Efficiency Rating

up to 23.5 SEER / 10.2 HSPF

Sound Rating

as low as 58dB
Lennox
Lennox XP25 Heat Pump
Lennox XP25 Heat Pump
A split heat pump consists of an outdoor condenser (the XP25), connected with refrigerant lines to an indoor air handler. Before 2018 the Lennox XP25 was matched with a Lennox CBX40UHVor Lennox CBX32MV air handler. Both of these air handlers have been replaced by the new LennoxCBA038.
Lennox XP25 Heat Pump Efficiency Ratings
SEER (Seasonal Energy Efficiency Ratio) ratings as high as 23.5 in cooling
HSPF (Heating Season Performance Factor) ratings as high as 10.2
The XP25 raises the bar for ducted central cooling and heating systems. Those numbers are impressive, and higher than all competitor ratings!
Variable Speed Inverter Driven Compressor
The XP25 is one of the manufacturers two Variable Speed Compressor heat pump models. The other model being the Lennox XP20. Lennox advertises this unit as being "65 air conditioners in one" because of the 65-speeds the compressor is capable of.
The inverter controlled variable speed compressor delivers the precise amount of cooling needed for weather conditions at the time. It can maintain the temperature you set to within ½ a degree. Magic Touch Mechanical has installed hundreds of these units since its debut in 2015. We can attest to the fact that it lives up to all the claims Lennox makes. Our customer surveys reveal every client selects "Extremely Satisfied" when asked about the unit's performance.
Lennox XP25 Noise Levels
Lennox advertises the XP25 as "50% quieter than a standard heat pump", and this is another claim we can verify. Magic Touch Mechanical installed the very first XP25 in Arizona – in fact we ordered our first one before the local Lennox warehouse even had one. Our client wanted the quietest unit he could buy, which at the time was this model, and was willing to buy one on backorder and wait until it arrived in Phoenix.
Knowing we waited for this unit, and the clients wishes, our installers decided to prank our company owner by calling him after they had completed the installation to report that: "The unit was not quiet… (insert long pause) …it is silent!"
In reality it's obviously not silent, but it is not a stretch to say this unit is so quiet, it's hard to tell when it's running without walking up to it and felling the airflow coming off the nearly silent condenser fan motor.
Sound levels are measured in decibels (dB). The Lennox XP25 measures in as low as 58dB. To put that in perspective, a normal conversation measures between 50 to 60dB. In other words, you wouldn't have to talk loudly to have a normal conversation with each person standing on either side of the Lennox XP25 heat pump condensing unit.
Humidity Control / Removal
Magic Touch Mechanical is based in Mesa, AZ a suburb of Phoenix. Those of us who live here know the old joke "but it's a dry heat" – to which I usually reply so is the inside of an oven, but humidity control matters in Arizona too.
There is a direct correlation between human comfort and humidity levels, and what most people do not realize is the humidity inside your home is not the same as the outdoor humidity. Everyday activities contribute to the humidity in your home. Things like people showering, cooking, and how many people live in the home contribute to indoor humidity levels. Well-sealed homes do not allow humidity to escape the structure, so that job is left to the air conditioner to handle.
Another thing for those of us in the desert to consider is monsoon season which happens to coincide with a good portion of our cooling season. Indoor humidity levels can be even higher when it is more humid than outside.
The XP25 is designed to provide excellent humidity removal. According to Lennox, this model removes approximately thirty percent more humidity from the air than a traditional single-stage air conditioner, making the air feel "lighter and more comfortable" in the summer months.
Full Wi-Fi Programmable Control
The XP25 comes standard with the Lennox iComfort Wi-Fi Thermostat. This system is fully-communicating, meaning the indoor unit, outdoor unit, and thermostat are constantly sending a signal back in forth for optimal performance.
For those who want to take things a step further, this unit can be operated by the gorgeous Lennox S30 Wi-Fi Ultra-Smart Thermostat, a full color beauty reminiscent of an Apple iPad. The features of this thermostat go far beyond most every thermostat on the market today, and even includes a "feels like" feature that accounts for everything from temperature to humidity to provide the ultimate home comfort experience.
Lennox XP25 Climate IQ® Technology
The "connected" and "communicating" capabilities of the Lennox XP25 allow it to adjust the air output based on current weather conditions where it is located. Lennox registered the term Climate IQ to describe this technology and it enables this mode to adjust everything from startup and run-times to humidity control to maintain perfect comfort levels no matter the conditions outside.
Lennox XP25 Warranty Information
Do your homework when a manufacturer or HVAC contractor tells you the equipment comes with a 10-Year warranty – the devil is in the details and in the fine print!
Most AC and heating equipment requires product registration within the first 60 days to qualify for the 10-year warranty. Manufacturers can and do deny any registrations attempted after the allotted time has expired. At Magic Touch, we register all of the equipment we install on our client's behalf – but not all contractors do. Unfortunately, we have seen cases where consumers thought they had coverage but did not.
Some products (even when registered) only provide coverage to the original homeowner. If you sell your home thinking the warranty of the new AC carries over, you may be wrong. In some cases, the warranty can revert to as little as one-year parts coverage when the home is sold.
The XP25 comes with a 10-Year parts warranty regardless of how many times the home changes hands.
Lennox XP25 Summary
You'd be hard pressed to find a worthy contender for the Lennox XP25 Heat Pump on the market today. At the time of writing this product description (2018), it is the most efficient central heat pump on the market.
The only unit on the market today that rivals the XP25 in a few areas is the Trane XV20i. While not as efficient, the XV20i does have a few tricks up its sleeve that make it a worthy adversary.
Are You Interested in Lennox XP25 Installation?
Choosing a new cooling and heating system is a 10-15 year plus commitment (unless you choose the wrong installing company). We work in thousands of homes around the Phoenix valley each year and unfortunately see the discomfort, aggravation, and expense their owners deal with when the whole "system" was designed and installed improperly.
Aside from things like free maintenance, an ACCA approved Manual J load calculation, optimized airflow design, and more, there are many things that set a Magic Touch Mechanical installation apart from the others: What's Included With This Installation?
Schedule a Free home evaluation & system design and compare units & prices side-by-side.
Other Products to Consider
Trane XV20i
Lennox XP20
Mitsubishi MXZ