Heat Pumps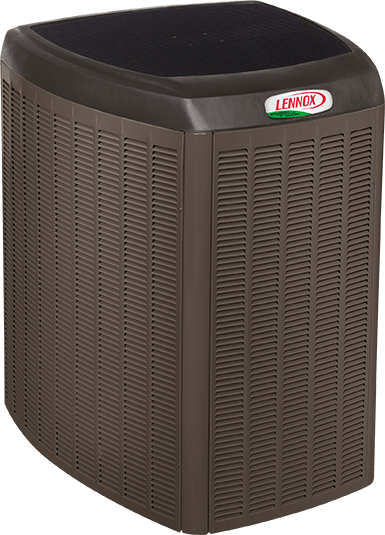 Compressor Type

Two-Stage

Efficiency Rating

up to 19.20 SEER / 9.7 HSPF

Sound Rating

as low as 67dB
Lennox
Lennox XP21 Heat Pump
Lennox XP21 Heat Pump
When Magic Touch Mechanical completes a new heat pump system installation we send our clients a survey. Included on the survey we ask about the look, sound, and performance of their new HVAC system. Everyone who chooses the Lennox XP21 absolutely raves about the difference it has made in comfort of their home! Even people who didn't have complaints about the old system we removed say the difference is dramatic.
We've installed hundreds of XP21's over the years since it was first introduced and should share our thoughts. It's durable, reliable, quiet, and a top performer.
Lennox XP21 Heat Pump Efficiency Ratings
SEER (Seasonal Energy Efficiency Ratio) ratings as high as 19.20 in cooling mode
HSPF (Heating Season Performance Factor) ratings as high as 9.7 in heating mode
With AHRI (Air Conditioning, Heating, and Refrigeration Institute) testing ratings recorded at 19.2 SEER and 9.7 HSPF, the Lennox XP21 is "best in class". While not the most efficient Lennox heat pump available (that title goes to the variable speed XP25 at 23.5 SEER) – it is extremely efficient. In fact, no other manufacturer makes a more efficient two-speed heat pump.
Two-Stage Compressor
You'll see it referred to as two-stage, dual-stage or 2-speed all mean the same thing. As the name implies, a two-stage air conditioner has a compressor that automatically switches from low to high speed. By default, these two speeds make the unit more efficient. More importantly, two speeds keep occupants more comfortable.
Temperatures in the Greater Phoenix, Arizona area can swing as much as thirty degrees from day to night. In the mornings and evenings the Lennox XP21 will run on its lower speed, saving energy and not "freezing" everyone in the house. As the temperatures climb, the AC moves into high speed keeping up with the higher heat load in your home.
Lennox XP21 Noise Levels
Most homes in Phoenix, Chandler, and nearby cities were built with the outdoor heat pump next to a bedroom window. We often get requests to relocate these units due to the noise they make. Moving the unit is unnecessary with the Lennox XP21 because it's extremely quiet. With decibel ratings as low as 67dB, you may not even hear it with the window open! Disclaimer: Magic Touch doesn't recommend leaving your window open when your AC is running 🙂
To put 67dB in perspective, a normal conversation between two people standing right next to each other is around 60dB.
As stated earlier, the Lennox XP21 is the quietest 2-speed heat pump on the market today. Not only from Lennox, but from any brand!
Humidity Control / Removal
It's common knowledge that higher humidity adds to people being uncomfortable. What most people don't realize is that it's common for the humidity in your home to be higher than outside. Things like showers, cooking, and other daily activities increase humidity that gets trapped in our homes. Coupled with a Lennox variable speed air handler you can run the system fan all summer to keep humidity at bay. The matching indoor unit uses 2/3 less power than 1-speed air handlers, so you don't have to sacrifice your comfort.
Full Wi-Fi Programmable Control
The XP21 comes standard with the Lennox iComfort Wi-Fi Thermostat. This system is fully-communicating, meaning the indoor unit, outdoor unit, and thermostat are constantly sending a signal back in forth for optimal performance.
Optional Lennox S30 Wi-Fi Ultra-Smart Thermostat
The Lennox XP21 is compatible with the S30 Wi-Fi Ultra-Smart Thermostat. Reminiscent of an iPad, the features of this thermostat go far beyond most every thermostat on the market today. Our favorite feature is the "feels like" feature. Accounting for everything from temperature to humidity, it creates consistently perfect comfort 24/7.
Lennox XP21 Dual-fuel Capability
For those with natural-gas in their homes – you can truly have the best of both worlds. The XP21's outdoor heat pump condenser can be matched to a Lennox gas furnace. Come heating season, it can operate as either an electric heat pump, or use gas heat. This way, you can always choose the most cost effective energy source – whenever you want!
Lennox XP21 Warranty Information
The XP21 is backed by a 10-year limited parts, compressor, and coil warranty. Unlike warranties of lesser models that revert to 5-years to the next owner if you ever sell your home, the XP21 warranty stays with the unit not just the original purchaser. This gives you a selling advantage should you ever move.
Lennox XP21 Summary
Magic Touch Mechanical has been installing new air conditioning and heating systems throughout the Phoenix – Mesa, AZ area for over 20-years. We install Lennox, Trane, Bosch, Goodman, Franklin (Amana), and Day & Night – to name a few. We've installed hundreds of Lennox XP21 heat pump units since it first came on the market. The bottom line is – we love this unit because our clients love this unit!
The Lennox XP21 is the most efficient as well as the quietest two-stage heat pump on the market. The engineering is nothing short of excellent, it's durable, reliable, and east to service and clean. If you read some of our product reviews and side-by-side comparisons, you'll notice we don't hold back when we don't like something about a product. There's really nothing to dislike about this unit – except maybe the price tag. However, you definitely get what you pay for when you choose the Lennox XP21!
Are You Interested in Lennox XP21 Installation?
Choosing a new cooling and heating system is a 10-15 year plus commitment (unless you choose the wrong installing company). We work in thousands of homes around the Phoenix valley each year and unfortunately see the discomfort, aggravation, and expense their owners deal with when the whole "system" was designed and installed improperly.
Aside from things like free maintenance, an ACCA approved Manual J load calculation, optimized airflow design, and more, there are many things that set a Magic Touch Mechanical installation apart from the others: What's Included With This Installation?
Schedule a Free home evaluation & system design and compare units & prices side-by-side.
Other Products to Consider
Trane XL18i
Lennox XP16
Mitsubishi MXZ