Heat Pumps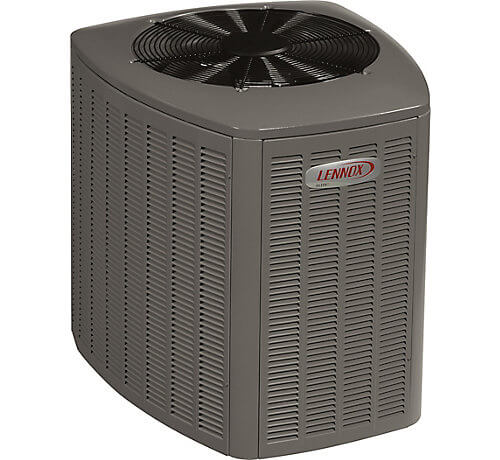 Compressor Type

Two-Stage

Efficiency Rating

up to 17 SEER / 9.5 HSPF

Sound Rating

as low as 70dB
Lennox
Lennox XP16 Heat Pump
Lennox XP16 Heat Pump
The Lennox XP16 is a good middle-of-the-road option for anyone considering a Lennox heat pump equipped with a 2-speed compressor. It has lower price point than Lennox's other dual-stage unit, the XP21 which is part of their Dave Lennox Signature Series Collection.
The XP16 is a high-efficiency heat pump with relatively low operating noise levels. As with all Elite Series models, the Lennox XP16 has more features than models in their entry-level Merit Series. If you're anything like the several hundred XP16 owners Magic Touch Mechanical has installed this model for over the years, you'll be happy with your choice.
Lennox XP16 Heat Pump Efficiency Ratings
SEER (Seasonal Energy Efficiency Ratio) ratings as high as 17 in cooling mode
HSPF (Heating Season Performance Factor) ratings as high as 9.5 in heating mode
Minimum efficiency regional standards mandated by the US Department of Energy require all new AC units installed in Arizona be at least 14 SEER. With AHRI (Air Conditioning, Heating, and Refrigeration Institute) testing ratings of 17 SEER and 9.5 HSPF, the Lennox XP16 is about 12% more efficient than required. The most efficient two-stage heat pump available is the Lennox XP21 which is 19.2 SEER.
Lennox Two-Stage Technology
Temperatures in Phoenix, AZ  can swing as much as thirty degrees from day to night. In the mornings and evenings the Lennox XP16 will run on its lower speed, saving energy and not "freezing" everyone in the house. As the temperatures climb, the AC moves into high speed keeping up with the higher heat load in your home. This technology works well in our climate for just that reason.
XP16 Sound Ratings
The Lennox XP16 heat pump is rated to operate at recorded levels as low as 70dB (decibels), putting it somewhere in the middle of the pack for Lennox. For comparison purposes, a conversation between two people right next to each other is between 55-65dB. Most people would consider 70dB moderately quiet so your neighbors wont be sad if you replace your older unit with the XP16!
Lennox XP16 Works with a Gas Furnace or Air Handler
If you have propane or natural-gas service, you can choose how to heat your home in the winter. The XP16 can be paired with a Lennox furnace leaving you the option of heating with electric or gas.
Lennox XP16 Factory Warranty
Most major manufacturers warranty parts for ten years nowadays. The XP16 is no exception and is backed by a limited factory warranty of 10-years compressor, coil, and functional parts. It's important to note that product registration is required within 60-days or the warranty is reduced to only 5-years parts.
You don't have to worry about that when you hire Magic Touch Mechanical to install your Lennox heat pump. We'll register it for you! However, not all AC companies are alike so if you're not in the Phoenix, AZ area and can't hire us – make sure you register!
Lennox XP16 Summary
We represent a lot of brands because we believe our clients deserve options. That said, not all brands or even models make the cut. We only install brands and models we believe in and would install in our own homes. We actually have not only this brand installed at the Magic Touch Mechanical offices in Mesa, AZ – we have this exact model. If you live near Mesa, AZ and would like to come by and take a look and listen to it yourself, we welcome you!
The Lennox XP16 is offers its owners a lot of value for the price. It's relatively quiet, durable, and reliable. With it's admirable efficiency ratings it doesn't cost a lot to operate and it's good looking as far as heat pumps go. We have no problem giving the XP16 our seal of approval for our clients, after all we did buy one for ourselves!
Are You Interested in Lennox XP16 Installation?
Choosing a new cooling and heating system is a 10-15 year plus commitment (unless you choose the wrong installing company). We work in thousands of homes around the Phoenix valley each year and unfortunately see the discomfort, aggravation, and expense their owners deal with when the whole "system" was designed and installed improperly.
Aside from things like free maintenance, an ACCA approved Manual J load calculation, optimized airflow design, and more, there are many things that set a Magic Touch Mechanical installation apart from the others: What's Included With This Installation?
Schedule a Free home evaluation & system design and compare units & prices side-by-side.
Other Products to Consider
Trane XR17
Lennox XP20
Bosch Variable Speed Heat Pump
Mitsubishi MXZ