Heat Pumps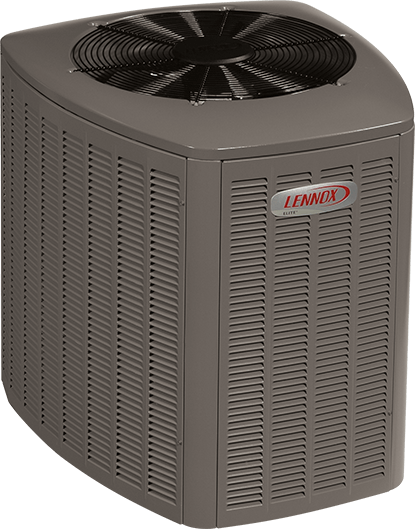 Compressor Type

Single-Stage

Efficiency Rating

up to 16 SEER / 9.5 HSPF

Sound Rating

as low as 71dB
Lennox
Lennox XP14 Heat Pump
Lennox XP14 Heat Pump
The Lennox XP16 is the model above the Merit Series 14HPX and the model below the SL18XP1 Signature Series Heat Pump. Of the three single-stage cooling and single-stage heating models Lennox offers, the XP16 is a good choice for consumers who tend to buy the "better" product when there are good, better, best options.
Lennox XP14 Heat Pump Efficiency Ratings
SEER (Seasonal Energy Efficiency Ratio) ratings as high as 16 in cooling mode
HSPF (Heating Season Performance Factor) ratings as high as 9.5 in heating mode
In January of 2016, the US Dept. of Energy initiated "regional" minimum efficiency standards. Prior to then, the entire country was on the same standard. The new standard in hotter climates (including Arizona) mandates that all new air conditioners installed be a minimum of 14-SEER. When you see a nearby air conditioning company advertising a 14-SEER unit as high-efficiency, they are comparing it to older equipment.
Technically, 14-SEER is standard-efficiency for equipment manufactured since 2016, and high efficiency is 15-16 SEER. Think about SEER the same way you would MPG (miles per gallon) for a car. The higher the number, the less fuel or in this case electricity it uses to do the same amount of work.
Single-Stage Cooling
Single speed also called 1-speed or single-stage works exactly as the name implies. Your AC compressor is either on when the thermostat calls for a temperature drop or off when the temperature setting has been satisfied. Compared to the other two technologies two-stage and variable-speed, 1-speed compressors are typically not as efficient, nor can they maintain as precise a temperature.
That said, single speed compressors are what we all grew up with (if you had central air conditioning in your home growing up). In other words, this technology is tried and true and has been in use since last century.
XP14 Sound Ratings
Sound levels are rated in decibels (dB). To give you a better understanding of decibel ratings, a conversation between two people standing next to each other is about 60-65dB. A household vacuum cleaner is approximately 78-80dB.
The Lennox XP14 has operational sounds rated as low as 71dB. Most sound rating charts label 71dB as "moderately quiet". By way of comparison, the single-stage model above (the SL18XP1) is rated at 65db, and the model below (the 14HPX) is 76dB.
Lennox XP14 Dual-fuel Capability
The XP14 can be paired with a Lennox furnace and coil as opposed to a heat pump air handler giving you the option of using either the electric heat pump or a gas furnace for heating in the winter.
Lennox XP14 Factory Warranty
When installed with an AHRI (Air Conditioning, Heating, and Refrigeration Institute) Certified matched air handler, it gets a 10-year extended warranty. The standard warranty (without matching components) is five year parts, ten year compressor. Note, the equipment must be registered with the factory within 60-days to get the extended warranty.
Whenever Magic Touch Mechanical installs a new heat pump system, we register the components for our client. Not all AC companies in Phoenix or elsewhere do though so make sure you do it yourself if you don't hire us. By the way if you live in the Valley of the Sun and don't hire us you're confused already! 🙂
Lennox XP14 Summary
In the twenty plus years we've been providing heat pump installation and service in the Greater Phoenix, AZ area, we've installed thousands of new AC units, heat pumps, and furnaces. Somewhere between 70 and 80 percent of our clients choose a mid-tier ("better") model, and the rest are split between good and best models.
The XP14's specs. place it smack dab in the middle of Lennox's single-stage heat pumps, so they're pretty popular. We think this product is a good choice in a lot of homes we assess. It's quiet enough to be located outside of a bedroom window, well engineered, and has a low failure rate compared to some of its competitors.
The cost difference to upgrade to a higher efficiency rating makes for a quick return on investment in most cases. Overall, we give this model two-thumbs up!
Are You Interested in Lennox XP14 Installation?
Choosing a new cooling and heating system is a 10-15 year plus commitment (unless you choose the wrong installing company). We work in thousands of homes around the Phoenix valley each year and unfortunately see the discomfort, aggravation, and expense their owners deal with when the whole "system" was designed and installed improperly.
Aside from things like free maintenance, an ACCA approved Manual J load calculation, optimized airflow design, and more, there are many things that set a Magic Touch Mechanical installation apart from the others: What's Included With This Installation?
Schedule a Free home evaluation & system design and compare units & prices side-by-side.
Other Products to Consider
Trane XR14
Trane XR16
Bosch Variable Speed Heat Pump
Mitsubishi MXZ