Furnaces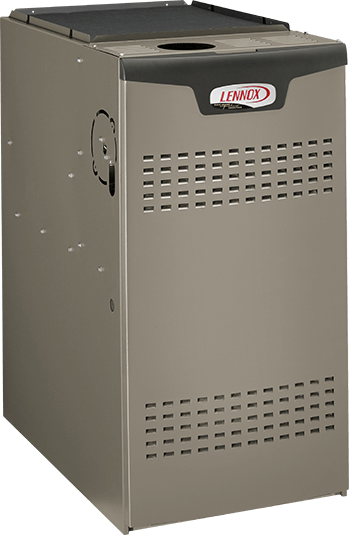 Heating Stages

Two-Stage

Blower Speeds

Variable

Efficiency Rating

80% AFUE
Lennox
Lennox SL280V Gas Furnace
Lennox SL280V Gas Furnace
The secret to understanding Lennox's furnace model numbering is as follows:
S = Signature Series

L = Lennox

2 = Two Stage Heating

80 = 80% AFUE (Annual Fuel Utilization Efficiency)

V = Variable Speed Blower Motor
The Lennox SL280V can be matched* with many Lennox air conditioners and evaporator coils. The three components together make a complete central heating and cooling system.
This model is the pride and joy of Lennox's 80% efficient furnaces. Magic Touch Mechanical provides furnace installation and service throughout the Greater Phoenix Metro area and surrounding cities in Central AZ.
As we have moderately mild winters in this part of Arizona, 80% furnaces are the most common efficiency found in the area. Colder areas may want to consider a 90+ efficiency furnace.
*An AHRI Certified matched system is required to achieve published efficiency levels. It is unwise and in many places illegal for an HVAC Contractor to install a non-certified matchup. 
What Does AFUE Mean?
Natural gas and propane furnace efficiency is measured in AFUE (Annual Fuel Utilization Efficiency).  The higher the AFUE rating number, the less it costs to operate.
A 90% AFUE furnace is 10% more efficient than an 80% AFUE furnace – as the numbers suggest. That said, if you live in a colder climate like Flagstaff or Denver, a 90% or higher furnace is probably a good idea. Here in the Valley of the Sun (Phoenix Metro) there is a better ROI when investing more in a higher efficiency air conditioner than furnace.
We do have homes here with 90% furnaces aka condensing furnaces, but it's rare.
Lennox SL280V – Quietest Furnace in it's Class
One of the most common survey responses we get from Magic Touch Mechanical clients who chose the Lennox SL280V is, "I can't hear it running."
According to Lennox, the SL280V is "4.5-times quieter than competitive models." They attribute their claim that this model is "practically silent" to its heavily insulated cabinet and extremely quiet variable speed motor.
Having installed hundreds if not thousands of SL280's since it first came to market, we have to agree – this model is quieter than any furnace we've ever heard.
Lennox SL280V Variable Speed Motor
The Lennox SL280V variable speed motor works in conjunction with its two-stage gas valve. The end result is perfectly choreographed fan speed and airflow for optimal comfort.
This variable speed motor also controls your indoor air in the cooling season when matched with a number of Lennox air conditioners including the XC25, XC20, and others. That means quiet and efficient performance all year long.
Lennox SL280V Warranty
Peace of mind. That's what you'll have knowing your Lennox SL280V is covered by an excellent manufacturer warranty! The heart of any furnace is its heat exchanger. The heat exchanger is the the largest and most expensive component inside the Lennox SL280V – it's covered for 20-years!
The remaining components are backed by a 10-year factory parts warranty. In other words, you're covered!
Lennox SL280V Gas Furnace Summary
You will not be disappointed if you choose the Lennox SL280V to complete your central heating and cooling system. The smart electronics built-in work in conjunction with Lennox communicating controls like the iComfort and Lennox S30 to provide precise comfort.
You'll know longer have to turn up the volume on your TV every time the heat comes on. In fact, the only reason you'll know the Lennox SL280V is running is because your home will be warm and comfortable.
Are You Interested in Lennox SL280V Installation?
Choosing a new cooling and heating system is a 10-15 year plus commitment (unless you choose the wrong installing company). We work in thousands of homes around the Phoenix valley each year and unfortunately see the discomfort, aggravation, and expense their owners deal with when the whole "system" was designed and installed improperly.
Aside from things like free maintenance, an ACCA approved Manual J load calculation, optimized airflow design, and more, there are many things that set a Magic Touch Mechanical installation apart from the others: What's Included With This Installation?
Schedule a Free home evaluation & system design and compare units & prices side-by-side.