Air Conditioners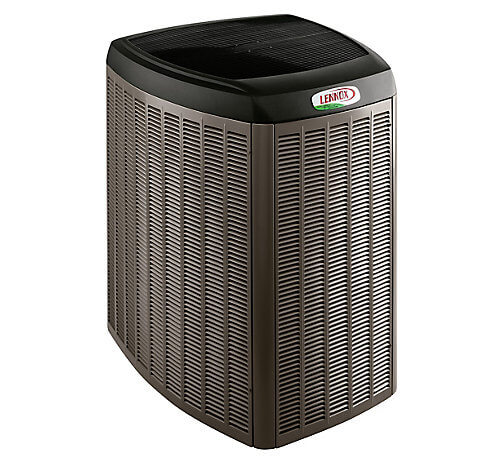 Compressor Type

Single Stage

Efficiency Rating

up to 18.50 SEER

Sound Rating

as low as 65dB
Lennox
Lennox SL18XC1 Air Conditioner
Lennox SL18XC1 Air Conditioner
The SL18XC1 AC condenser paired with an AHRI (Air Conditioning, Heating, Refrigeration Institute) matched coil and furnace is a powerhouse! It bests all the premium AC brands including Trane, Carrier, and Amana in this category. Actually, it is more efficient and quieter than any other manufacturers single speed AC unit. This comes as no surprise to anyone as Lennox also claims this title in two-stage and variable speed AC models.
This Model's Air Conditioner Efficiency Ratings
Efficiency ratings as high as 18.50 SEER (Seasonal Energy Efficiency Ratio)
Government efficiency standards mandate 14-SEER minimum on all new air conditioners installed in Arizona. According to most SEER rating charts, homeowners can expect to save an additional 14% – 18% on their cooling costs over a 14-SEER unit with the SL18XC1.
The SL18XC1 Utilizes a Single Speed AC Compressor
The single speed or single stage AC compressor is the one that started it all. It is still today the most common AC compressor technology being used in U.S. homes. Typically we see new single-speed air conditioners with efficiency ratings somewhere between 13-SEER and 16-SEER. There are a few models creeping towards 17-SEER – but the Lennox SL18XC1 is in a class of it's own at 18+ SEER.
Just as the name implies, this compressor only runs at 100% of it's capacity – so it's either on or off. In recent years, we've seem more and more 2-speed cooling and variable speed cooling models introduced. As you might have guessed, these multi-speed units tend to run more efficiently than a simple one speed air conditioner. However, in the case of the SL18XC1, it meets or even beats many of those units as far as efficiency ratings go.
If the single speed unit you are replacing is running somewhere around 10-SEER, you can expect to save approximately 45% on your cooling costs with this single speed unit!
Lennox SL18XC1 Sound Ratings
In order to be classified as a Dave Lennox Signature Series model (as opposed to Elite or Merit), the unit must be "best in class" in several categories. The SL18XC1 not only qualifies on efficiency, but also by sound. This unit is super quiet – we're talking hard to hear quiet!
Sound levels are measured in decibels (dB). The Lennox SL18XC1's measured decibel ratings are as low as 65dB. To put that into perspective, a normal conversation between two people standing next to each other is approximately 60dB.
Lennox SL18XC1 Factory Warranty
When you hire Magic Touch Mechanical to install your new Lennox AC unit, we'll handle product registration for you. If you are out of our service area (central Arizona), make sure you register within 60-days of installation as required.
The Lennox SL18XC1 comes with a 10-year limited parts, coil, and compressor warranty (registration required).
Lennox SL18XC1 Summary
Lennox prides themselves on being the innovators in the HVAC manufacturing world. They proved they are with the SL18XC1 with it being not only the most efficient single speed AC, but also the quietest money can buy. These two categories are typically the two most important to homeowners (after cost), so it's no wonder as soon as this unit hit the market, they were flying off our shelves.
The SL18XC1 is a fairly new AC unit on the market and we've already installed dozens upon dozens of them. We've put them through our test and have to say we are super impressed. Over the years we've installed thousands of Lennox air conditioners so really expected nothing less – especially from a Dave Lennox Signature Series model. By far the low noise level is most impressive to us as it's somewhat unusual for a single speed unit to be this quiet.
Everything else about the design, cabinet, components, etc., is comparable or even identical to Lennox's most premium models only with a 1-speed compressor. For all of those reasons we give the SL18XC1 two thumbs up.
Are You Interested in Lennox SL18 Installation?
Choosing a new cooling and heating system is a 10-15 year plus commitment (unless you choose the wrong installing company). We work in thousands of homes around the Phoenix valley each year and unfortunately see the discomfort, aggravation, and expense their owners deal with when the whole "system" was designed and installed improperly.
Aside from things like free maintenance, an ACCA approved Manual J load calculation, optimized airflow design, and more, there are many things that set a Magic Touch Mechanical installation apart from the others: What's Included With This Installation?
Schedule a Free home evaluation & system design and compare units & prices side-by-side.
Other Products to Consider
Trane XR16
Lennox XC16
Goodman GSX16