Thermostats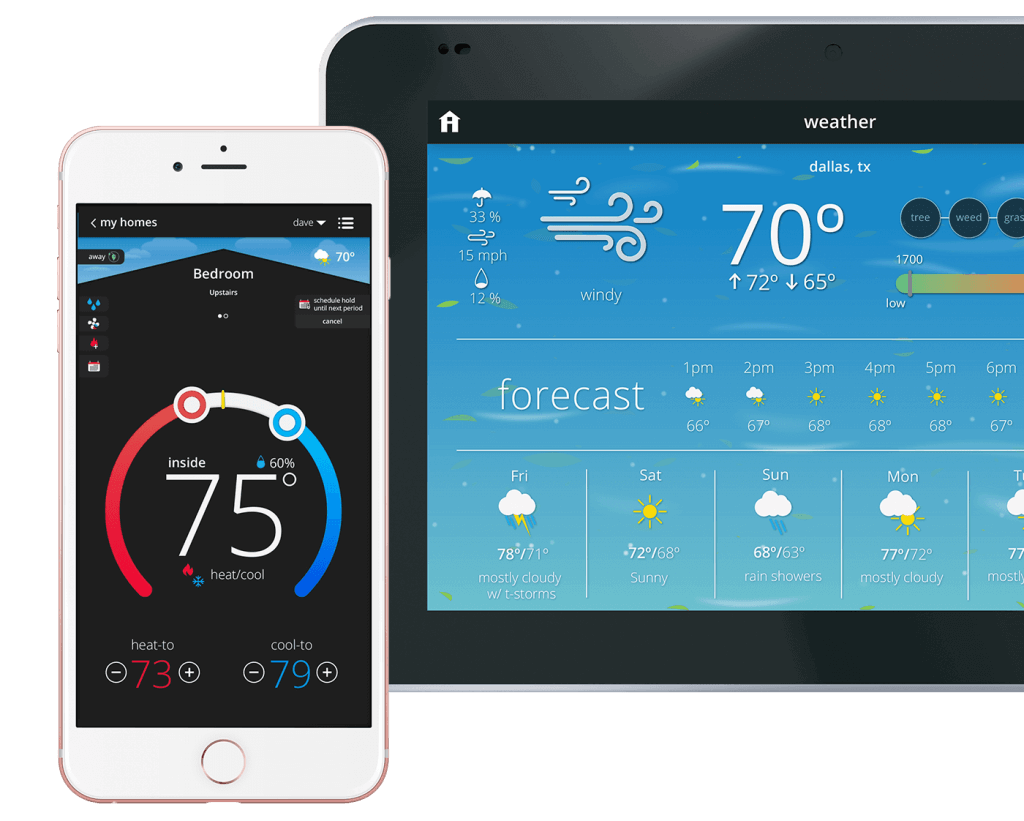 Energy Star Certified
Lennox
Lennox S30 iComfort Wi-Fi Smart Thermostat
Lennox S30 Thermostat – Ultra Smart – Ultra Cool!
It's important to say upfront that the Lennox S30 thermostat is specifically designed to work only with Lennox brand HVAC systems. Both the Lennox E30 and M30 will work with other brands.
It's a mouthful to say the least: Lennox iComfort S30 Ultra Smart Programmable Wi-Fi Thermostat. So let's just stick with Lennox S30!
The Lennox S30 has a super-sleek look, reminiscent of an Apple iPad. It's 7″ full-color, high-definition display is nothing short of stunning. This is not your Daddy's thermostat! The feature list and capability of this thermostat is ahead of its time.
Although looking at all it can do could lead you to believe the Lennox S30 was difficult to navigate, it's surprisingly very user-freindly.
Lennox iComfort S30 Thermostat Features
Alexa Compatible
Use Alexa to control your Lennox central air conditioner and heating units without ever leaving your favorite recliner or while making dinner.
Apple Home Kit Compatible
For iPhone and iPad users, you can use Siri to change temperature settings, adjust humidity levels, and other HVAC system settings.
Programmable 
To say the Lennox iComfort S30 is programmable, is like saying your smart phone can make phone calls. The programming capabilities of this thermostat are advanced yet intuitive at the same time.
Smooth Setback Recovery
The Lennox S30 makes sure your programmed schedule is carried out with exacting precision. It does this by planning as far as two hours in advance of your programmed settings what it needs to do.
Let's say you have your S30 set to cool to 76-degrees at 5:45pm when you arrive home from work. While at work you set it to 84-degrees. The thermostat is smart enough to know exactly when to start cooling or heating so the temperature in your home is exactly 76-degrees by exactly 5:45pm!
Geo Fencing aka Smart Away
Pair your Lennox iComfort S30 with family member's smart phones, and it saves energy by automatically adjusting the temperature when they leave home. Have pets? No problem, Lennox engineers thought of that too!
Schedule IQ™
There's no need to constantly reprogram the Lennox S30 every time something changes with your schedule. Set it and forget it and the S30 automatically senses and adjusts to changes in your routine. That's one of the features that makes this model ultra smart, not just smart!
One-Touch Away Mode
What if you don't want to use the geo-fencing feature? No problem! Simply press one button as you leave your home to let your Lennox S30 know and it handles the rest automatically.
Allergen Defender
Monitors the air quality and pollen levels of your local zip code and automatically turns the fan on to clean your home's air when outdoor levels are high.
Feels Like™
When your local weather forecaster says "It feels like 100 degrees with the heat index", or "It feels like 30 degrees with the wind chill factor", he or she is referring to temperature + humidity. What we "feel" is the result.
The Lennox S30 is the first thermostat to adapt for how we "feel", not just the temperature alone. So, the air always feels perfect in your home!
Perfect Temp
Works in conjunction with the Feels Like feature to heat or cool as needed, assuring your temperature is perfect 24/7/365.
Filter Reminder
We all forget to change our air filters sometimes. Dirty air filters are harmful to equipment and our lungs. That can also lead to breakdowns and frozen coils. The S30 won't let you forget. You can even receive an E-mail reminder from your thermostat.
Customizable Reminders
Do you have an air purification device like the Lennox PureAir that needs annual maintenance? Maybe you just want a reminder when it's time for air conditioning service / maintenance. You can schedule the S30 to put important reminders on the home screen so you never forget again.
Auto Changeover 
Decides between heating and cooling operation, depending on indoor temperature, so you don't have to.
Touchscreen 
No more buttons, knobs, arrow-keys, or switches! The Lennox S30 iComfort has a 7″ touchscreen display with adjustable brightness. It's user friendly and easy to understand and operate.
Weather Screen Savers
Themed screen savers on the 7″ HD color touchscreen are designed with graphics that tell you what weather conditions are like outside.
Dual-Fuel Capability
Choose a Lennox HVAC system that has both heat pump and natural-gas heating and the Lennox S30 will automatically switch between gas and electric power for precise efficiency and home comfort.
Energy Reports 
Create custom reports to see how many hours your central air is running over the course of the month.
Remote Capability
Monitor and adjust temperatures and schedules from anywhere in the world using the iComfort App and your smartphone, tablet or other web-enabled device.
Weather-On-Demand 
Get up to date air quality reports for your neighborhood with one touch! Remember when you had to watch the news at a specific time or search the internet to get that information?
Precise Comfort® Plus
Holds your home's temperature to within 0.5 degree or less when used with premium Lennox® equipment. Sound hard to believe? Magic Touch Mechanical has installed hundreds of these units all over the Phoenix Metro area – we've seen it ourselves!
Climate IQ® Technology 
Monitors humidity levels, and removes excess moisture for healthier, more comfortable air.
Emailed Alerts and Remote Monitoring / Troubleshooting
With your permission, the S30 can provide Magic Touch Mechanical (or your local air conditioning contractor) detailed diagnostics and remind us when service is needed. With remote monitoring we can begin to troubleshoot your system remotely when there's a problem. Or more importantly, before it becomes a bigger problem.
With the ability to remote into the system, we can even make adjustments off-site fixing certain issues in seconds instead of hours!
Lennox S30 iComfort Thermostat Warranty
Every Lennox s30 comes with a factory 5-Year Limited Warranty when installed and registered by a Factory Authorized Lennox Premier Dealer like Magic Touch Mechanical.