Air Conditioners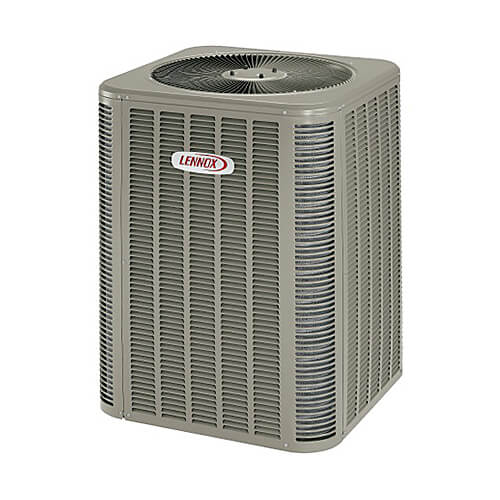 Compressor Type

Single Stage

Efficiency Rating

up to 16 SEER

Sound Rating

as low as 76dB
Lennox
Lennox ML14XC1 Air Conditioner
Lennox ML14XC1 Air Conditioner
The ML14 are conditioner condenser paired with an AHRI matched evaporative coil and furnace, offers high efficiency ratings for significantly less money than other 14-16 SEER AC units on the market. In the ten-years we've been a Lennox Premier Dealer, we've installed thousands of their Merit Series air conditioners and heat pumps in the Phoenix, AZ area and nearby cities. The feedback we receive back from our clients is overwhelmingly positive and they stand behind their product with great customer service. Needless to say, we are Lennox fans!
This Model's Air Conditioner Efficiency Ratings
SEER (Seasonal Energy Efficiency Ratio) ratings as high as 16.0 in cooling
Regional standards require a 14-SEER minimum on all replacement and new AC units installed in the Southwest (including AZ). HVAC systems rated at 16 SEER fall into the high-efficiency category and yield approximately a 8-9% energy savings compered to a 14-SEER AC. Compared to an older 10-SEER unit, you can expect a 35-40% energy savings with a 16-SEER unit!
The ML14XC1 Single Speed AC Compressor
As the name implies, a single-speed, aka single-stage air conditioner uses a compressor that always runs at 100% capacity. Most two-stage compressors run at about 70% capacity in low speed and 100% in high speed. Depending on the brand variable speed compressors typically can run at many different speeds between 30% and 100% of their capacity.
While a single-speed compressor is not as efficient or as quiet as the other two, the technology has stood the test of time. Some technicians are of the mindset that the fact that a single speed compressor has less moving parts and no electronics adds to its reliability and durability – a sound way of thinking in our opinion.
Lennox ML14XC1 Sound Ratings
With decibel ratings as low as 76dB, Lennox doesn't have much to brag about with the ML14. Granted, 76 decibels is still on the "moderately quiet" side of most dB charts, but considering the Trane XR14 is rated at 72dB, and the Goodman GSX14 is rated 71dB, it scores on the lower side in this group.
Sure, Lennox makes some of the quietest units money can buy in their mid and high-tier products but not this model.
Lennox ML14 Factory Warranty
When registered within 60-days of installation, the Lennox ML14 carries a 10-year parts / 10-year compressor limited warranty from the manufacturer. The key words being "when registered". If you fail to register all the pieces of this system within 60-days, the warranty reverts to 5-years on all covered parts.
All Magic Touch Mechanical installations include product registration – we do it for our clients protection! If you purchase your Lennox ML14XC1 from us, you can kick back and relax. If you purchase your unit from someone else, make sure to get the product registration card and get it submitted so you don't lose warranty coverage.
Lennox ML14XC1 Summary
Lennox has earned its spot as a premium brand in the HVAC world. Their support is second to none and they are more selective than many brands when it comes to who they allow to be a factory authorized dealer. Of the many brands we sell, Lennox remains one of the best with regards to product reliability and durability.
The ML14 is an entry-level, consumer-grade air conditioning system without a lot of frills. That said, the aluminum-alloy coils, powder-coat paint, louvered coil guard panels and heavy-gauge steel cabinet all stand the test of time. How do we know? Well, we've installed thousands of them throughout Arizona, one of the harshest environments on the planet – and they're still going strong!
When matched with an Elite series furnace and Lennox coil, this 14-SEER base model, transforms into a 16-SEER high-efficiency system – for a 14-SEER price. If budget is a main concern but you still want the quality, reliability, and durability synonymous with the Lennox brand, the ML14XC1 is a good option.
What to Know Before Installing a Lennox ML14
Never hire the cheapest doctor, attorney, or air conditioning company. We all know you get what you pay for – and you'll be living with the results of your decision for the next 12-20 years. You can spend that time with a comfortable home, good airflow, low energy bills and have the peace of mind knowing things were done right. Or, you can have quite the opposite experience and regret your experience almost immediately and for a very long time.
Cutting corners on a new cooling and heating system installation results in underperformance, uncomfortable rooms, humidity issues, inefficiency, failures, and short equipment life. Thats why, aside from things like free maintenance, a certified ACCA Manual-J heat load calculation, optimized airflow, etc., we don't cut corners at your expense. Our motto is "WE DO IT BETTER THAN IT HAS TO BE"
Are You Interested in Lennox ML14 Installation?
Choosing a new cooling and heating system is a 10-15 year plus commitment (unless you choose the wrong installing company). We work in thousands of homes around the Phoenix valley each year and unfortunately see the discomfort, aggravation, and expense their owners deal with when the whole "system" was designed and installed improperly.
Aside from things like free maintenance, an ACCA approved Manual J load calculation, optimized airflow design, and more, there are many things that set a Magic Touch Mechanical installation apart from the others: What's Included With This Installation?
Schedule a Free home evaluation & system design and compare units & prices side-by-side.
Other Products to Consider
Trane XR14
Lennox EL16XC1
Goodman GSX14