Packaged Units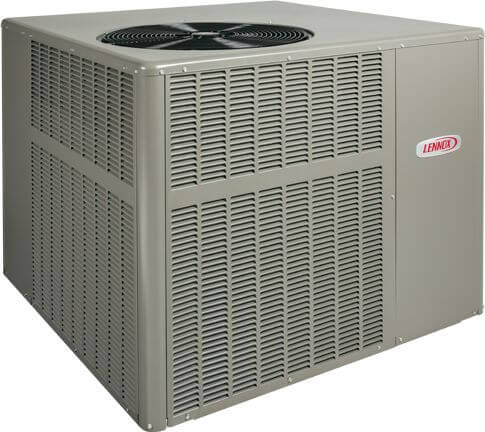 Compressor Type

Two-Stage

Efficiency Rating

up to 16 SEER

Sound Rating

as low as 71dB
Lennox
Lennox LRP16HP Packaged Heat Pump
Lennox LRP16HP Packaged Heat Pump
Split heat pumps have been available with two-stage cooling for years. Until recently however, only Trane had a multi-speed packaged heat pump. The Lennox LRP16HP is one of the newest dual-stage rooftop heat pumps on the market now.
In fact, the LRP16HP offers so much bang for the buck, the owners of Magic Touch Mechanical bought one for themselves! They also equipped their new unit with the optional Lennox Health Climate PCO air cleaner.
Lennox LRP16HP Heat Pump Efficiency Ratings
SEER (Seasonal Energy Efficiency Ratio) ratings as high as 16.00*
HSPF (Heating Season Performance Factor) ratings as high as 8.20
EER (Energy Efficiency Ratio) ratings as high as 12.00 EER*
The LRP16HP's efficiency ratings make it one of the most efficient packaged heat pump's on the market. The majority of rooftop units being sold in Arizona today are only 14-SEER.
*All sizes achieve 16-SEER except the 5-ton which is 15.50 SEER
*All sizes achieve 12-EER except the 5-ton which is 11.50 EER
Lennox Two-Stage Compressor
It's no secret that we are big fans to dual-stage heat pumps. The Magic Touch Mechanical offices are covered with awards for installing more of them than any other AC company in Phoenix, AZ. We're fans because they just make good sense.
Single-speed units which use 100% of their power no matter the temperature. Two-stage heat pumps have a high and low speed which means better comfort and efficiency. We practice what we preach at Magic Touch and have 2-speed heat pumps on our offices and homes.
Lennox LRP16HP Package Heat Pump Sound Levels
The LRP16 heat pump sound ratings are relatively quiet for a rooftop unit. The two and three ton models measure in at 71dB (decibels) and the four and five ton units, 74dB.
More Lennox LRP16HP Features
The LRP16 is Lennox's most premium packaged heat pump. As we've come to expect from all of Lennox's top models it packs plenty of great features into a small footprint.
Variable-speed blower motor – Delivers more efficient perfromance, reduced drafts in the winter, more even temperatures in the summer, and better indoor air quality.

Louvered coil-guard – Protects the coils from the elements and keeps them cleaner for better efficiency and lower maintenance costs.

Internally mounted outdoor motor – Reduces noise and vibration.

Indoor Air Quality Ready – The LRP16 comes prewired for the Lennox Healthy Climate PCO for cleaner air and odor removal.
Lennox LRP16HP Rooftop Heat Pump Warranty
The Lennox LRP16HP packaged heat pump is backed by a factory 10-year warranty on the compressor, coils and functional parts.
Lennox LRP16HP Package Heat Pump Summary
We have a policy at Magic Touch Mechanical we call "Options not ultimatums". What we mean by that is we don't "push" one brand on our customers like our competitors. We recommend Trane, Lennox, Franklin, Day & Night, Mitsubishi and more.
That said, we love the Lennox LRP16HP! Prior to its introduction we thought the Trane XL16c was the king of all packaged heat pumps. Unfortunately, the 16c is also one of the pricier packaged rooftop heat pumps available.
The LRP16HP is one of the best value's in its class. We give it two thumbs up!
Are You Interested in Lennox LRP16HP Installation?
Choosing a new cooling and heating system is a 10-15 year plus commitment (unless you choose the wrong installing company). We work in thousands of homes around the Phoenix valley each year and unfortunately see the discomfort, aggravation, and expense their owners deal with when the whole "system" was designed and installed improperly.
Aside from things like free maintenance, an ACCA approved Manual J load calculation, optimized airflow design, and more, there are many things that set a Magic Touch Mechanical installation apart from the others: What's Included With This Installation?
Schedule a Free home evaluation & system design and compare units & prices side-by-side.
Other Products to Consider
Trane XL16c